Only a few days stand between us and Thanksgiving, and our last weekend at home before traveling back to Ohio for the holiday was jammed packed. Although most weekends are busy for us, this one was particularly eventful. On the agenda: The Annapolis Running Classic 10k and having some friends over for dinner Saturday night.
Running has become my new obsession since graduating college in 2010. Although tennis will always be my first exercise love, it's not as easy to find the time to play with a hectic commute and work schedule. Running is something that is not only a great exercise, but can be done by yourself, on your own time. This past March, I ran my first half marathon, The Rock 'n' Roll USA, in Washington, DC. The training started on Christmas Eve of 2012 and went through race day in the middle of March. I recently signed up for the half this coming March and I'm eager to run it again.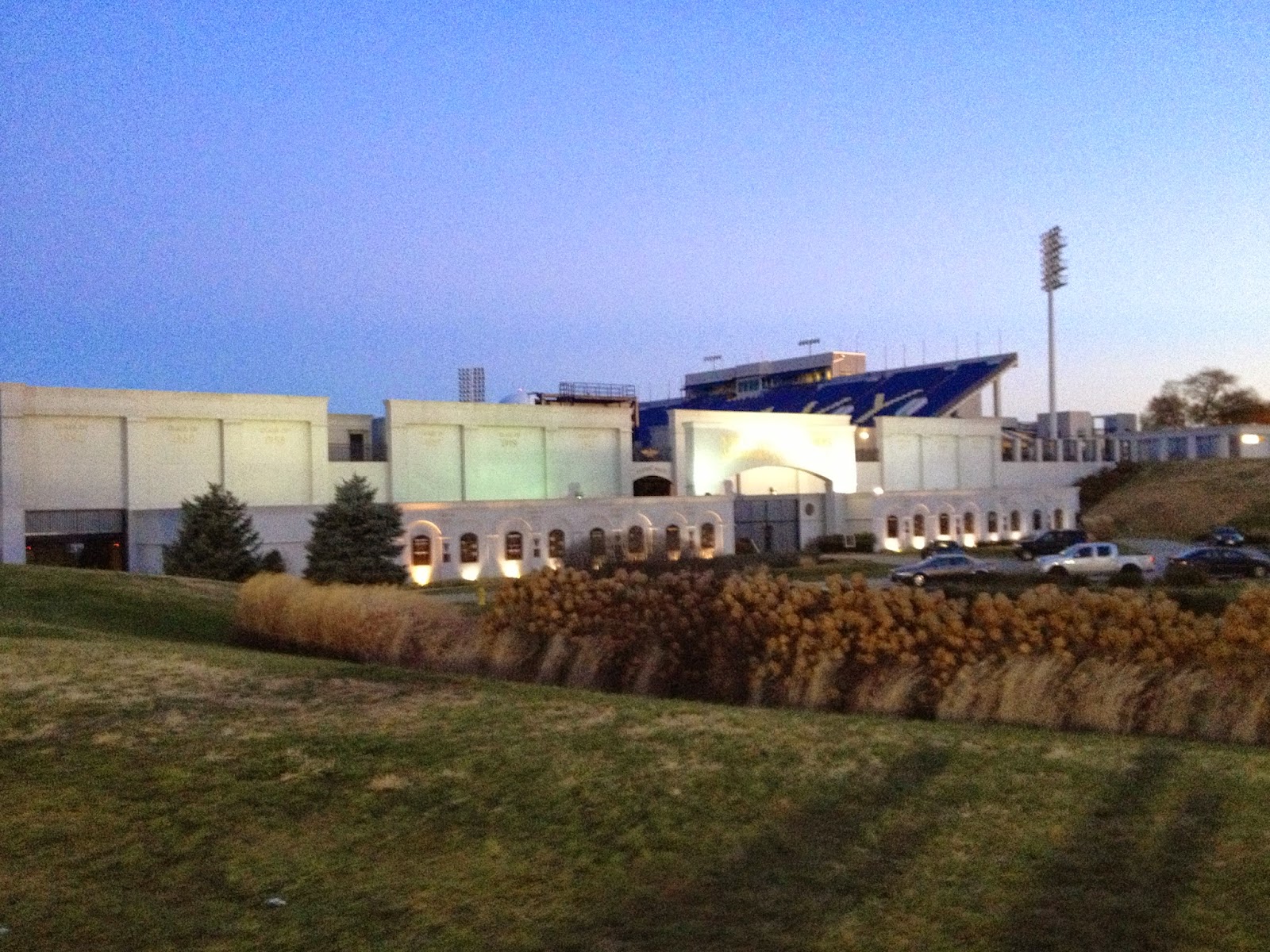 As part of my preparation, I signed up for the Annapolis Running Classic 10k race. (I have to be honest though, I was most interested in this race because there was a finisher's medal…what can I say, my love for trophies and medals started in my early tennis days with tournaments – some things don't change.) The start and finish line were at the Navy-Marine Corps Memorial Stadium in Annapolis. The race took us through downtown Annapolis, down to the water, up to the Naval Academy and back to the stadium. Not only was it a beautiful race route, but it was an extremely well organized race. I can't tell you how many races haven't started on time, ran out of water on the race route or just created mass confusion among the participants. The Annapolis Running Classic was such a refreshing experience!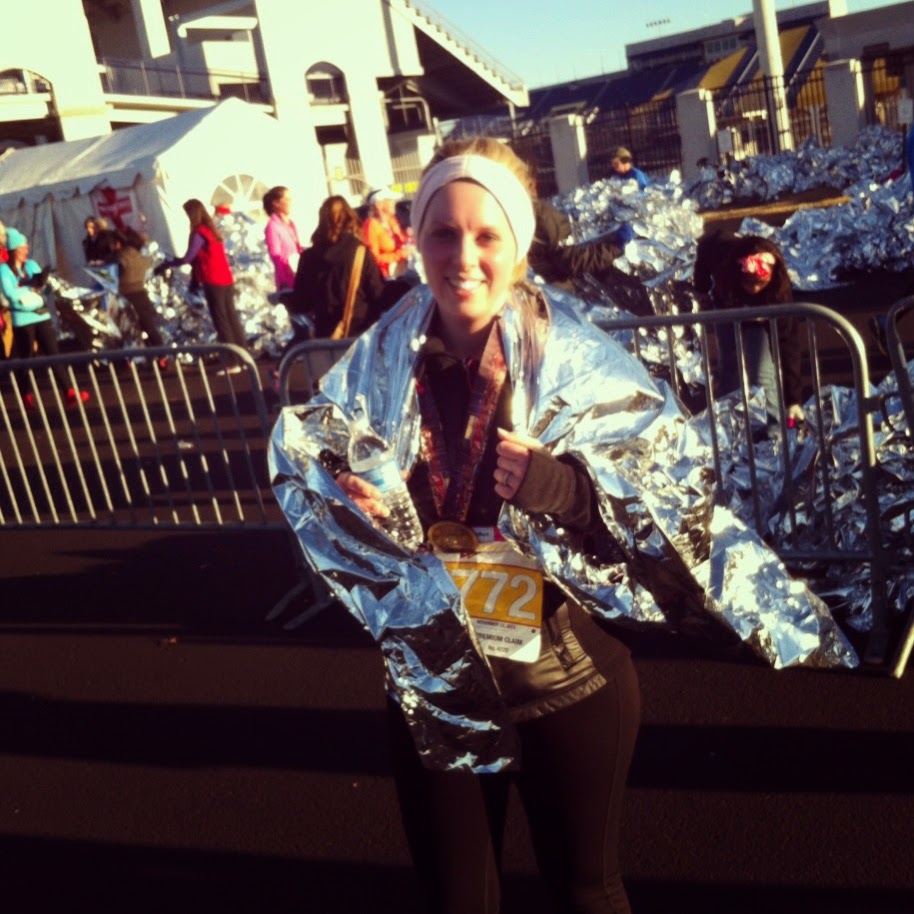 Overall, it was a great race. I finished the 10k in 1:02:36. Although I consistently average a pace of under 8:30/mile in my practice runs, I've always had a hard time translating that to the actual race. Whether it's the lack of space on the course to move around other runners, or dodging the walkers that refuse to keep to the outside, it's always been an obstacle for me, but I seem to be improving!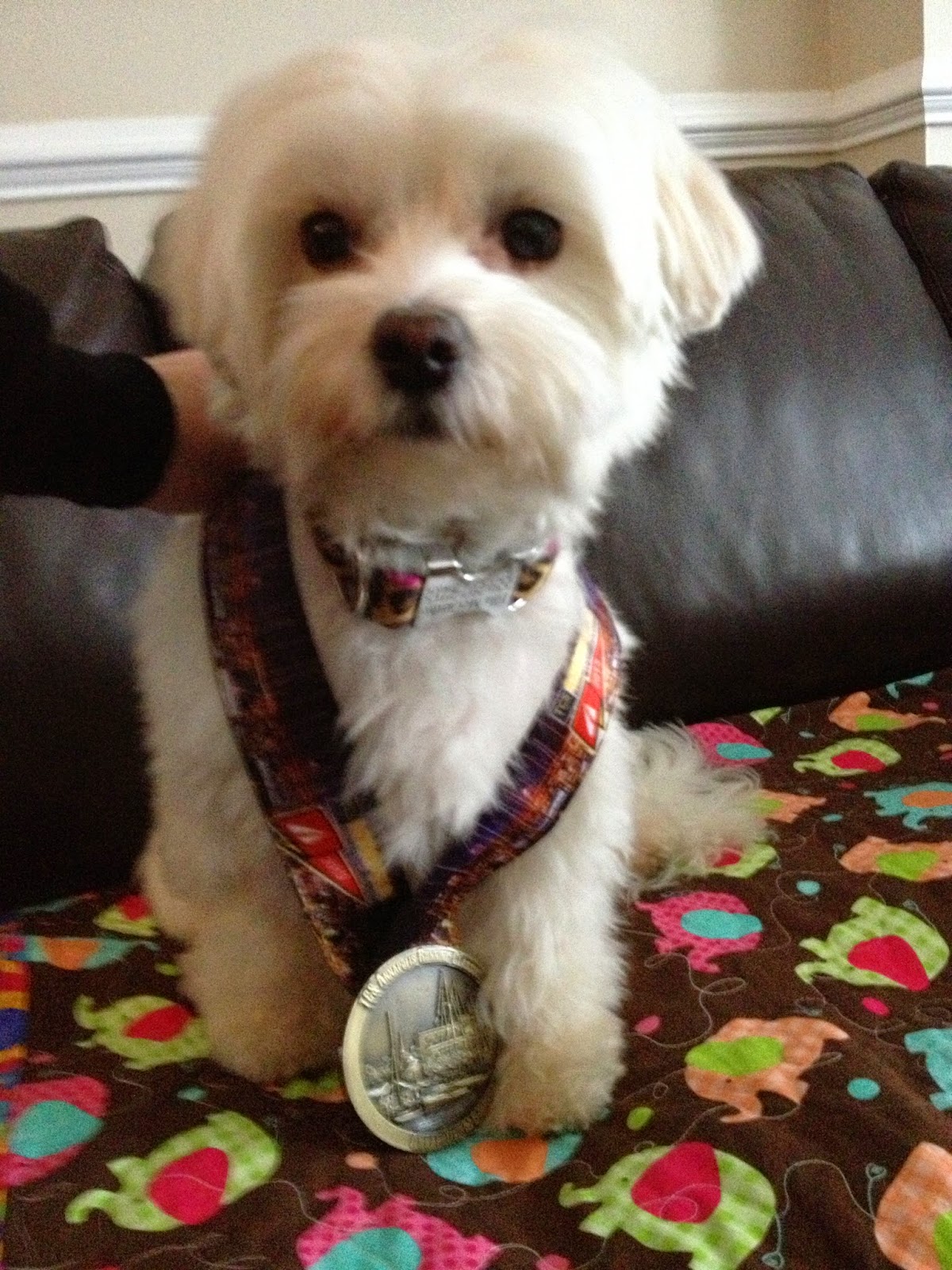 After the race, we headed back home to start preparing for our dinner guests. We were so excited to finally have a weekend free to have Kelly and Mike over! The weather was starting to turn and I came up with a meal that just seemed perfect for a cold evening.
When it comes to appetizers, I'm very opinionated. My suggestion: have two "snacky" appetizers. Especially with a big main course, you don't want your guests filling up on appetizers! Both appetizers can be (should be?) made ahead of time, so that's a great timesaver. Our appetizer menu: Roasted Almonds and Pepitas and Creamy Goat Cheese and Herb Spread. I absolutely love having nuts as one of the appetizers; it's easy to eat and not too filling. And the cheese spread on toasted baguettes is also a great finger-food appetizer. Both appetizers turned out delicious and were relatively quick to make!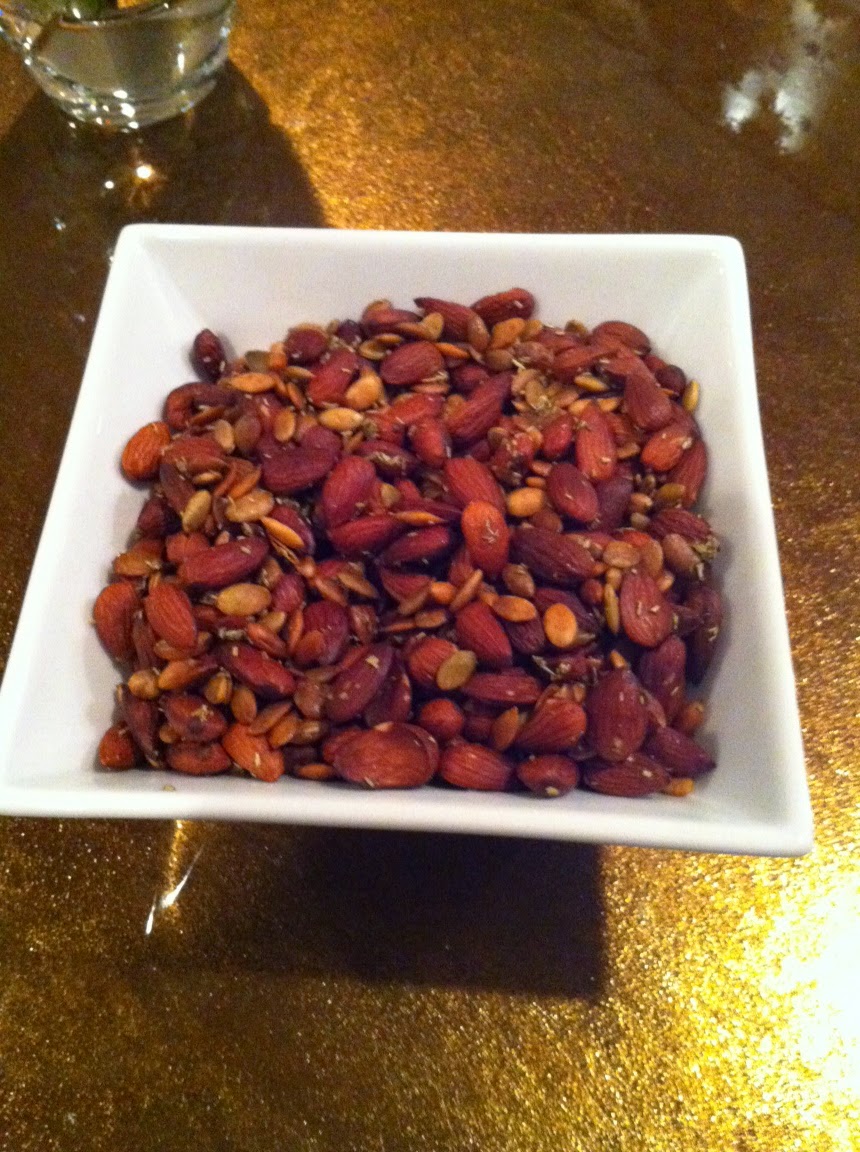 Roasted Almonds and Pepitas
Equal parts almonds and pepitas (I used about 4 oz of each)
2 tablespoons rosemary (dried or fresh)
2 teaspoons brown sugar
1 teaspoon salt
½ teaspoon cayenne pepper
2 tablespoons butter
Roast the almonds and pepitas for about 12 minutes in a 375 degree oven, stirring halfway through. Combine rosemary, brown sugar, salt and cayenne pepper in a small bowl. Melt 2 tablespoons butter and add to the rosemary mixture. Once combined, drizzle over nut mixture and stir to cover. Serve warm or room temperature.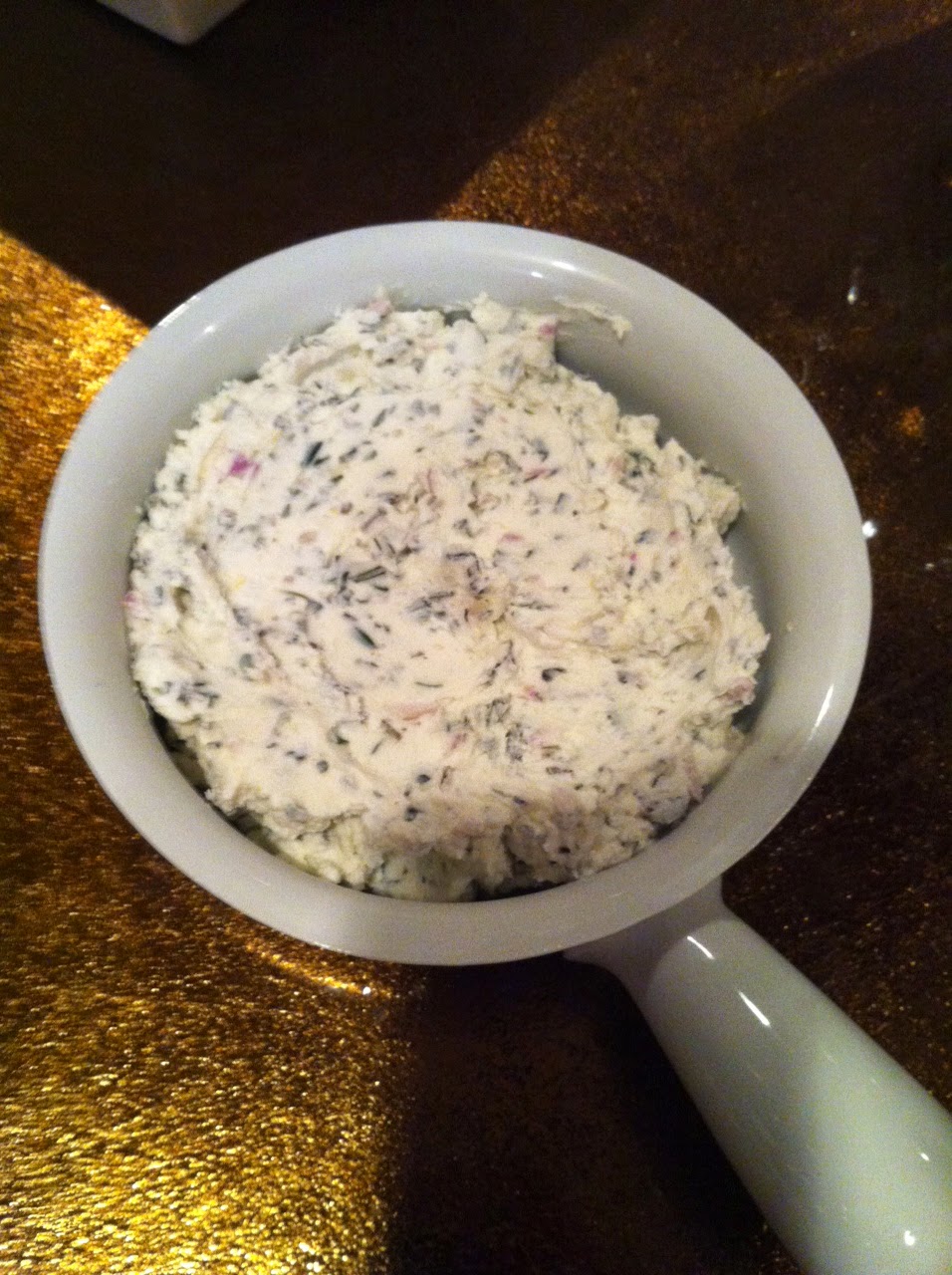 Creamy Goat Cheese and Herb Spread
6 oz. goat cheese
3 tablespoons heavy whipping cream
¼ cup fresh herbs, chopped (I used equal parts rosemary, oregano and thyme)
Salt and pepper to taste
Sliced baguettes
Crumble goat cheese with a fork in a small bowl, set aside. In a chilled medium size bowl, whip the heavy cream with an electric mixer until thick. Add the goat cheese to the heavy whipping cream and stir well to combine. Incorporate the herbs into the goat cheese mixture until combined. Keep refrigerated until ready to serve. For baguette slices: slice baguette into thin (1/2 inch) slices. Place on baking sheet and brush with olive oil. Bake at 375 degrees for about 10 minutes, or until desired crunchiness. Serve with creamy goat cheese and herb spread.
For our main course, I decided to go with one of my favorite, go to meals for a cold day: Spinach and Mushroom Lasagna. This lasagna is super quick to put together and a little healthier than traditional lasagna. There is just something about a warm lasagna on a cold night that makes me oh so happy! I came up with this recipe a few years ago with just the items I had in my kitchen. It's definitely a keeper!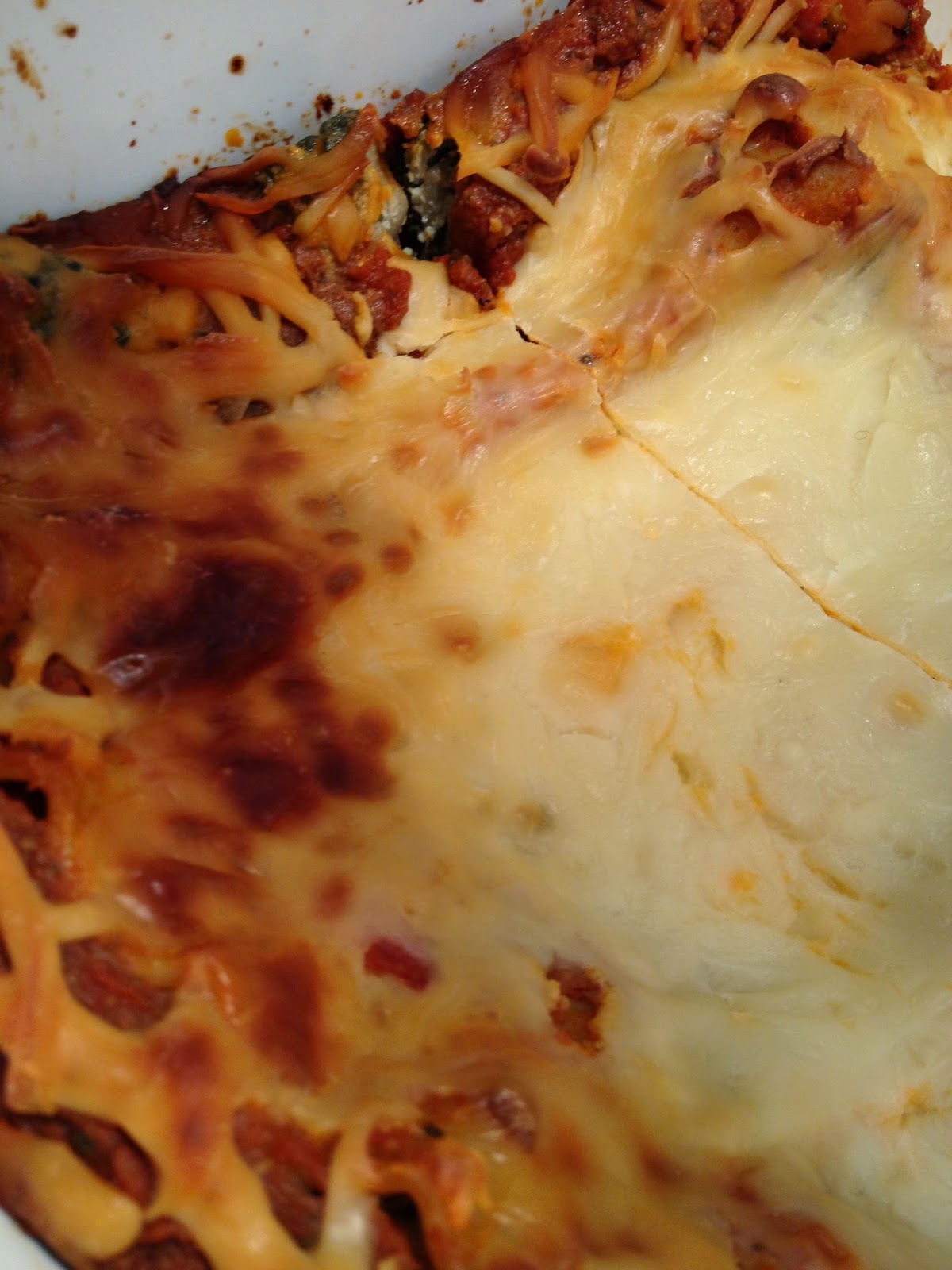 Spinach & Mushroom Lasagna
8 ounces sliced mushrooms
8 ounces frozen spinach, thawed
1 medium yellow onion
3 garlic cloves
1 tablespoon oregano
1 teaspoon salt
1 teaspoon pepper
15 ounces ricotta cheese (I used part skim)
3 cups shredded mozzarella cheese
Marinara sauce (or your favorite sauce)
Sauté onion, mushrooms and garlic in olive oil over medium heat. Stir in oregano, salt and pepper. Once most of the liquid is gone, add spinach. Once cooked, remove spinach mixture from heat and add ricotta cheese. Mix until incorporated. After spraying with non-stick spray, cover bottom of casserole with marinara sauce. Place lasagna sheets on top, spread ricotta mixture on lasagna sheets. Sprinkle about 1/3 of mozzarella cheese over ricotta mixture. Repeat layers, ending with marinara and cheese on the top. Cover with foil and bake at 375 degrees for 50 minutes. Remove foil and continue baking for 10 minutes.
It was such a fun (and exhausting!) Saturday, but so great to share a meal with friends and run a race! Look for the next post in a few days, all about Thanksgiving back in Ohio!