Friday night is pizza night in our house. More specifically, homemade pizza night. Although the toppings sometimes change, it's always some kind of pizza for dinner on Friday night. Lately, we have been doing Meatball Pizza, which is absolutely amazing! Unfortunately, we get our meatballs back in Ohio (they are the best!) and we are currently out 🙁 So, until we visit Ohio over Christmas, I have to get creative.
But, not to worry! This pizza would have to come in a close second (maybe even tie for first?). It's only three ingredients (excluding the crust, oil and spices) and super easy to make. It is super filling and on the richer side, so you won't have to eat as much of it (even though we always do!).
I'm so happy that we have finally reached Friday, and even more excited that it's Pizza Friday. After writing about the pizza and listing all the ingredients, I am very much looking forward to making this delicious pizza this evening 🙂
Happy Pizza Friday and Enjoy!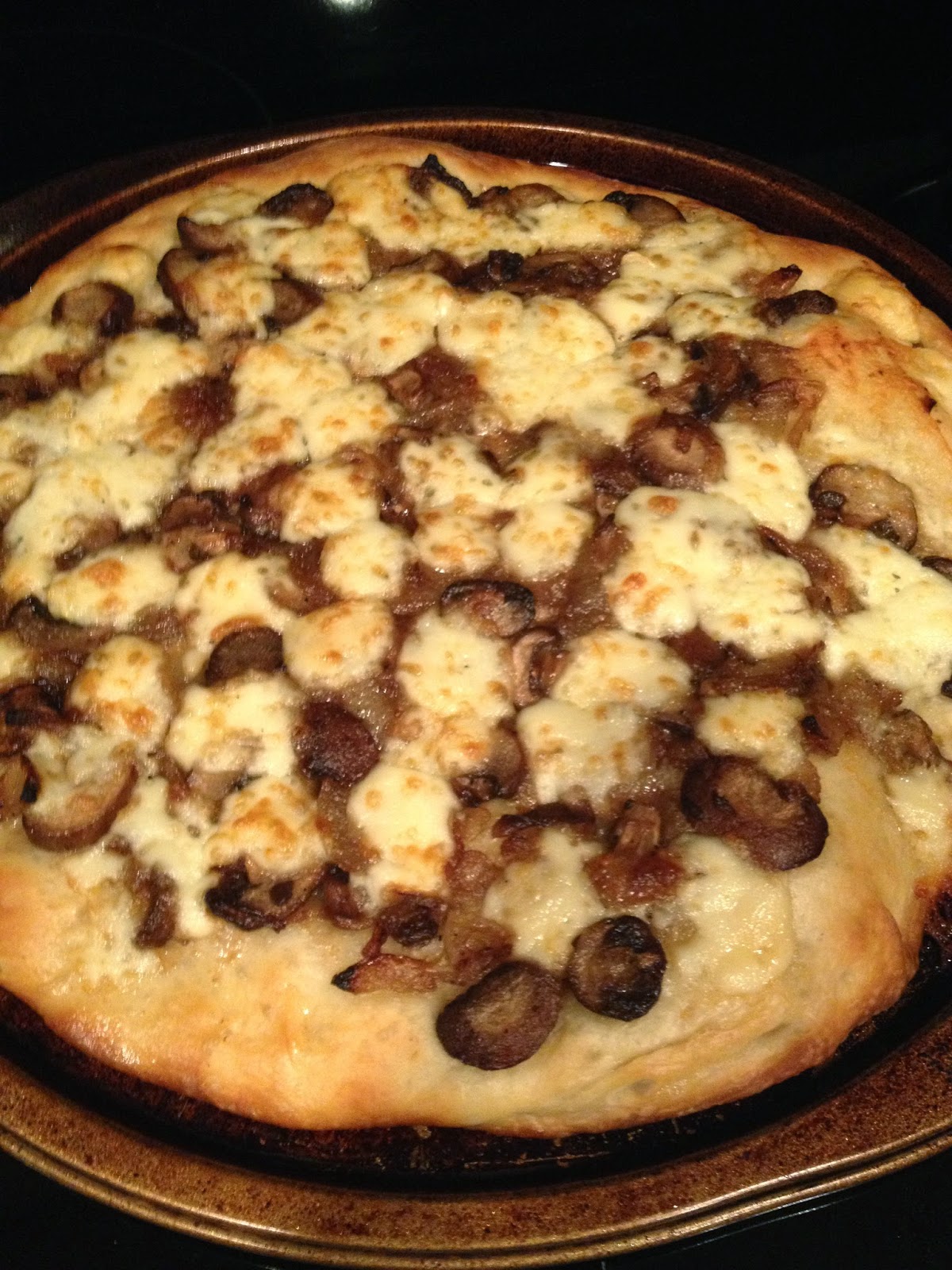 Caramelized Onion, Mushroom and Brie Pizza
1 yellow onion, sliced
8 ounces mushrooms (I used baby portabella)
5 ounces brie
1 tablespoon butter
2-3 tablespoons extra virgin olive oil
Pizza dough
Salt and pepper to taste
Preheat oven to 425 degrees (this was the recommended time on the fresh pizza dough I bought from the grocery store). Start off by caramelized onions in olive oil and butter over medium-low heat. Add a little salt to help with the caramelizing process. Once onions begin to brown, about 10 minutes, add the mushrooms. Cook until the liquid from the marshmallows has evaporated, about 5 minutes. Meanwhile, slice the brie in small pieces. Prepare dough on pizza pan and add onion and mushroom mixture. Cook for about 5 minutes in the oven, or until the crust is starting to look golden brown. You don't want to put the cheese on yet since the dough is still raw. The cheese won't need that long to melt. Scatter the brie cheese around the pizza and bake for an additional 8-10 minutes, or until the crust is a deep golden brown and the cheese starts to melt and becomes bubbly (if you are using Boboli pizza crust, you can put the cheese on top of the onion and mushroom mixture and just let it cook, no need to wait on the cheese). Let cool about 5 minutes before serving.