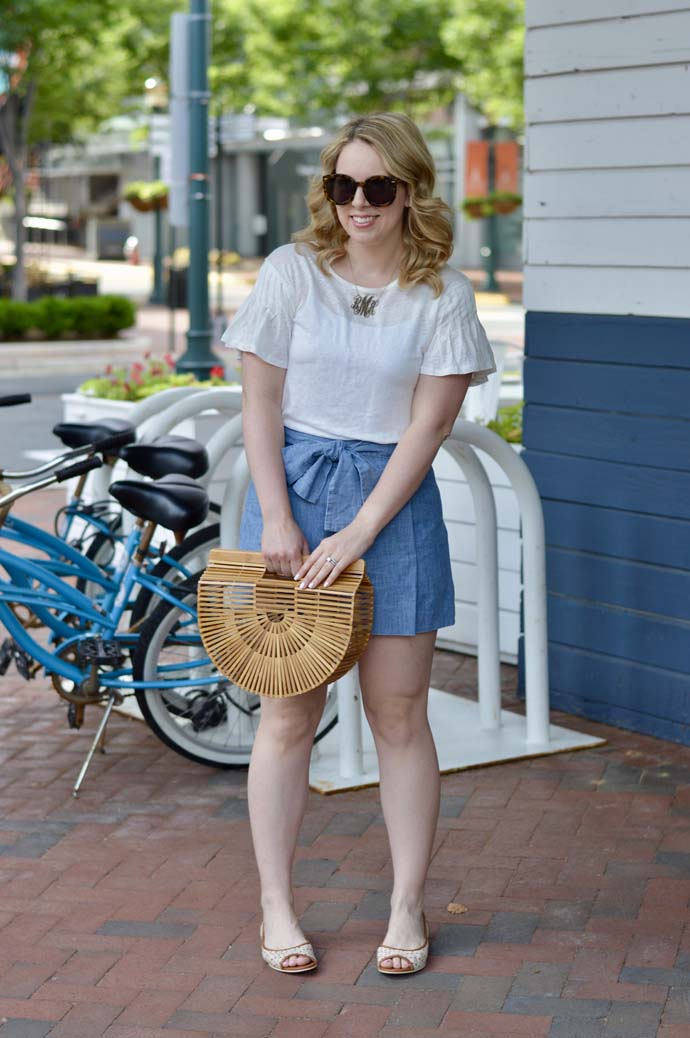 Happy Friday Eve, friends! Well that was a quick week! Now that summer is in full swing and so is the heat, I wanted to share a cute and casual everyday summer look with you. Cute shorts are a closet necessity in the summer and these chambray bow shorts fit the bill! There are so many things to say about each of these pieces, let's get started!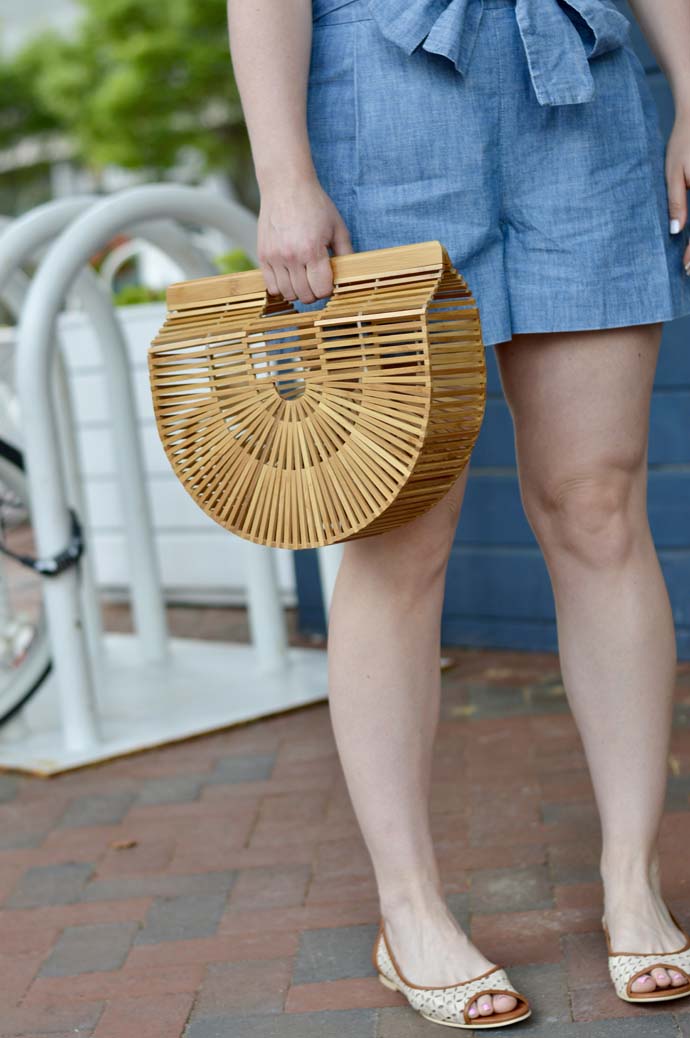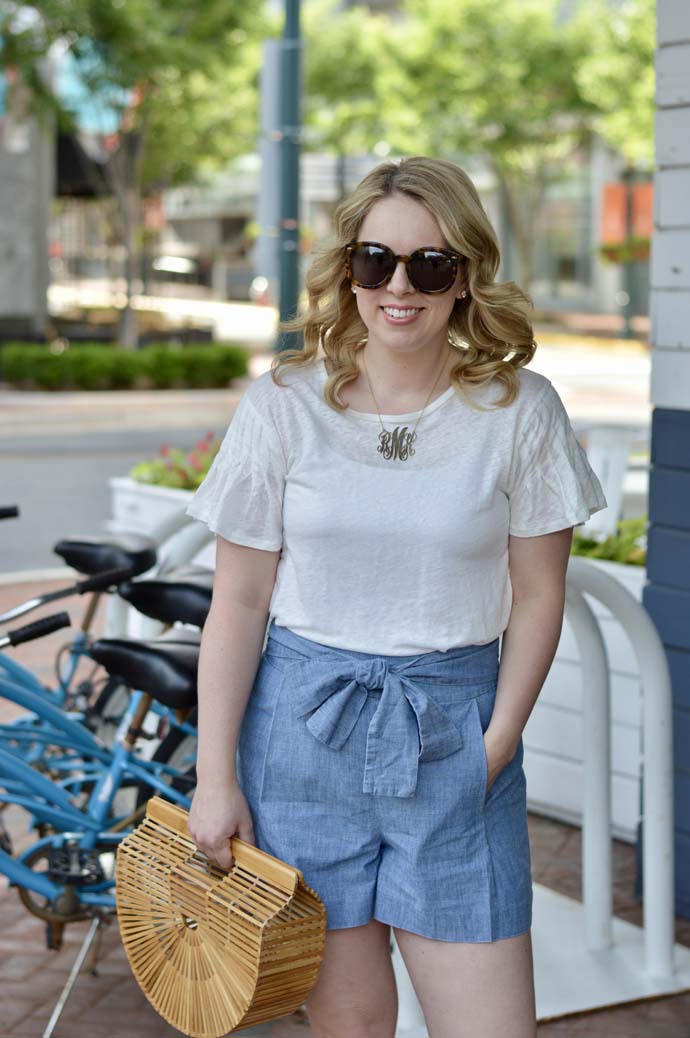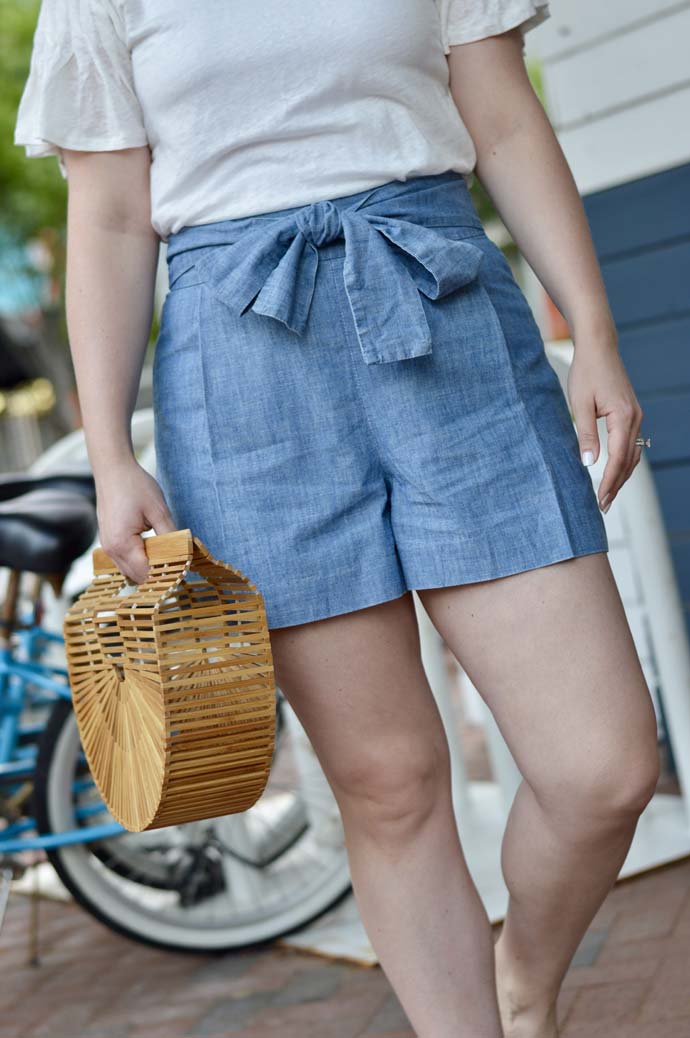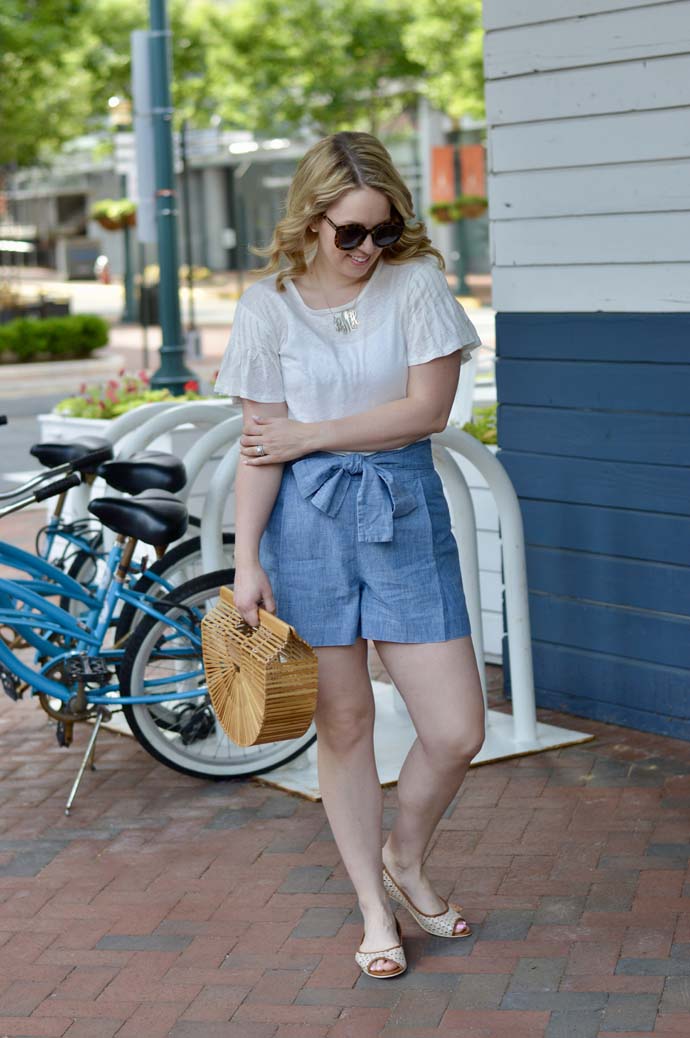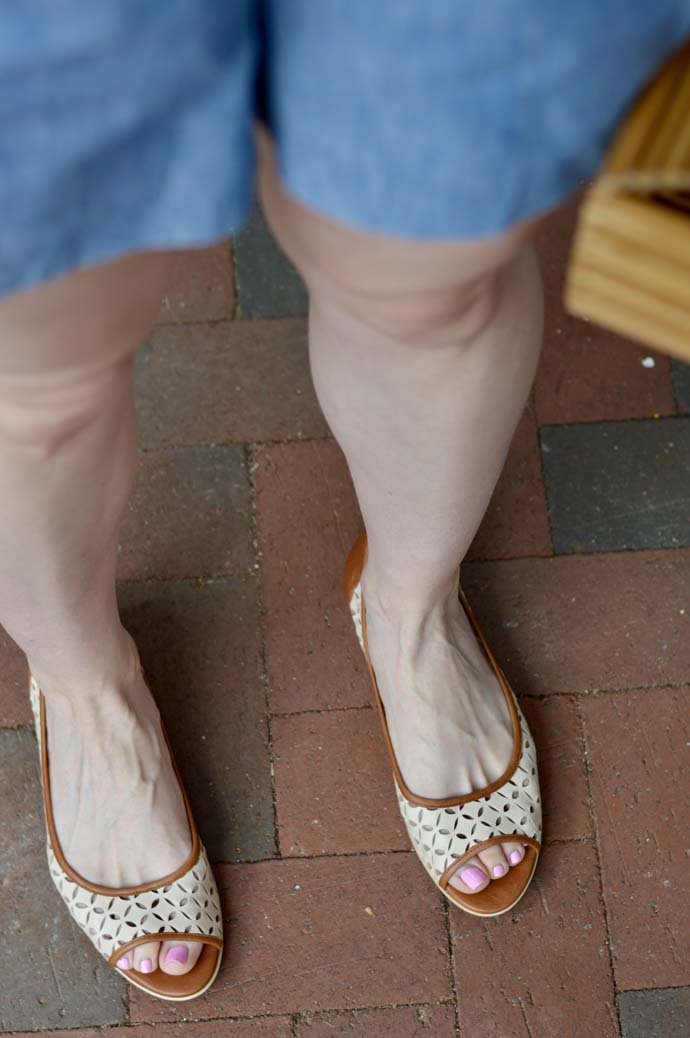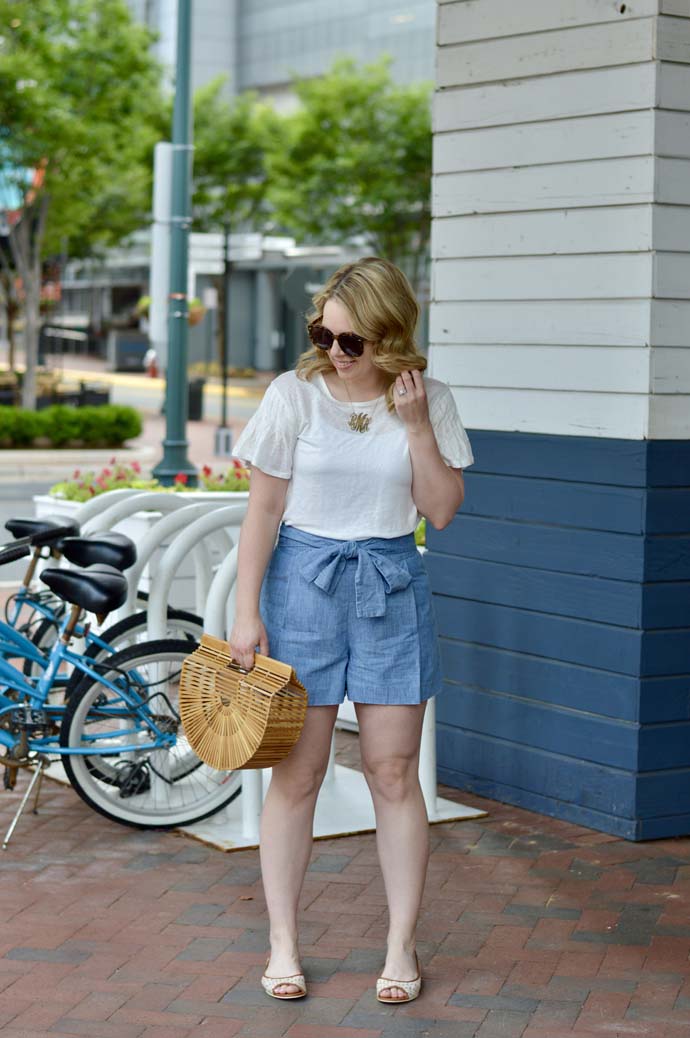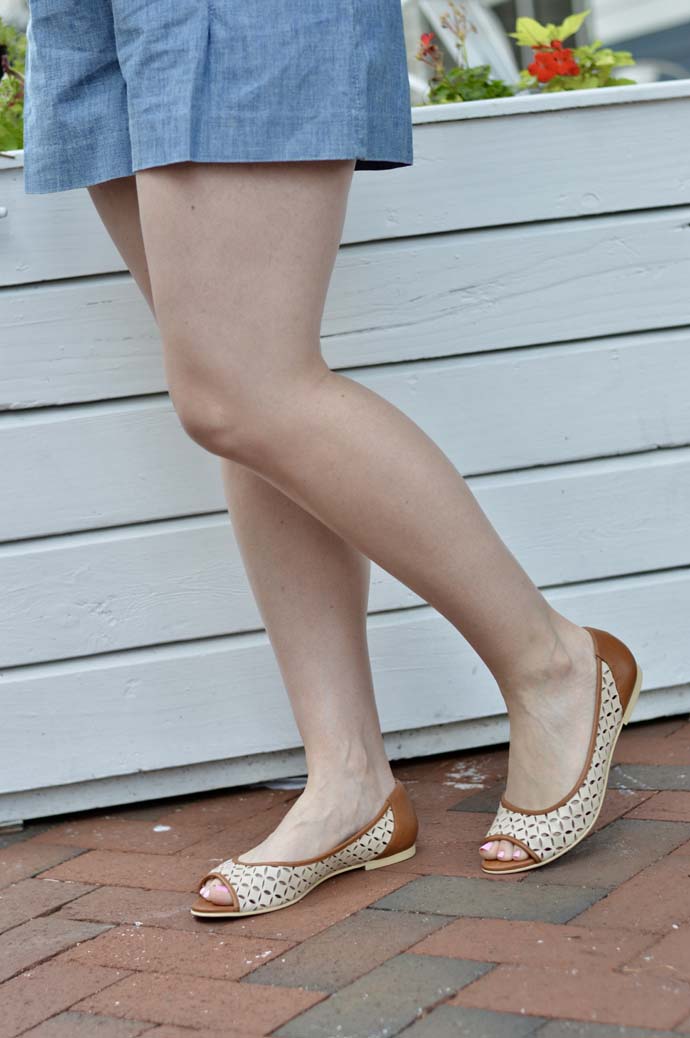 You can't say no to bow shorts
First, these
chambray bow shorts
. And I'm SO sorry to report that only a few sizes remain (I did link a similar pair
HERE
if you are looking for a style like this). I don't wear shorts often in the summer because the majority of the ones I find are way too short. At 5'8, finding the perfect length of shorts is nearly impossible. I decided to give these a try (I couldn't resist the bow!) since they were a bit higher-waisted. And although they are short, they don't feel like your typical short shorts with the wider leg and high-waist style
I've been wearing these
perforated flats
so much this spring and summer. You may remember when I styled them with jeans
HERE
and for a summer work outfit
HERE
. I know I've said it before, but I will say it again: I love how comfortable these shoes are and how they can be easily dressed down with jeans or shorts or dressed up for the office. You have to love a versatile pair of shoes!
Summer's must-have bag for $80
One last piece: this
bamboo bag
. I talked about it a little in
THIS
post last week and today I'm styling it more casually. The bamboo is the perfect neutral for all your summer outfits and it's the perfect lookalike for the designer version — and
only $80
!
Any fun plans for the weekend? We have been doing a mass cleaning of our house but one funny (well, actually not funny at all!) story to share: I have a closet in my office at home where I keep all my spring and summer clothes. The closet in our master bedroom can only hold my fall and winter clothes (oops!). Two weekends ago (in the midst of transferring my blog to WordPress) my entire office closet collapsed. Clothes were everywhere. My mom was kind enough to help me re-hang the shelves and rack last week so we were good to go. Or so we thought. I'm sure you are thinking "how many hangers was she trying to put on there?!" but in my defense, I did get rid of some of the things before re-hanging clothes last Saturday. To make a long story short, once all the clothes I was keeping were back on the rack, about four hours later, the closet collapsed AGAIN. I wish I was kidding. Needless to say, we have to come up with a better way to organize my spring and summer wardrobe…or maybe I need to get rid of more. Super fun weekend ahead for me! I hope you all have a great rest of the week and weekend! Thanks for reading!
….
Shop the Post