Every family has traditions when it comes to food. For me, it was
very rare that we did not sit down as a family for dinner each night growing
up. Now, with busy lifestyles, family dinner time seems to be a thing of the
past. And although we do not have kids yet, my husband and I make it a point to
sit together nearly every night for dinner, no matter what our schedules
entail. Full disclosure: I am typically not making a "from scratch" meal each
night. With both of our hectic calendars, I am constantly trying to come up
with quick recipes and shortcuts to cut down on my time in the kitchen.
If you have not noticed by now, my love for pasta goes pretty deep
— I usually try to incorporate a pasta dish at least once into our weekly
menu. Since making a batch of homemade sauce on a weeknight is not an option, you
can usually find me in the pasta sauce aisle searching for a sauce that has
that homestyle flavor in a jar.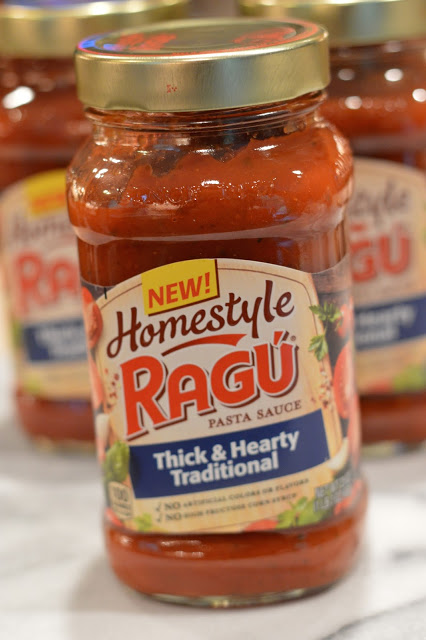 Thanks to Ragu Homestyle Thick and HeartyTraditional Sauce, my searching days may be over. I'm usually pretty skeptical
of pasta sauce in a jar — most have that overbearing, tangy tomato flavor that
completely overwhelms your taste buds. Does anyone else know what I'm talking
about?! When trying Ragu's homestyle pasta sauce for the first time, I was
pleasantly surprised. This sauce is bursting with flavor, complete with a
delicious blend of herbs and a thickness that reminds me of the homemade sauce
my mom made growing up. Best of all, these Ragu sauces do not use any artificial flavors,
colors or high fructose corn syrup so you can feel good about feeding this to
your family.
Chicken Parmesan is one of the few chicken
dishes I love. But, between the chicken prep, breading, frying and baking,
chicken Parmesan is by no means a quick dish! Enter chicken Parmesan meatballs.
These meatballs are easy to mix together, cook in the oven and act as the
perfect topper for your rigatoni and pasta sauce. Yes, making meatballs from scratch may seem like a lot, but this recipe made 55 1-inch meatballs that can easily be frozen for future dinners. That is one busy schedule friendly dinner!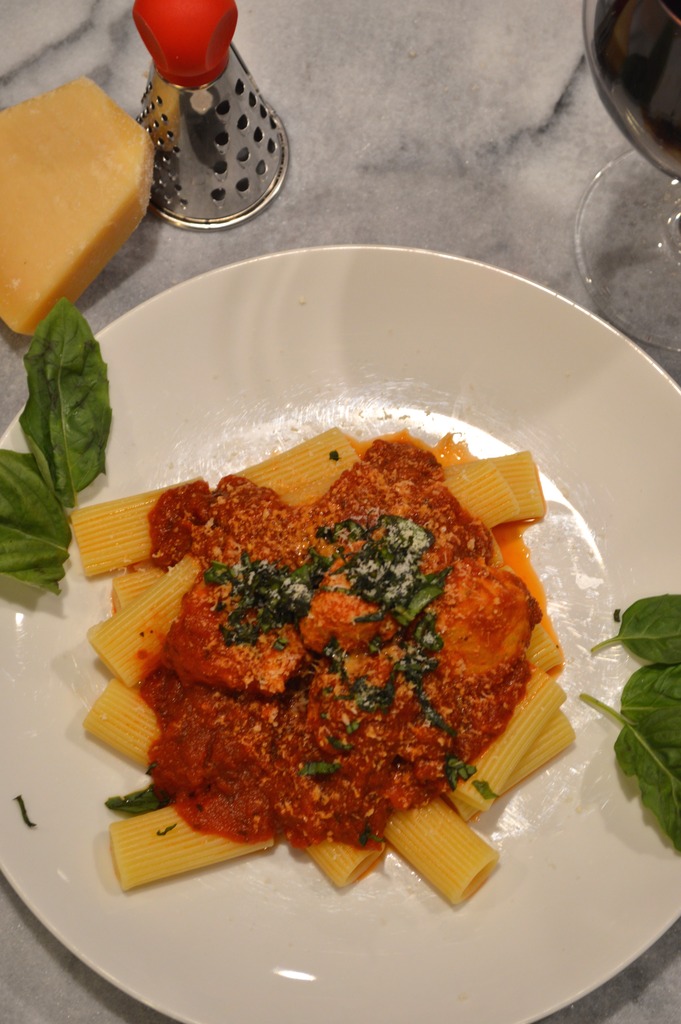 Chicken Parmesan Meatballs
A delicious and simple spin on traditional chicken Parmesan
Ingredients
2 lbs.

ground chicken

1/2 large

yellow onion, diced

1

egg, beaten

1/2 c.

sour cream {I used light}

1 c.

Italian breadcrumbs

3/4 c. plus additional for garnish

freshly grated Parmesan cheese

1 can + 4 TBS.

Ragu Traditional Homestyle Sauce

Salt & pepper, to taste

16 oz.

rigatoni pasta

Basil, for garnish if desired
Instructions
Preheat the oven to 350 degrees. Mix the ground chicken, onion, egg, sour cream, breadcrumbs, Parmesan cheese, 4 TBS of sauce and salt and pepper in a large mixing bowl. Roll into 1-inch balls. Bake for 20 minutes, flipping the meatballs over half way through the cooking. Cook until no longer pink in the center with an internal temperature of 165 degrees. Place Ragu Traditional Homestlye Pasta Sauce in a large pan with the meatballs and simmer on low. Cook pasta according to package instructions. Serve the sauce and chicken meatballs over the pasta. Garnish with basil and additional Parmesan cheese, if desired. **Recipe makes 55 1-inch meatballs**
Details
Prep time: Cook time: Total time: