Let's be honest. Everyone loves Chipotle. You can customize exactly what you want from burrito vs. bowl to virtually any topping you desire. We are such huge fans that I decided to have a "Chipotle at Home" dinner, with all the usual Chipotle toppings and some other favorites!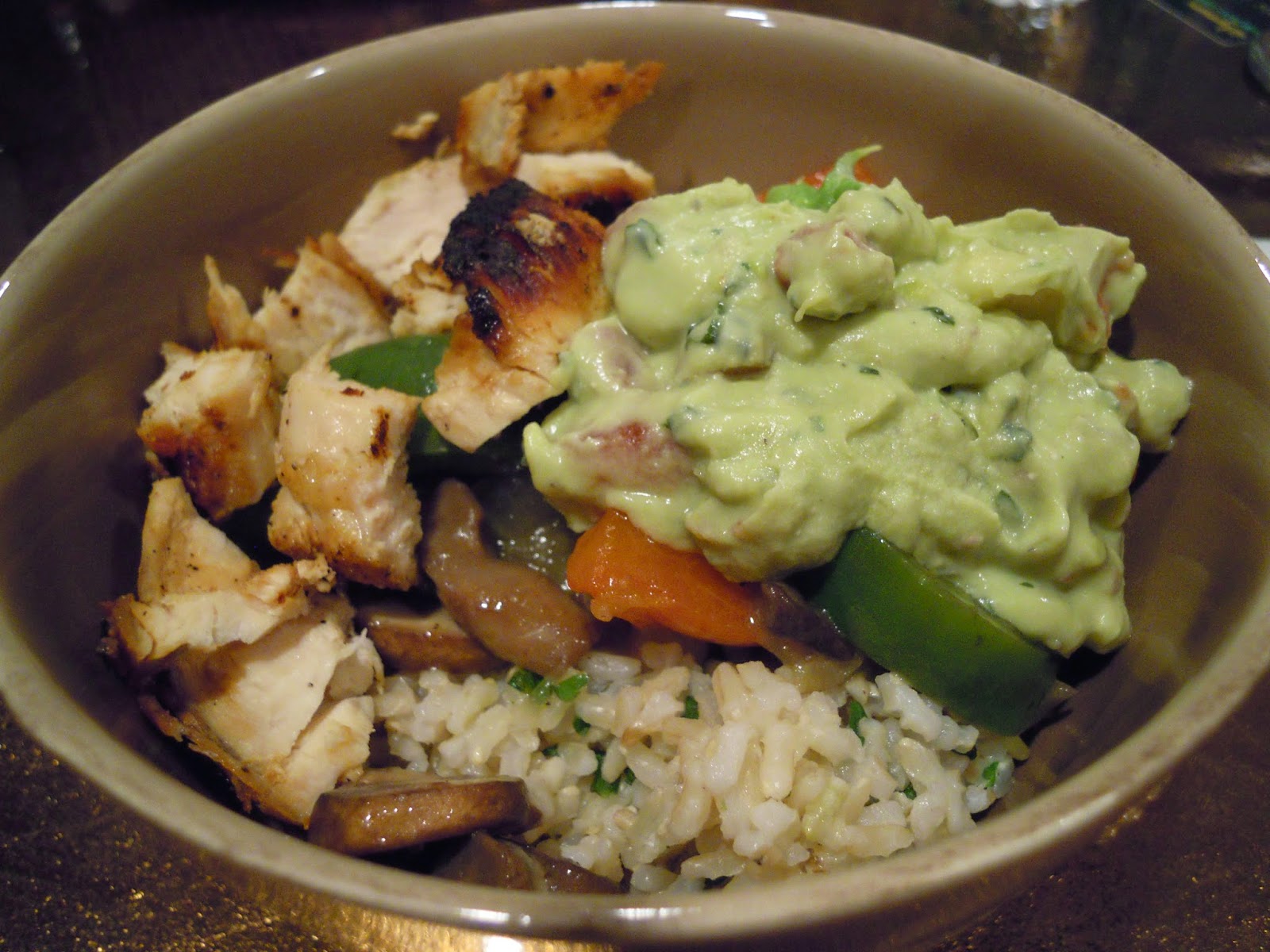 Chicken Burrito Bowls
3 boneless, skinless chicken breasts
1 red pepper, sliced
1 green pepper, sliced
1 yellow onion, sliced
8 ounces fresh mushrooms
4 cups brown rice
¼ cup cilantro, chopped
Juice of 1 lime
6 tablespoons extra virgin olive oil
1 tablespoon butter
Salt, pepper and cayenne pepper to taste
Garnish with guacamole, salsa or any other Chipotle topping you desire!
Begin by season chicken with salt, pepper and a little cayenne pepper. Heat 3 tablespoons extra virgin olive oil and butter over medium heat in skillet (I used my heavy-duty, cast iron skillet). Place chicken seasoned-side down in skillet and season the other side. Cook about 5 minutes on each side until there is a nice brown crust (Mine took more like 6-7 minutes because my chicken breasts were so thick!). Meanwhile, sauté peppers and onion over medium heat. Add mushrooms. Cook until most of the liquid from the mushrooms is gone, roughly 8 minutes. Cook the brown rice according to package instructions. Once rice is cooked, add chopped cilantro and lime juice; stir to combine. Once chicken is finished cooking, cut into bite-sized pieces. To assemble, place rice in bottom of bowl, add sautéed vegetables and chicken. Top with guacamole or any other favorite topping! Serve with tortilla chips, if desired 🙂
We loved the convenience of having Chipotle in our own home. No waiting in lines and I suspect that it was a little healthier since we knew exactly what was going into that bowl! A great (and slightly healthier!) alternative to your favorite burrito joint.