Who else can't believe it's May and Cinco de Mayo is on Friday?! This year is flying by! To celebrate, I thought I would share a spin on a favorite Mexican dessert: churro cupcakes.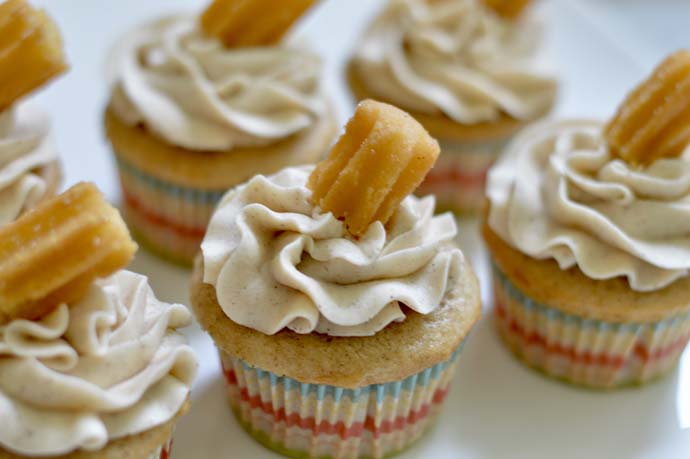 Long before A Blonde's Moment existed, cupcakes were my hobby. I loved trying out different combinations and flooded my office with all sorts of cupcake creations nearly once a week. I even had dreams of opening a cupcakery but, with all the cupcake shops around DC, I was a little behind the "cupcake movement." Although I don't make them nearly as much, I still like to experiment with different flavors and toppings so these churro cupcakes were the perfect excuse to do so!
When I was planning out food posts a few weeks ago, I knew I wanted to share a Mexican-inspired recipe for Cinco de Mayo. I originally had something else planned — a healthy dish, actually — but these churro cupcakes came to me in the middle of the night and I knew I had to make them. Don't worry, I still made the healthy Mexican dish and will be sharing it in a few weeks 🙂
Churros are one of my favorite Mexican desserts so it was an easy choice to recreate this dessert in the form of a cupcake. I didn't get too crazy with the batter, I just used a cake mix box and added some cinnamon to give it that churro flavor. I did, however, make my favorite buttercream frosting and added even more cinnamon. This buttercream is my go-to when it comes to frosting and good news, it makes more than enough for the cupcakes and will leave you with a little extra to eat by itself, with a spoon, if you are like me that is 😉 I finished each cupcake with a bite-sized churro for the topping and used festive cupcake wrappers to give the cupcake that Cinco de Mayo feel! Check out the easy recipe below.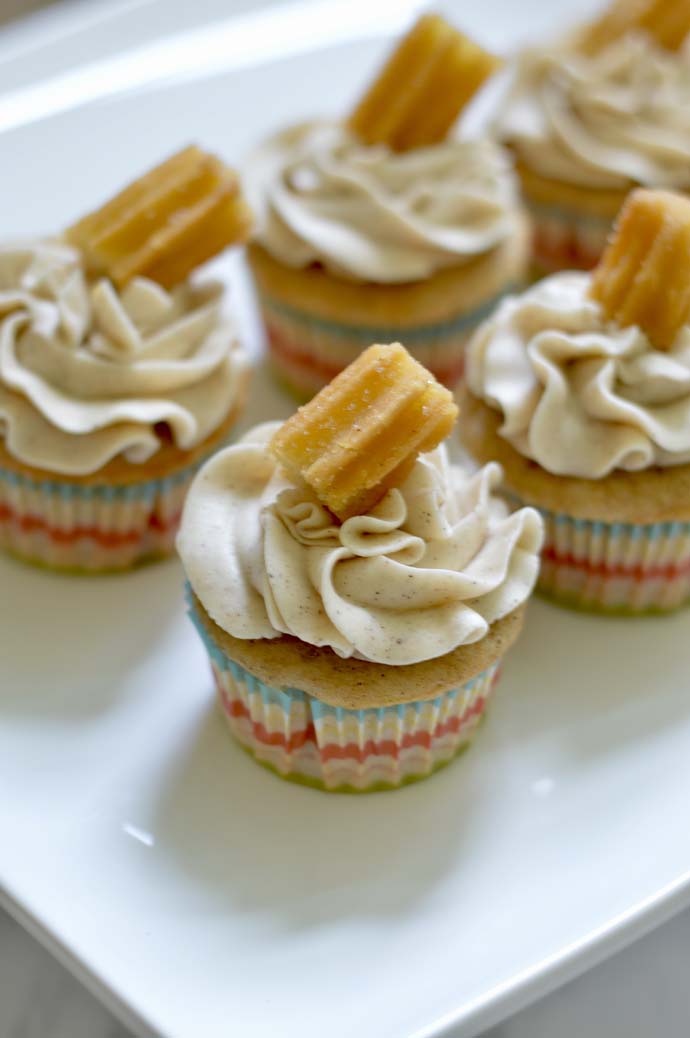 1 box

golden vanilla cake mix (plus cake ingredients on box)

1 ½ teaspoon

cinnamon

4 cups

powdered sugar

1 cup

butter, softened

2 teaspoon

vanilla extract

1 tablespoon

milk (I used almond milk)

1 teaspoon

cinnamon

24

bite-sized churros, topping if desired
Prepare and bake cupcakes according to cake mix instructions, adding 1 ½ teaspoon of cinnamon to the dry ingredients. Allow cupcakes to cool completely before frosting. For the buttercream: Mix the powdered sugar and butter together in a mixer on low speed. Once combined, gradually add the vanilla, milk and cinnamon; mix until completely incorporated. Frost the cinnamon cupcakes with the cinnamon buttercream and top each cupcake with a bite-sized churro, if desired. Enjoy!
….
Thanks for stopping by, friends! Happy Cinco de Mayo cooking!