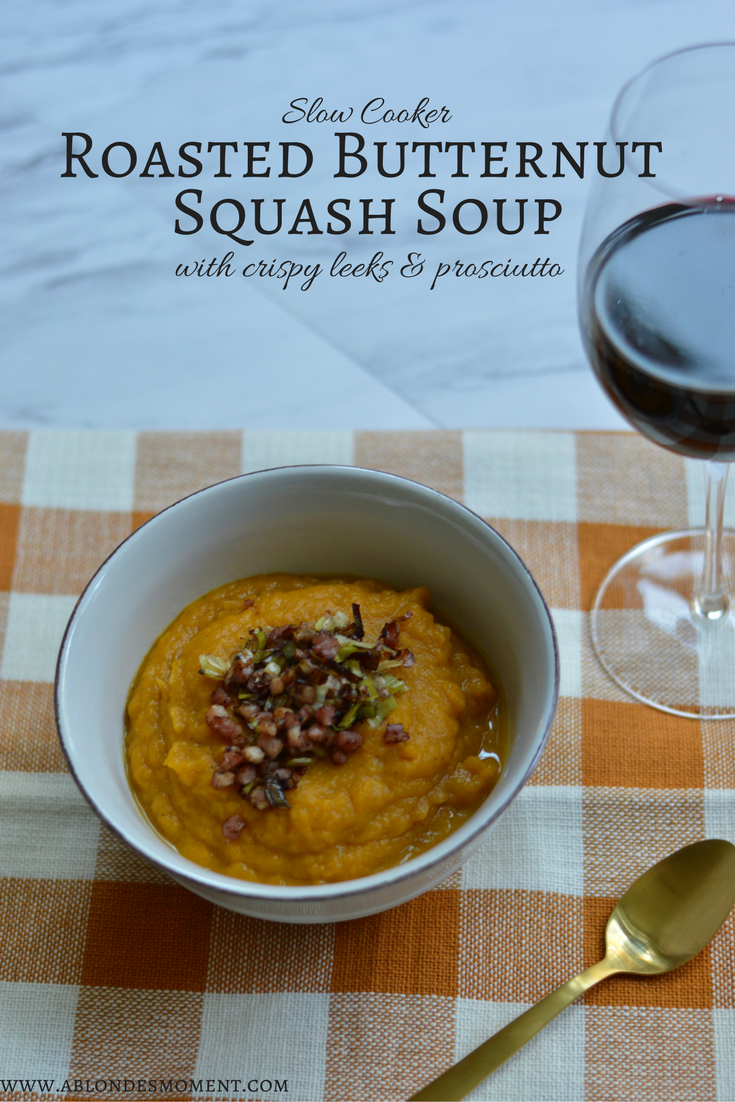 Crockpots are a lifesaver on weeknights or any day with a busy schedule. At least once a week, I try to make something for dinner in the crockpot. I love being able to throw the ingredients in and just let it cook. Lately, I've been on a real soup kick — it's the perfect warm dinner for a cool fall day. And I couldn't think of a better way to kick off November than sharing a roasted butternut squash soup with all of you!
This crockpot soup is just a little more labor intensive since I roasted the butternut squash before putting it in the crockpot. But, I will say that the extra 20-30 minutes of roasting is totally worth it when it comes to the flavor. And speaking of the flavor, don't be fooled by the 1/8 teaspoon of cayenne pepper — it's pretty spicy, but it still gives the soup a good kick. For some added crunch, I added the crispy leeks and proscuitto, but you could also use shallots, pancetta or even goat cheese would be delicious!
Roasted Butternut Squash Soup with Crispy Leeks & Prosciutto
Ingredients
1 butternut squash, chopped

2 garlic cloves, chopped

2 TBS butter

1 yellow onion, diced

2 cups vegetable broth

1/8 tsp cayenne pepper

4 ounces prosciutto, diced

2 leeks, diced

2-3 TBS olive oil

salt and pepper, to taste
Instructions
Preheat oven to 400 degrees. On a rimmed baking sheet toss the butternut squash with olive oil and salt and pepper. Roast for 20-30 minutes, or until tender. To the crockpot, add the roasted squash, garlic, yellow onion, vegetable broth and cayenne pepper. Cook on high for 4 hours. When finished cooking, transfer the mixture (probably working in two batches) to a blender (or use an immersion blender) blending until smooth. Transfer the soup back to the crockpot. In a small skillet, melt the butter over medium heat and add the prosciutto and leeks and saute until crispy and place on top of soup.