Now with spring in full swing, I have been in the mood for fresh produce — more specifically, tomatoes. I
love
tomatoes — I have even considered eating a tomato like an apple!
At our local Wegmans (only the best grocery store ever), I found HEIRLOOM TOMATOES. This is like the epitome of tomatoes, at least for me. I've never actually seen them in a grocery store, so this was super exciting. Regular tomatoes will work too, and the majority of tomatoes I used were regular grape tomatoes.
This is such a simple weeknight dinner. And although it's just vegetables, it's a fresh and filling spring or summer meal. (Just be prepared for lots of vegetable chopping!)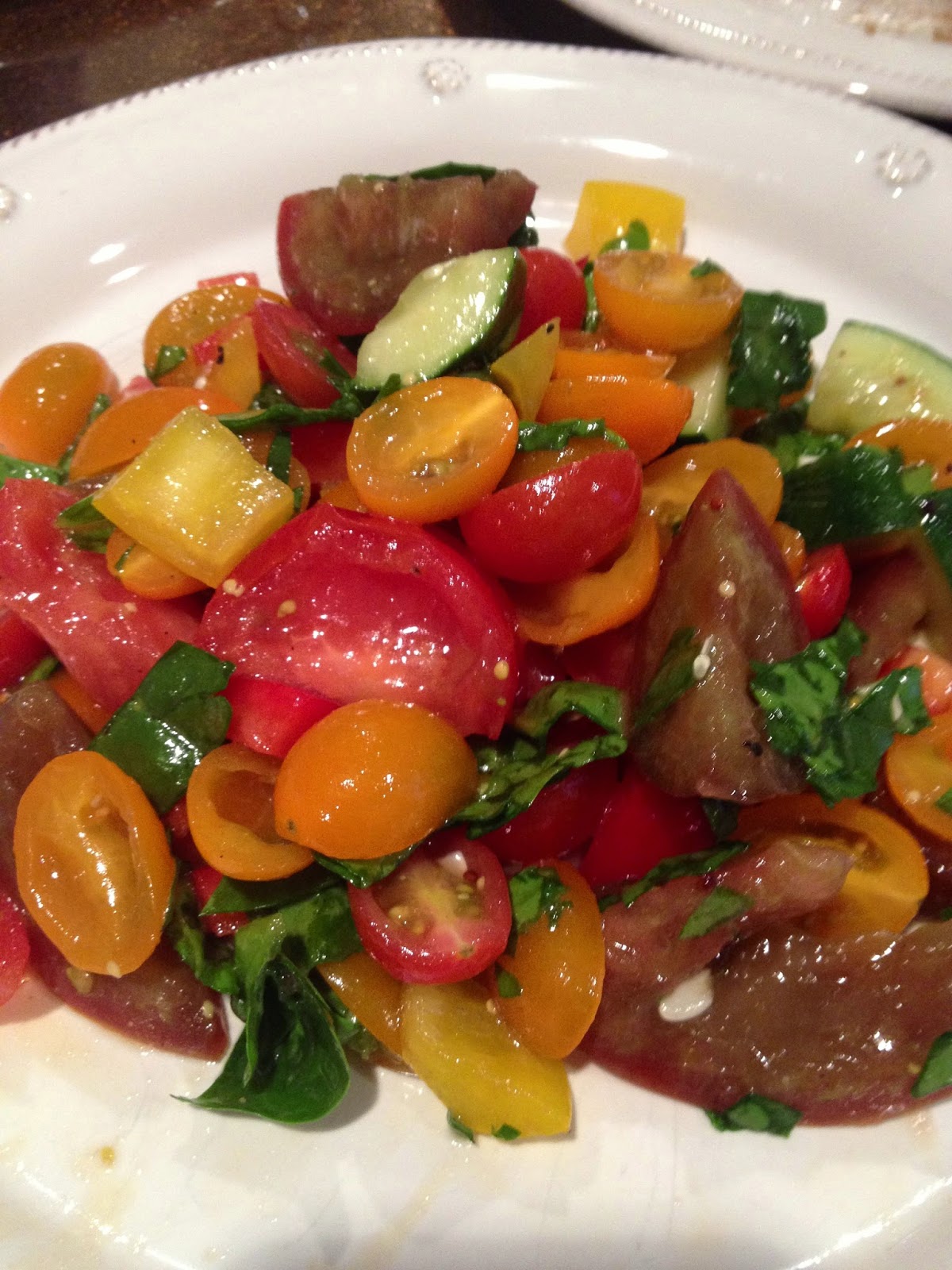 Deconstructed Gazpacho Salad
16 oz red grape tomatoes, halved
16 oz yellow grape tomatoes, halved
2 heirloom tomatoes, chopped
1 red pepper, chopped
1 yellow pepper, chopped
1/2 cup fresh spinach, roughly chopped
1 cucumber, chopped
Salt and pepper to taste
Red wine vinaigrette dressing:
1/3 cup red wine vinegar
2/3 cup olive oil
1 tablespoon whole grain Dijon mustard
1 tablespoon honey
1 teaspoon red pepper flakes
Salt and pepper to taste
Start by halving the red and yellow grape tomatoes; chop the heirloom tomatoes (if using) into bite-sized pieces. Chop red and yellow pepper and cucumber. Rough chop spinach. Place all vegetables in bowl, with spinach on top. Season with salt and pepper.
To make dressing: mix red wine vinegar, mustard and honey in bowl. While whisking red wine vinegar mixture, slowly add olive oil. Once combined, add red pepper flakes and season with salt and pepper.
Toss vegetables with red wine vinaigrette dressing and serve.