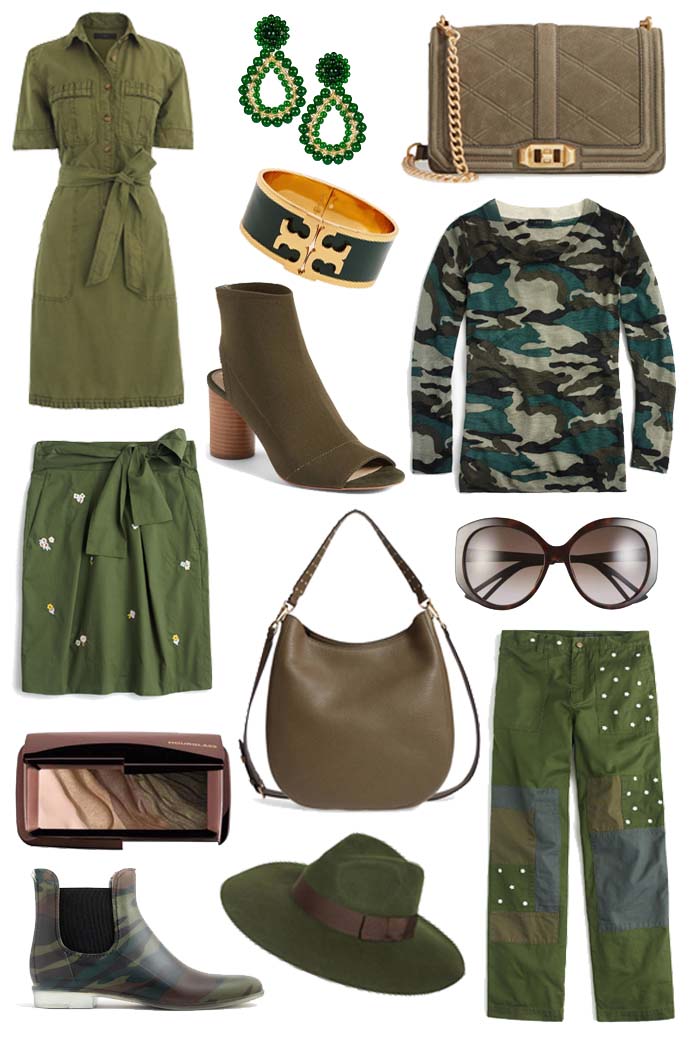 ruffle hem utility dress | emerald green statement earrings | crossbody bag | enamel logo bracelet | peep toe bootie | camo sweater | embroidered skirt | convertible leather hobo | sunglasses | eyeshadow palette | camo rain boots | hat | embroidered boyfriend chino pants
The combination of the Nordstrom Anniversary Sale and the cooler temperatures this week have me counting down the days until fall. One color that I have been loving and wearing since January is green. I had high hopes for this shade when it was announced as the Pantone Color of the Year and it has not disappointed. I'm so excited to share today's fall color inspiration with you because it's a shade that continues to grow on me (and in my closet!). All of these pieces are perfect for transitioning from summer to fall.
Army Green
Technically speaking, the Pantone Color of the Year is greenery. But, with so many beautiful shades of this color, I also included olive, emerald and Army greens into the mix. I went through a camo obsession a few years ago, buying a J.Crew sweatshirt and jeans in the print. I am so excited to see camo back in a big way with these rain boots and sweater. This skirt, dress and pants are all in the same color family and would be perfect pieces for your fall wardrobe. Trendy details really make these pieces: embroidery on the skirt and pants and of course the ruffle hem on the utility dress. What a cute detail!
Green Accessories
If you aren't ready to dive completely into this year's color, this shade is easy to wear in accessories, too. The emerald in these earrings mixes perfectly with gold. Speaking of the green and gold color combination, this logo bracelet would be easy to pair with fall looks as well.
How have you been wearing this color so far this year? Have you purchased any fall items in this shade? I would love to hear in the comments section below!
Have a wonderful Wednesday, friends!
….
SHOP THE POST