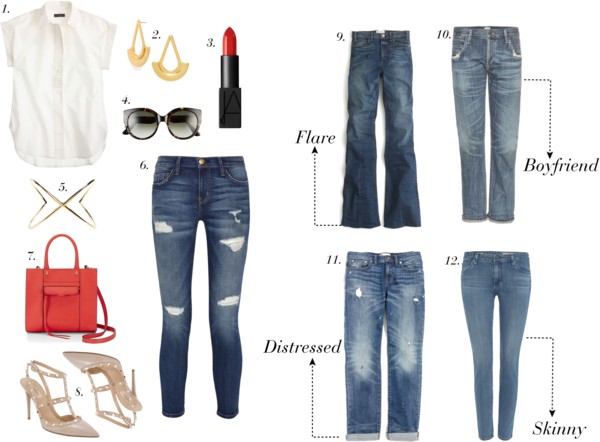 1. | 2. | 3. | 4. | 5. | 6. | 7. | 8. | 9. | 10. | 11. | 12.
With fall just around the corner, I have had denim on my mind a lot lately. Personally, I know that I am always trying to find the "perfect" pair of jeans. I've only found two brands of jeans that I really like and can pretty much guarantee a fit: J.Crew and Current/Elliott. You may remember I had some luck with Old Navy's denim in the spring, but I have noticed that quality is definitely an issue when it comes to the less expensive brands. I'm all for finding deals, but sometimes it's better to invest in a few higher quality jeans. In my experience, they tend to fit better, last longer and look better. Nordstrom does occasionally have some great sales on the higher-end jeans. I bought these Current/Elliott skinny jeans last year during the Anniversary Sale and I LOVE them!
There are four denim trends I am loving for fall: flare, boyfriend, distressed and skinny. I don't know about you, but I loved rocking the flared jeans back in middle school and I'm so excited that they are making a comeback! Skinny jeans are always a favorite, but I have my eye on these distressed jeans for fall. I have one pair of distressed jeans from Old Navy that are great, but going back to the quality issue, they are starting to be a little too distressed, and not in a good way! What jeans are on your wish list for fall? I've included some of my favorite jeans below that you can check out.
And it wouldn't be Wednesday Wishes without a little outfit inspiration! I'm loving this late August look that can easily be transitioned into fall. As much as I would love to break out the boots and jackets, it is way too hot in DC to think about that for at least another month!
Have a wonderful Wednesday, everyone!