There is nothing more that I love then spending a Saturday night at home. There is just something about lounging in sweatpants and a sweatshirt while cooking a delicious dinner that is so appealing. (Don't get me wrong, I love dressing up. But, after dressing up everyday for work, I'm ready for some cozy clothes!)
It's safe to say I took a risk with this meal. Not only did it involve sweet potatoes (not my husband's favorite vegetable) but also one of my only cooking blunders – homemade gnocchi. A few years ago, I had a complete cooking catastrophe with homemade gnocchi. I like to blame it on a faulty recipe, but I'm sure it was pure inexperience. It was just plain potato (undercooked!) gnocchi that was basically pure flour. Although my husband ate it and said it was delicious, I know it wasn't my best dish. Since then, I have had a fear of homemade gnocchi – but yesterday, I decided I was ready to conquer my gnocchi phobia.
I love sweet potatoes all year round, but it seems only natural to eat them in the fall. And one of my favorite combinations is brown butter and sage. There is just something so warm and rich about that combination that screams fall. And since sweet potatoes are the perfect fall vegetable, it only seemed right to combine these luscious fall ingredients.
Sweet Potato Gnocchi with Brown Butter & Sage
2 large sweet potatoes (about 2 pounds) – washed, dried and pierced with a fork
12 ounces ricotta cheese (I used part-skim)
1 cup Parmesan cheese
2 tablespoons packed light brown sugar
About 2 tablespoons salt plus a pinch
½ teaspoon nutmeg
About 2 cups all purpose flour
¾ stick of unsalted butter
6 sage leaves, chopped, plus more for garnish if desired
Place washed sweet potatoes on a plate and microwave on high for 5 minutes on each side, or until tender. Cut the sweet potatoes in half to cool (they will be really hot!). Scrape the insides of the sweet potato into a large bowl and mash. Once mashed, add ricotta cheese until combined. Add Parmesan cheese, brown sugar, 2 tablespoons of salt and nutmeg. Mash again to combine. Add flour ½ cup at a time until a soft dough forms (I used about 2 cups in all).
Place dough on floured surface in small batches. Roll long, rope-like pieces in between hands and on floured surface. Cut rope into about 1-inch pieces. Indent each piece with fork and place on baking sheet lined with parchment paper. (WARNING: this recipe made roughly 100 gnocchi! Depending on how many you are planning to feed, cutting the recipe in half could be a wise decision. I ended up freezing the leftovers for a quick, weeknight meal.)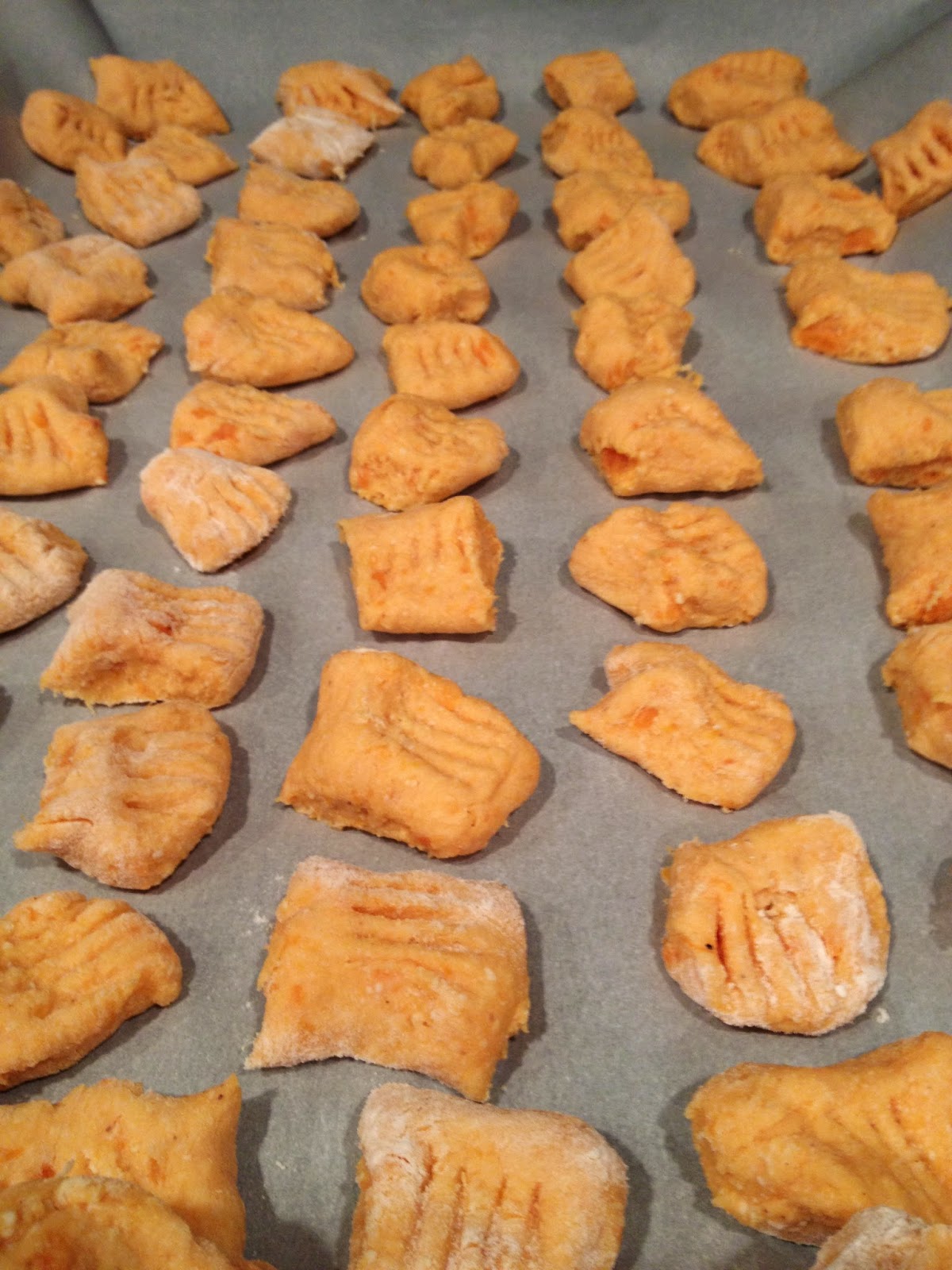 Bring a large pot of water to a boil and add a pinch of salt. In batches, add gnocchi under tender, about 6 minutes (The gnocchi will come to the top when they are done too!). Transfer the cooked gnocchi to a clean baking sheet and place in 250-degree oven to keep warm.
Melt 2 tablespoons of butter per person in a saucepan until brown, swirling the pan occasionally, for 5 minutes. Take about half of the chopped sage and add to the brown butter (the mixture will start to bubble). Add a single portion of the cooked gnocchi and sauté in the brown butter mixture for about 5 minutes until the gnocchi is heated through. Repeat with remaining gnocchi, sage and butter for additional portions. Garnish with sage leaves, if desired.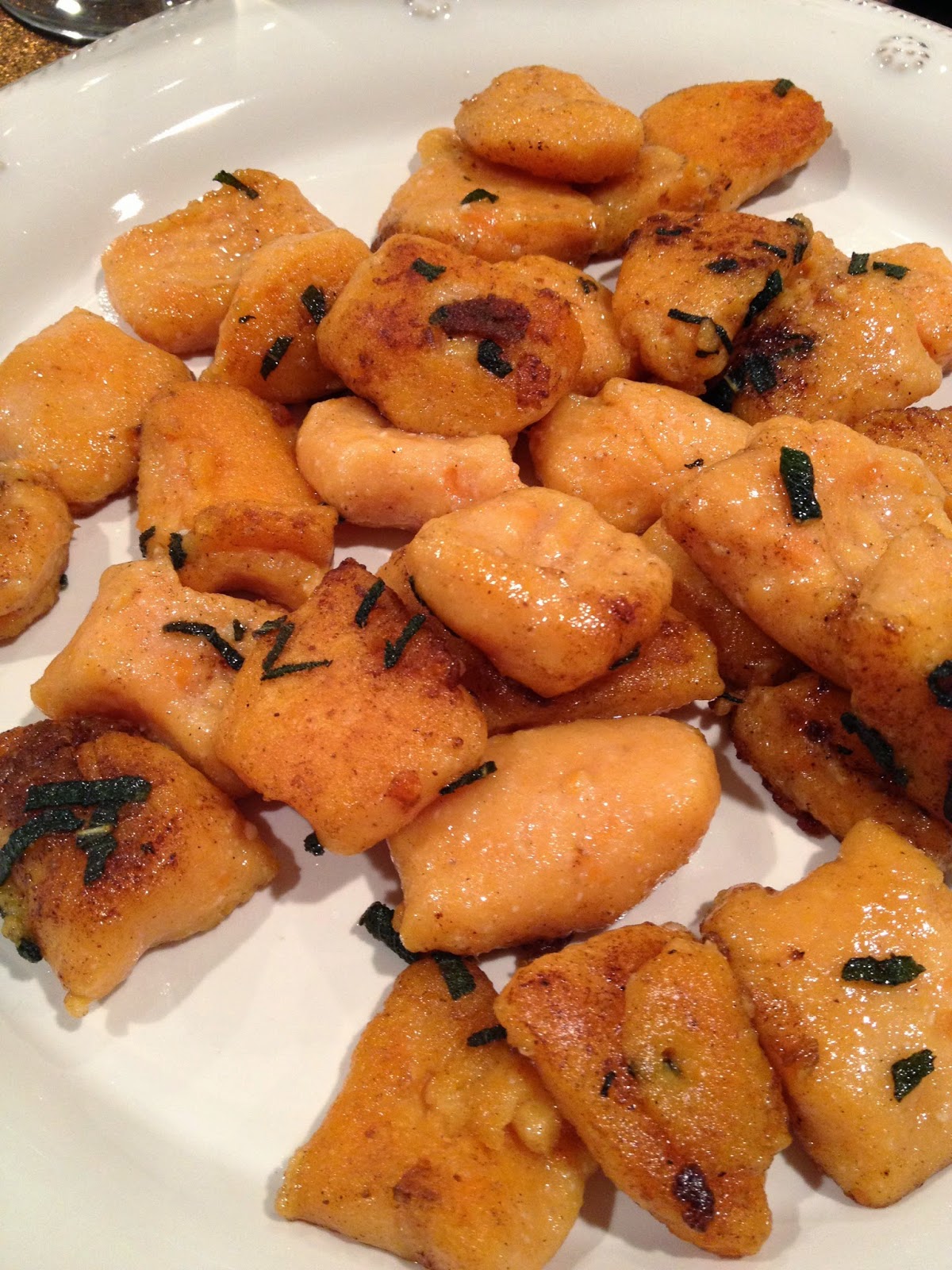 This Sweet Potato Gnocchi with Brown Butter & Sage was incredible! The way the butter soaked into the sweet potato gnocchi made such a soft and rich pasta pillow and the sage was the perfect, aromatic herb to compliment the otherwise sweet dish. It was the ideal meal for a cool, fall evening. And, even my non-sweet potato-eating husband loved it – he actually ate what was left on my plate.
This is a wonderful weekend meal. It does take a little longer than just boiling regular spaghetti, but that extra time is absolutely appreciated in the quality of this meal. Not only was this a fabulous fall feast, I finally conquered my fear of homemade gnocchi.