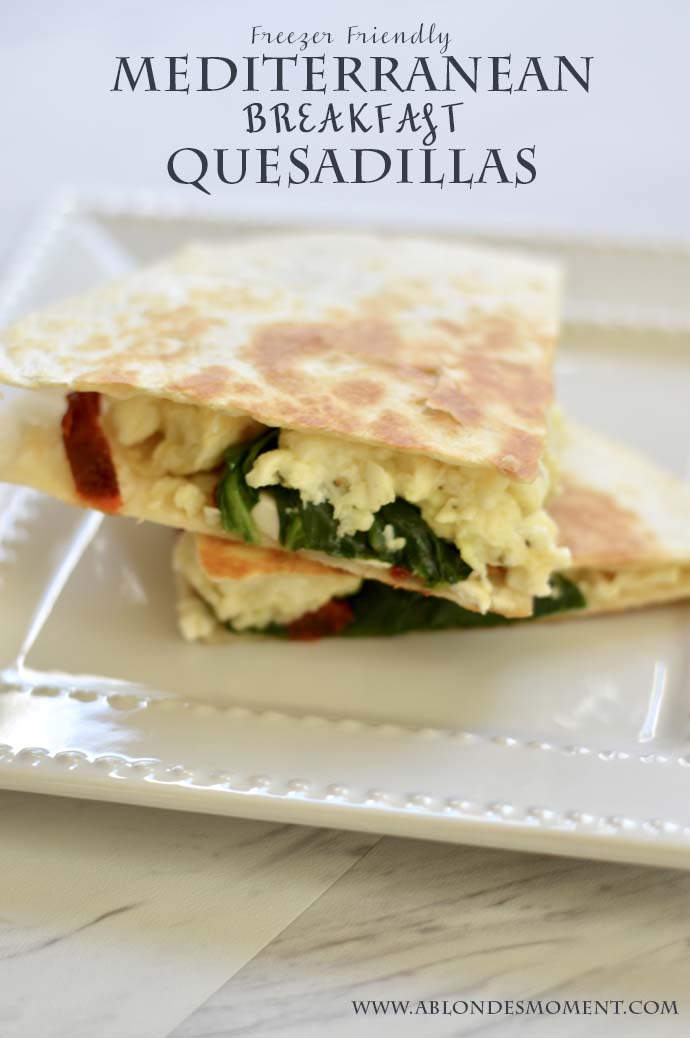 After reading through the reader surveys, make ahead and freezer friendly breakfast recipes were one of the most requested kind of recipes. And I totally get it because I struggle with ideas too! Everyone has a busy schedule, and coming up with healthy and quick meals can be a challenge. Going forward, I will be sticking to mostly quick and healthy recipes: breakfast, lunch, snack and dinner recipes that are perfect for the busiest of schedules. Although, there could be a splurge-worthy treat every once in a while, especially around holidays 🙂 Without further ado, here is the latest freezer friendly breakfast recipe: Mediterranean Breakfast Quesadillas.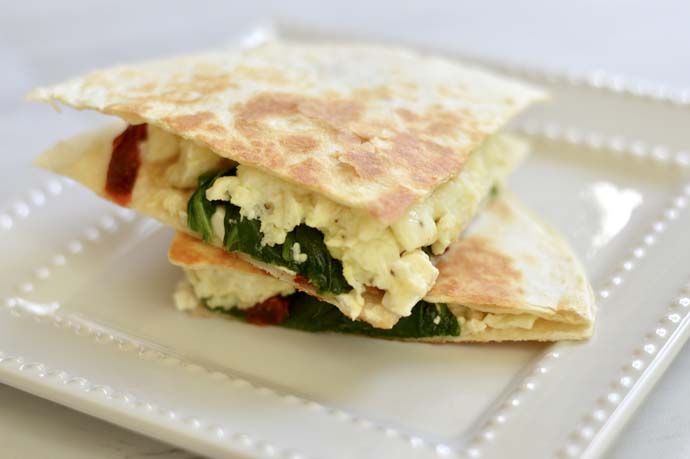 It's probably pretty obvious by now that we really like Mexican food in our house and finding a way to incorporate one of our favorite cuisines into breakfast had me oh so excited. For me, there are only so many ways to eat an egg sandwich. Yeah, you can switch up the toppings or have it on an English muffin instead of toast or a bagel, but that has been done and re-done so many times.
Since we have Mexican at least once a week for dinner, I typically have tortillas on hand, looking for a way to use them up before they expire. Sometimes, I will make homemade chips, but a few weeks ago when I realized that I needed to use these tortillas sooner rather than later, I thought of making breakfast quesadillas. Not that breakfast quesadillas are by any means an earth shattering idea, but it was definitely different from the usual toast and other breakfast breads. And instead of the typical eggs, cheese and bacon, I thought I would put a Mediterranean spin on these and add spinach, sun-dried tomatoes and feta cheese. Check out the recipe below. Once these are cooled, you can easily wrap them in plastic wrap and foil and store them in the freezer for a quick, on the go breakfast!
Mediterranean Breakfast Quesadillas
10 ounce bag

fresh spinach

8 – 8 inch

tortillas

1/2 cup

sun-dried tomatoes, drained

16 ounces

egg whites

1/3 cup

feta cheese

2 tablespoons

olive oil
Spray large skillet with cooking spray. Cook egg whites, scrambling, over medium heat. Transfer cooked egg whites to a clean plate. In the same skillet, add olive oil and cook spinach just until wilted; season with salt and pepper. To assemble quesadillas, place one tortilla on flat surface and top with enough egg whites to cover the tortilla, leaving a border around the edge. Top with desired amount of spinach, sun-dried tomatoes and feta cheese. Heat a clean skillet over medium heat and spray with cooking spray. Transfer quesadilla to skillet and brown on each side, about 2-3 minutes per side, or until golden brown. Repeat with the remaining quesadillas. Once cooled, wrap the quesadillas in plastic wrap and foil and place in the freezer until ready to eat. To warm frozen quesadillas: wrap quesadilla in damp paper towel and microwave for about 2 minutes, or until warm. Enjoy!