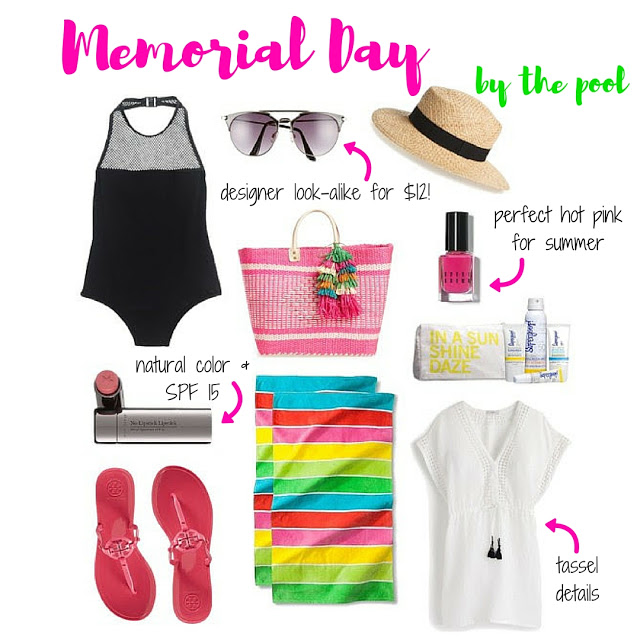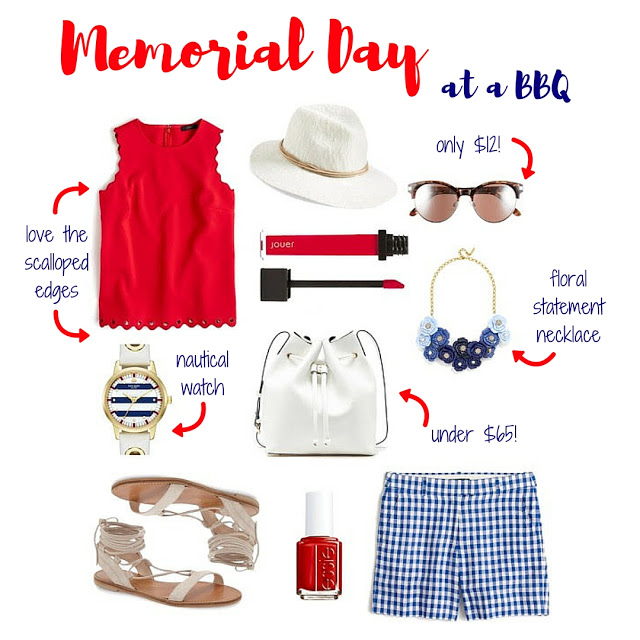 A holiday-inspired Wednesday Wishes for you today! It's hard to believe, but the official kick off to summer is just around the corner. And whether you have plans to spend Memorial Day by the pool or at a BBQ, it's time to start planning those outfits!
If you have plans to be at the pool, this mesh halter swimsuit needs to be added to your closet! The color and style are so classic, and the added mesh at the neckline is the perfect amount of trendy flair. And how about these sunglasses?! I don't know about you, but I have been dying over THESE designer frames for months now. But, that price tag was way too high to ever consider them! I found THESE look-alike frames for only $12!! Can you believe how similar they are? And for a ridiculous fraction of the price! I wanted to pick them up for our trip this weekend, but unfortunately they are not sold in any stores by me yet and I don't think they would ship in time 🙁 Lastly, a poolside look wouldn't be complete without a cute sun hat, a colorful beach towel and of course sunscreen. With all these items, you will be set for a day in the sun!
If the day takes you to a BBQ with family and friends, I have the most perfectly patriotic look for you, that would also work for the Fourth of July and Labor Day! Scalloped details on clothing is one of my favorite kinds of details and THIS top is beyond perfect. I love the bright red color and how it pairs with THESE blue gingham shorts for a great Americana look. I completed the look with THESE cute lace-up flat sandals and this very nautical watch! There is nothing like sporting some serious American pride on Memorial Day!
Do you have plans for Memorial Day yet? Do you wear more of the pool or BBQ attire during your summer holidays?
Thanks for dropping by and see you tomorrow!
….
SHOP THE POOL POST
SHOP THE BBQ POST