I love making tostadas. It's such a fun twist to the normal Mexican food. These were simple to make and (relatively) healthy, depending on how lean the ground beef is that your bought. The great part about this dinner is that the ground beef and zucchini filling will make a lot, so you can use the leftovers to make enchiladas or tacos for another dinner! Also, the yellow corn tostadas right out of the oven are not bad either 🙂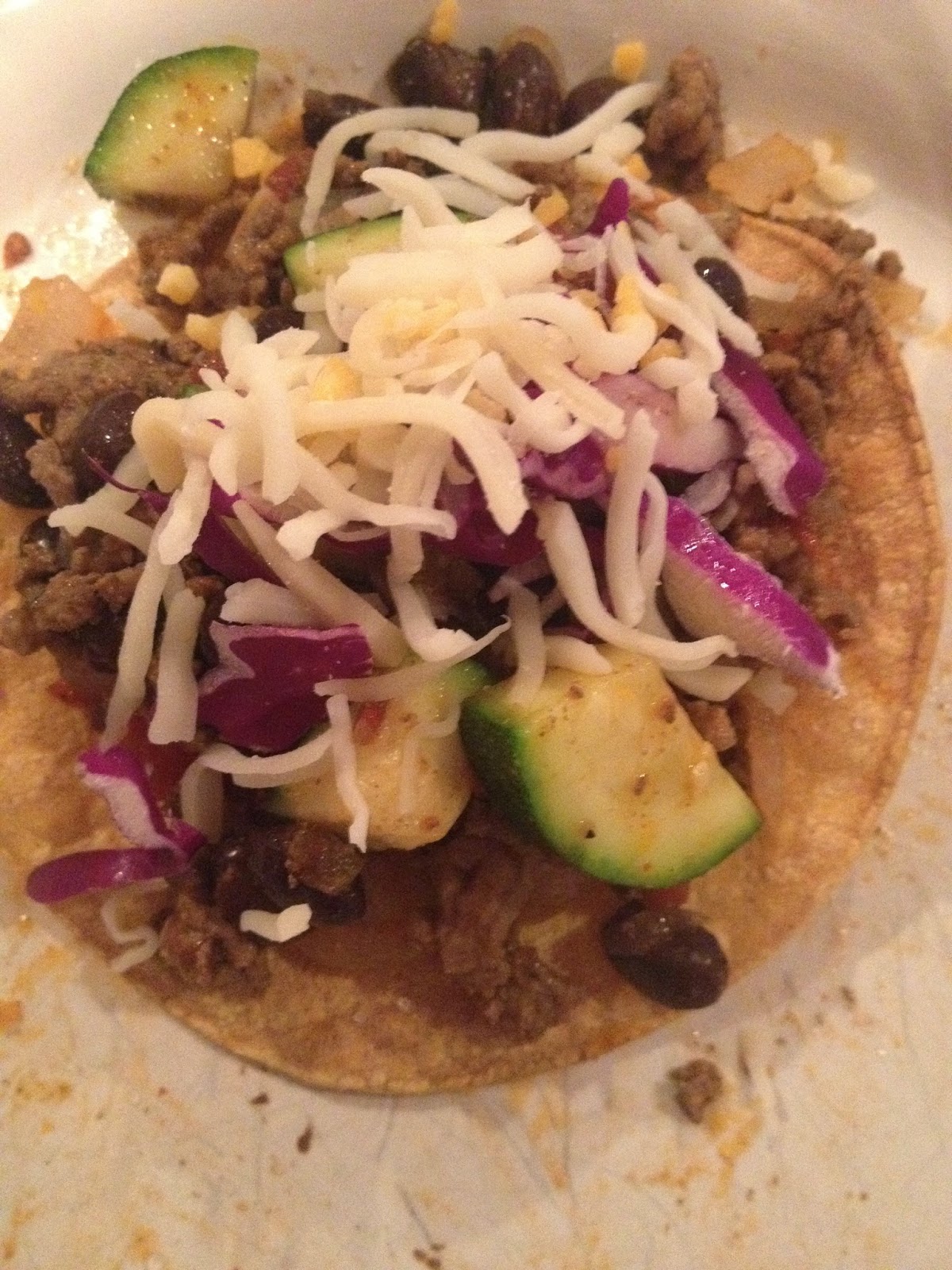 Mexican Beef Tostadas
1 pound ground beef
1 white onion, diced
1 zucchini, cut in bite-sized pieces
1 can black beans, rinsed and drained
1 can tomatoes with green chilies
Yellow corn tortillas
Cooking spray
1 tablespoon ground cumin
1 tablespoon chili powder
1/2 tablespoon garlic powder (or fresh)
Shredded red cabbage, for garnish
Mexican cheese, for garnish
Extra virgin olive oil
Salt and pepper to taste
In a large skillet over medium heat, brown the ground beef. Season with a little salt, ground cumin, chili powder and garlic powder. Once brown, remove from the skillet and transfer to a small bowl, leaving some of the leftover grease in the skillet (depending on how lean your meat is). Add about 1 tablespoon extra virgin olive oil (again, depending on how much grease is leftover) and sauté the onion and zucchini, season with salt and pepper if desired. After about 3-5 minutes, or when the onions and zucchini are starting to become soft, add the black beans and heat through, about 2 minutes. Transfer onion, zucchini and black bean mixture to a separate large bowl. Take your cooked ground beef and place it back in the skillet and stir in the can of tomatoes with green chilies. Turn the heat down to low and cook until the mixture begins to simmer, about 5 minutes. Add the ground beef and tomato mixture to your zucchini mixture; stir to combine.
To make the tostadas: Preheat the oven to 400 degrees. Place the yellow corn tortillas on a baking sheet. Spray each tortillas with cooking spray. Place the baking sheet in the oven for 5 minutes. Remove and flip the tortillas, spraying the other side of the tortilla with cooking spray. Bake another 5 minutes. Remove from the oven and sprinkle with a pinch of sea salt.
To assemble the Mexican Beef Tostadas: Place a crispy tostada on a plate and spoon the ground beef and zucchini mixture on top. Garnish with shredded red cabbage and your favorite Mexican cheese.