We love Mexican food in our house. Sometimes, we have Mexican twice a week. Although, I sometimes run out of ideas; you can only have tacos so many ways. This meal is a play on another one of our favorite meals, Italian Lasagna. This lasagna is loaded with fat and carbs, and although delicious, very heavy for a weeknight.
This Mexican Lasagna is a little healthier than regular lasagna and a good change up. Like most of my recipes, you can really customize this dish to your liking. It is pretty simple to assemble but the cook time is about an hour.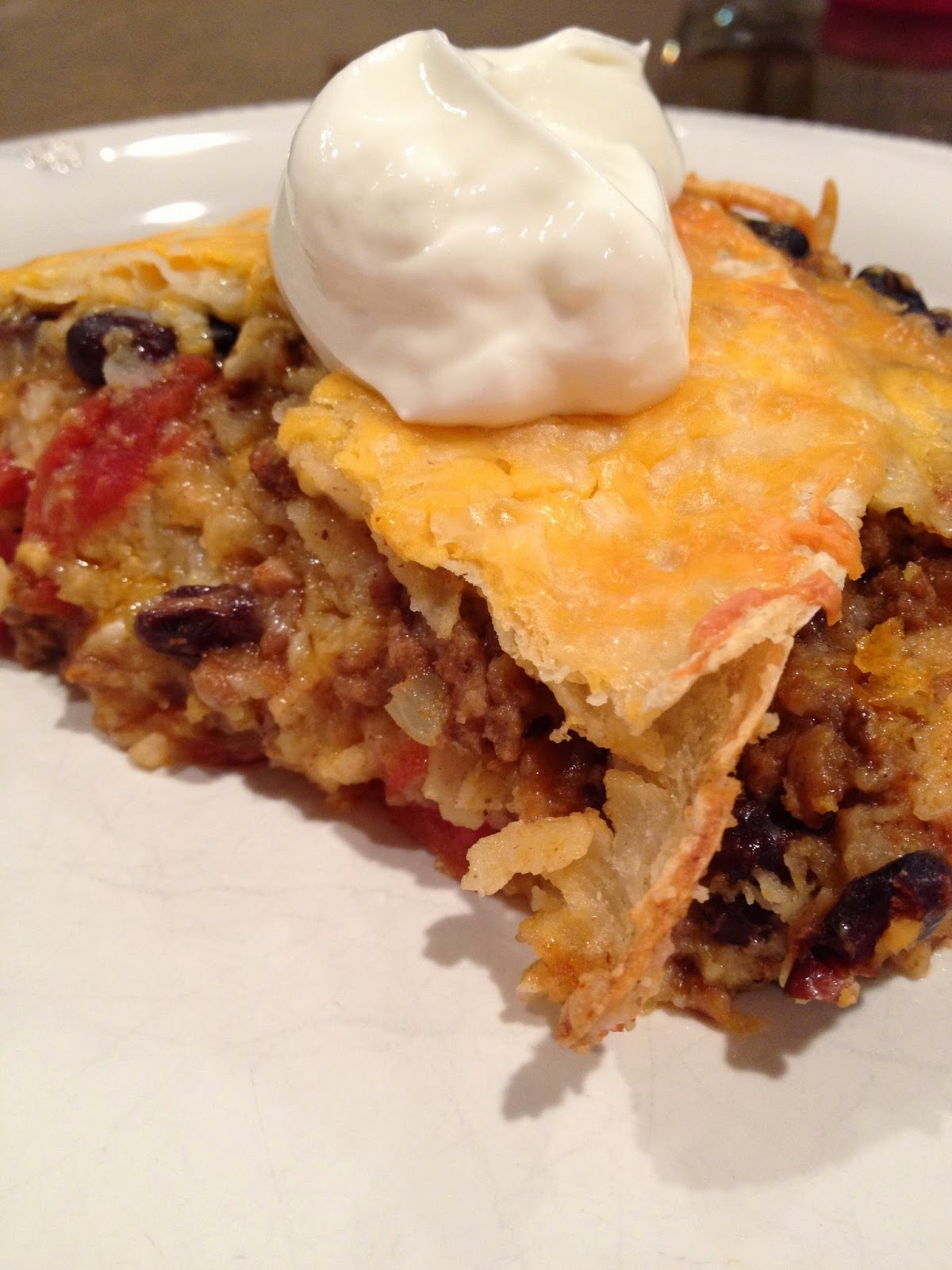 Mexican Lasagna
1 ½ pounds ground beef or turkey
1 12-ounce can black beans, drained and rinsed
1 12-ounce can diced tomatoes (with liquid)
1 4-ounce can diced green chilies (with liquid)
1 package taco seasoning (I used low-sodium)
2 cups Mexican shredded cheese (I used low-fat)
½ cup taco sauce or enchilada sauce
Additional spices to taste: chili powder, cayenne pepper, cumin, garlic
Sour cream, I used light, for garnish
Preheat oven to 375°. Over medium heat, cook the ground beef or turkey until brown. Add the taco seasoning packet and about ¼ cup water. Stir to coat the meat in the seasoning. To enhance the flavor, I added about a tablespoon of chili powder. Add the diced yellow onion. Stir to combine. Cook for about 2 minutes on medium heat. Add diced tomatoes, diced green chilies and the drained and rinsed black beans. Stir to combine. Season with salt and pepper, if desired. Spray 9×13 baking dish with cooking spray. Coat the bottom of the baking dish with taco sauce or enchilada sauce so the bottom doesn't burn. Evenly place corn tortillas on top of sauce. Add meat mixture on top of corn tortillas. Top with Mexican cheese. Repeat this process and end with corn tortillas and cheese on top. Cover with foil and bake for 50 minutes. Remove foil and bake for an additional 10 minutes uncovered. Top with a scoop of sour cream.
This lasagna is such a great meal because it makes enough for at least two dinners (or even lunch!). The layers of corn tortillas almost melted together with the sauce and meat mixture to create a warm and enjoyable winter meal. As I was writing the recipe out, I thought of using frozen corn to add to the meat mixture. You would just want to add that after the yellow onion to give the corn a chance to cook since it's been in the freezer. You could also add green onions to the top of the sour cream for added flavor. Although this dinner took a little longer to cook, since it was enough for two dinners, the cooking time was worth it!