We've been to several steakhouses in DC. From Bobby Van's and Charlie Palmer's to Ray's The Steaks and Smith & Wollensky. In my opinion, there is little variance between these typical steakhouses: same type of menu and same egregious prices.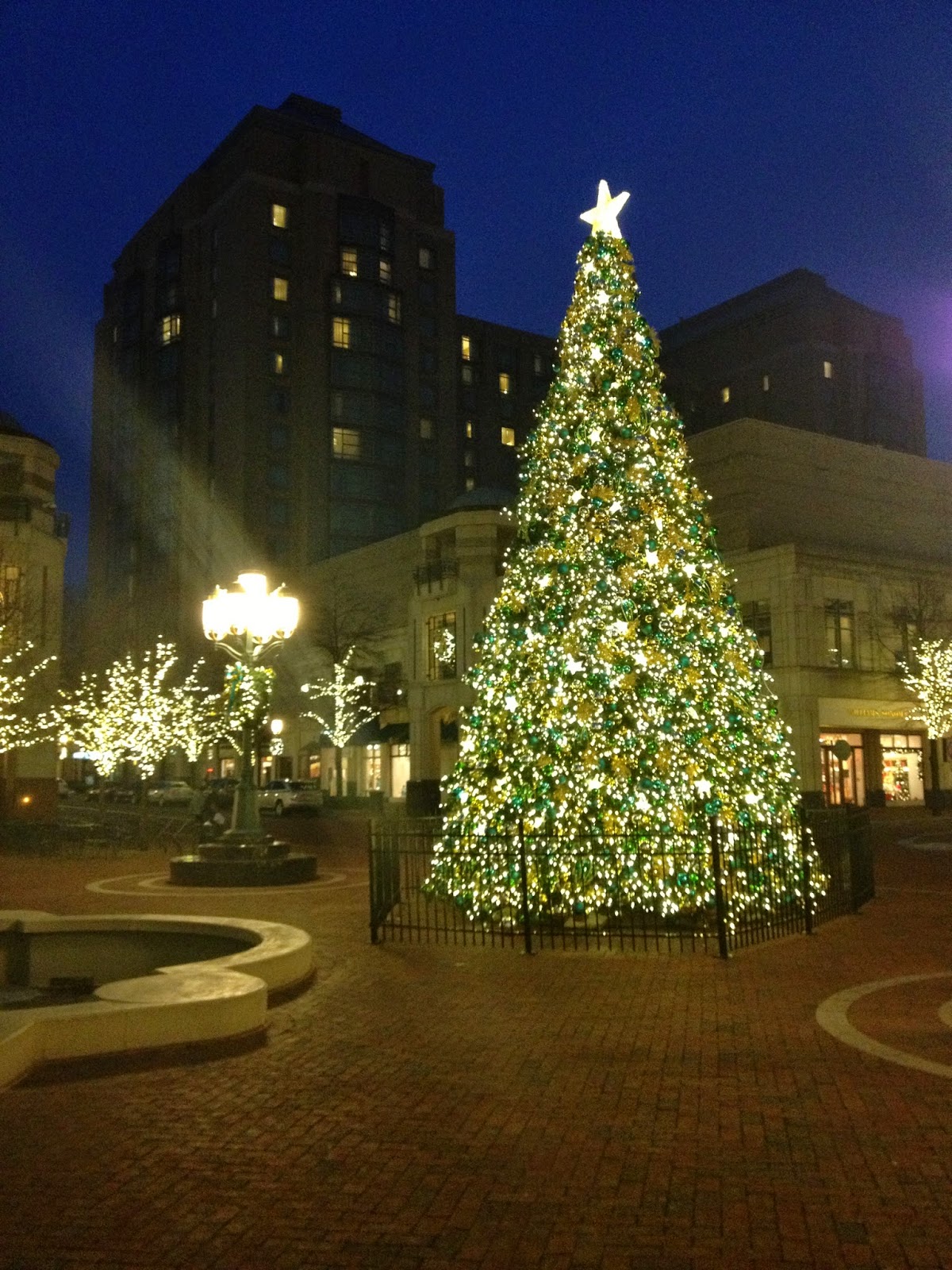 Christmas at Reston Town Center
A few months ago, as we were walking around Reston Town Center (a great shopping and dining area close to where we live) trying to decide where to eat. We had been to most of the restaurants there, except for Mon Ami Gabi, or what we often referred to it: that French restaurant. I guess we never ventured into Mon Ami Gabi because we assumed it was just French food, something that my husband and I don't particularly crave. But, after looking at the menu (and seeing steak on the menu) we decided to give it a try.
And, I am so thankful we did. I can, without a doubt, say that this is the best steak in DC and my new favorite restaurant. My standard order at any steakhouse is filet cooked medium. In my opinion, when ordering filet, there shouldn't be an ounce of fat on that piece of meat. At several of the typical steakhouses (I won't name any particular names!) not only did my filet have a ton of fat, but it was cold and more on the rare side. When paying upwards of $50, this is unacceptable. I guess you can give a restaurant a "one time pass", but when it happens more than once, I unfortunately can't give them the benefit of the doubt.
But, at Mon Ami Gabi, it's different. The steak has come out cooked to the perfect temperature with no fat (knock on wood!) each time we've been there. The service is great, the sides are unbelievable and they have a seasonal menu so there is always something new to choose from. Oh, and the best part: it's more than reasonably priced!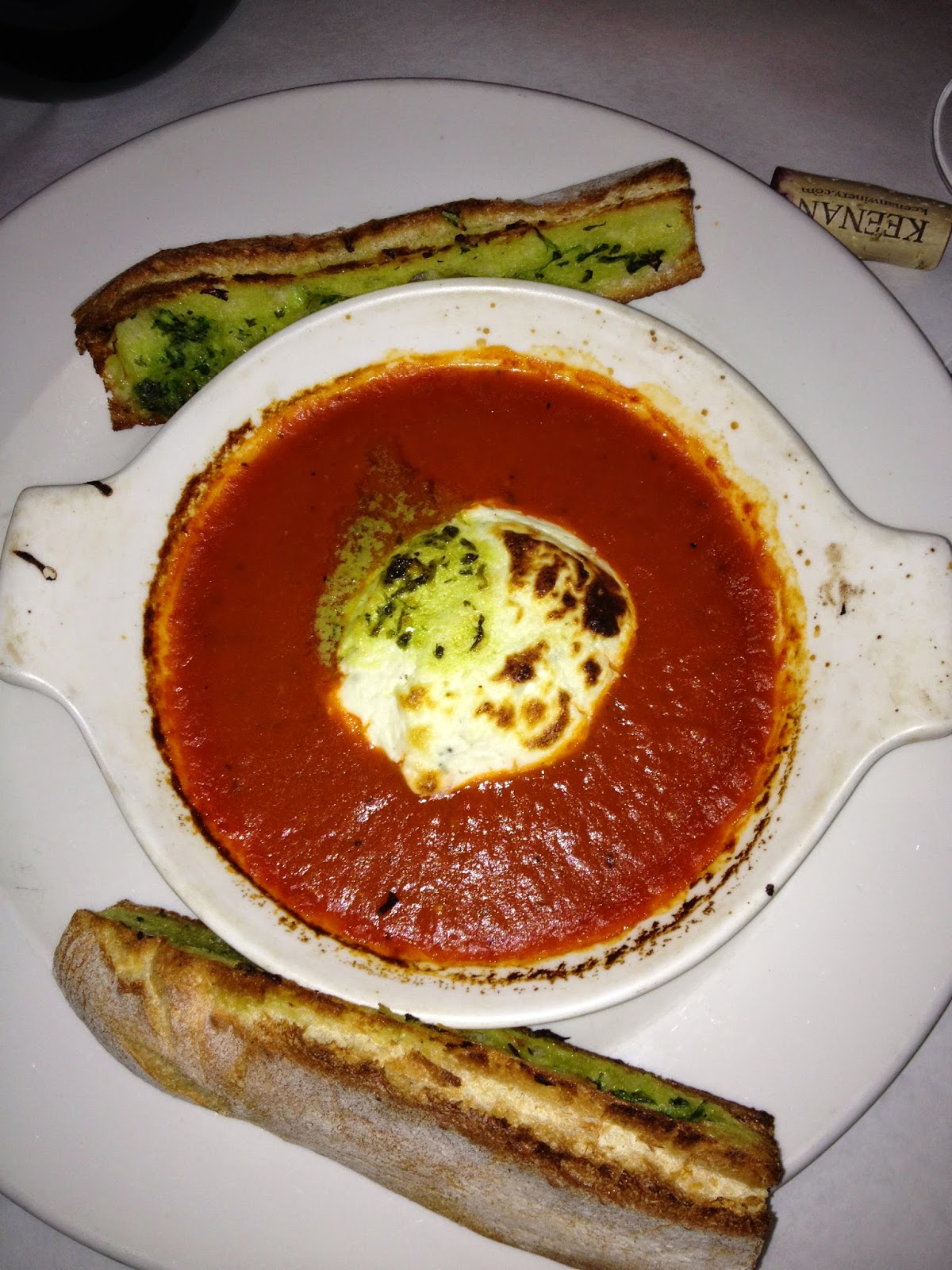 Baked Goat Cheese
We went to Mon Ami Gabi this past weekend and had another excellent meal. It all starts when they bring hot out of the oven French bread in a baguette bag to your table. But, pace yourself. I can guarantee you that you will want to eat loaves upon loaves of this bread – it's that good. Our usual appetizer of choice is the baked goat cheese. If you have read my other posts, you know about my love for goat cheese 🙂 This appetizer comes with toasted garlic bread, but I personally prefer to use the French table bread (yes, I'm obsessed with this French bread). The goat cheese is baked in a marinara sauce – that's it! It is unbelievably simple but amazingly delicious.
Since they currently are featuring their fall menu, and my usual tomato salad is a summer dish, I settle for the Fall Mushroom Soup: served tableside directly from the pot with crème fraiche and chives. It is quite the presentation and beyond enjoyable. I would definitely say it's a good fall alternative to my tomato salad.
Mon Ami Gabi, like many French restaurants, is known for their steak and frites. Your entrée arrives piled high with crispy frites that are completely addicting. As good as they are, they aren't the healthiest item on the menu (I know, after consuming the baked goat cheese and creamy mushroom soup, why don't I just continue the insanity with the frites??) so I substitute the frites for the pommes purée, the most wonderful and creamy mashed potatoes you have ever tasted. So, not only do you have these amazing potatoes but also the steak. As I mentioned before, it is hands down, the best steak. My favorite is the Filet Mignon Merlot. This juicy steak is topped with a merlot sauce that only enhances the flavor of the steak, without masking the tenderness of the filet.
I can truly say I love everything about Mon Ami Gabi, but I especially love their side of macaroni gratin aka the best macaroni and cheese you've ever had. It comes to your table in a little gratin dish with an awesome, cheesy crust. When you break into the gratin, the cheese on the inside begins to bubble and steam is oozing through the crust. It's honestly unbelievable. In weak moments, I've thought about calling Mon Ami Gabi for carryout, ordering one mac and cheese gratin, and nothing else.
One of my biggest problems with the steakhouses in the DC area are the prices. Before trying Mon Ami Gabi, it was more expecting to pay $50 for a filet because that seemed like the going rate for steakhouses in this area. And same with sides: most sides at your traditional steakhouse cost between $10 and $15. But, when you get a much better steak at Mon Ami Gabi for $30 and incredible side dishes from $3 to $4, who in their right mind would go to the traditional steakhouse?! Not to mention, Mon Ami Gabi is less than 10 minutes from our house and we can avoid DC traffic, which is always a plus!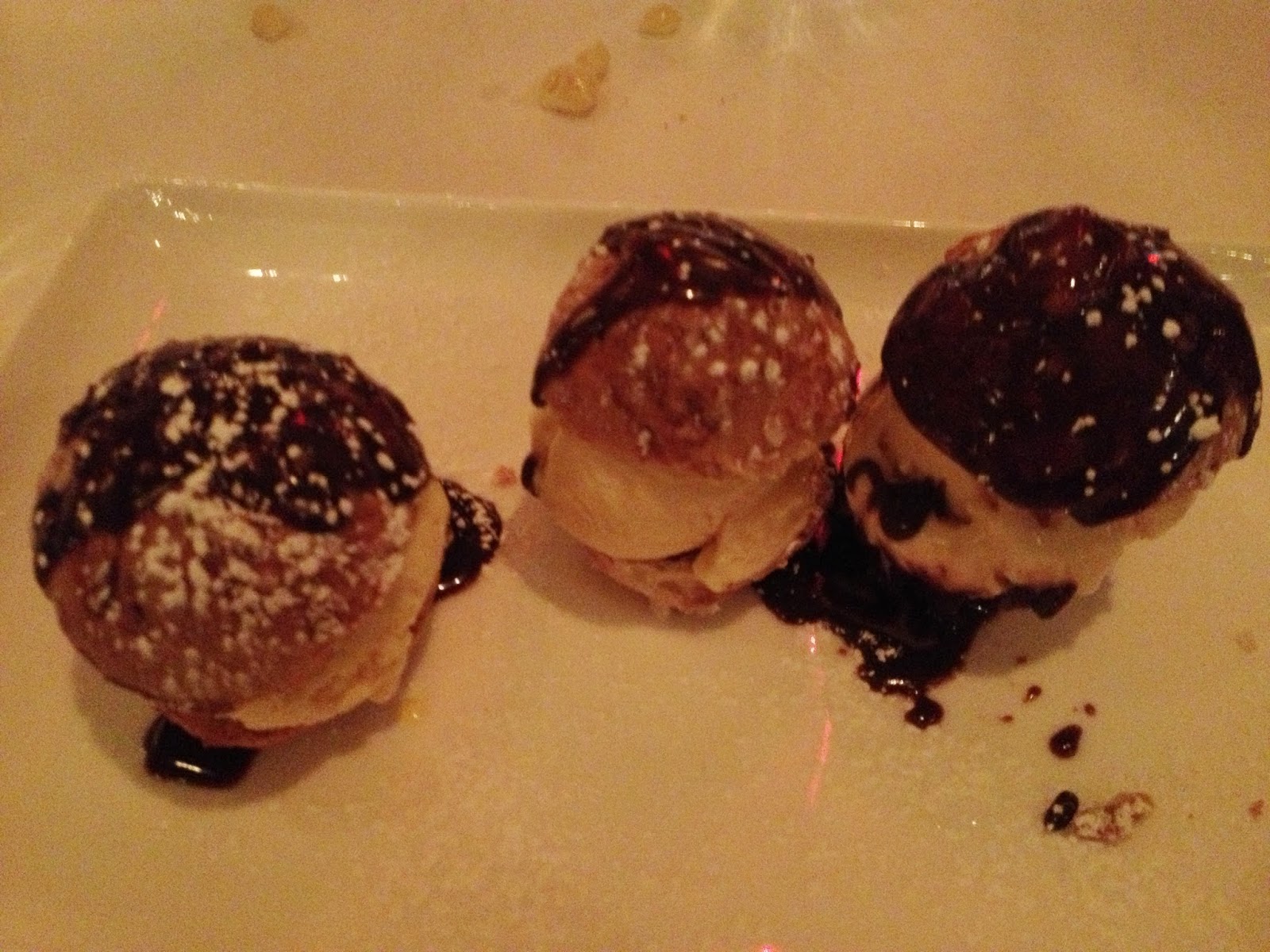 Profiteroles
I made a commitment to try dessert. Each time we go to Mon Ami Gabi, we are either too full or have birthday cake waiting at home, so we pass on dessert. There are several items on the dessert menu that look great, but I couldn't pass up the profiteroles. For those who are not familiar, profiteroles are little puff pastries cut in half and filled with vanilla ice cream and garnished with chocolate sauce. A fairly simple dessert, but too perfect for words. My mom used to make profiteroles at home when I was growing up, and since then, I've been hooked. And these profiteroles certainly fulfilled my craving. Although they weren't as good as the ones my mom makes, they were still delightful and a perfect way to end a wonderful meal.
I would highly recommend Mon Ami Gabi for a wonderful (and filling!) meal. Although I can't personally comment on the French side of the restaurant, I can say everything I have had on the menu is not only tasty, but also unique. I'm already excited for our next Mon Ami Gabi date night 🙂