I love sausage and peppers. Whether it is on a sandwich or paired with pasta, it is one of my favorite meals. In an effort to make the quintessential Northeast Ohio dish a little healthier, I opted for quinoa to replace the bread or pasta. It was delicious! Perfect for a weekend dinner, but quick enough for a weeknight. A must try!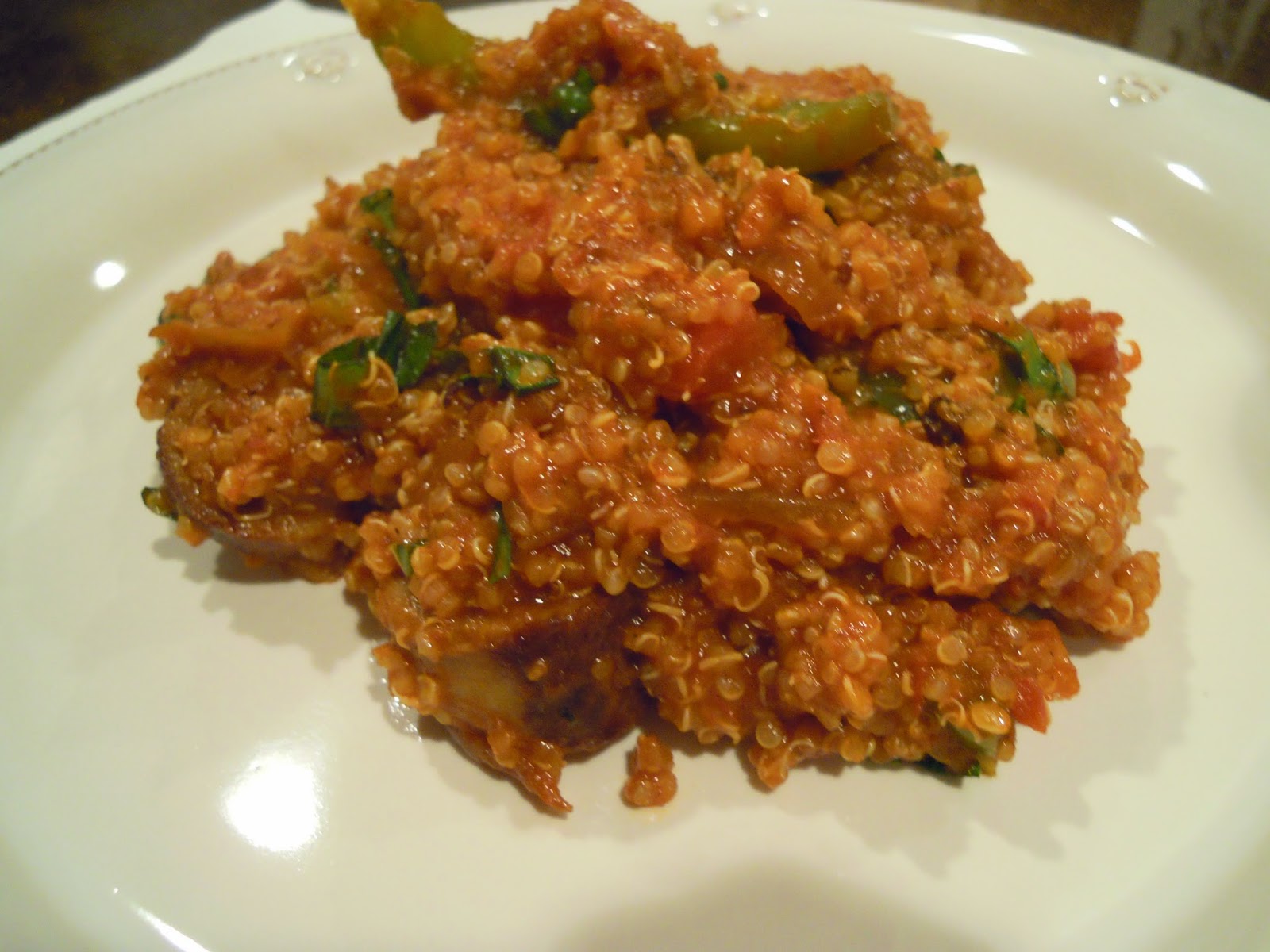 Quinoa, Sausage and Peppers
1 cup cooked quinoa
1 red pepper, thinly sliced
1 green pepper, thinly sliced
1 yellow onion, cut in half and thinly sliced
6 turkey sausage links, brown and cut into bite-sized pieces
1 can pasta sauce
7-8 basil leaves, julienned
Salt and pepper to taste
Extra virgin olive oil
Begin by cooking quinoa to package instructions (I typically like to buy the pre-washed quinoa. I use the proportions of 1 cup quinoa to 2 cups water. Place water and quinoa in saucepan and cook on high until it begins to boil. Turn down the heat to low and cover saucepan. Wait about 10 minutes, or until the water is gone and fluff the quinoa with a fork.) While the quinoa is cooking, brown the sausage in olive oil until brown on each side. Remove sausage a drain on paper towel. Add about 1-2 tablespoons extra virgin olive oil to the pan the sausage was cooked in and add the red pepper, green pepper and yellow onion and cook on medium heat. Season with salt and pepper. Cook until the peppers and onion are soft, about 10 minutes. Meanwhile, slice sausage in bite-size pieces. Add sausage and pasta sauce to pepper and onion mixture. Cook on low heat until warm, about 10 minutes. Remove from heat and add quinoa. Mix to combine. Finish with fresh basil.