A super-quick (and healthy!) weeknight meal that is delicious and surprisingly filling. I guess you could call it my take on a much healthier version of a loaded baked potato. And by super-quick, I mean crazy quick! I had a 5-mile run that I had to complete before I could cook dinner — I was able to run my 5 miles, cook dinner and have the kitchen all cleaned by 8:15pm! And I started my run at 6:45 🙂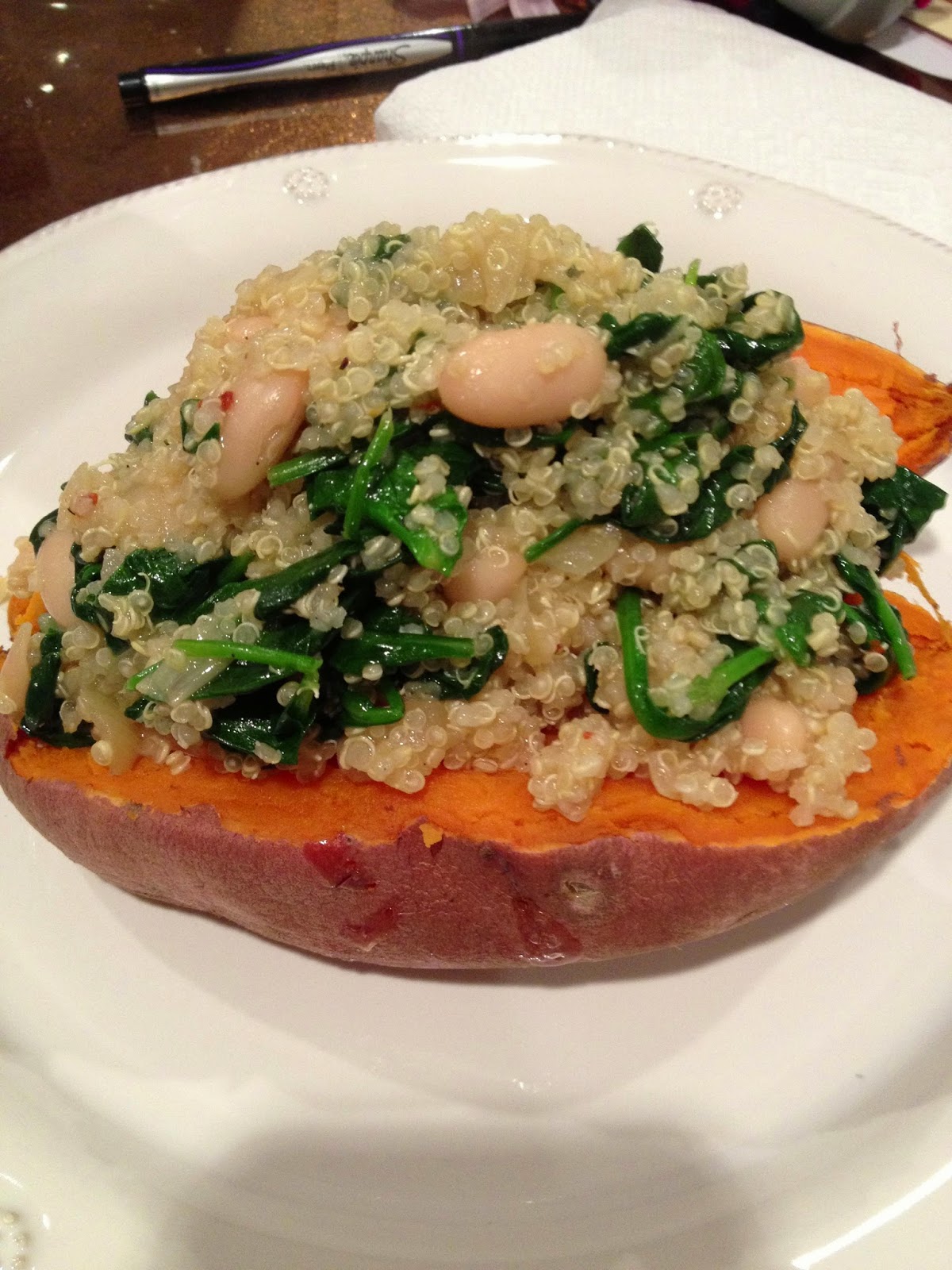 Quinoa Stuffed Sweet Potatoes
12 ounce can cannellini beans, drained and rinsed
1 tablespoon red pepper flakes
3 tablespoons extra virgin olive oil
Begin by cooking quinoa (I buy the pre-washed quinoa) and cook according to package directions (This is how I cook my quinoa: place 1 cup quinoa and 2 cups water in saucepan. Bring to boil, uncovered. Reduce to low and cover. After 10 minutes, quinoa will be perfectly fluffy!)
Meanwhile, rinse sweet potatoes and towel dry. Poke sweet potatoes all over with fork. Microwave for 8 minutes, flipping sweet potatoes half way through.
Sauté chopped onion and garlic in olive oil on medium heat, until fragrant, but not burnt. Add the red pepper flakes (for some heat!). Stir in the cannellini beans and sauté for about 2 minutes. Add the fresh spinach and cook until spinach has started to wilt, about 3-4 minutes. Add cooked quinoa to spinach mixture.
To assemble, split the sweet potato in half and spoon quinoa and spinach mixture over potato. Enjoy!