I love meals that come from a crockpot. Not only do they always seem to be warm and delicious, but it's so wonderful to throw everything in one pot, wait a few hours and it's done. It makes for some quick and easy meals. With Christmas quickly approaching, every second of the day is booked. I needed something quick for dinner because I had Christmas presents to wrap and cookies to bake! This was the perfect chowder for a December day.
There are several different vegetable options with this chowder, whether you change up the kind of peppers or adding additional vegetables, you can really personalize this to your liking!
WARNING: I used a jalapeño pepper in my chowder. Apparently this jalapeño was more potent than any other that I've worked with in the past. The juice from the jalapeño managed to seep under my fingernail while I was dicing the pepper. Almost 24 hours later, my finger had finally stopped burning! Naturally, I went to Google after washing my hands several times and waiting a few hours to find the answer to my problem. There were many suggestions on how to get rid of this awful burning: rubbing olive oil on your hands, baking soda mixed with white vinegar and pouring lime juice on your nails, just to name a few. Unfortunately, I didn't have much success. By 8pm, I tried the lime juice as a last resort and that seemed to make the burn tolerable through the night. Who would have thought after working with jalapeño peppers for years that this powerful jalapeño would have done me in?! Note to self: get gloves!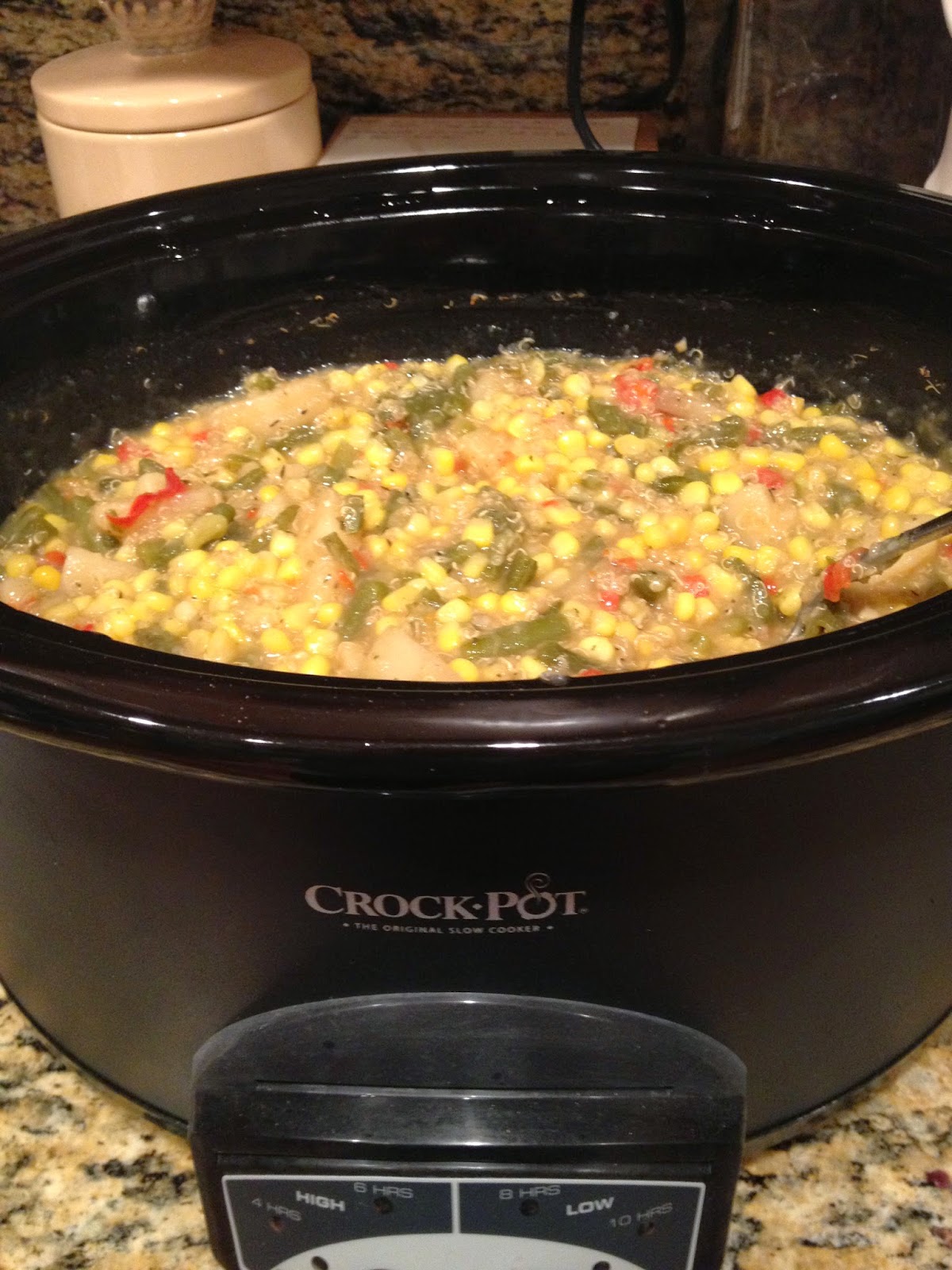 Quinoa Vegetable Chowder
¾ cup quinoa, rinsed and drained
2-3 tablespoons extra virgin olive oil
1 jalapeño pepper, seeds removed and diced
2 potatoes, peeled and cut into bite-sized pieces
32 ounces vegetable stock
Heat extra virgin olive oil over medium heat and add diced jalapeño, celery, garlic and ginger. Sauté for 1-2 minutes. Add diced red pepper, green beans (I used frozen) and potatoes, cook for 5 minutes. Meanwhile, rinse and drain quinoa. Combine vegetable mixture with quinoa, vegetable stock and all spices into crockpot. Everything should be in the crockpot except for the corn. Stir chowder and cook for 6-8 hours. About 20-30 minutes before chowder is finished cooking, add the corn (I used frozen) to the crock pot, stir to combine and allow to cook for remaining time.
A relatively simple dish, just lots of chopping to prepare the vegetables for the crockpot! You could easily substitute the red pepper with yellow, orange or green peppers, but the red gives the chowder a vibrant color. If made during the summer, I would definitely try using fresh green beans and corn, but since we don't have corn on the cob this time of the year, frozen will have to do! Also, if you prefer, you could use chicken stock instead of vegetable stock. This chowder certainly has some heat (my fingers can attest to that!) but if you would like more zing, you can add more paprika or coriander or even leave the seeds of the jalapeño in the chowder – that would most assuredly give you more heat!