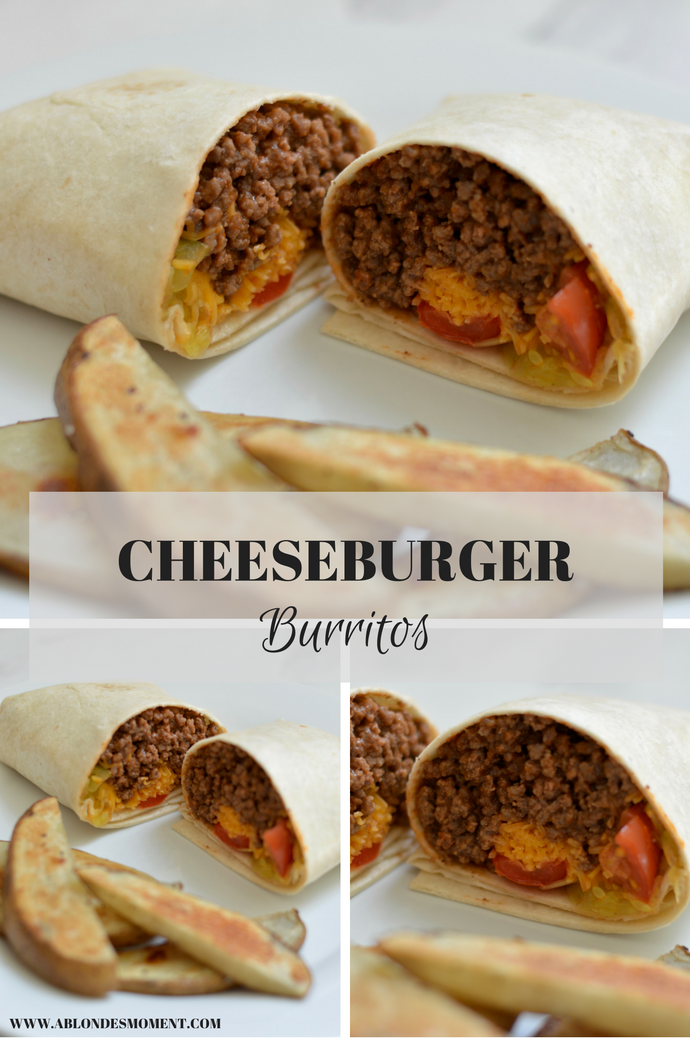 No matter the season, I am always on a quest for quick weeknight dinners. Summer recipes have been a little easier since we can use the grill, but that isn't an option for every night. We were planning to have burgers on the grill one day last week until a storm hit. Instead of grilling in the rain, I came up with this easy weeknight dinner: cheeseburger burritos.
A spin on an American favorite
Burgers are one of our favorite summer dinners. There is just something about a burger on the grill! And for as much as we enjoy them, we don't eat them much in the winter. Burgers just never taste them same in the oven as they do on the grill! After the weather forced us to change our dinner plans last week, I decided to turn regular cheeseburgers into cheeseburger burritos. This isn't the first time I transformed the traditional cheeseburger. You may remember this cheeseburger pizza I made last year. We have pizza every Friday and this is still one of our all-time favorites! I used the same "sauce" for the ground beef and similar toppings but this time, I stuffed all the toppings into a tortilla.
Quick weeknight dinners
Not only are quick dinners an important factor for me when deciding on a recipe, but also the number of dishes used. There is nothing worse than cleaning up a ton of dishes after a long day at work! I am happy to report that the number of dishes is very limited with this recipe. Three in total: a skillet, cutting board and dinner plates. And like with so many of the recipes I share, you can easily customize the burger toppings (or in this case, filling) to your liking. Since this is one of our new favorite dinners, we will more than likely be seeing this once a week in our house!
Thanks for stopping by and have a great Tuesday!
….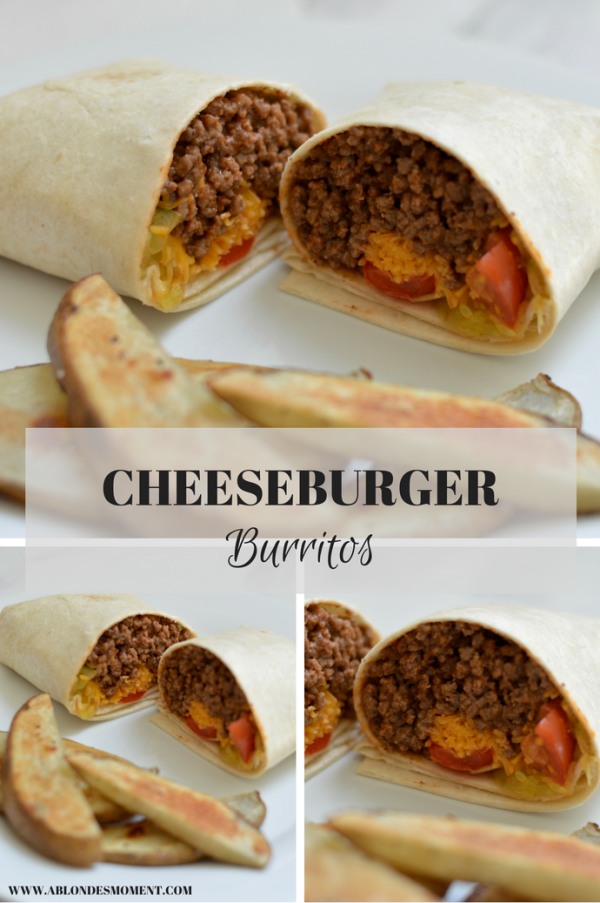 | | |
| --- | --- |
| | |
In a large skillet, brown the ground beef until cooked through and no longer pink. Turn the heat off and add the ketchup, barbecue sauce, Dijon mustard and yellow mustard to the ground beef. Stir to combine. Wrap tortillas in a damp paper towel and microwave for 30 seconds. To assemble burritos: divide the ground beef into fourths and place ground beef in the center of each of the 4 tortillas. Top with the shredded cheese, dill pickles, tomatoes and any other ingredients you like. Wrap the tortilla around the filling, closing up the ends, and place seam side down on a microwaveable plate. Microwave the burrito for 30 seconds to melt the cheese. Serve with potato wedges or any other side. Enjoy!