This is my first truly fall pizza and I am so excited about it! I made this over the weekend and it was so delicious! After eating the entire pizza, my husband expressed his initial concerns with this concoction: he thought the butternut squash would be too sweet for a pizza. I considered this too when I first came up with the idea, but my hope was that the kale and ricotta would balance the sweetness out perfectly…and I'm happy to say it did! The butternut squash browned just enough to mix with the crispy kale to create the most divine pizza ever. And the colors on this pizza are so awesome, they just scream fall! This was the perfect introduction to fall pizzas…I am so excited to try out new ideas in the coming weeks! Thanks for reading!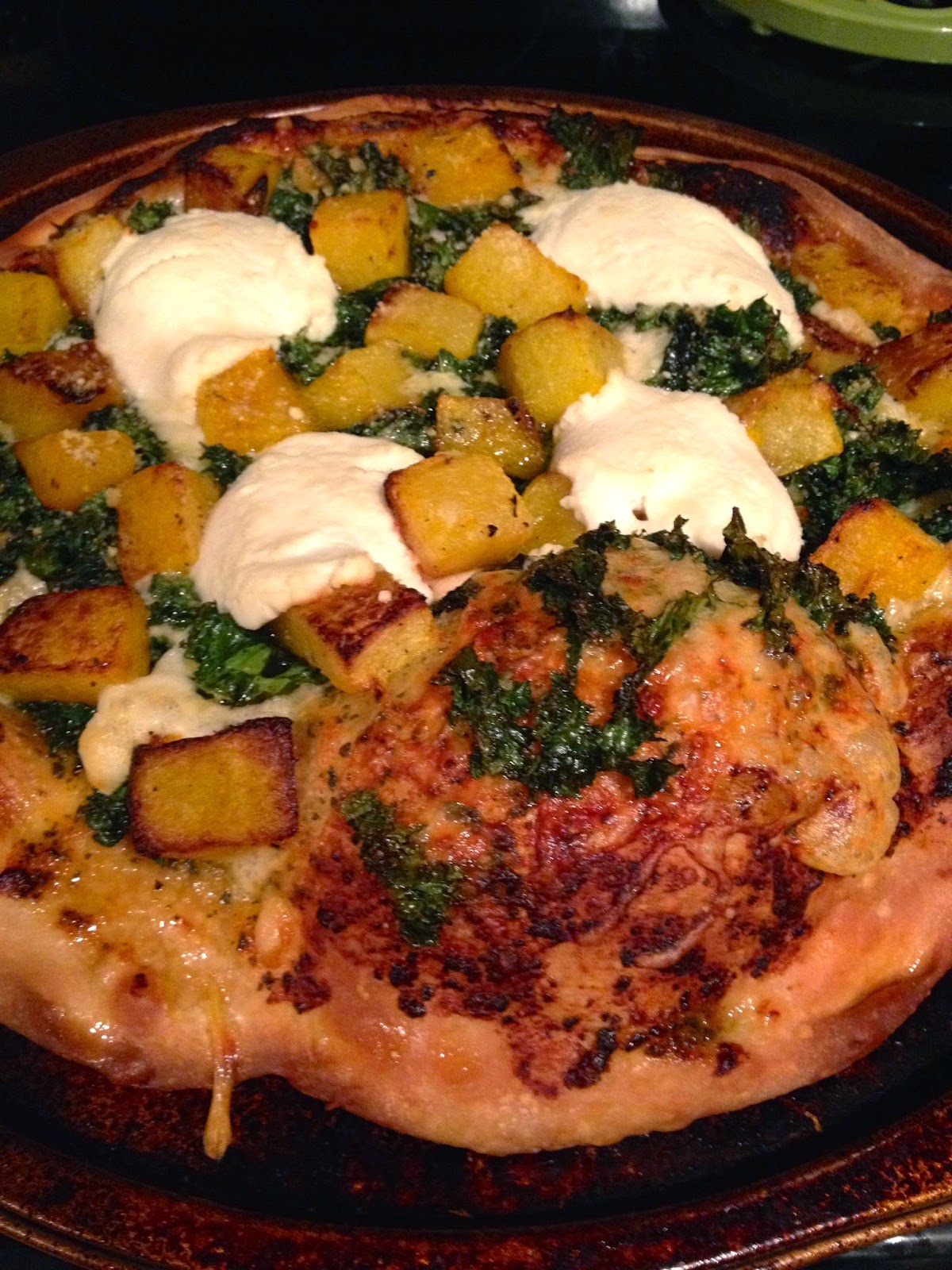 Roasted Butternut Squash + Kale Pizza


1 medium butternut squash, peeled, seeds remove and diced
1 1/2 cups kale, de-stemmed
1 cup shredded mozzarella cheese
1 1/2 – 2 tablespoons basil pesto
4 tablespoons ricotta cheese
1 1/2 tablespoons Parmesan cheese
Olive oil
Pizza dough
Salt and pepper
Preheat oven to 400 degrees. Spray a rimmed sheet pan with cooking spray. Place diced butternut squash in a medium bowl and toss with 2 tablespoons olive oil, salt and pepper. Transfer to baking sheet and spread evenly into one layer. Roast for 30 minutes, turning with spatula once. Transfer roasted butternut squash to a clean bowl. In the same medium bowl previously used to coat the squash with olive oil, toss kale with 1 tablespoons olive oil and salt and pepper. Arrange kale on same baking sheet used for the squash and cook for about 6 minutes until the kale is crunchy. Increase oven temperature to 450 degrees. To assemble pizza: place a thin layer of basil pesto on the pizza dough and place in the oven for 5 minutes. Remove from the oven and top with the shredded mozzarella cheese. Place kale on top of the mozzarella followed by the butternut squash. Finish with a few tablespoon dollops of ricotta cheese and top with Parmesan cheese. Bake for about 20 minutes until the crust is golden brown and the cheese begins to melt.