This is one of my favorite pizzas ever. I love roasted eggplant and tomatoes and when you mix that with pesto, it's like heaven! This is a weekly staple in our house!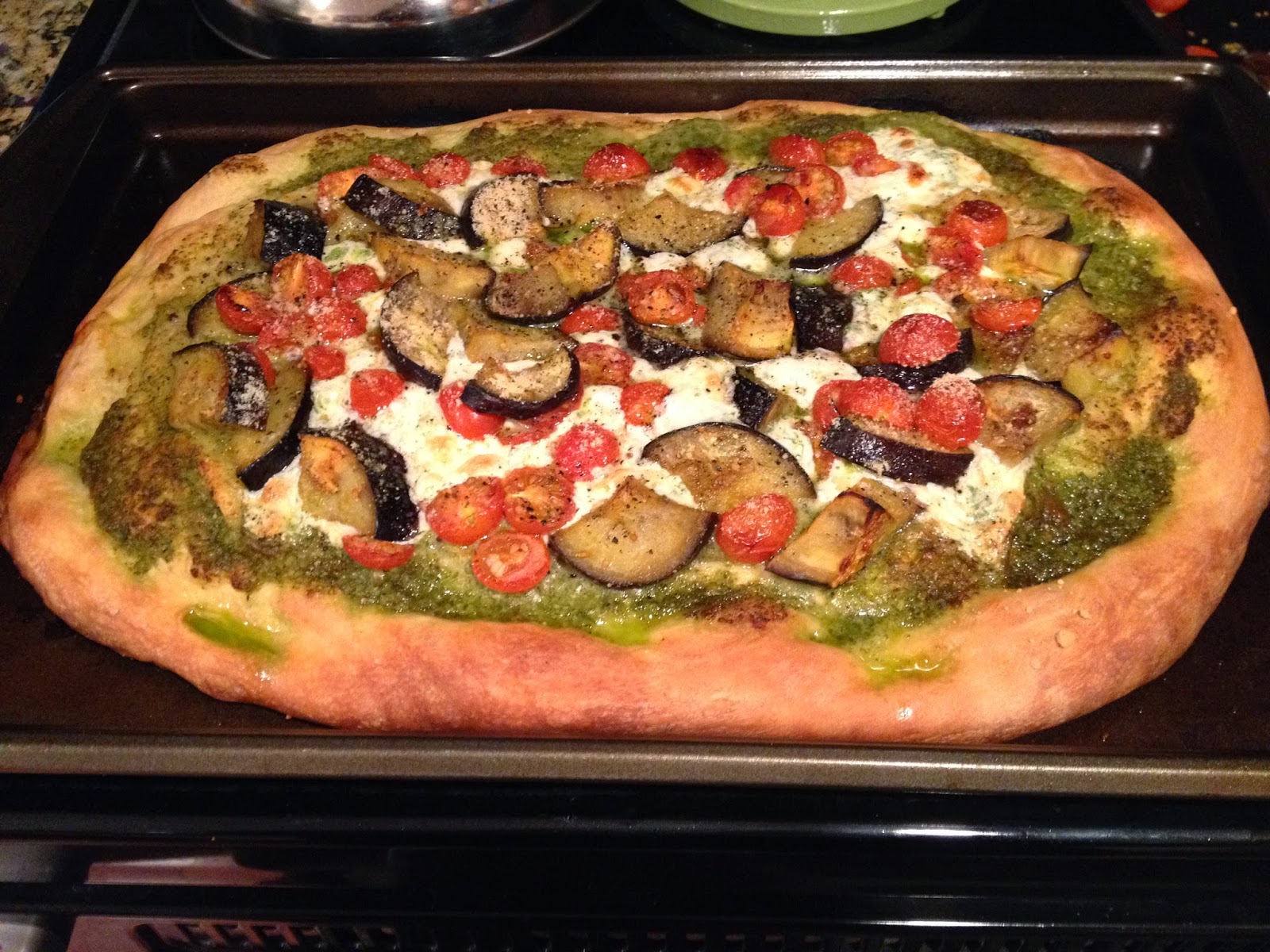 Roasted Eggplant & Tomato Pizza with Pesto
1 medium-sized eggplant, diced into bite-sized pieces
1 pint cherry tomatoes, halved
2 garlic cloves, minced
3-4 tablespoons prepared pesto
1 mozzarella ball, sliced into thin pieces
4 tablespoons grated Parmesan cheese
Prepared or homemade pizza dough
Extra virgin olive oil
Salt and pepper to taste
Begin by halving the cherry tomatoes and placing them in a small bowl with the minced garlic; stir to combine and set aside. Meanwhile, turn your broiler on and begin slicing the eggplant. (You can slice the eggplant into rounds and salt each slice and wait for about 20 minutes to "drain" the bitterness out of the eggplant, but it's not necessary.) Slice eggplant into bite-sized pieces and toss with 1-2 tablespoons olive oil. Place on baking sheet and roast under the broiler for about 3 minutes. Toss the eggplant and roast for another 3 minutes. Remove the eggplant from the oven and toss the tomato and garlic mixture with the eggplant. Place the eggplant and tomato mixture back in the oven and roast for another 2 minutes or so (the tomatoes won't need very long). Once the vegetables have been roasted, turn the oven down to 450 degrees (or the suggested temperature for your prepared pizza dough). To assemble the pizza, spread a thin layer (about 3-4 tablespoons) of prepared pesto onto the dough and then place the thinly sliced mozzarella on top. Carefully spoon the eggplant and tomato mixture over the mozzarella and finish with Parmesan cheese and a little salt and pepper to taste on top, if desired. Bake for about 15-20 minutes or until the crust is golden brown and the cheese is bubbly.