I love snow. I guess it was something you grew accustomed to growing up in Ohio. Since moving to DC, although it is only 5 hours south of where we grew up, the climate is significantly different. Much hotter (and more humid!) summers and much more mild winters. So, when the first flurries begin to fly, I'm beyond excited. We normally have to wait until January or February to see the first flakes, but this year, it came early – Sunday to be exact. I was THRILLED. This snow shortly changed to freezing rain, which is needless to say, less than exciting.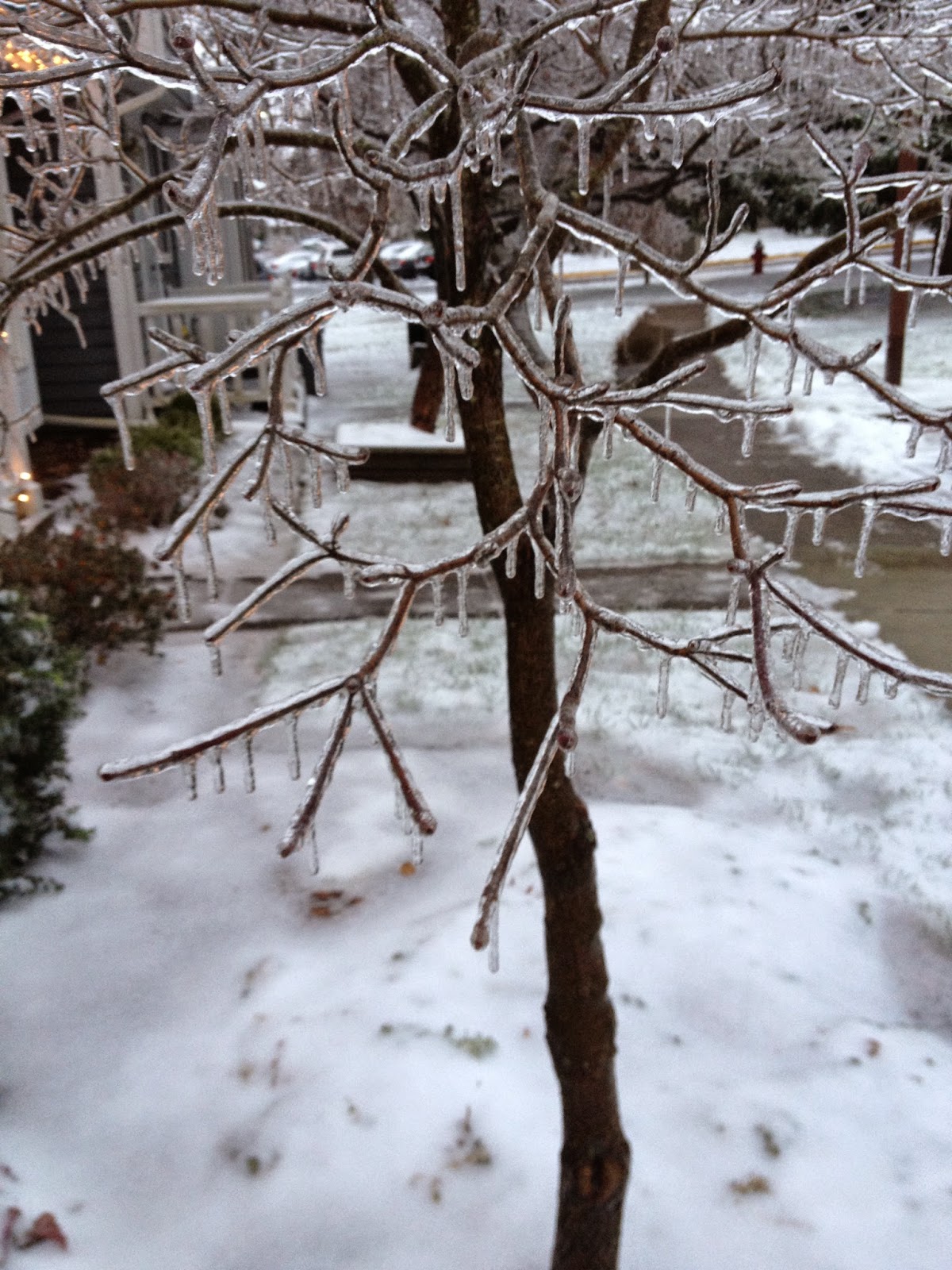 Ice accumulation on the trees from Sunday's storm
As much as I love to see snow in DC, I hate actually dealing with it. Very few people living in the DC/Maryland/Virginia area have a clue how to navigate through flurries, let alone accumulating snow. The best example is January 2011. At the time, I was living about 14 miles from my office. The timing of this storm as awful, it started right at nightly rush hour, and I was setting out for my 14-mile drive. The snow was coming down so heavy and traffic was at a standstill. In some respects, I'm thankful that I left at 5:30pm that night and not earlier. Only a few miles ahead of me, trees began to fall on the George Washington Memorial Parkway, which led to closed roads and detours. To make a long story short, I ended up getting home at 1:30am. Yes, 8 hours after I had left work. Some people had it a lot worse, not returning home until 6am. It was an awful night, dodging not only the accumulating snow but cars that had been abandoned in the middle of the road. I'm so thankful I made it home safely, even if it did take 8 hours. Since this dreadful drive, I learned that snow in DC was a little different than snow in Ohio.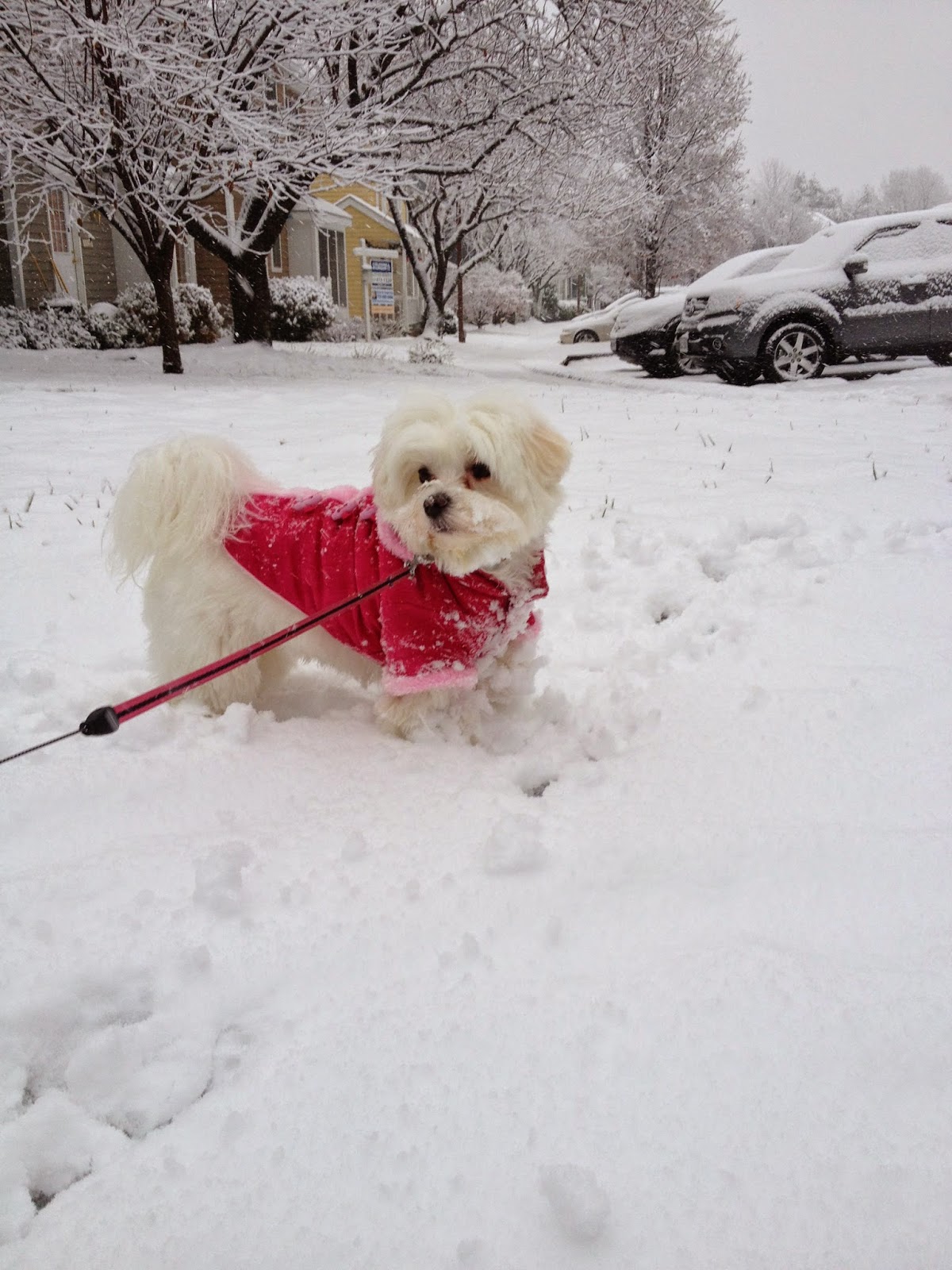 Ella playing in the snow!
Fast-forward almost three years, and the forecast today was not sounding good. The local weather forecasters were actually referencing this infamous storm that I was stuck in, and I didn't want any part of the snow today. The storm was scheduled to arrive around 6am, just in time for morning rush hour. Since moving, we are now about 30 miles from my office, which obviously doesn't make my commuting situation any better. Thankfully, the Federal Government closed today and I didn't have to face the long, snowy commute this morning.
Today's SNOW DAY consisted of playing in the snow with Ella (she wore her pink coat so we could find her!), wrapping Christmas presents and cooking. Overall, a very relaxing day, and it was so nice being able to have dinner on the table before 8pm!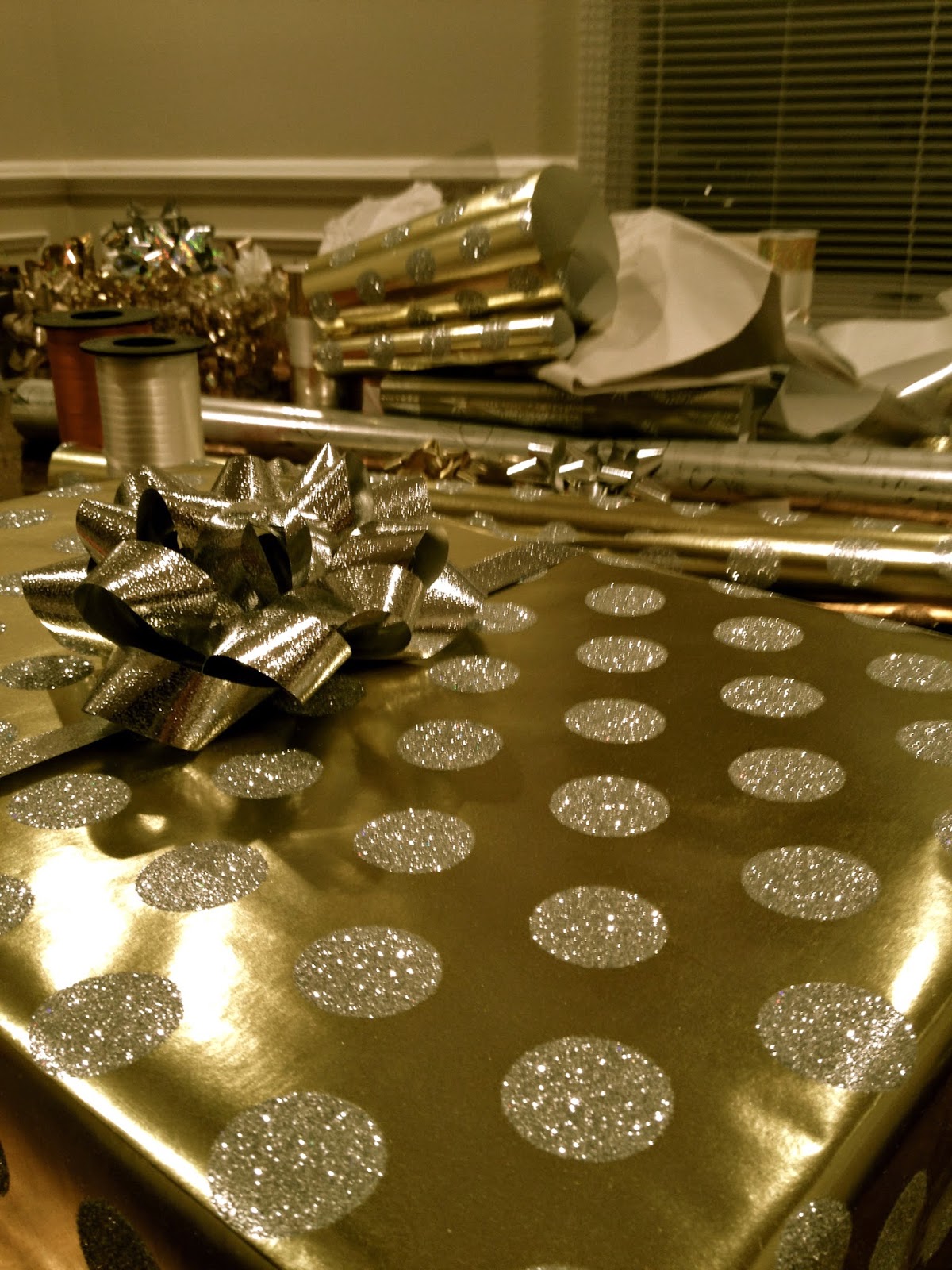 Our dining room table was turned into a Christmas gift wrapping station!
Tonight's dinner was super-quick and delicious. It is always a challenge to make meals for two. I'm a pro at making meals for 4+ people, but 2 people is a challenge for me. This is the perfect "cooking for two" meal.
I will honestly say, I hate chicken. I really can't tolerate it unless it's COVERED in some kind of sauce. But, my husband loves chicken so every once in awhile, I will make a chicken dish, and hardly eat any of it. This was, much to my surprise, great! So my assumption is that a chicken-lover would be completely obsessed!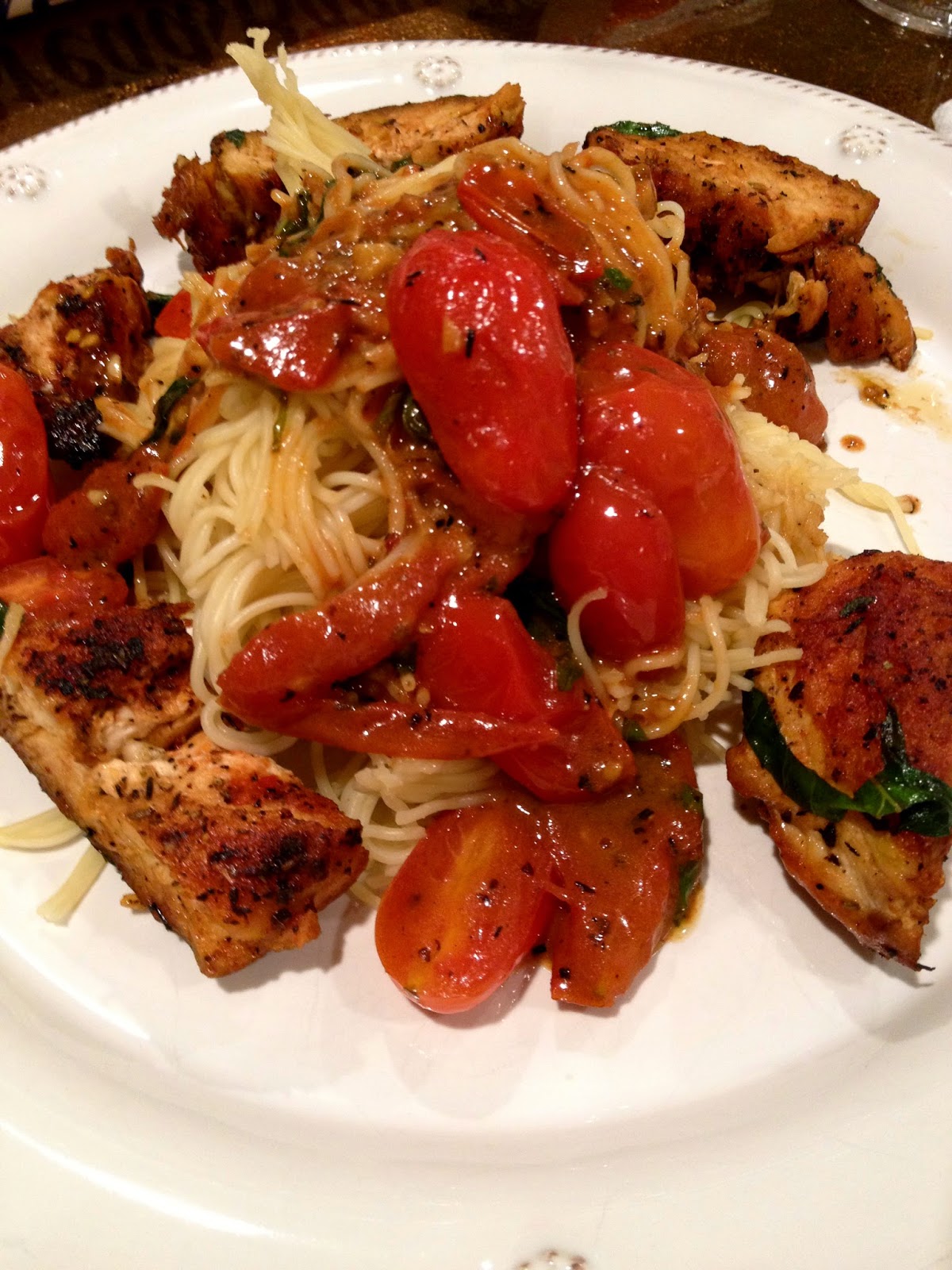 Chicken Caprese with Angel Hair
2 boneless chicken breasts
10 grape tomatoes, divided
5 basil leaves, julienned
2 cloves garlic, minced
5 tablespoons extra virgin olive oil
1 package angel hair pasta
2 tablespoons butter, cold
2 teaspoons salt
2 teaspoons pepper
2 teaspoons thyme
2 teaspoons rosemary
2 teaspoons oregano
Bring pot of water to boil to cook angel hair pasta to al dente or preferred tenderness. Pour 5 tablespoons extra virgin olive oil into skillet. Heat on medium heat until oil is hot. Season each side of chicken breasts with salt, pepper, thyme, rosemary and oregano. Depending on the thickness of chicken, cook in hot oil for 5 minutes on each side. (I had one thick chicken breast that I cooked for about 6-7 minutes on each side)
Once chicken is cooked, add tomatoes, basil and garlic. Stir for about 2 minutes to make sure all the ingredients are combined. Remove the chicken from the skillet and let chicken rest on cutting board. Slice chicken into strips. Turn tomato and basil mixture to low heat and add the 2 tablespoons of butter and stir until combined. The extra virgin olive oil that was left in the skillet from cooking the chicken and the butter, along with the juice from the tomatoes, combines to create the sauce. Serve chicken and tomato, basil sauce over the angel hair pasta.
There are several substitutions you could make, as you see fit. You can change up the spices used on the chicken or use canned tomatoes if fresh tomatoes aren't in season. You could even replace the basil with spinach! There are endless possibilities, just be creative!
This recipe is definitely a keeper. Not only was it a speedy weeknight meal, but quite yummy too! Although I can't say that this meal made me love chicken, I do know that I still love snow (as long as I don't have to drive) and spending a snow day at home with my husband and puppy 🙂