Usually, the quickest dinner I can come up with is a salad. Not only is it quick, but by all accounts, it's pretty healthy. But admittedly, salads can be boring. This Southwest Chopped Salad is anything but boring. The true Southwestern flavors of beans, corn, ranch dressing and various spices combine together with the crisp Romaine lettuce to create a delicious and filling salad.
Add your own favorite Southwestern flavors as you see fit! I made this the vegetarian way, but adding ground beef, chicken or steak would only add to this flavorful dish. It has become a weekly meal in our house, not only because it's super easy to put together, but because it's that good. I told my husband it reminds me of a burrito bowl at Chipotle. His response: "it's better." I'll take that 🙂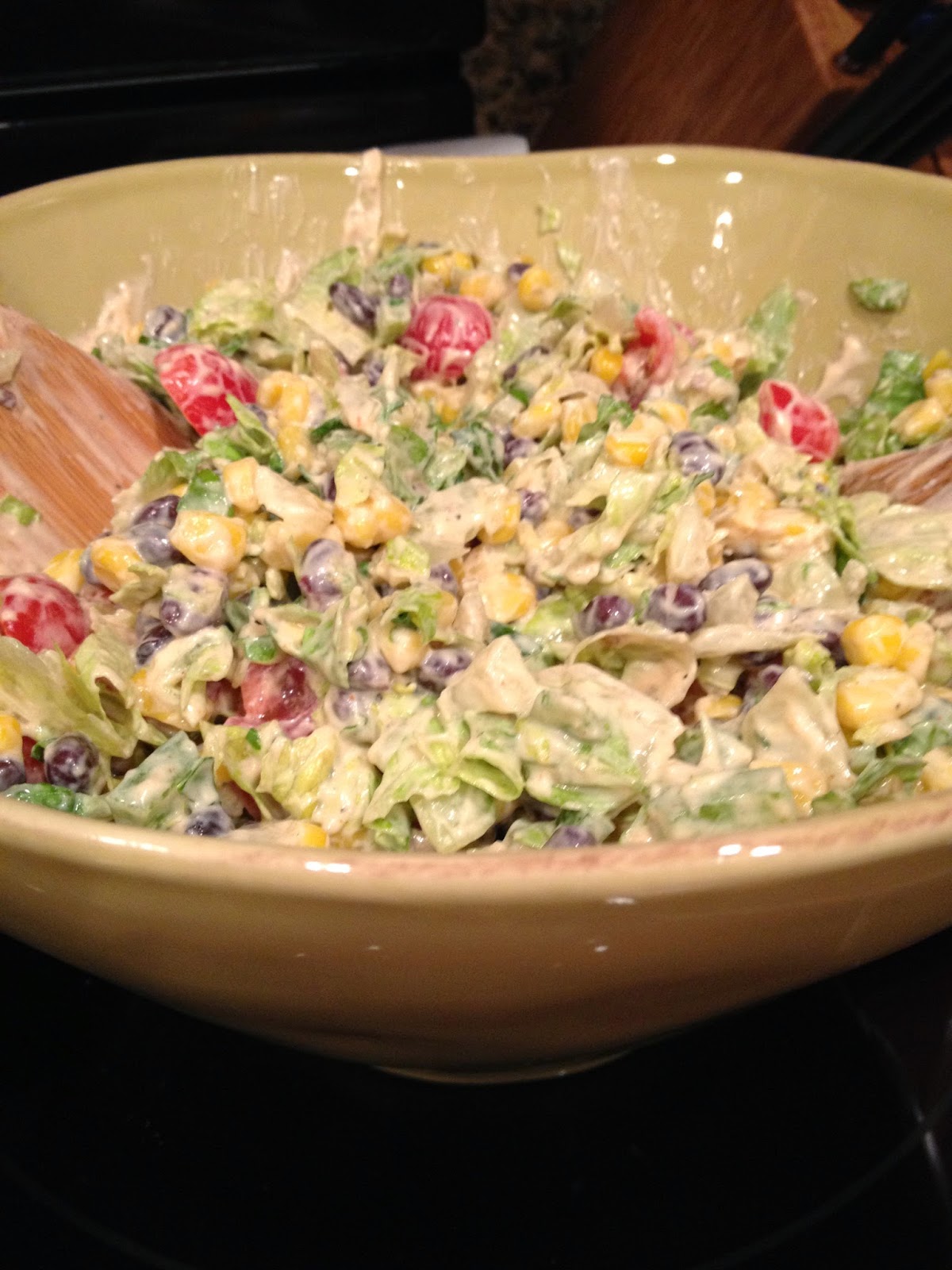 Southwest Chopped Salad
1 bag chopped Romaine lettuce
16 ounces black beans, drained & rinsed
16 ounces corn, cooked to package instructions (if using frozen)
1 green pepper, chopped
2 cups cherry tomatoes, chopped
4-5 green onions, chopped
1 tablespoon powdered ranch dressing
1 tablespoon taco seasoning packet (I used low sodium)
1 cup sour cream
1 cup mayonnaise
1 tablespoon lime juice
Salt and pepper to taste
Begin by chopping vegetables: Romaine lettuce, cherry tomatoes, green onion and green onions. Add to salad bowl. Drain and rinse black beans. Cook corn to package instructions, let cool. Combine sour cream and mayonnaise in small bowl. Add ranch powder and taco seasoning (if you need more dressing, just make sure you keep equal parts of the sour cream and the mayonnaise and the ranch and taco seasoning). Stir to combine. Add the lime juice and salt and pepper to taste, creating a dressing-like consistency. You can alter the flavor to your liking by adding more lime juice or salt and pepper. Pour dressing over salad and toss. Garnish each plate with tortilla chips, avocado, taco sauce or any other favorite Southwestern topping.