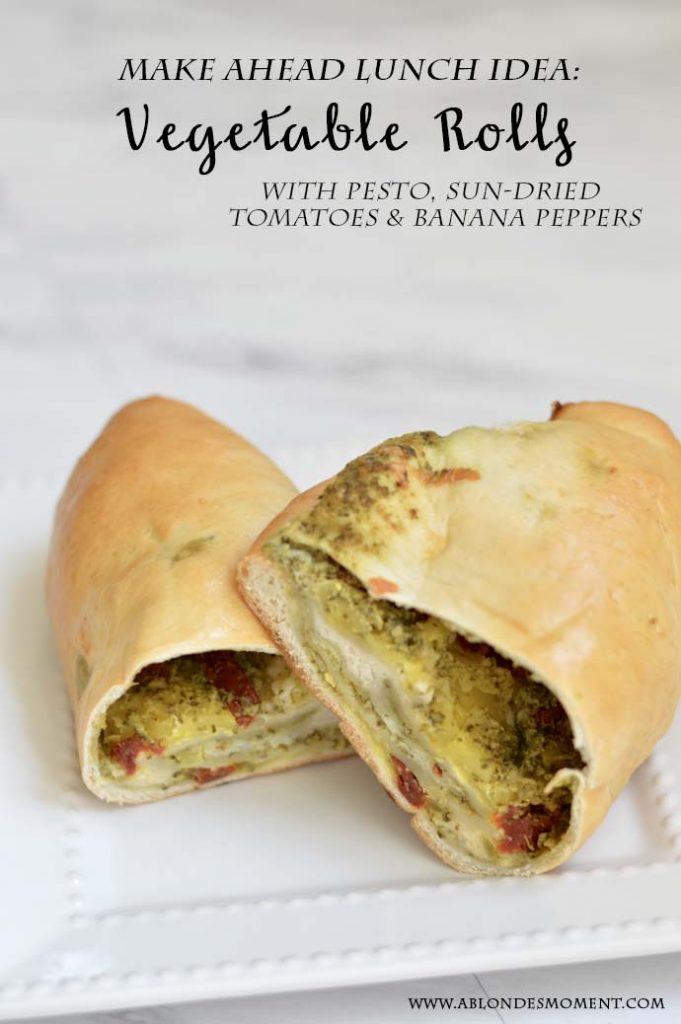 Today I'm back with another take to work lunch idea. I know I say this each time I share one of these recipes, but the struggle is real when it comes to packing a lunch for work. For me, I get sick of the same thing everyday (more power to you if you don't — my husband could eat the same thing everyday of the week!) and coming up with new and packable lunches is tough! Pepperoni rolls have always been a favorite of mine, so I decided to do a vegetarian spin on the classic roll up lunch.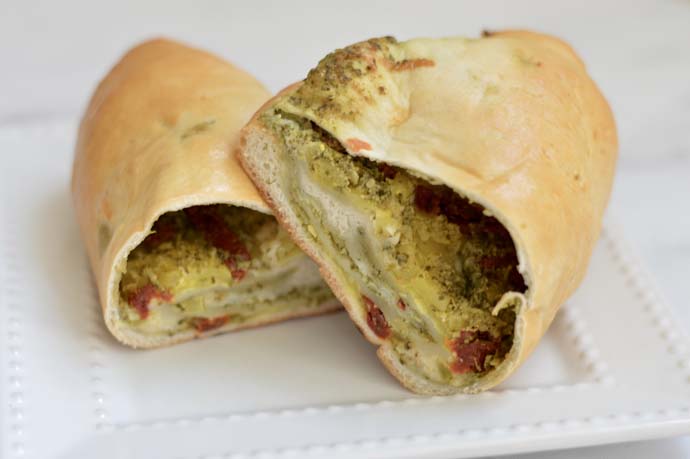 I've been eating pepperoni rolls for as long as I can remember. The combination of pepperoni, mozzarella, sauce and banana peppers (the best part!) will always be a favorite. But, in an effort to make a healthier recipe, I took out the pepperoni and replaced it with sun-dried tomatoes, I swapped the marinara sauce for a basil pesto and I kept the mozzarella and banana peppers. The combination was seriously delicious and pretty filling. I had these a few weeks ago in my lunch and decided to make them again this week.
As for the filling, you could really add any ingredients you would like: from vegetables, to different sauces to meats, it's totally customizable. They are also perfect for kid lunches, too! Check out the recipe below.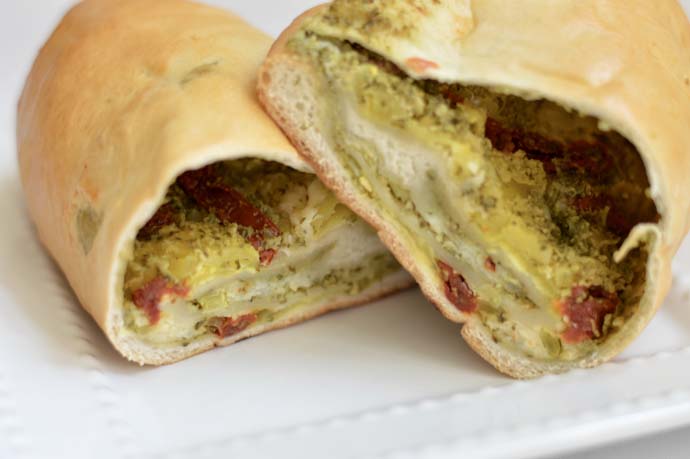 2

frozen bread loaves, thawed

1 cup

pesto

2 cups

sun-dried tomatoes, drained if packed in oil

2 cups

banana peppers, drained

4 cups

grated Mozzarella, Parmesan, Romano Mix

1

egg, beaten
Preheat oven to 375 degrees. Divide the bread loaf into fourths to make a total of 8 roll ups. Roll out the dough on a floured surface. For each roll up, spread about 2 tablespoons pesto, sprinkle ¼ cup sun-dried tomatoes and ¼ cup banana peppers. Top with ½ cup cheese. Roll the dough around the filling and pinch the ends closed. Brush each roll with egg wash and bake for 30 minutes. Once rolls are cool, wrap in foil. Heat when ready to eat. Enjoy!
….
Thanks for stopping by, friends! I hope you have a wonderful Tuesday!