Last Wednesday, it was time to hit the road to fight the inevitable day before Thanksgiving traffic. If you know anything about daily DC traffic, you know to avoid it. Mix daily DC traffic with the day before Thanksgiving traffic, and you are usually in for a long night. But, this year was different. We had been following a winter storm that was impacting Ohio in the days before Thanksgiving. We didn't have any snow in DC, but Ohio was a different story. We set out on Wednesday night for our long trip, but to our surprise, traffic wasn't awful. It was only when we were in the mountains of Pennsylvania that it started snowing, but by the time we reached Pittsburgh on the Pennsylvania Turnpike, the snow had stopped. Although, the inches on the ground were increasing the closer we got to Ohio.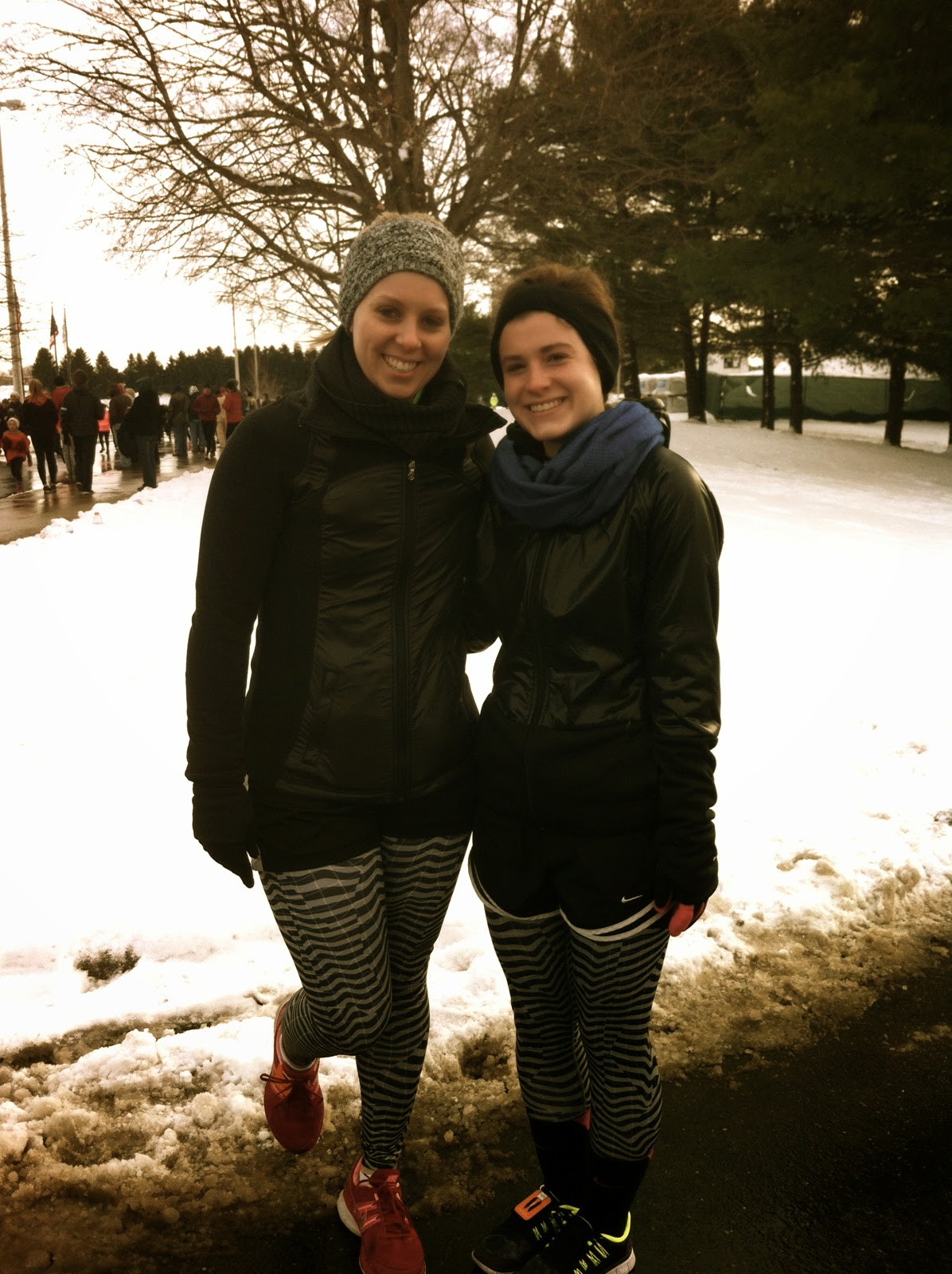 Frozen Pre-race Picture!
My cousin, Caroline, thought it would be fun to start a new tradition this Thanksgiving – participating in the annual 5 mile Turkey Trot at Kent State Trumbull Campus. It sounded like a great idea (when we signed up in October) but Thursday morning came, with at least 6 inches of snow on the ground and temperatures hovering in the teens. It was at this point that we decided it didn't seem like such a great tradition to start. Nonetheless, we braved the elements and ran the 5-mile race. As we were running through snow and slush on the ground, I looked at Caroline and said "what are we doing?!?" During the last mile of the race, it started snowing. Don't get me wrong, I am an Ohio girl and love the snow, but not when running a 5-mile race in 18 degree weather.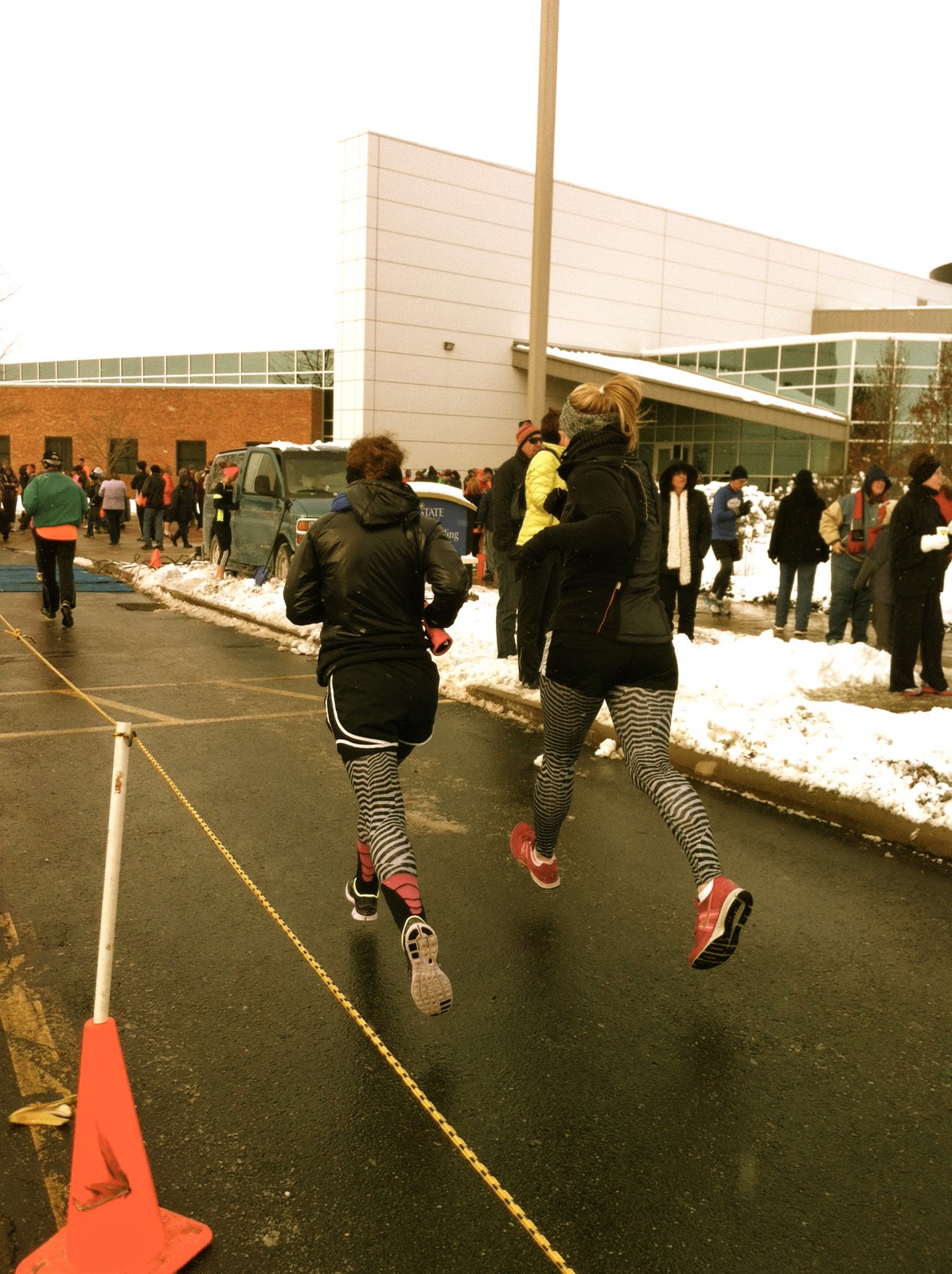 Crossing the finish line…in matching running tights 🙂
Now that it's over and we didn't completely freeze, we can say it was pretty fun, although, I don't think this will be added to our family traditions anytime soon. Also, thanks to my mom who waited in the freezing temperatures and snow as we ran. And provided us with the pictures 🙂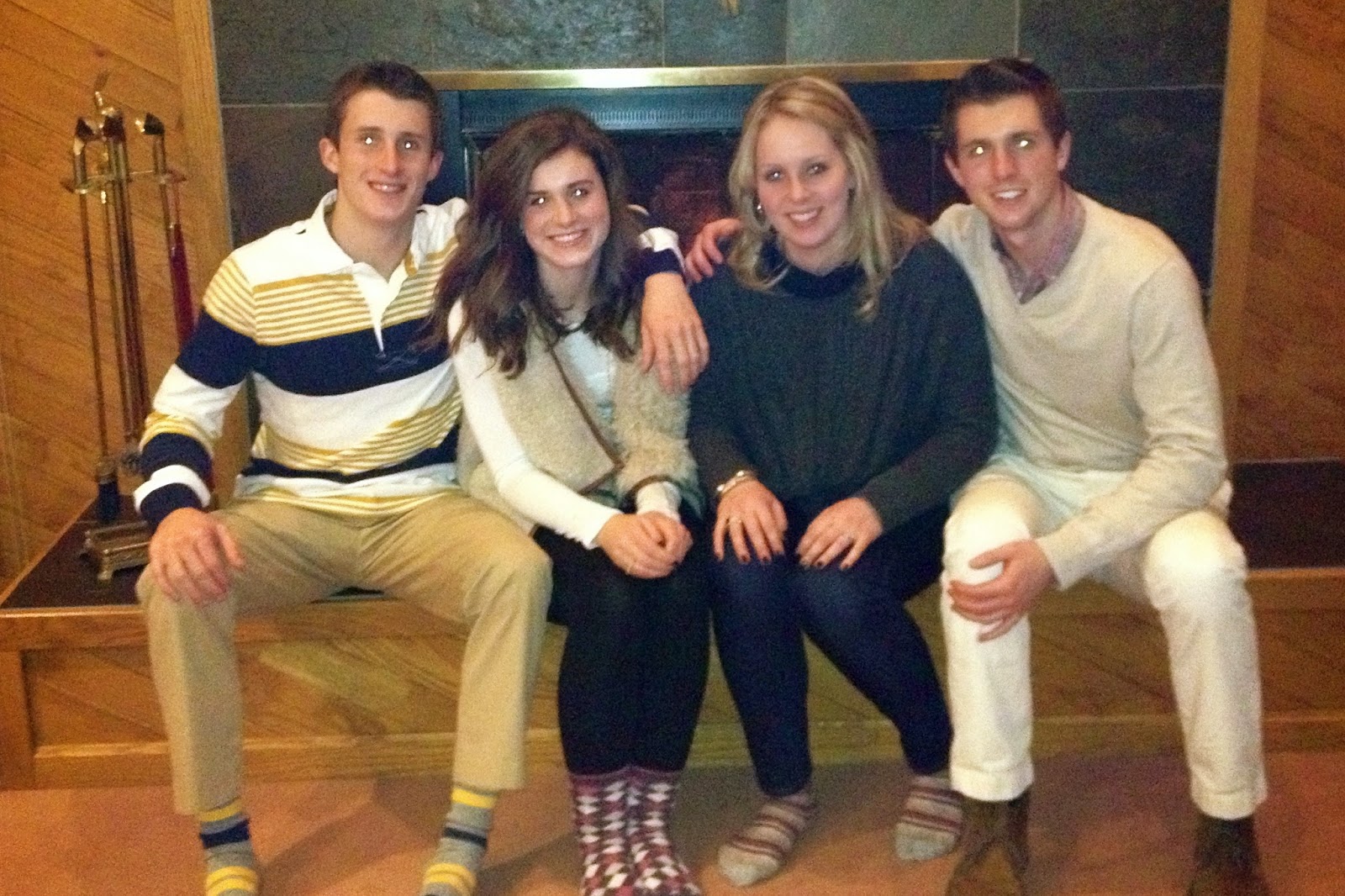 Thanksgiving Cousin Photo
Now that our snowy run was over, it was time to start celebrating the rest of Thanksgiving. Unfortunately, all the food in this post was created by my mom and aunt, so I won't be able to publish the recipes, but I have plenty of pictures with some great ideas for food! My mom is the best cook I know. She was the one who inspired me to cook at a very young age. If it wasn't for her, I wouldn't be in the kitchen today.
Sweet Potato Biscuits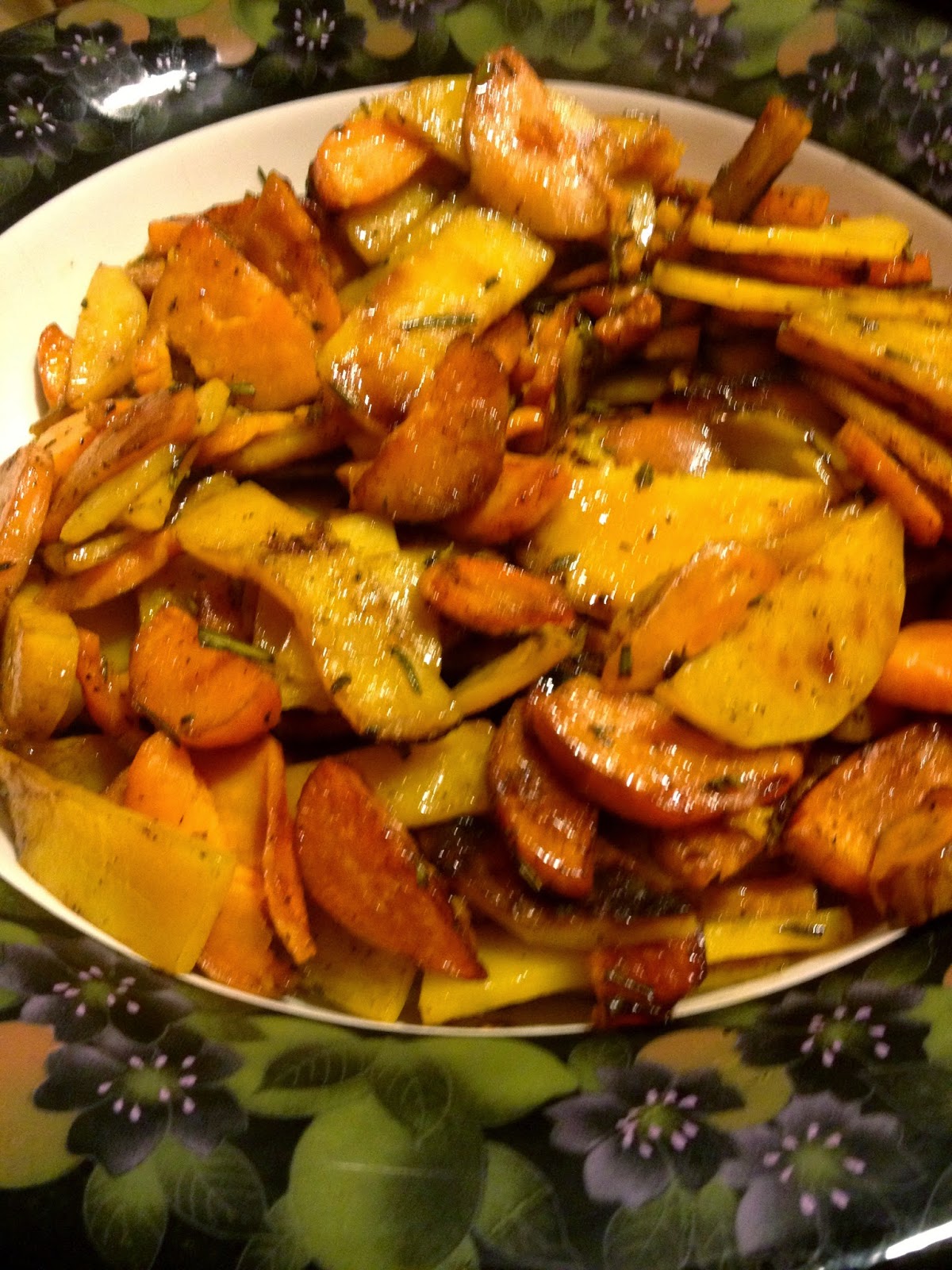 Roasted Butternut Squash and Sweet Potatoes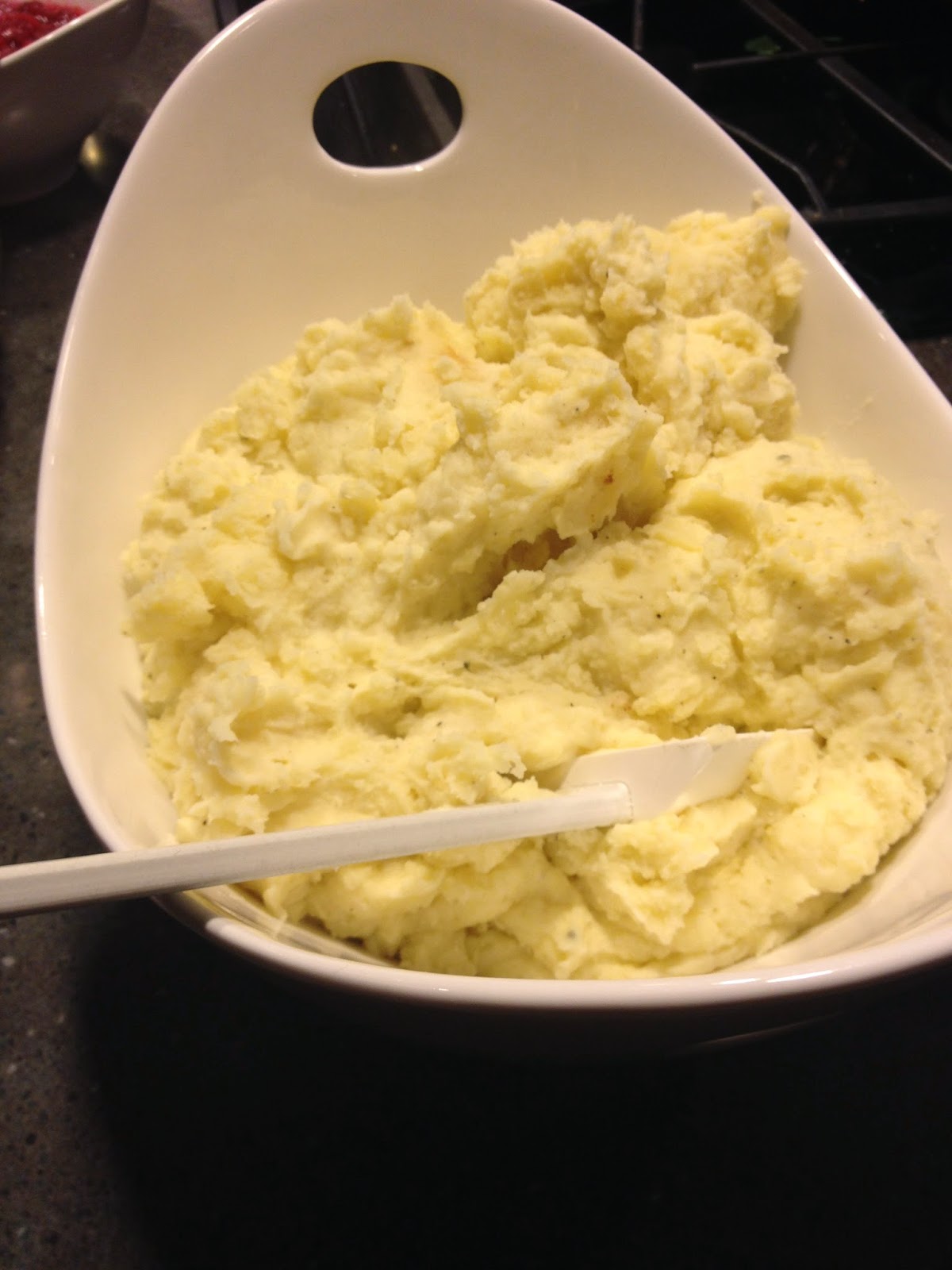 Creamy Mashed Potatoes — perfectly mashed by my dad!
Thanksgiving has so many delicious sides, it's nearly impossible to pick a favorite. I know I can't! Here are some pictures and descriptions of our Thanksgiving feast!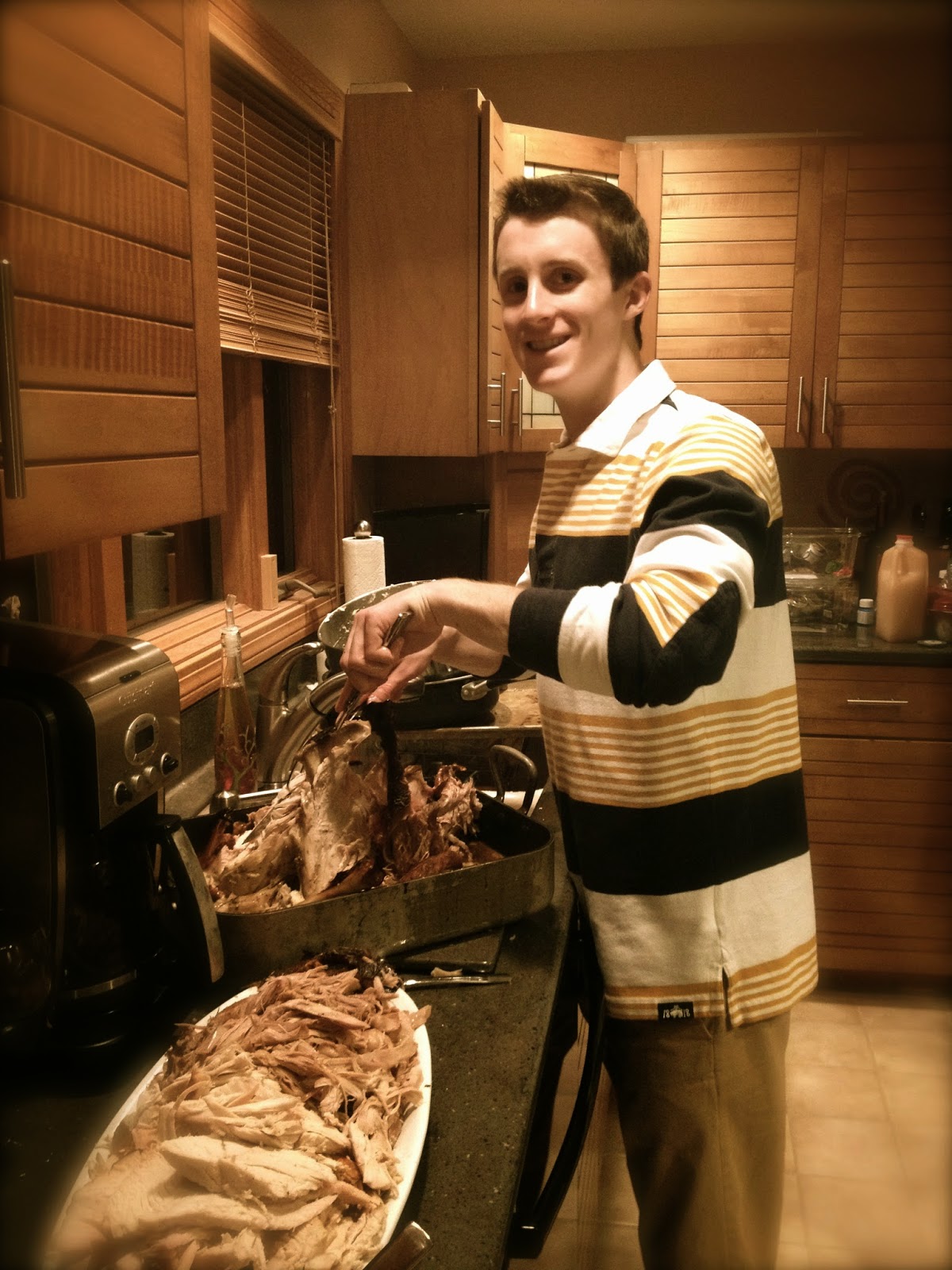 Ethan the Turkey Carver!
My aunt made the turkey and the dressing. I have to say, I like dressing, not stuffing. Something about stuffing is just not appetizing! And Ethan was our turkey carver this year! He did a fantastic job! The turkey was so flavorful and moist – the wet brine my aunt used made all the difference! As for sides, my mom made some of our favorites and tried some new recipes: Brussels sprouts, butternut squash and sweet potatoes, creamy mashed potatoes, homemade sweet potato biscuits, the list goes on.
If I was forced to choose my favorite item on the Thanksgiving menu, it would be the Brussels sprouts. These are not just your everyday Brussels sprouts (which, oddly enough, I love) – these Brussels sprouts have not only cream, but also bacon. Not the healthiest dish, but with all the fat in these, how could it not be good?? And they only come at Thanksgiving, so I think we can handle the calories once a year 🙂
Home made apple dumplings — before the oven!
For dessert, she made homemade apple dumplings with the famous cider sauce, pumpkin cheesecake and ginger sticks with pumpkin dip. All were incredible, but the homemade apple dumplings were unbelievable! The recipe for the cider sauce comes from our church when we sold apple dumplings at the Canfield Fair each Labor Day. You could legitimately drink this stuff.
It was such a great weekend with family, friends, running and food. Although, the drive back to DC wasn't so great. Our usual 5-hour drive took EIGHT hours. An extremely draining drive for all three of us, especially Ella, but we made it back safe and sound. Looking forward to seeing family again in less than 20 days for Christmas! Such a short turn around this year with one less weekend in between Thanksgiving and Christmas…that means a lot to do to prepare for Christmas in a short period of time! 17 days and counting!!