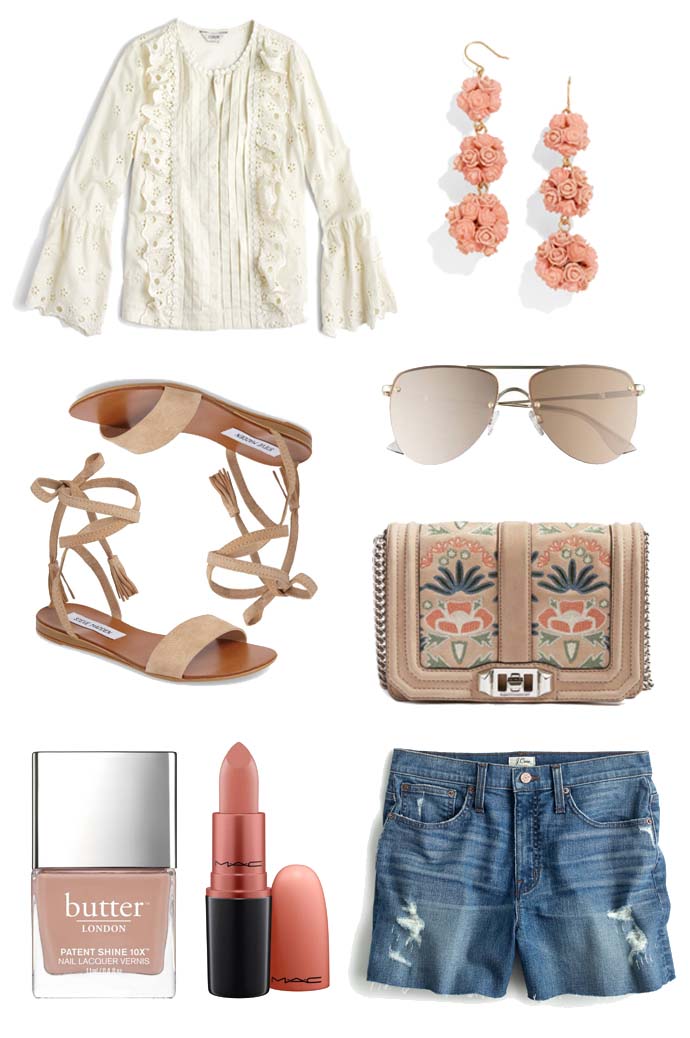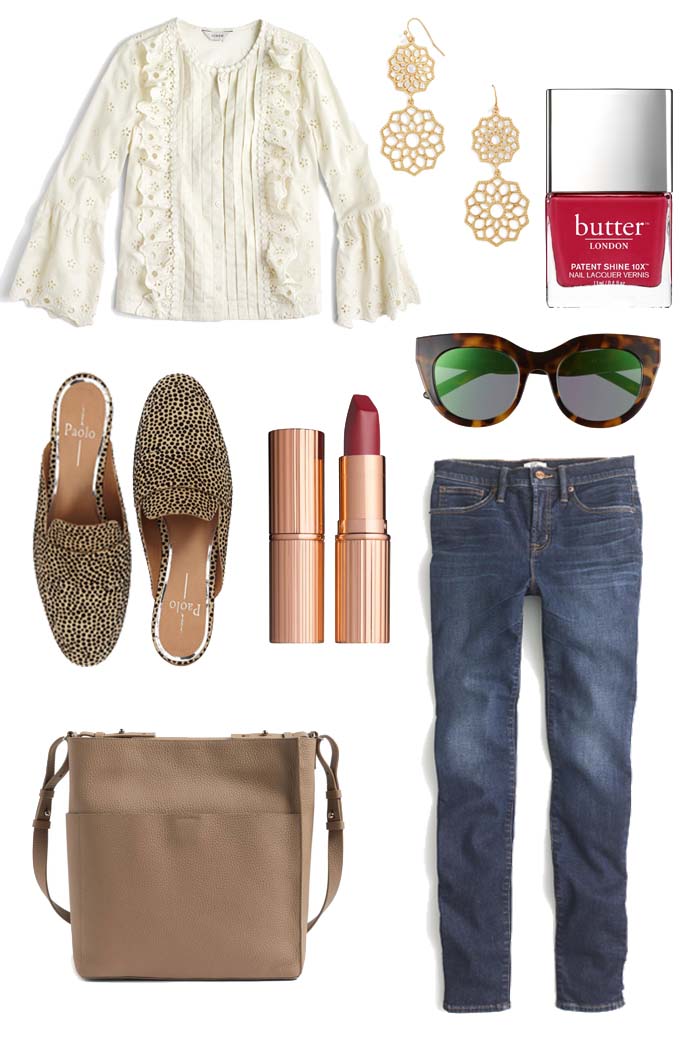 Summer Outfit: eyelet top | floral drop earrings | wrap around lace sandals, also here | mirrored aviator sunglasses | embroidered bag | nail polish (mums the word) | lipstick (velvet teddy) | denim shorts
Fall Outfit: eyelet top | gold drop earrings | nail polish (broody) | animal print loafer mule | lipstick (red carpet red) | sunglasses | crossbody tote | high-waisted jeans
Styling a white blouse is one of the easiest ways to take a piece from season to season. As I mentioned last week, the Nordstrom Anniversary Sale has a tendency to give you unrealistic ideas about what month it actually is! I found myself telling my hair stylist yesterday that my hair was getting too blonde and we needed to darken it for fall. He looked at me like I was crazy and said, "Rachel, it's the first day of August!" Needless to say, I have fall on my mind! In an effort to stay season appropriate, I wanted to share two looks today that incorporate the same white eyelet top styled for summer and fall.
White Eyelet Top for Summer
White and eyelet are the perfect summer combination. When it comes to styling this combination for summer, the possibilities are endless. I've always liked long sleeves paired with shorts in the summer. It's perfect for a cooler days and summer evenings. These distressed denim cutoffs are a great contrast with the feminine top. The embroidered bag and wrap around lace sandals also give the look a more bohemian flare, which I love for summer.  The dusty rose floral drop earrings are a perfect match for the embroidered bag, nail polish and lipstick color. The entire look gives a laid back and casual feel that is you can wear for the rest of summer.
White Eyelet Top for Fall
When comparing this fall look with the summer, this look is the slightly more polished of the two. Not that there is anything wrong with summer boho vibes, but a different season calls for a different style. Classic, sophisticated and closet staples fill my closet during the fall. Speaking of closet staples, these high-waisted jeans pair perfectly with both the eyelet top and loafer mules. If you are like me and missed out on the leopard mules from the Nordstrom Anniversary Sale these would be a good alternative. Burgundy would also pair well with this eyelet top for fall. The season of burgundy lips and nails is just around the corner!
What is your favorite piece to style from season to season? Thanks for dropping by and have a wonderful Wednesday, friends!
….
SHOP THE POST