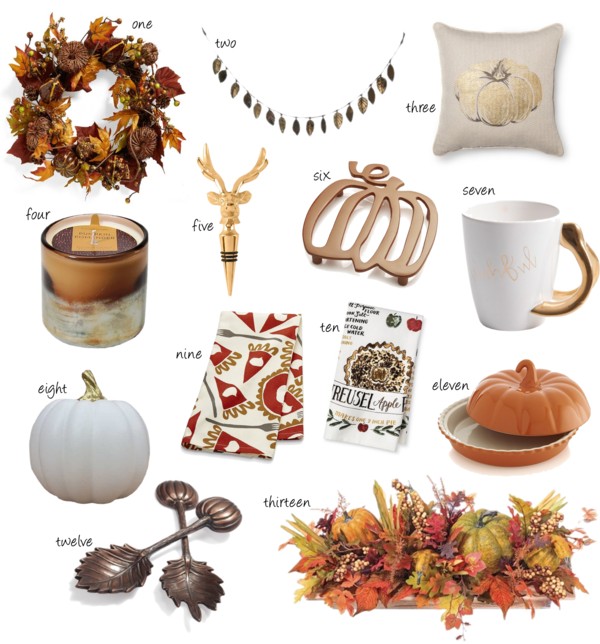 one | two | three | four | five | six | seven | eight | nine | ten | eleven | twelve | thirteen
With the exception of Christmas, fall is definitely my favorite season for decorating. Now that it's officially October, it seems like it's socially acceptable to start pulling out the autumn decor pieces. We have been gone for what seems like every weekend for the past few months, but this weekend we are actually at home and I am so looking forward to decorating the house. Although, not looking forward to potentially dealing with Hurricane Matthew. I might be waiting until next week to get the mums if a hurricane is on it's way…
These are a few of the fall decorations I have been eyeing to add to my collection this season. At the top of my list are white pumpkins: they would be so cute to add with the traditional pumpkins both indoors and outdoors. Also at the top of my list are festive kitchen towels. I love changing these towels out every season and the pumpkin pie and apple streusel towels are too perfect to pass up. Lastly, I have been searching for a fall candle for our living room. My husband finds the Bath and Body Works candles to be too overpowering, leaving us both with headaches, so we have been trying different brands. We just finished off this candle in amber and we loved it. I'm going to check out this one I mentioned above because not only does the pumpkin scent sound amazing, but I love the packaging!
Here are a few other fall finds to add to your kitchen:
Thanks for dropping by and have a wonderful Wednesday!
….
SHOP THE POST