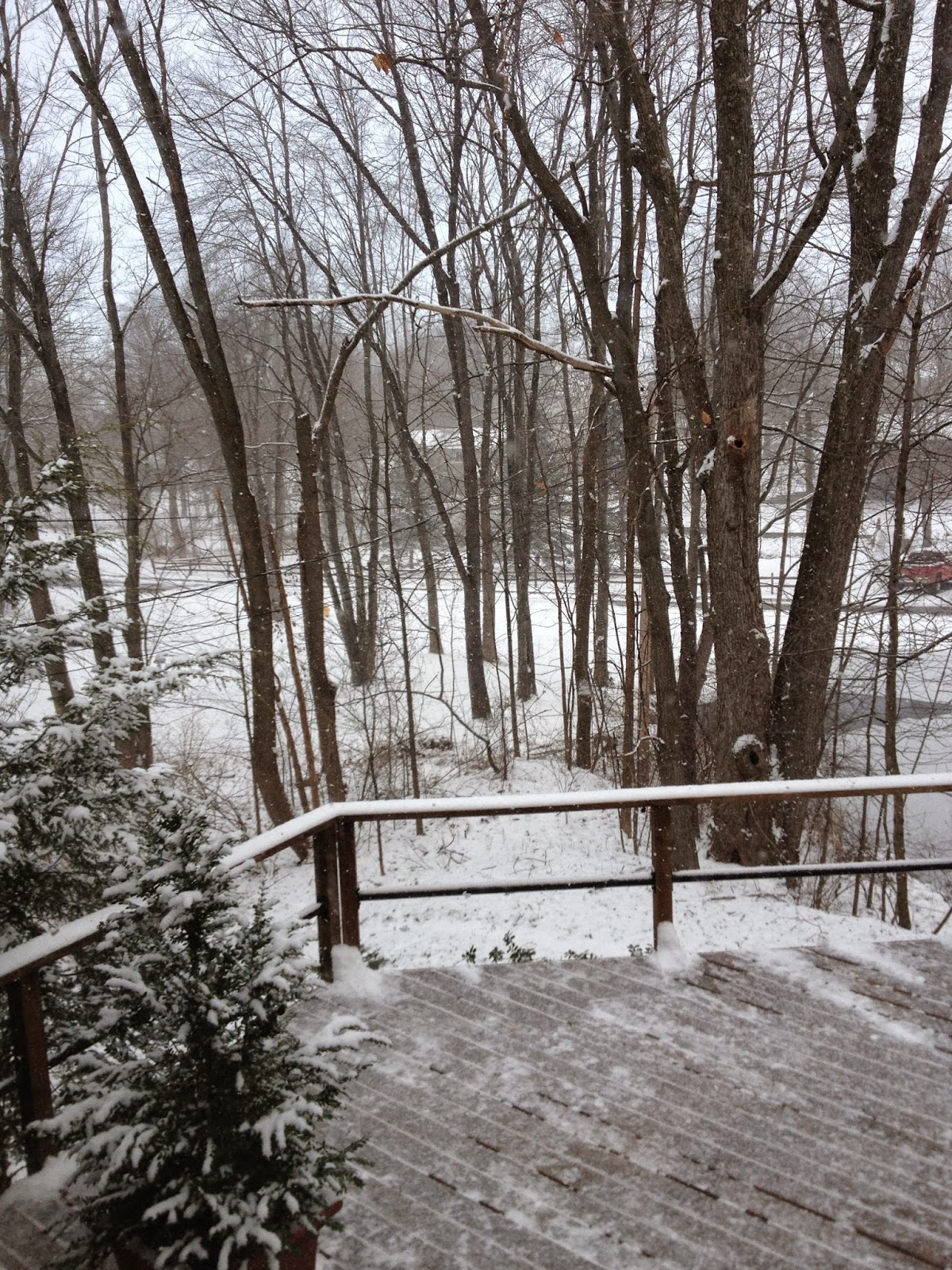 Snow in Ohio!
What a busy couple weeks it has been! You may (hopefully!) have noticed I have been absent as of late, all in part to our busy Christmas week back in Ohio. It was definitely great to be back in Ohio for the holidays, but it is so nice to be back at home and back to reality. We had quite the busy week: between cooking (and more cooking), visiting with family and officially starting the half marathon training.
It's always busy when we are back in Ohio, and this trip was no exception. It seems like the majority of the week was spent in the kitchen. Obviously, I love to cook, but by Friday, I was most assuredly sick of washing dishes!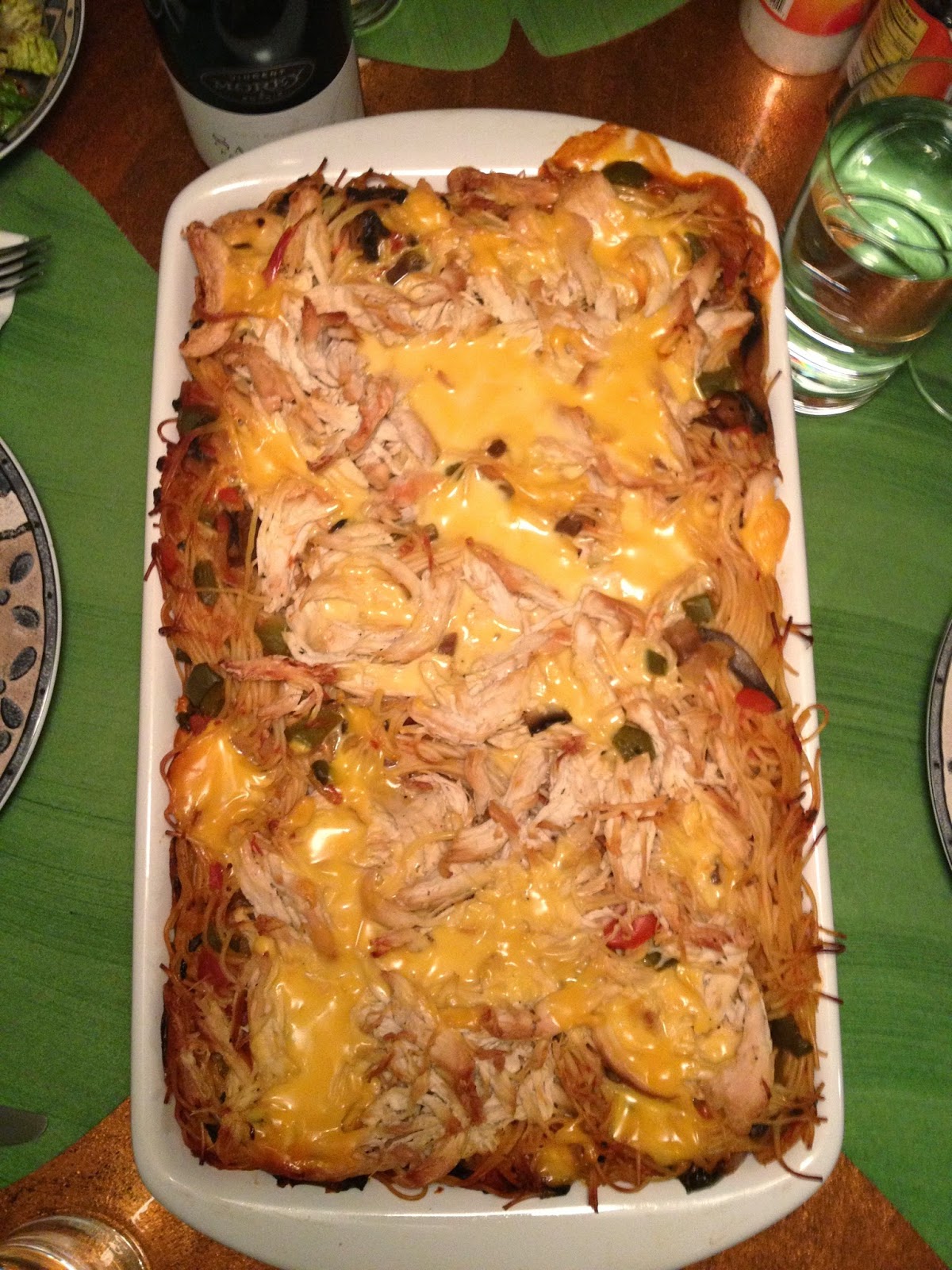 Chicken Tetrazzini
It started Saturday night, only hours after arriving at my parent's house. My mom had made one of my favorite dinners, Chicken Tetrazzini. I think the last time we had this dish was last Christmas – and there is certainly a reason for that. When I say the casserole dish was 10 pounds, I'm not even exaggerating. Between the Velveeta cheese, 1 ½ pounds of pasta and 5 pounds of shredded chicken, it's the most outrageous, yet delicious casserole you will ever taste. And that's why we only have it once a year!
After scarfing down waaaay too much Chicken Tetrazzini, we starting making the peanut butter blossom cookies, one of my favorite Christmas cookies. After losing the recipe, only to be found by my cousin, Ethan, we weren't sure of a lot of the ingredients and decided to wing it. [Ethan conveniently found the recipe after we had started rolling the dough into balls!] Although we weren't sure of all the ingredients, they turned out great, and I ate way too many, as usual.
Pre-decorating – a blank slate!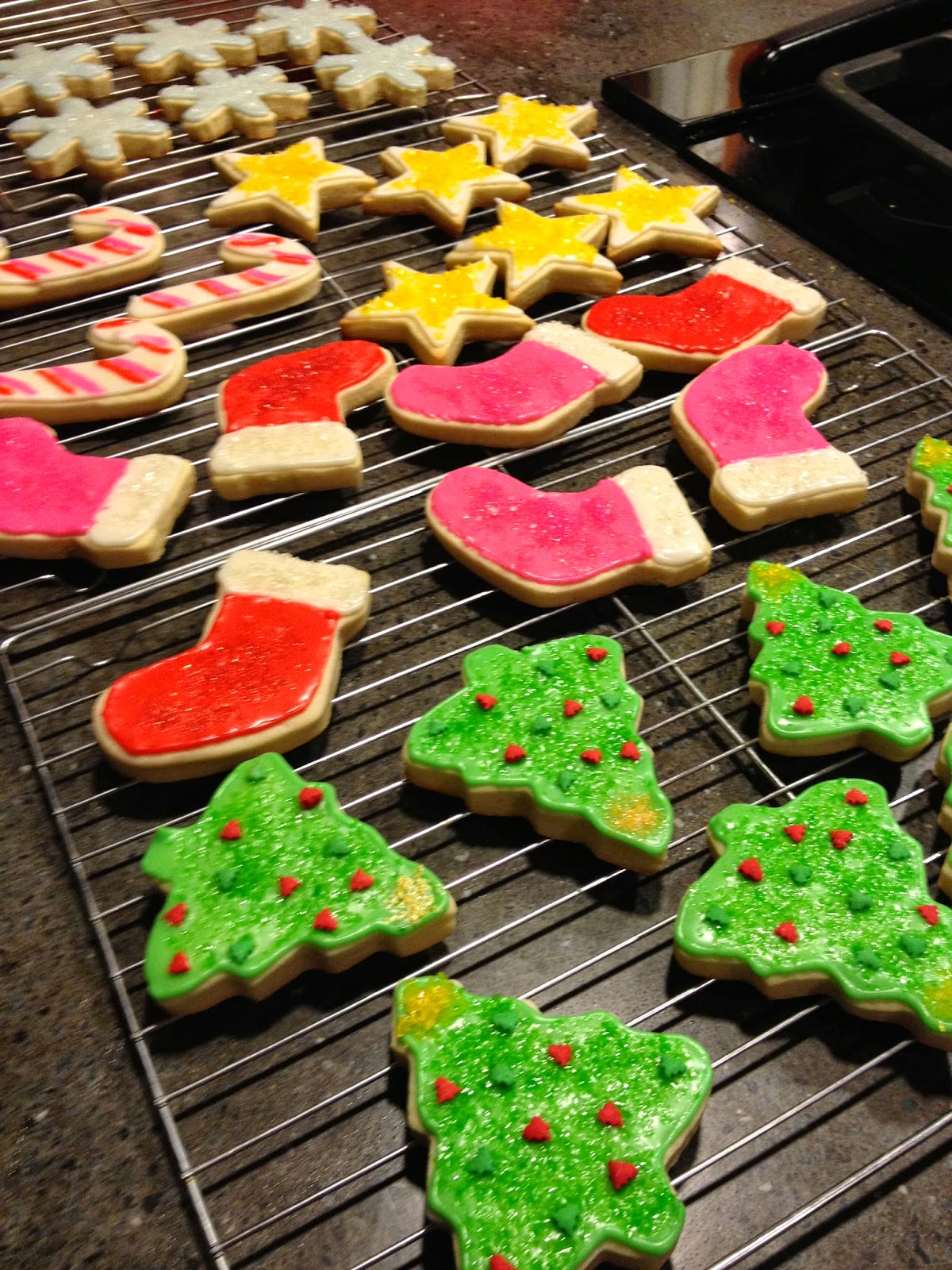 Christmas cookies all decorated!
Christmas sugar cookies were up next, but we waited until Sunday to start decorating. We are just slightly obsessive compulsive when it comes to decorating sugar cookies. After outlining the shape, we thin our frosting so we can paint the inside, perfectly of course. Yes, we paint the cookie with a special cookie paintbrush. Although it is time consuming, the cookies turn out looking flawless, so it's all worth it in the end.
As I mentioned, half marathon training was set to begin the week we were in Ohio. After running in the Rock 'n' Roll Half Marathon in DC this past March, I decided in October that I had to do it again, with the goal of beating my time from last year. This year, my cousin Caroline is going to be running in the race with me in her first half! It will be great to have someone to "train" with, even if we are five hours apart! After some snowy and slippery conditions on Monday morning, we decided it was probably for the best that we run on a treadmill [we wouldn't want to slip on ice on DAY 1 of training!]. Three miles were on tap for Monday morning and we were ready to go!

After our run, we started our third day of cooking and baking. On the agenda for today: preparing for my parent's annual Christmas Eve party and Christmas Day with the family.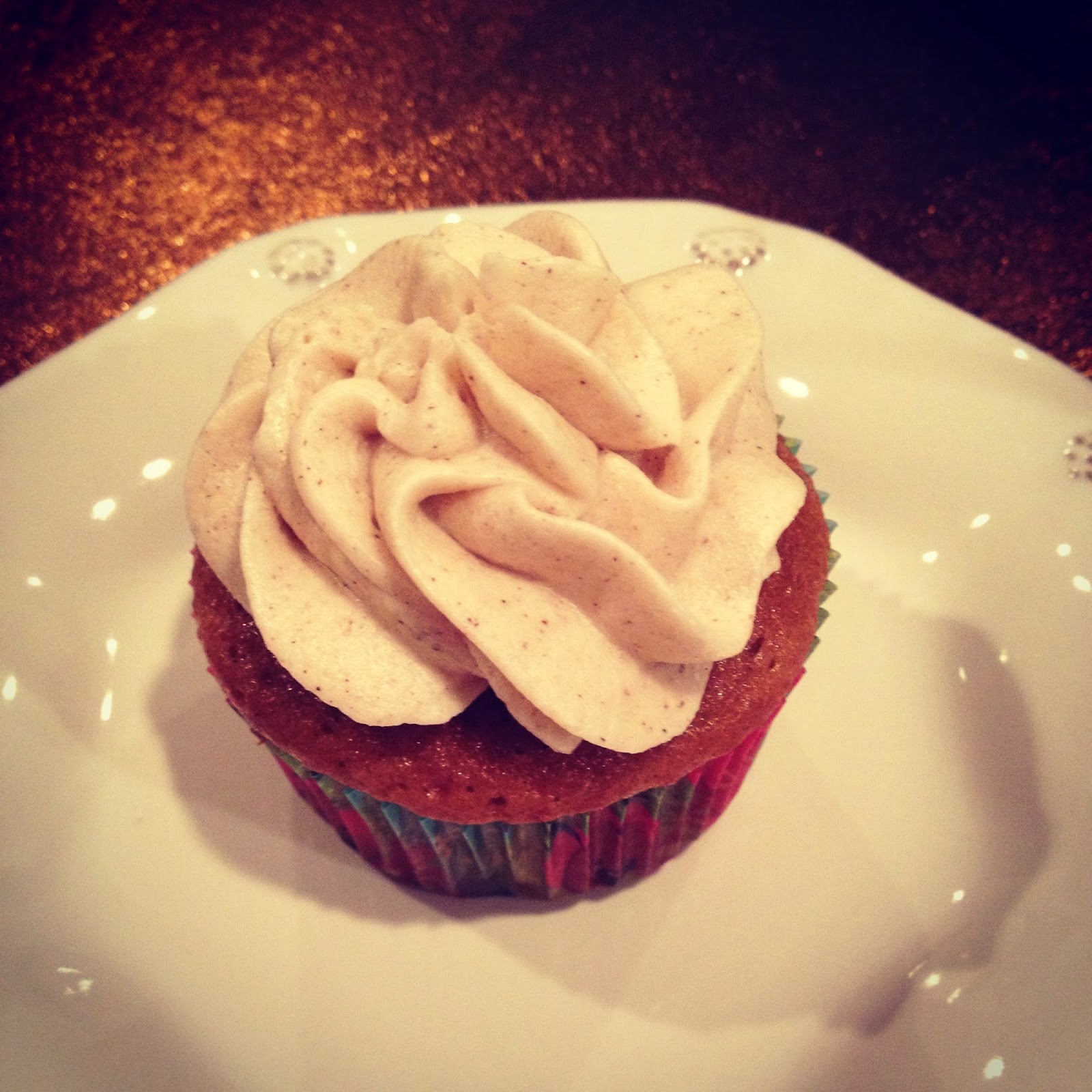 Gingerbread Cupcakes with Brown Sugar Buttercream
Cupcakes are probably one of my favorite desserts to make. I have a little side cupcakery business and love trying new recipes, my office reaps the benefits of this obsession. The week before Christmas, I made Hot Chocolate Cupcakes with Marshmallow Frosting and
Gingerbread Cupcakes with Brown Sugar Buttercream
[at the request for "something gingerbread" by my husband]. The Gingerbread Cupcakes were SO delicious; I decided that I had to make them again.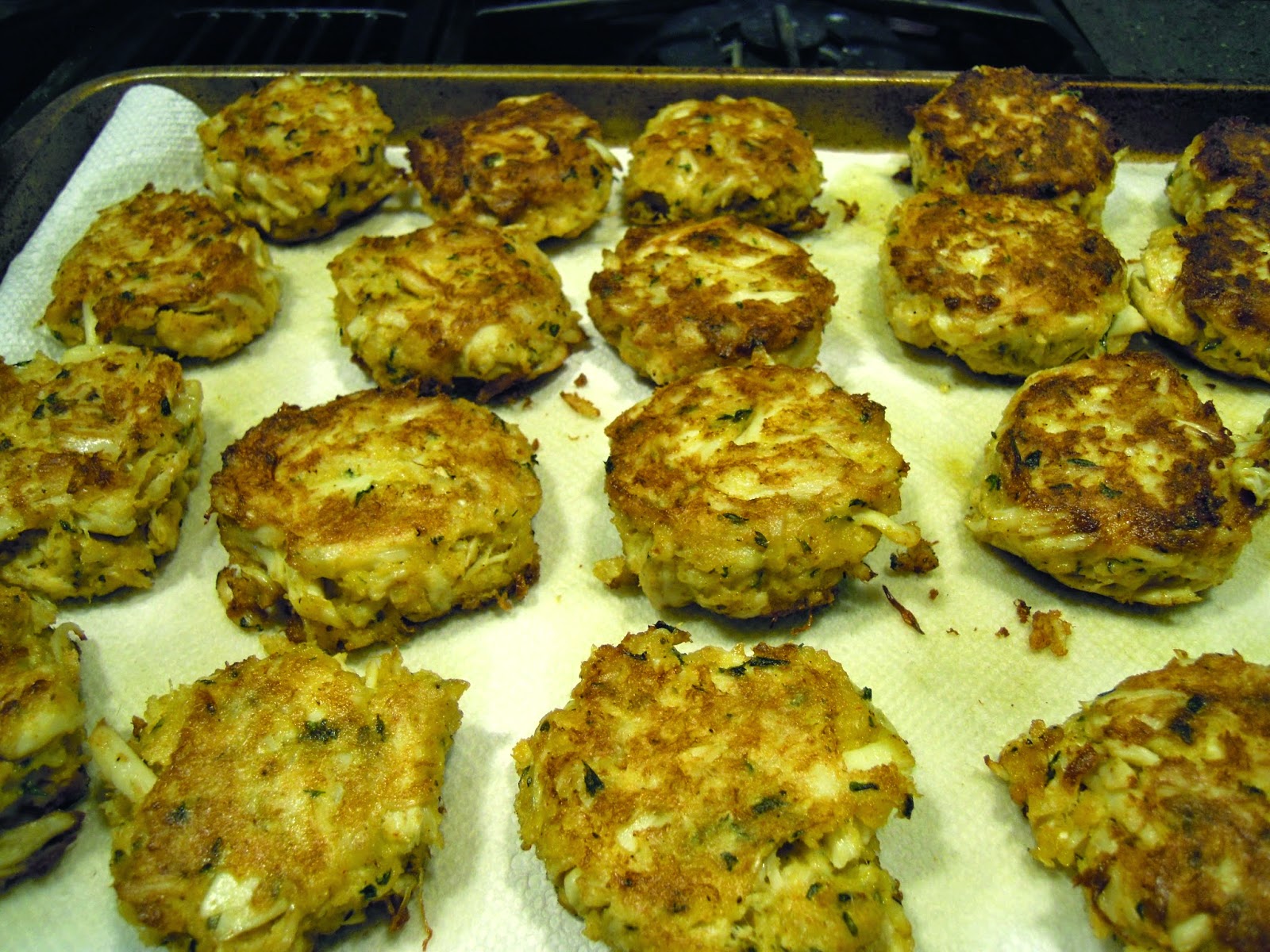 Delicious Crab Cakes
To recap, our Christmas Eve party menu was unbelievable: crab cakes with remoulade sauce, sausage and peppers, penne with marinara, herbed nut mixture, cheese and crackers and of course all the Christmas cookies and cupcakes! And continuing the superb food trend, we came to Christmas morning: Baked French Toast and Egg Casserole. Both were beyond delicious. Christmas Dinner was quickly approaching [it's a good thing training started this week with all this food!] and what was on the menu was, again, nothing short of incredible: beef tenderloin, green beans with crispy shallots, mashed potatoes and more crab cakes.
Beef Tenderloin
It has been our tradition to look at Christmas lights after Christmas Day dinner for quite some time now. But, after consuming way entirely too much food, we had to save our Christmas light tradition for the next day. But, it did not disappoint! There are two houses in Canfield that have their ENTIRE front yards decorated with red, green and white lights that are synchronized to music. You tune your radio to the specified station and you have one amazing display.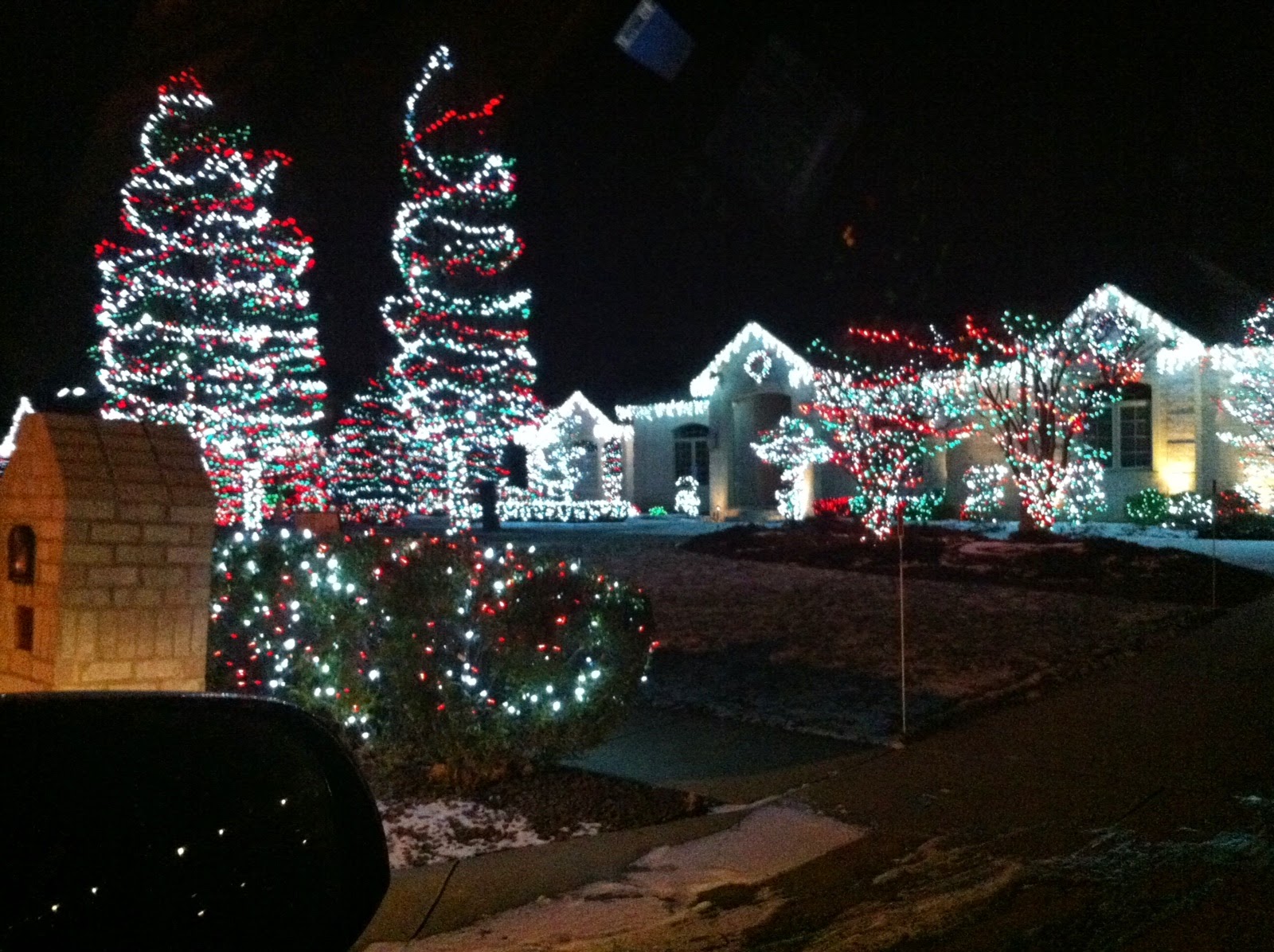 Christmas lights in Canfield. This picture doesn't do it justice!
After a fun-filled week, we came home and back to reality. As of this morning, the Christmas tree and all inside decorations are down and packed away. Outside decorations will have to wait until it gets warmer and the snow melts! As much fun as it is putting up the decorations, taking them down is so liberating! The house looks not only much bigger but so clean!
Here is to hoping your holiday was just as great!