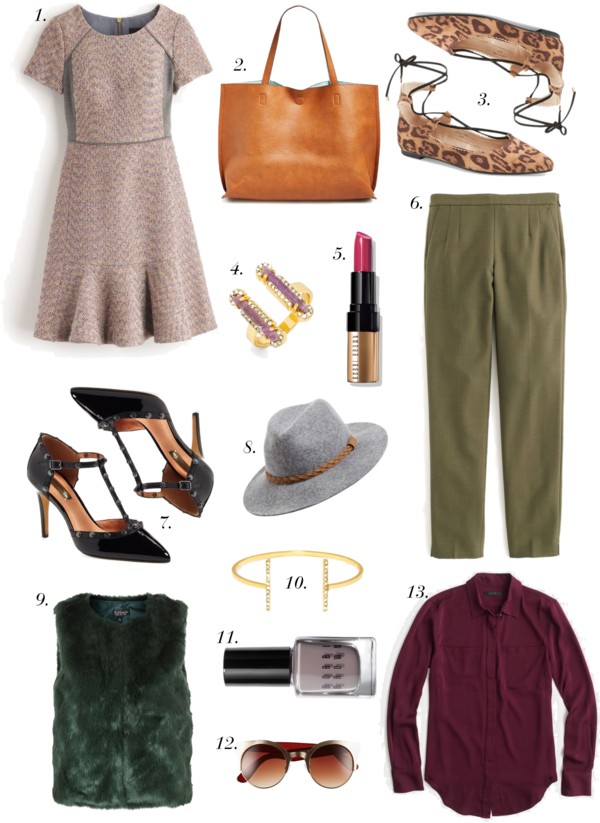 1. | 2. | 3. | 4. | 5. | 6. | 7. | 8. | 9. | 10. | 11. | 12. | 13.
Happy Wednesday! Don't you just love these short weeks — we are already halfway through! Now that Labor Day is behind us, I have really started thinking about my fall wish list. I am loving all the jeweled tones for fall: like this faux fur vest and this blouse. But, what I am most excited for is the return of leopard! Don't get me wrong, I love leopard year round, but fall seems especially appropriate to wear my favorite print. And how cute are these leopard lace-up flats?! I've been searching for a pair of lace-up flats for a few months now and I think I found the ones I need. Best part: they are under $50!


Also, I am obsessed with this reversible tote — isn't it perfect for back to school?! It comes in a few colors, but I think the blush and beige is my favorite. Although it is kind of spring/summery, I can never pass up any shade of pink! I don't know about you, but my fall wish list is growing my the day. Now if the weather would just cooperate… 🙂


Have a fabulous Wednesday!
….