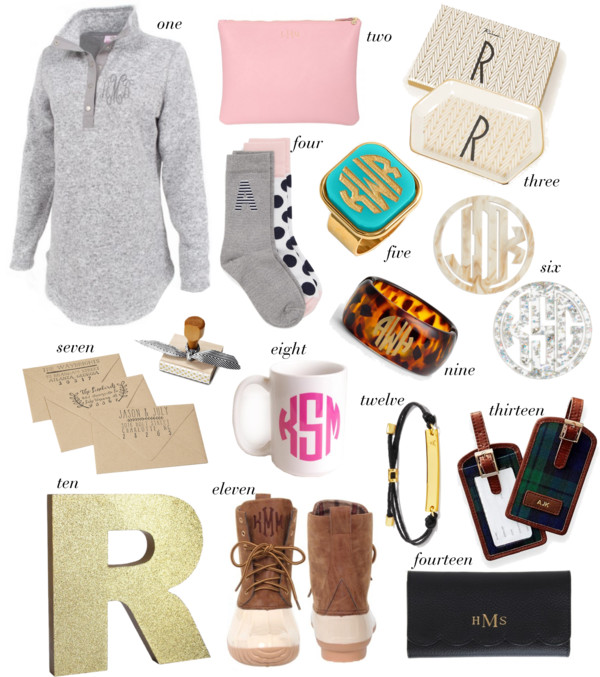 I love giving gifts. I know you have probably heard me say this before, but I always try to find the perfect gift for everyone on my list. I think there is always a sense of excitement when a person receives a personalized gift. Finding your name or initial on an item makes it instantly feel more special. As a child, who didn't love looking for their name on a key chain, Christmas ornament or magnet! Today, I am rounding up a few of my favorite personalized gifts for this holiday season. And don't worry, there is still time to order those "made to order" items.
As much as I love ordering personalized gifts, it can often be difficult. Typically, you are faced with earlier shipping deadlines and the recipient not having the ability to return the item. Since that is an issue that a lot of us face, I've include a few of my favorite initial pieces like this trinket tray for the jewelry lover, this gold letter for decoration in an office and who doesn't need socks, a great stocking stuffer!
But, if you are looking for something a little more personal, here are a few of my current favorites:
This cozy, monogrammed sweatshirt tunic is ideal for weekend errands or just lounging around the house. Pair it with leggings or skinny jeans and you are casual, cute and comfortable. Speaking of cute, wouldn't these monogrammed duck boots be perfect with this casual weekend look? Priced at $69 and available in 3 colors, these would also make a great gift!
A hot pink monogrammed mug? I'm in! Pair the mug with these fabulous coasters and you have quite a fabulous dining room or office situation.
I have been wanting a custom address stamp for years now but I keep telling myself that I need to wait until we get our next house. I love all the fun script options this stamp offers. A great gift idea for a house warming present or newlywed couple, too!
I typically don't discriminate when it comes to monograms, I love them all! But, if it wasn't already obvious, monogram necklaces take the cake in my book. You probably notice that I wear THIS monogram necklace from Onecklace quite frequently, it's my very favorite! Because I do wear it so frequently, my mom always mentions how much she likes it and that she wants one too. And since I got this monogram obsession from my mama, it's only right that we can be matching in our necklaces now! With Onecklace's festive wrapping, it looks perfect under the Christmas tree. And goes well with the color scheme too I might add!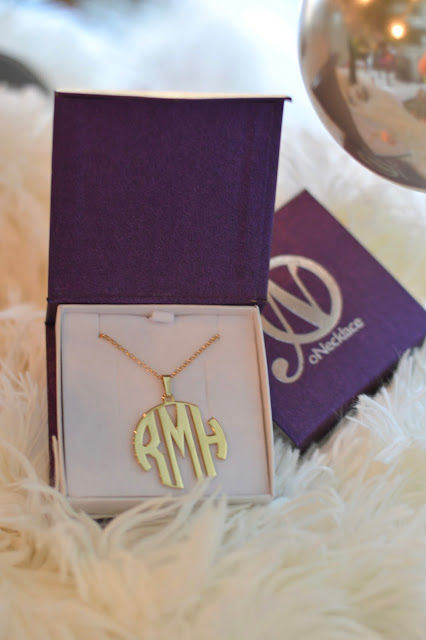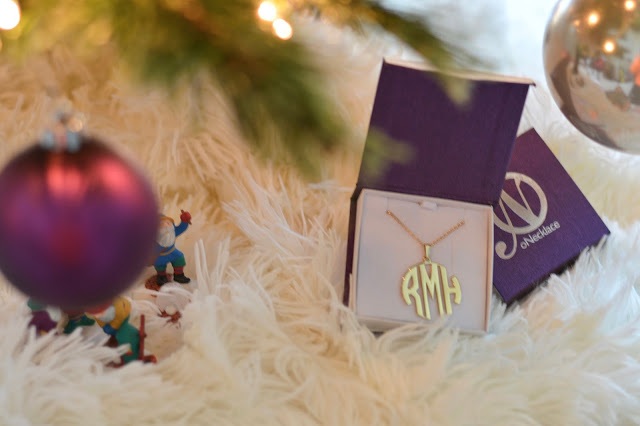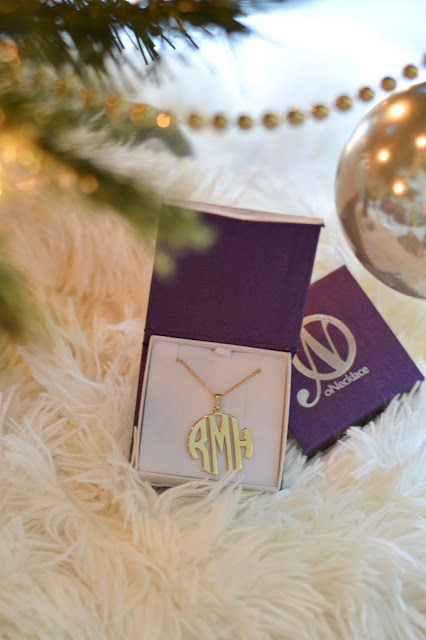 Personalized gifts have a sentimental value and they are by far my favorite gift to give! Have you purchased any personalized gifts for your loved ones this holiday season? Thanks for dropping by and see you back here tomorrow!
….
SHOP THE POST