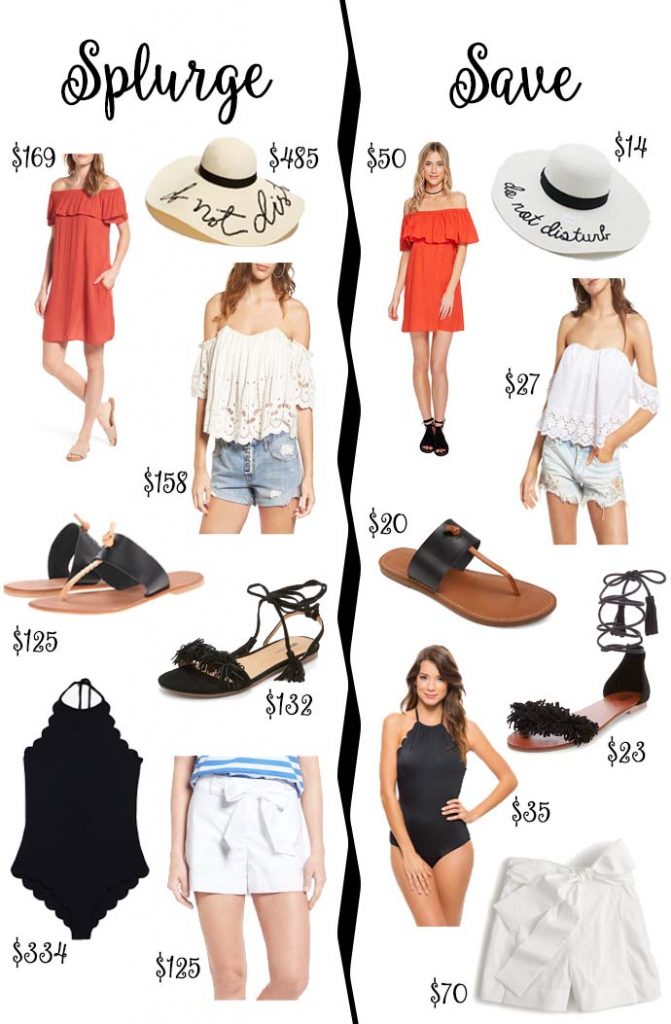 With the unofficial start to summer less than a week away, I brought back the always popular splurge vs. save to round up a few summer essentials.
I don't know about you, but I'm more than ready to break out my summer clothes…and have them stay out! Here are a few of my favorite summer essentials, at both the splurge and save price points:
Summer wouldn't be the same without off the shoulder dresses and tops. I love the color of both the splurge and save orange dresses, it's the perfect bright shade for summer. Another trend that I have been loving all spring is the eyelet detail and both the splurge and save version of the eyelet off the shoulder top is such a pretty and feminine top that could be dressed up with a skirt or down with jeans.
You can't start summer without a new swimsuit! I have been lusting over this splurge scallop swimsuit for over a year — I can never say no to scallop edges! But when I spotted this save version at a fraction of a fraction of the price, I couldn't wait to share it with you! I think a black one piece swimsuit is so chic. And add the fun scallop details and you have a sophisticated yet fun suit to spend a summer day at the pool.
I took the red eye flight from LA Monday evening and arrived back in DC early Tuesday morning. Unfortunately, not much sleep happened on the flight and I spent yesterday packing to head back to California today. I know, totally crazy, right?! I honestly have no idea how I'm still awake!
Be sure to drop by tomorrow for an entire recap of a fun event I attended in LA on Monday! Have a wonderful Wednesday, friends!
….
SHOP THE POST