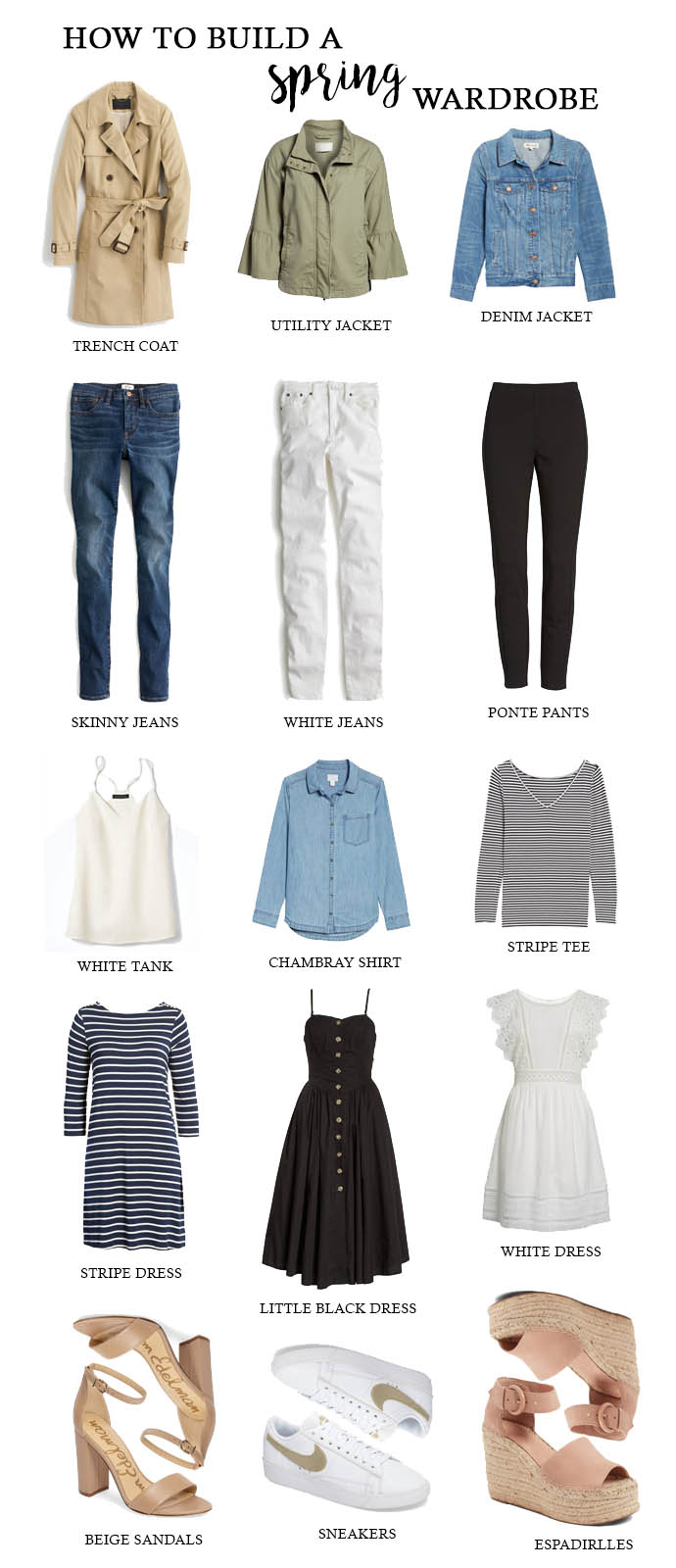 It's crazy to think that today is the last day of January. It seem like just yesterday we were talking about Christmas outfits and gift guides. Since spring is just around the corner, I wanted to share fifteen basic spring pieces and how to build a spring wardrobe. Each of these staple spring pieces can be styled several ways allowing you to create multiple spring outfits giving you the most bang for your buck.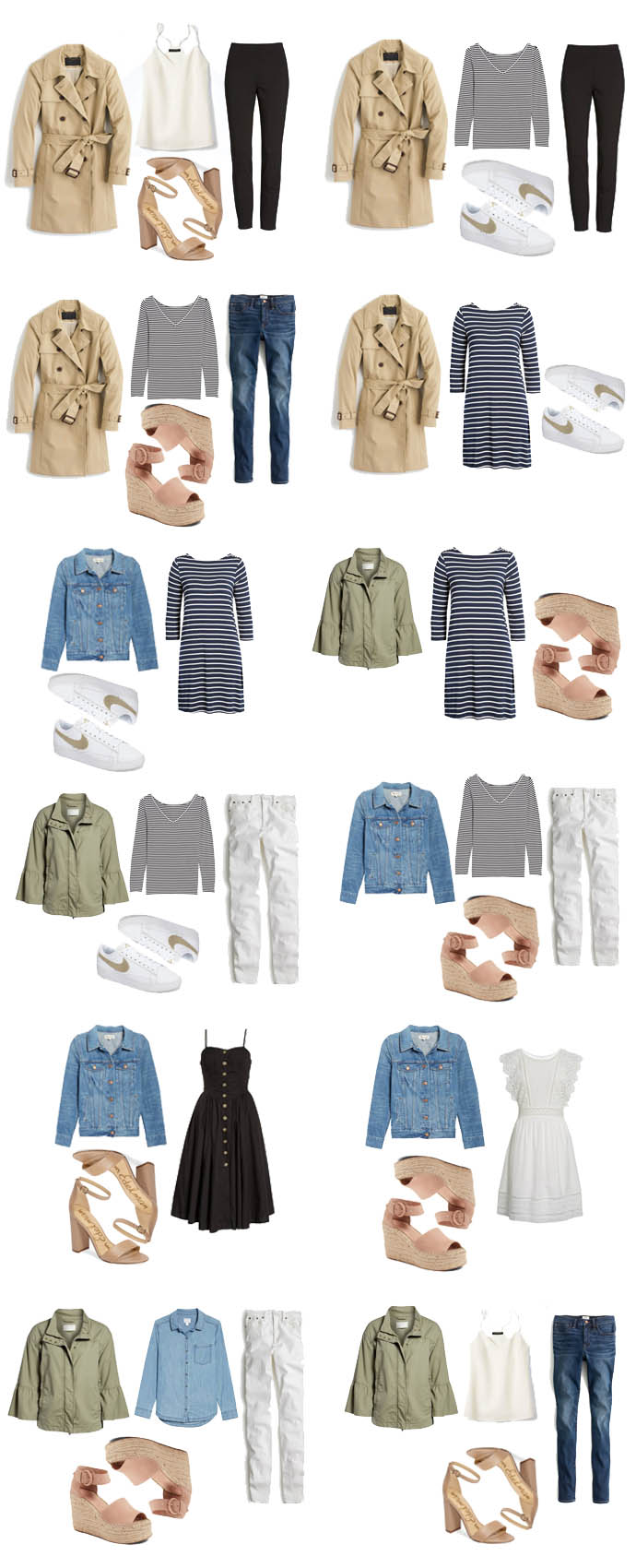 trench coat // utility jacket // denim jacket // skinny jeans // white jeans // ponte pants // white tank // chambray shirt //
stripe tee // stripe dress // little black dress // white dress // beige sandals // sneakers // espadrilles
How to Build A Spring Wardrobe
No matter what season, I love basic pieces. The pieces that are easy to mix, can be dressed up or down and are easily transformed by different accessories. But of all the seasons, spring is probably my favorite for these type of pieces. Mixing and matching is easy with these go-to pieces and can provide the foundation for your spring wardrobe. I am highlighting fifteen pieces, broken down into five categories, that can be styled countless ways. For purposes of today's post, I've put together 12 separate outfits from the fifteen pieces. However, you could easily swap out one pair of shoes, for example, for another to create a completely new look. The five categories, jackets, pants, tops, dresses and shoes, will have you covered for building the perfect spring wardrobe.
Spring Jackets: Trench Coat, Utility Jacket & Denim Jacket
Spring is all about the layers and these three jackets will give you just enough warmth before the warm summer temperatures arrive. I talked about my love for the trench coat a few weeks ago in this must-have spring layers post (read that post here) and one of the reasons it is so great is because it is so versatile. Style it with black ponte pants, a white tank and beige sandals for a dressy look or more casually with a stripe dress and sneakers. The utility jacket also made an appearance in this post because it's just the right weight for the spring temperatures. It looks good with a chambray shirt, white jeans and even the stripe dress. Lastly, the denim jacket is probably my most worn spring and summer jacket in my closet. It's easy to style for a spring date night with a little black dress and beige sandals or dressed down with a stripe dress and sneakers. I even wear my denim jacket into the summer with sundresses on a cooler evening. A denim jacket really is a closet staple!
Spring Pants: Skinny Jeans, White Jeans & Ponte Pants
You can never have too many jeans in your closet, but since we are sticking with basic, closet staple pieces, the darker wash skinny jeans and "go with just about anything" white jeans are a great choice for this category. Both washes of jeans are perfect for a casual look with a stripe tee and espadrilles or pair the white jeans with a chambray shirt for a soft spring outfit. In addition to the two jeans, a pair of ponte pants is great for both work and weekend. I love the ponte pants dressed up with the beige sandals, but they also look great with a stripe tee and sneakers.
Spring Tops: White Tank, Chambray Shirt & Stripe Tee
These three tops are some of my most worn in my closet because they are so easy to wear. As I mentioned in Monday's post (you can see that here) chambray doesn't have to be just a spring shirt. It's easy to wear (no matter what season!) and is fun to dress up with accessories. The white tank is an essential item for your closet because it can be worn so many ways: under jackets and sweaters or alone in the warmer months, you can't beat it's neutral color and easy style. Lastly, I love stripes year round, but there is something about stripes in the spring. Whether you decided to take the look more nautical with white jeans and sneakers or dress it up with the ponte pants, a stripe tee is another must-have.
Spring Dresses: Stripe Dress, Little Black Dress & White Dress
You can never have too many little black or white dresses in your closet. Perfect for spring and summer, you can pair the dresses with a jacket or sweater for a different look. And I love accessorizing basic dresses with fun accessories (see examples below). The stripe dress is also a great spring piece that can be worn with sandals, sneakers or espadrilles (depending on the occasion) and looks great with a denim jacket. I have worn this combination countless times in the spring and summer, including in this post with blush accessories.
Spring Shoes: Beige Sandals, Sneakers & Espadrilles
There is no denying my love for shoes so this is probably the category I am most excited about. Have you heard the quote"Cinderella is proof that a new pair of shoes can change your life"? I don't know about you, but Cinderella and I are in complete agreement. Not only can a pair of shoes change your life, but it can also change your outfit. From a dressy sandal like these beige sandals to a more casual espadrille to a comfortable sneaker, changing out a pair of shoes can completely switch up your look. The beige sandals, sneakers and espadrilles are three spring styles that are not only great neutrals but can also be styled with most pieces in your spring wardrobe.
Add Spring Accessories
As I mentioned above, an outfit wouldn't be complete without fun accessories! Here are a few new arrivals for spring that would compliment these spring staples perfectly:

Thanks for stopping by, friends! I know today's post was a different from the usual Wednesday Wishes, but I would love to hear your thoughts! Have a wonderful Wednesday!
….
Shop the Post