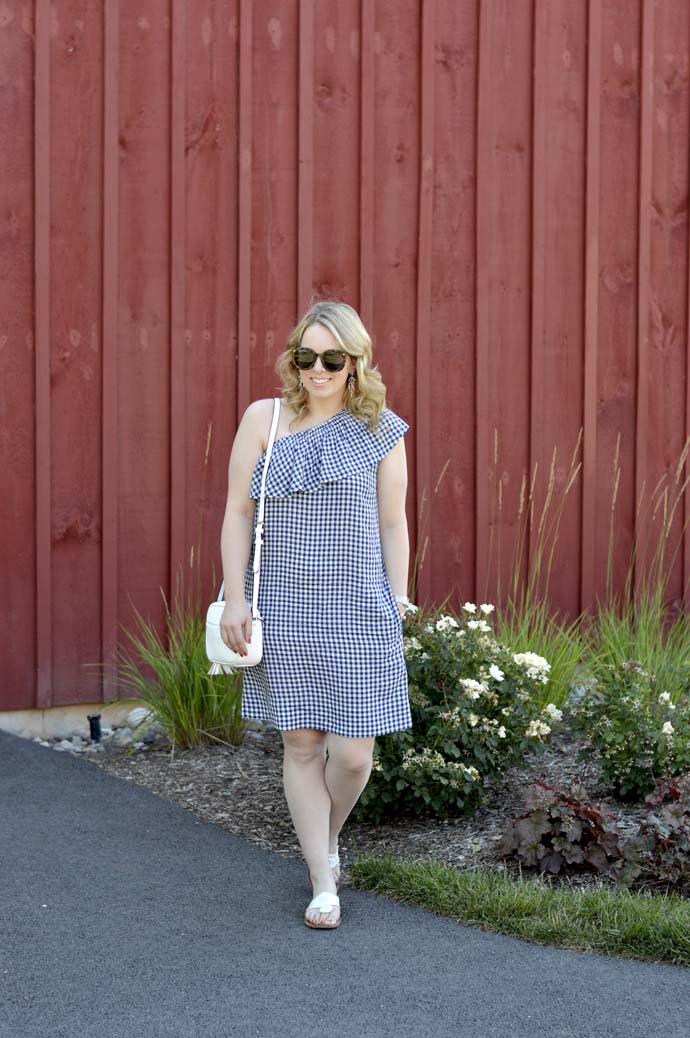 Is there anything more summer than a one shoulder gingham dress? I have spent the last few months searching for a gingham dress to add to my closet, but didn't have much luck until I stumbled upon this one. Gingham is one of my favorite prints of the season and it only seemed fitting to add another to my collection (you might remember last year's from this post). Needless to say that when I found a one shoulder dress that also happened to be gingham, it seemed too good to be true!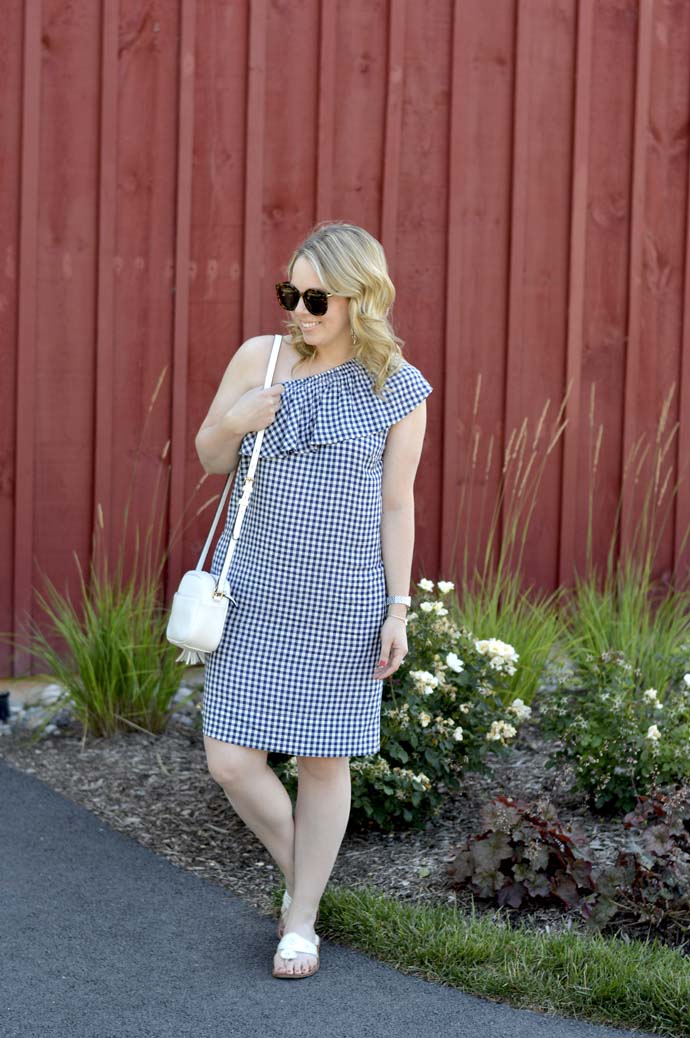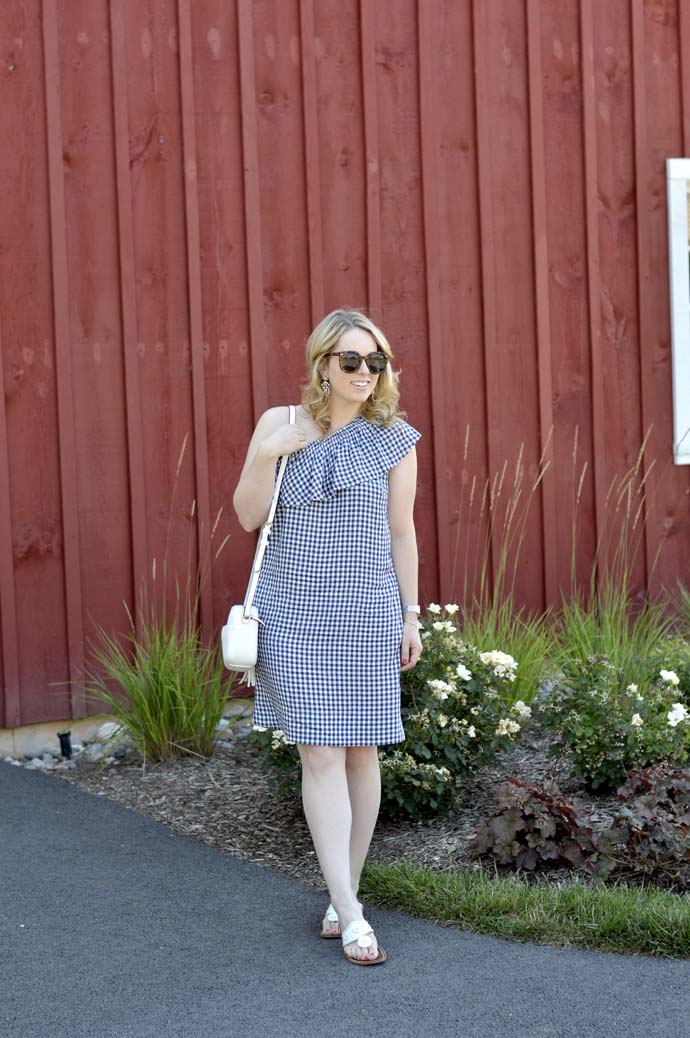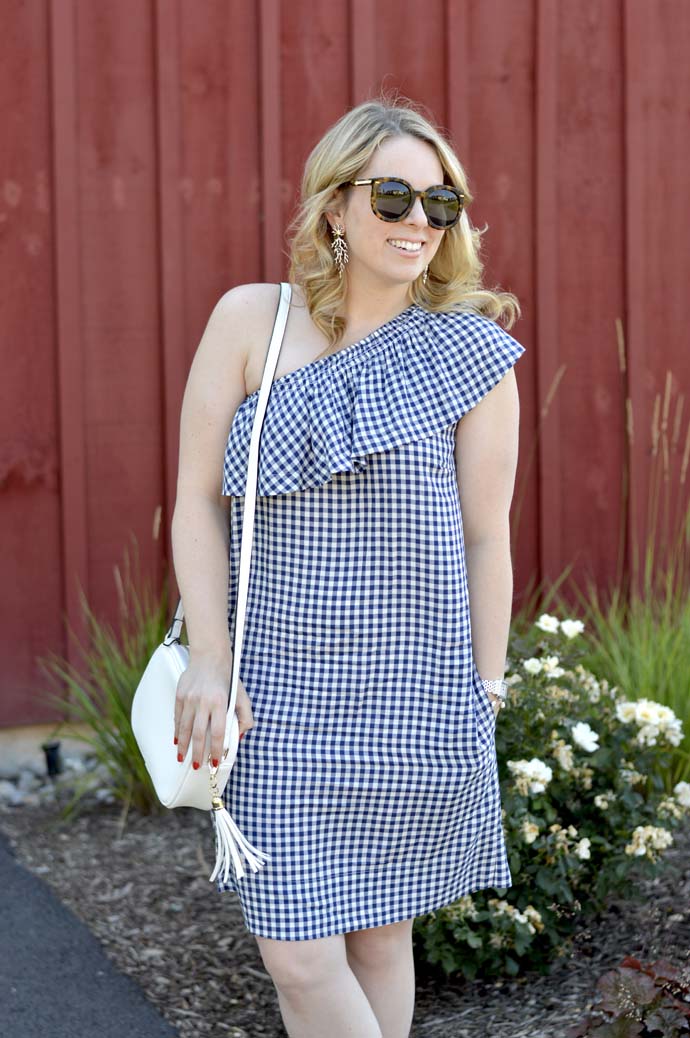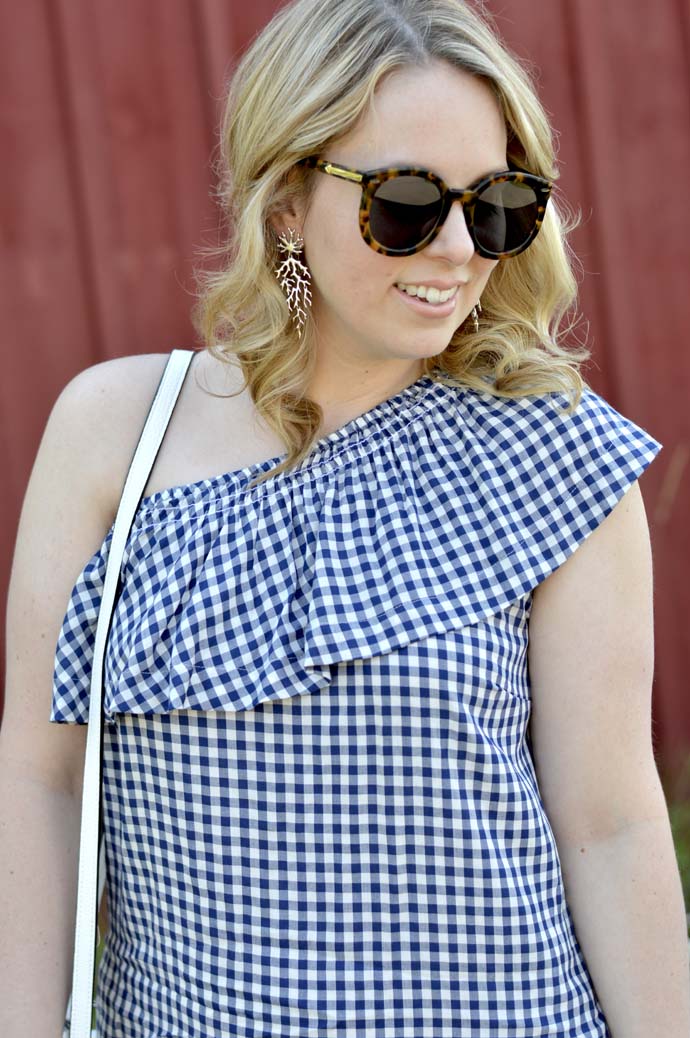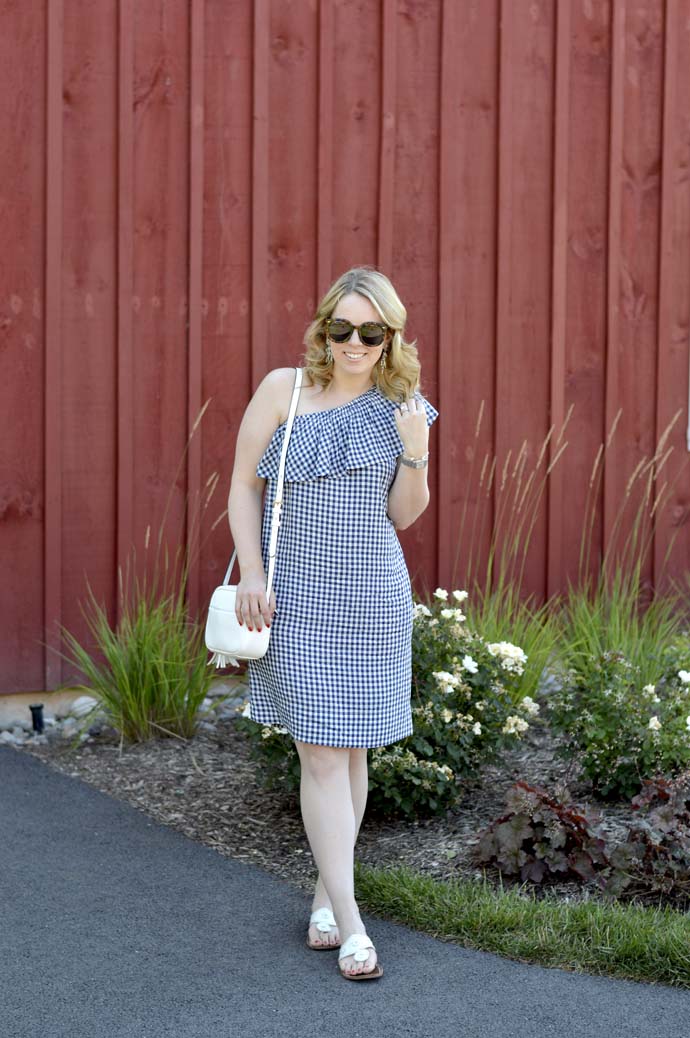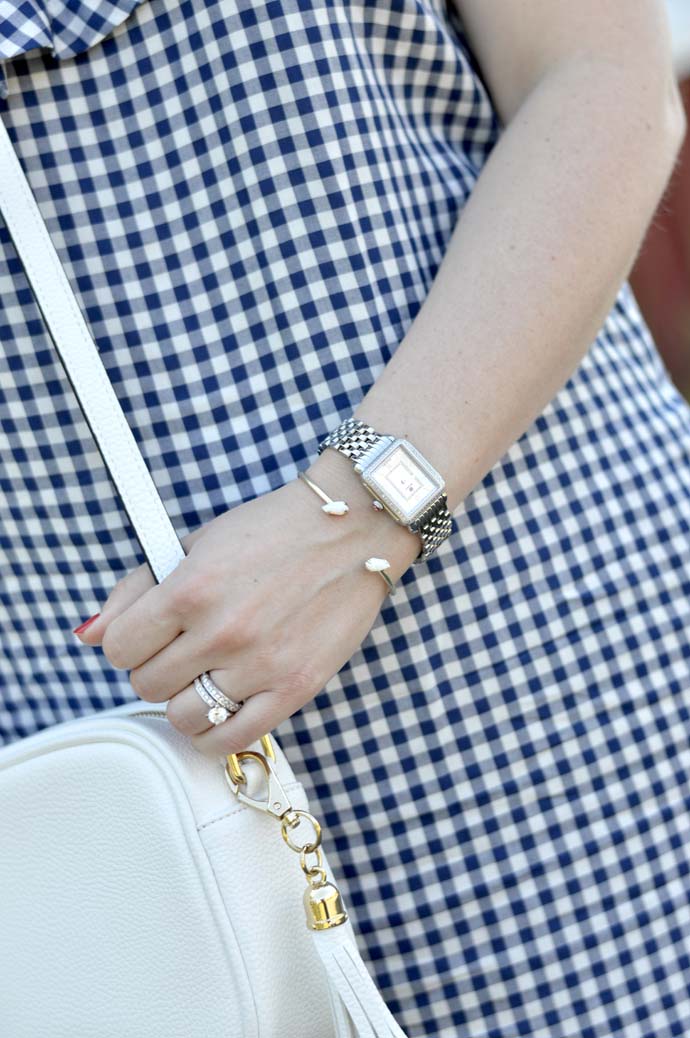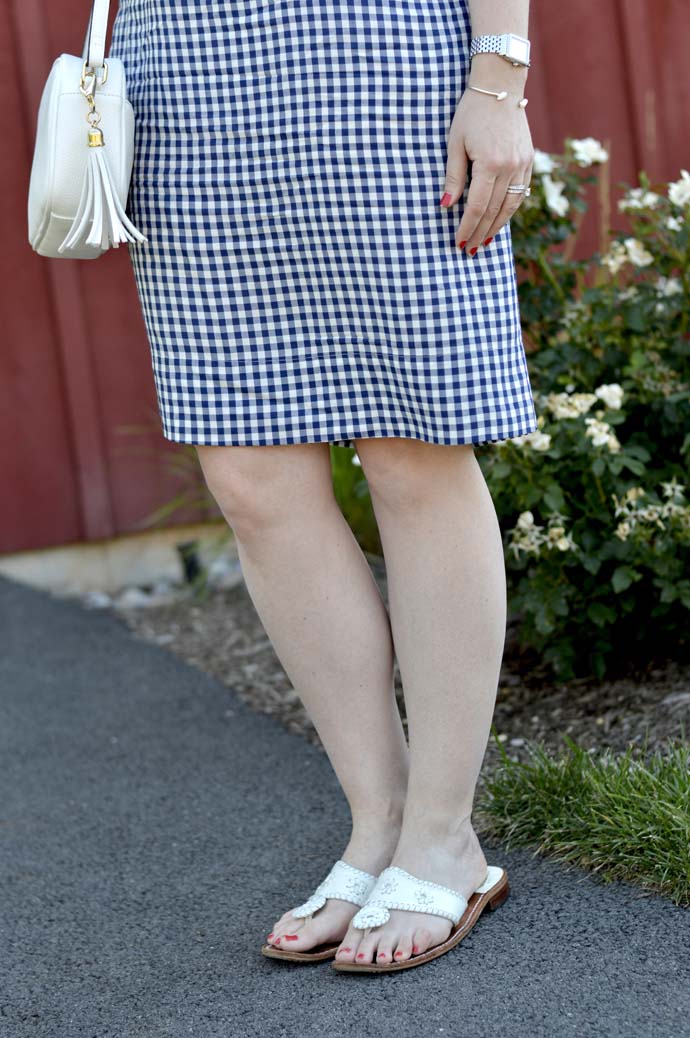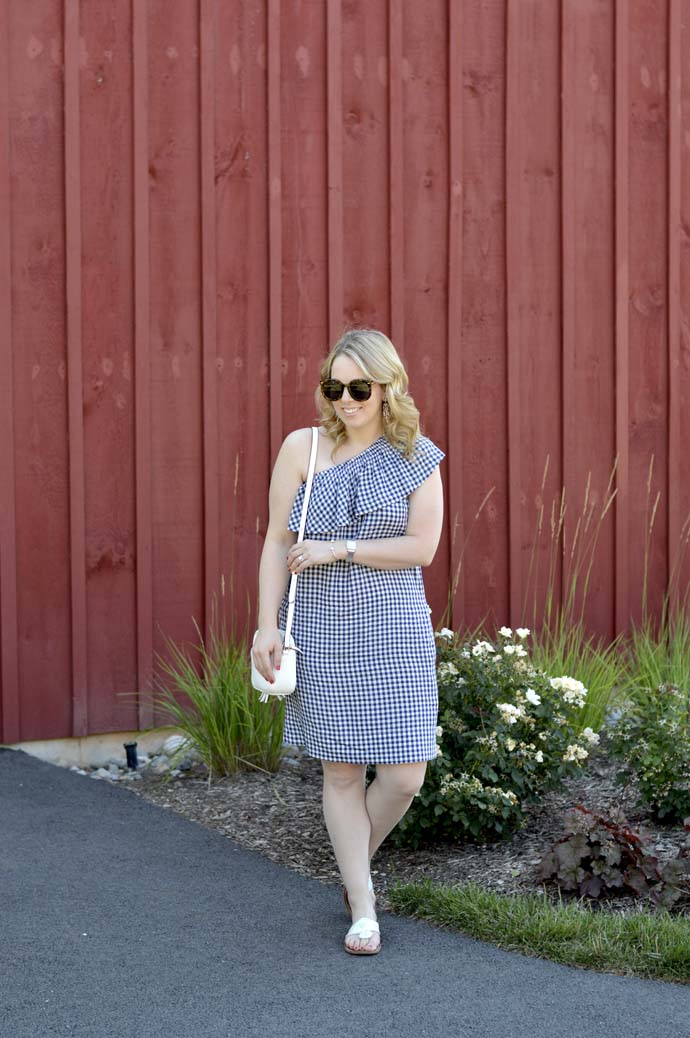 One Shoulder Gingham Dress: Velvet by Graham & Spencer | Bag: Kate & Alex | Sandals: Jack Rogers | Sunglasses: Karen Walker | Earrings: Kendra Scott | Watch: MICHELE | Opal Cuff: Kendra Scott c/o | Lipstick: Kim K.W. & Lip Slip
A one shoulder gingham dress and BBQ
There is something about gingham and BBQ. They seem like a natural fit, don't you think? I've always associated gingham with a BBQ: maybe it's because the quintessential BBQ always includes gingham napkins? Does anyone else make this connection, or is it just me? Regardless, gingham and this dress, will have you ready for your next BBQ! A few of the things I love most about this dress, besides the print and one shoulder style, are the length and fabric. As I have mentioned before, find the perfect length in dresses, skirts and shorts is always a challenge for me. Most summer dresses I come across don't even come close to hitting my knee, so when this dress arrived in the mail, I was ecstatic! As for the fabric, it's cool and lightweight, making it ideal for summer. And standing outside at that BBQ. P.S. This one shoulder gingham dress also has pockets!
Pairing classic accessories with a patterned dress
As much as I love trendy pieces like tassel earrings, sometimes sticking with the classics works too. Especially when wearing a patterned dress: simple and classic accessories gives the dress the opportunity to shine. Speaking of classic accessories coral earrings from Kendra Scott are a new favorite of mine. If you haven't checked out her collections recently, you are missing out! She has been killing in with the designs lately. These earrings were at the top of my wish list when I first saw the catalog in April. This opal cuff I am wearing is also part of her latest collection. The cuff is dainty enough to pair with a watch, making it easy to wear everyday. Not to mention, the opal stone is simply stunning. Opals have always held a special place in my heart: my grandmother had a gorgeous opal ring and seeing the stone always reminds me of her. I love that this stone has become part of my everyday jewelry.
Tomorrow starts Early Access for the Nordstrom Anniversary Sale! I will be back tomorrow with an entire post rounding up my favorite sale finds, but in the meantime, you can check out the tab at the top of page for pre-sale details.
This post is linked with: Mix & Match Fashion  | Twenties Girl Style | Stylin in St. Louis | Living in Color | Pumps and Pushups | Thursday Fashion Files  | Rachel The Hat | Fashion Friday | Friday's Fab Favorites | Daily Style Finds | East Coast Chic | Friday Favorites | Casual Friday | My Refined Style
….
SHOP THE POST