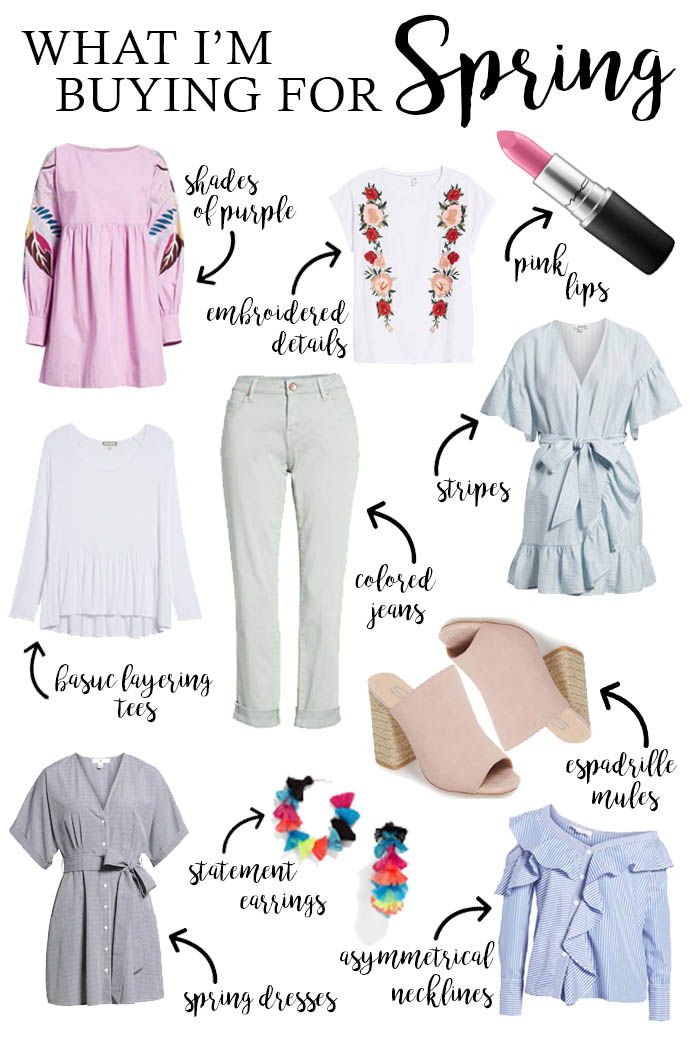 purple dress | embroidered tee | pink lipstick (hot gossip) | white peplum tee | mint green jeans | stripe ruffle dress | gingham dress | tassel statement earrings | espadrille mules | asymmetrical top
As I mentioned in Monday's post, this is the time of the year I start purchasing spring pieces to add to my closet. By February, I have had enough of the cold temperatures and winter clothes and the search is on for spring pieces. Today I am sharing a few of the spring pieces I have been eyeing for the new season. From spring trends like shades of purple, asymmetrical necklines and of course stripes, here is a list of what I'm buying for spring.
 What I'm Buying for Spring
When it comes to purchasing new pieces for a new season, I like to incorporate both trends and classic pieces. But, when it comes to the trends, I like to find pieces that are more reasonably priced since they are by nature trendy. Here are a few of the trends I'm loving for spring:
Shades of Purple
Since ultra violet is Pantone's Color of the Year, it should be no surprise that we are seeing shades of purple just about everywhere. From rich violet hues to lighter, more pastel shades, purple is definitely the color of the moment. Purple is a great color for spring, no matter what shade, but I really love the lighter shade of this dress. Shop more purple inspiration below.

Embroidered Details
Another trend for spring is embroidered details. We have been seeing embroidery on everything from handbags and shoes to denim jackets and tops. I have had several embroidered tops and tees in my shopping cart, but have yet to purchase one. However, I think this one might be the winner. You can't beat it's $35 price tag! Shop more embroidered pieces below.

Basic Layering Tee
Basic layering tees are an essential part to any spring wardrobe. Wear these basic tees under jackets and sweaters, you can never have too many. A good white tee is a must, but I love the peplum hem on this tee. Also available in stripes, it's currently on sale! Shop more basic layering pieces below.

What's on your wish list for spring? I would love to hear in the comments section below. Thanks for reading, friends! Have a wonderful Wednesday!
….
Shop the Post