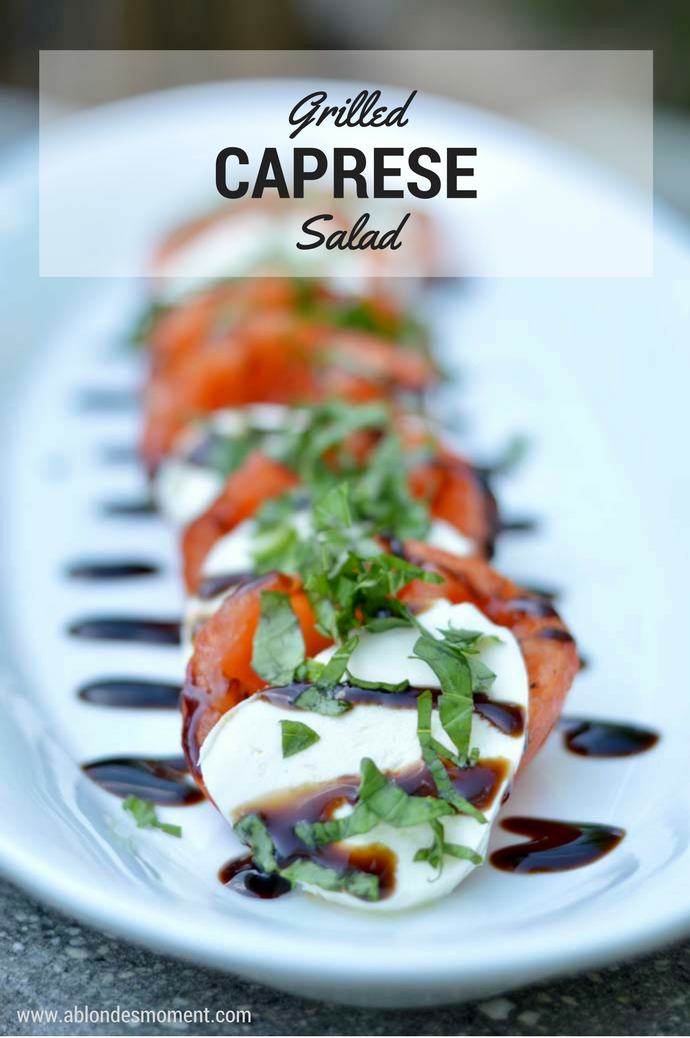 Grilled caprese salad and tomatoes in the summertime. Is there anything better? Caprese salad is a year round favorite, but with fresh tomatoes and basil, it makes it even more difficult to pass on this time of the year. And as much as I love the traditional caprese, a few weekends ago I decided to try a different spin on the classic. Enter this grilled caprese salad.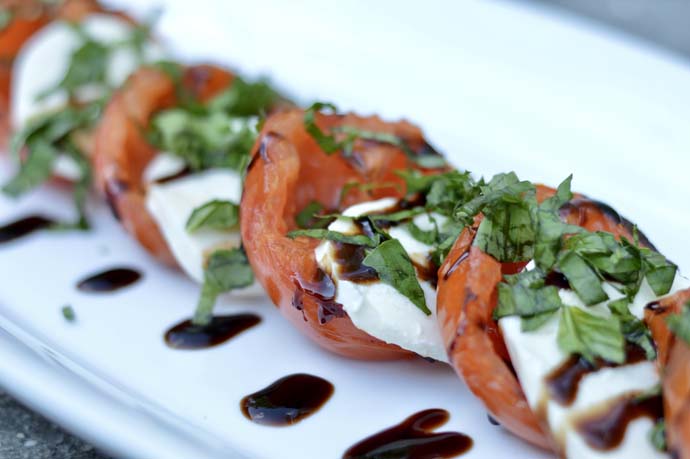 A must-have summer food: grilled tomatoes
We have been using our grill a ton this summer. It's such a quick and easy way to get dinner on the table. The other weekend, we were grilling and I decide to try the tomatoes on the grill. I figured the grill would give the tomatoes a different and unexpected flavor. Wouldn't the melted mozzarella be amazing, too? Oh boy, was I right with that assumption! It didn't take long to grill the tomatoes (about 4 minutes to be exact) but that little bit of time over the flame did wonders in bringing out the freshness and flavor of the vegetable. And the melted mozzarella took my love for caprese salads to a new level.
Grilled caprese salad: the perfect way to elevate your appetizer game
Looking for a dish to impress your guests with at your next BBQ? This grilled caprese salad might just do the trick! It's hard to go wrong with this combination, but I always struggle with new and different ways to present the salad. This is definitely serves as a unique presentation of the salad and really doesn't take much more time, especially if you are already using the grill for your main course! Going forward, grilled caprese is the way go. I'm officially hooked! Sidenote: if you are looking for this combination in pizza form, this grilled caprese pizza recipe is my favorite!
Check out the recipe below. I will be back tomorrow with an outfit post and Thursday will be devoted to the Nordstrom Anniversary Sale! Have a great Tuesday and see you back here tomorrow!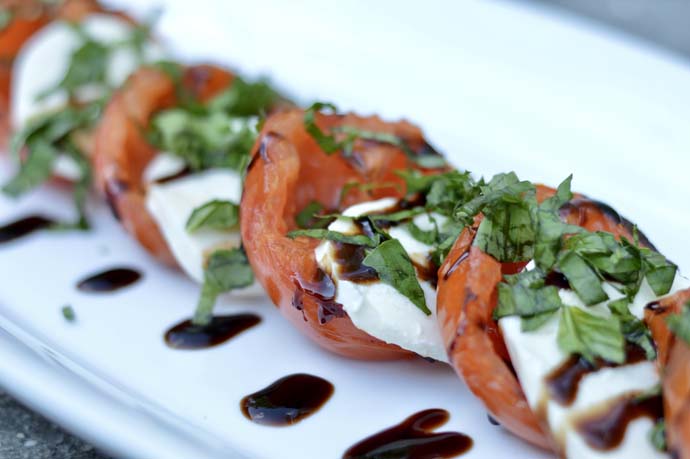 | | |
| --- | --- |
| | |
Preheat grill on high. Cut the tomatoes in half and remove the pulp and seeds. Brush the cut side with olive oil along. Also brush the small grill grate or grill basket with olive oil. Place the tomatoes cut side down and cook with grill covered for about 4 minutes. On a serving dish, alternate slices of tomatoes and mozzarella. Sprinkle with basil and drizzle with balsamic glaze. Serve and enjoy.