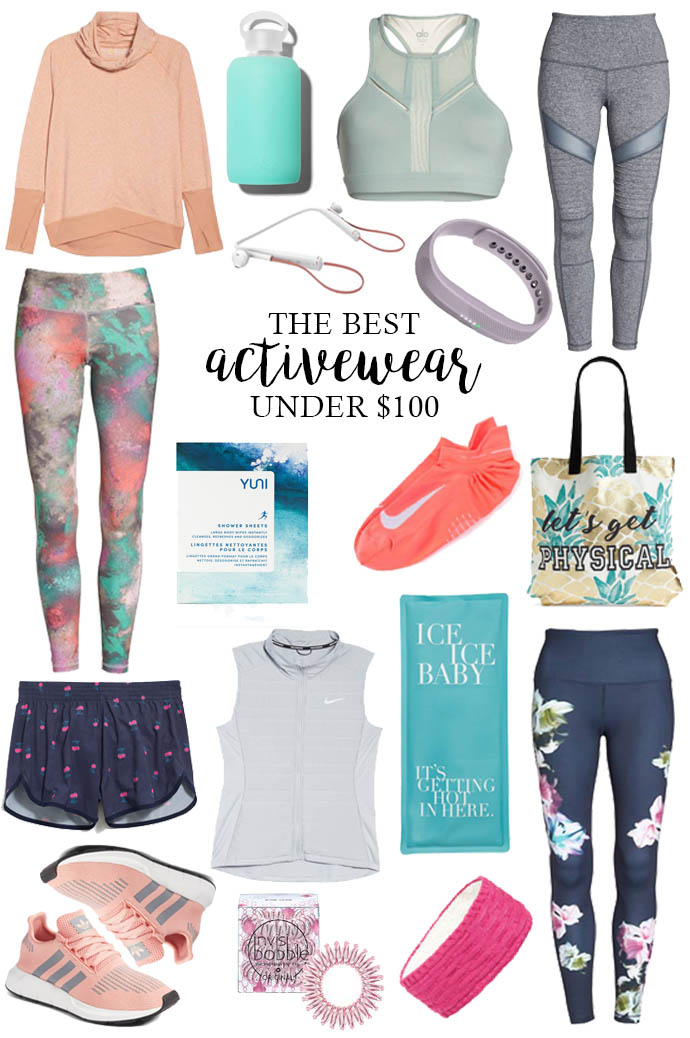 coral pullover | water bottle | half moon sports bra | grey ankle leggings | pastel leggings | wireless earphones | activity tracker | shower sheets | running socks | tote | cherry shorts | running vest | gel hot/cold pack | floral leggings | sneakers | hair ties | pink knit headband
This post contains affiliate links, meaning I may receive commission if you click/purchase something I have recommended.
I recently read that 30% of New Year's Resolutions having something to do with living a healthier lifestyle. Whether it's eating healthy or incorporating exercise into your life, I have you covered with yesterday's post of healthy recipes and today's post of the best activewear under $100.
The Best Activewear Under $100
It's no secret that cute activewear can make going to the gym a little easier. I know that it's a huge motivator for me! And if you can find cute workout clothes for under $100, that's an even better deal. Here are a few of my favorite activewear pieces and accessories under $100. Hopefully these pieces will be the added motivation to help make your resolution possible. If exercising isn't part of your New Year's Resolution, these are still cute pieces to add to your closet!
Workout Leggings
I practically live in workout leggings when I am at home, whether I have plans to workout or not! I love the mesh insets in these grey ankle leggings and have a similar pair in black. They are so comfortable! But all this cold weather has me dreaming of spring colors and temperatures, so I was instantly drawn to these pastel leggings and these floral leggings!
Workout Accessories
From wireless earphones to fitness trackers and everything in between, there are so many workout accessories that will make your resolution to hit the gym more a little bit easier. I got a pair of wireless earphones for Christmas and I honestly don't know how I functioned without them. I would constantly get tangled in my earphones (I'm clumsy!) and this wireless option makes running on the treadmill so much easier. Although this is a post-workout accessory, I recently discovered these shower wipes. Throw them in your purse or gym bag to freshen up after your workout and before heading out to run a errands, these wipes are a lifesaver if you don't have time to shower.
Did you make a New Year's Resolution for this year? I am trying to read more in 2018. I haven't made the time to finish a book in what seems like forever. I am making good progress so far — I'm 100 pages away from finishing my first book of 2018! I would love to hear your resolutions in the comments section below. Have a wonderful Wednesday and see you back here tomorrow for my first outfit post of 2018!
….
Shop the Post