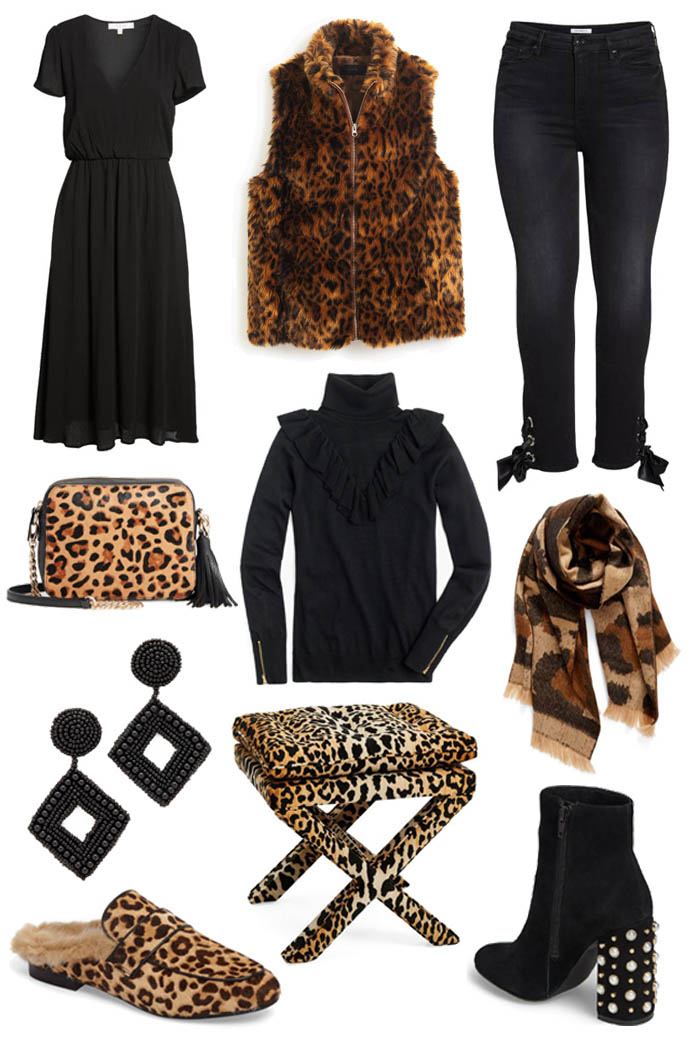 midi dress | leopard vest | ankle lace up jeans | leopard crossbody | ruffle turtleneck | leopard scarf | drop earrings | leopard ottoman | leopard fur mules | pearl embellished booties
I know, more leopard! After receiving a few comments on Monday's black and leopard combination, I wanted to share more inspiration. I have been a fan of leopard for years, but this fall, the print is bigger than ever. The black and leopard outfit inspiration is a chic way to style fall pieces in your closet and your home.
Black and Leopard Outfit Inspiration
As I mentioned in Monday's post, there is something so chic about the black and leopard combination. And unlike Monday's post, leopard does not jut have to be in your accessories! If you are a fan of the print, this is the perfect season to experiment with leopard pieces. Especially in non-accessory pieces like this vest! I just purchased this vest last weekend and I can't wait for the temperatures to cool down so I can wear it. One sizing note on the vest, I sized down.
Here are a few of my other favorite black and leopard pieces:
I always love a midi dress and was so excited to see this fan favorite in fall colors! You may remember this dress in coral from spring (see it in this post). It was so popular in the spring and summer colors, that they brought it back in black, burgundy and rust, just to name a few colors. The black would work well year around and is perfect for these warmer fall temperatures. Just add a sweater or jacket when the temperatures cool down!
Have you seen Gucci's shearling mules? I will confess, the fur is a little much for me on those loafers. But, when I saw these leopard mules with the faux fur, the trend started to grow on me. You know I love leopard mules (last seen in Monday's post) and the faux fur will be a great addition as it gets cooler. Maybe the idea of fur is growing on me because of the huge price difference between the Gucci version and this one!
Lastly, the leopard trend does not have to be limited to your closet! I have had my eye on this leopard ottoman for a few years now. Although it is definitely a splurge item, it would be a great statement piece for your living room. I have quite a bit of leopard in our house, but this ottoman would be a dream!
How do you feel about the black and leopard combination? Thanks for reading, friends, and have a wonderful Wednesday!
….
Shop the Post