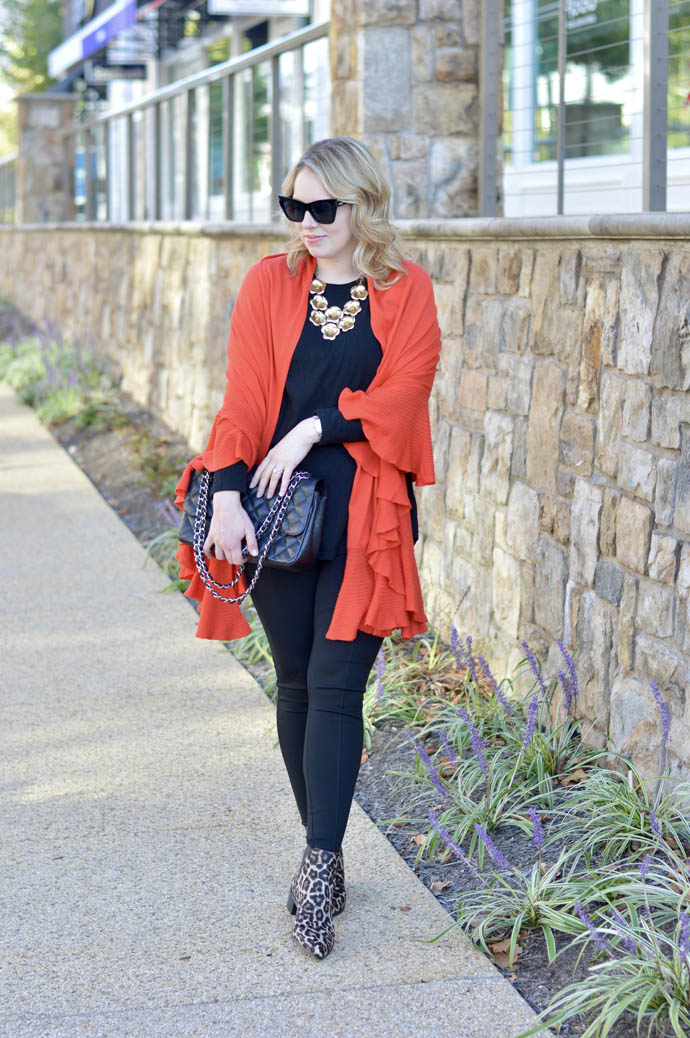 After temperatures near 90 for the past week, the cooler weather that is on the horizon has me oh so excited. Not only will it be wonderful to have a break from this heat, I am more than ready for my fall clothes to stick around. Layers, boots, there are so many exciting things headed our way! When I spotted the orange ruffle shawl from cabi's newest arrivals (now available!) adding it to my closet was a no-brainer. Not only did I love the ruffle, but that orange color! It was way too good to miss out on.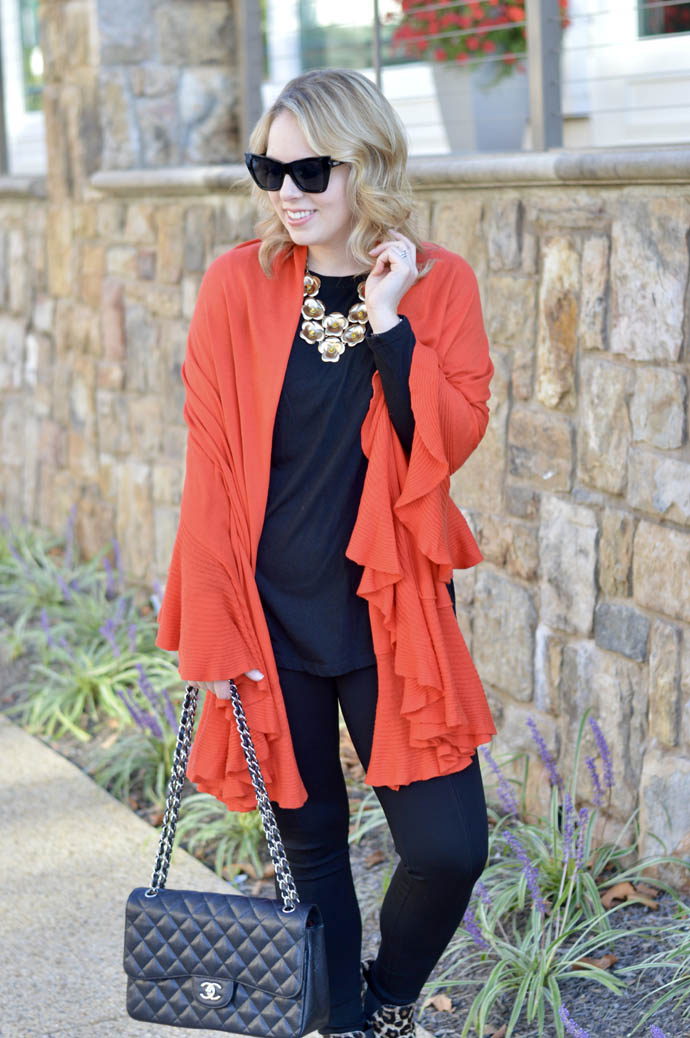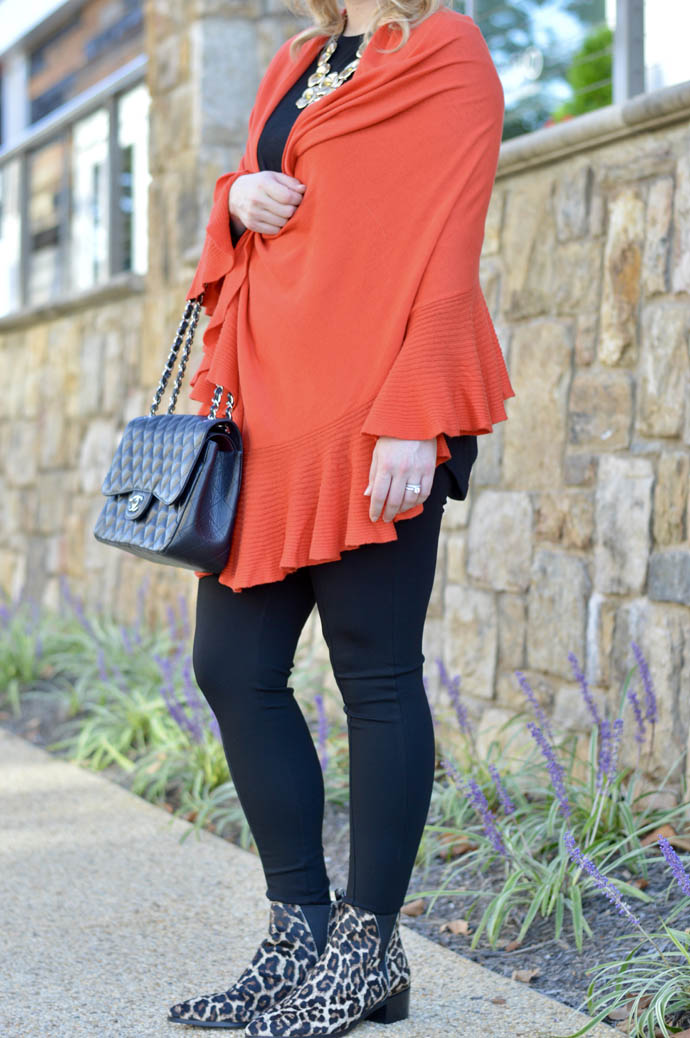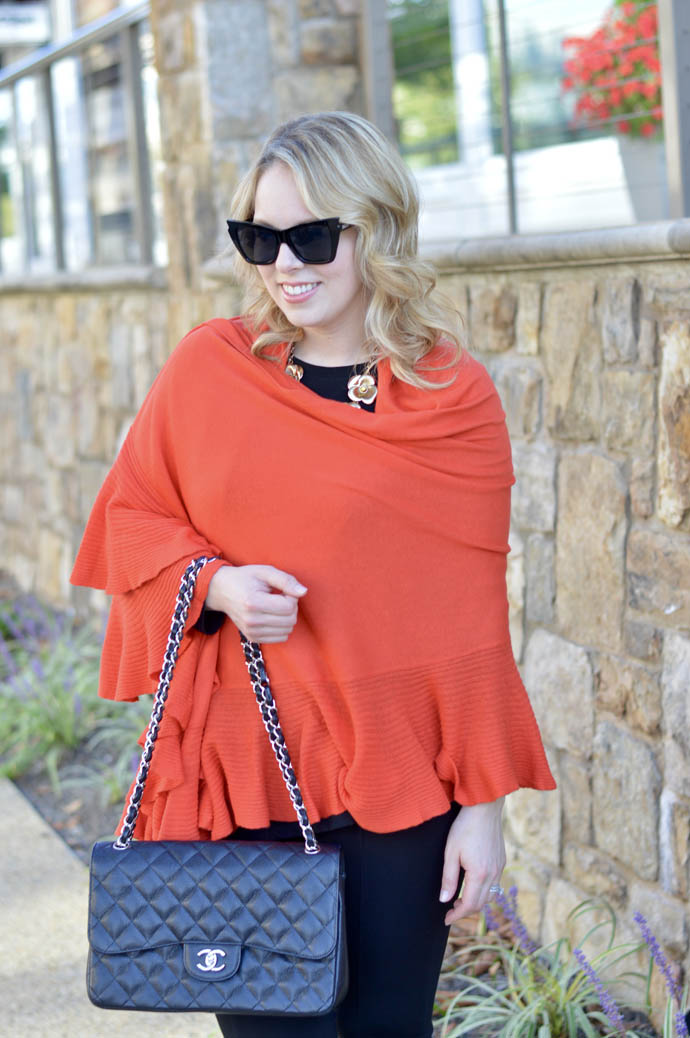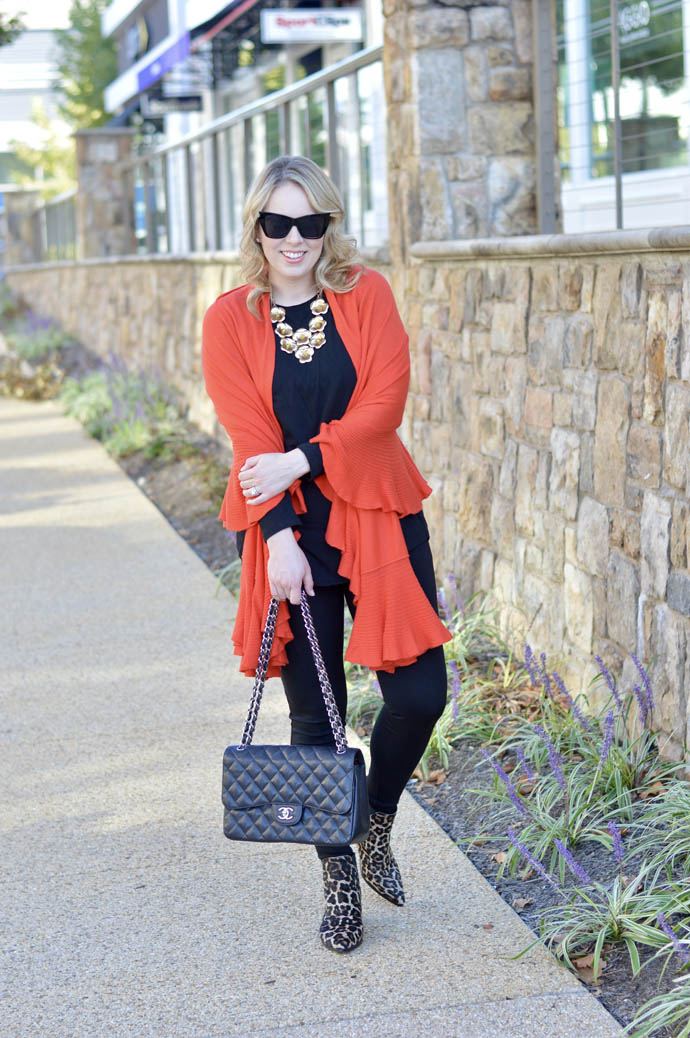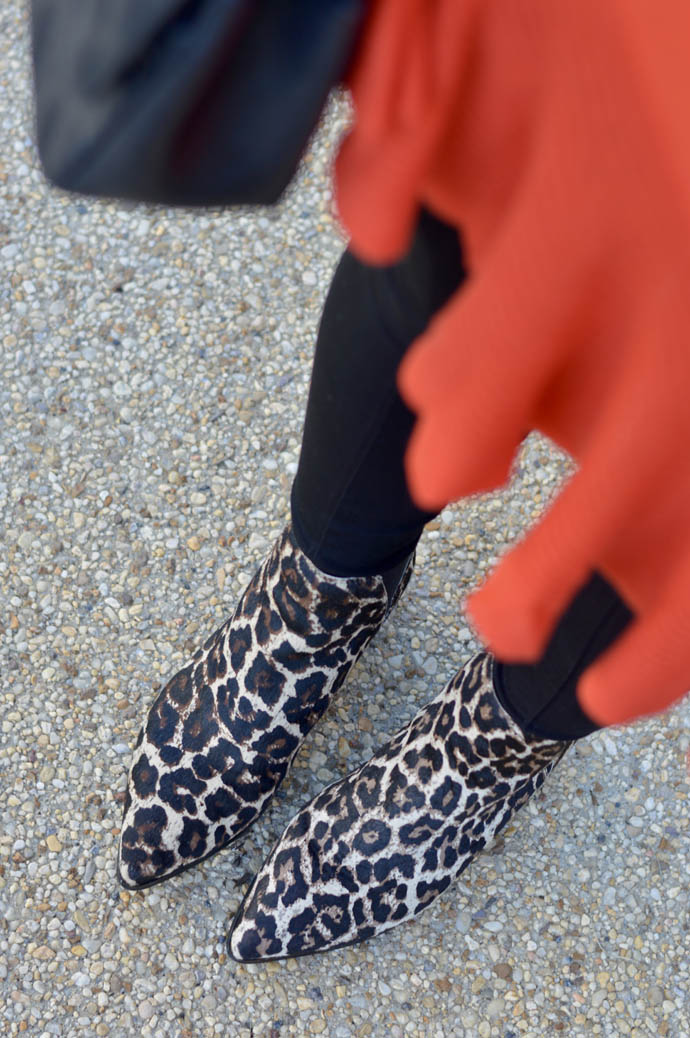 Ruffle Shawl: cabi c/o | Tee: BP. | Leggings: Halogen | Ankle Booties: Treasure & Bond | Bag: Chanel, buy it pre-owned here | Necklace: Sugarfix by BaubleBar c/o | Sunglasses: Le Specs | Lipstick: #47
Orange Ruffle Shawl
If you caught Monday's post, I shared another cabi new arrival with you. If this collection doesn't get you ready for fall, I don't know what will! As I mentioned, the color of this shawl is truly gorgeous. The pictures don't do it justice! The all black tee and leggings really provide the perfect contrast for this look and allow the shawl to stand out. Although the temperatures are going to be more fall-like around here for the weekend, it's by no means over the knee boot and chunky sweater weather yet. But I think this shawl offers the perfect layer for over a tee or even a dress for cooler mornings or nights. Perfect for this transitioning period.
Leopard Week
Of course, I couldn't miss out on a chance to wear these leopard ankle booties. Like with so many vibrant colors, leopard always seems to be a good match for this shade of orange. I know, leopard overload this week. Let's just call it Leopard Week here on ABM! I also accessorized with this floral statement necklace from Sugarfix by BaubleBar's newest collection. As I much as I love delicate necklaces (last seen in Monday's post) a statement necklace is always a great way to dress up a plain tee.
I hope you all have a great weekend, friends! Not much planned for us. Ella does have a V-E-T (we spell it out because she knows and hates the word!) appointment on Saturday for a vaccine. Since she is so little, we have to space out all her shots so that the medications will not overload her system. We went into D.C. for coffee last Saturday and she was so scared, thinking we were headed to the vet. I hate to see her so upset so hopefully our trip will go smoothly. There will be plenty of cookies and lounging on the bed for her after she's done there! See you back here on Monday!
….
Shop the Post