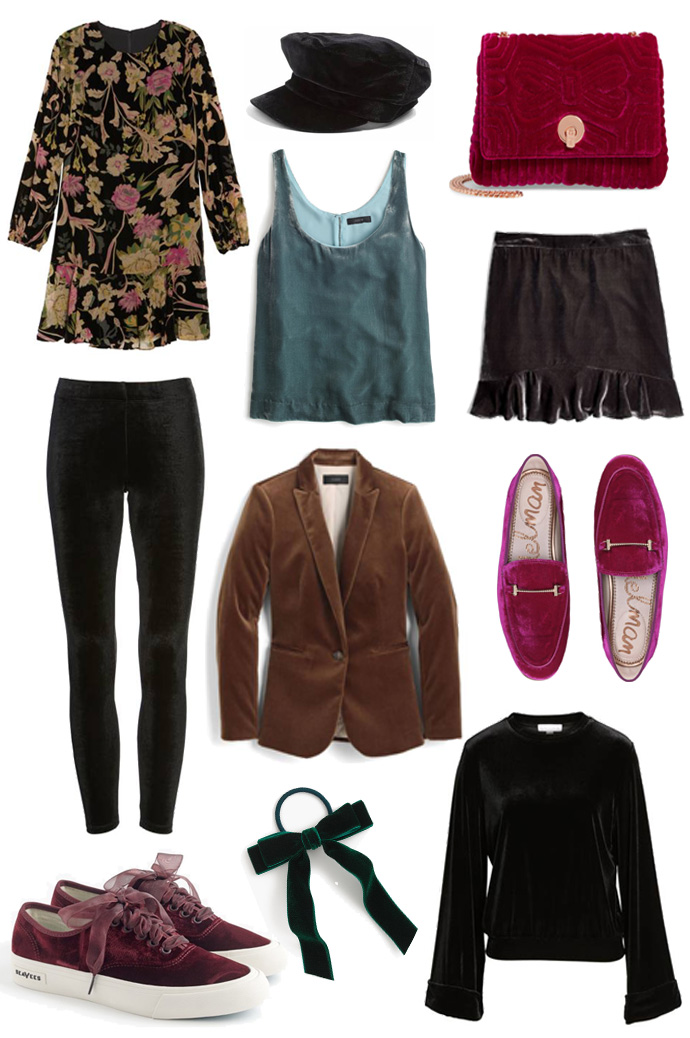 floral dress | velvet hat | handbag | velvet leggings | velvet tank | ruffle skirt | velvet blazer | pink loafers | velvet sneakers | velvet bow | velvet top
It's safe to say that I am really having a velvet moment. One of fall's biggest trends, I find myself gravitating to anything and everything velvet. There are so many things to love about this trend for fall. It's soft and luxe texture makes dressing up an outfit easy. You don't have to look too far to find the trend these days, but here are a few of my favorite fall velvet pieces.
Fall Velvet
I first saw this velvet floral dress a month ago and instantly fell in love. From the fall floral print to the colors, this velvet dress is perfectly on trend and gorgeous for a fall event. Another piece that would be fun to dress up is the velvet ruffle skirt! But if you aren't sure of the trend yet, you could incorporate a velvet tank into your look and pair it with jeans and a blazer.
Another way to add this trend to your fall wardrobe is with accessories. I shared this velvet hair tie in a previous Wednesday Wishes and I am still loving it. However, I have yet to buy it for myself yet — the black is unfortunately sold out, but I do love this dark green color. These pink velvet loafers are another fun way to add velvet to your look. And speaking of shoes, these velvet sneakers are an easy way to wear velvet casually. And we can't forget the hat that has taken fall by storm, in velvet of course. It's already in my shopping cart!
Have you added any velvet to your closet yet? I am having such a difficult time deciding which pieces to get. Probably because I want it all! Thanks so much for stopping by and Happy Wednesday!
….
Shop the Post