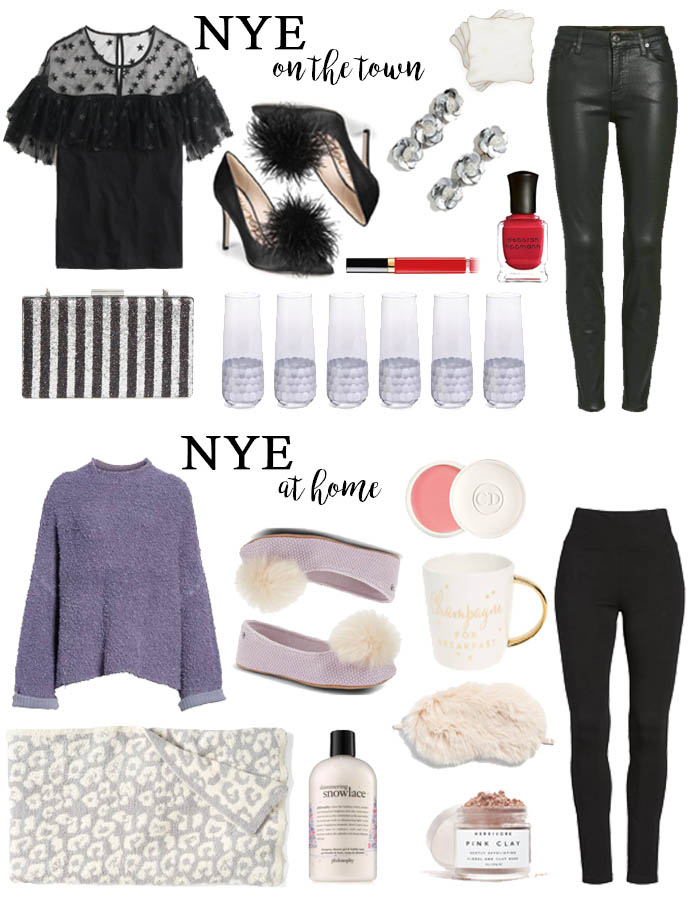 on the town: starry tulle top | feather pompom pump | sequin drop earrings | marble coasters | coated skinny jeans | stripe clutch | stemless champagne flutes | lipgloss | nail polish
at home: purple pullover | pompom slippers | rose lip balm | "champagne for breakfast" mug | high rise leggings | animal print blanket | snowlace bubble bath | faux fur eye mask | pink clay exfoliating mask
This post contains affiliate links, meaning I may receive commission if you click/purchase something I have recommended.
We are going to fast forward slightly to New Year's for one post because the reality is, New Year's Eve is just around the corner too! I usually share dressed up New Year's Eve outfit inspiration each year, but realized that I usually fall into the "at home" category so I thought I would share outfit inspiration for that as well. Let's be honest, I will be lucky to even make it to the ball drop and will probably set an alarm for 11:55 p.m. like I did last year! Here is this year's New Year's Eve Outfit Inspiration: on the town & at home!
 New Year's Eve on the Town
For those of you that have plans to spend the end of 2017 out on the town, I love this all black outfit with hints of silver and red. This fun starry tulle top screams New Year's Eve and I love it paired with these coated skinny jeans. I've been in the market for a pair of coated jeans and I have heard rave reviews about these. And bonus, they are currently on sale! And speaking of a wish list, I have been dying over these fun feather pompom pumps for a few weeks now. Also available in red, these pumps are the definition of a statement shoe and are perfect for celebrating the new year. I also couldn't help but share this silver and black striped clutch and these cute stemless champagne flutes!
New Year's Eve at Home
For those of you who are like me and like spending New Year's Eve in the comfort of my own home, this is the perfect cozy look. I love the color of this purple pullover — doesn't it look comfortable? Pair it with leggings and cute slippers and you are ready to end 2017 in comfort! I've also included a few beauty products that are great for ending 2017 on a high note: this shimmering bubble bath and rose clay face mask are two products that will help you relax and ready yourself for the new year. And I couldn't help but include this "champagne for breakfast" mug. You may be celebrating with champagne at home, but hot chocolate would be delicious in this cute mug too!
Lastly, one of my favorite beauty products that I use everyday is this rose lip balm. Although it is a little on the pricey side, it is a product that I swear by. I put it on my lips each night before bed. It leaves your lips feeling hydrated and soft by morning and I love the rose scent! It is only .25 ounces, but I have had it for a year and I'm just getting to the point where I need to order more. Definitely long lasting!
What are your plans for New Year's Eve? I would love to hear in the comments section below! Have a great Wednesday and see you back here tomorrow, friends!
….
Shop the Post