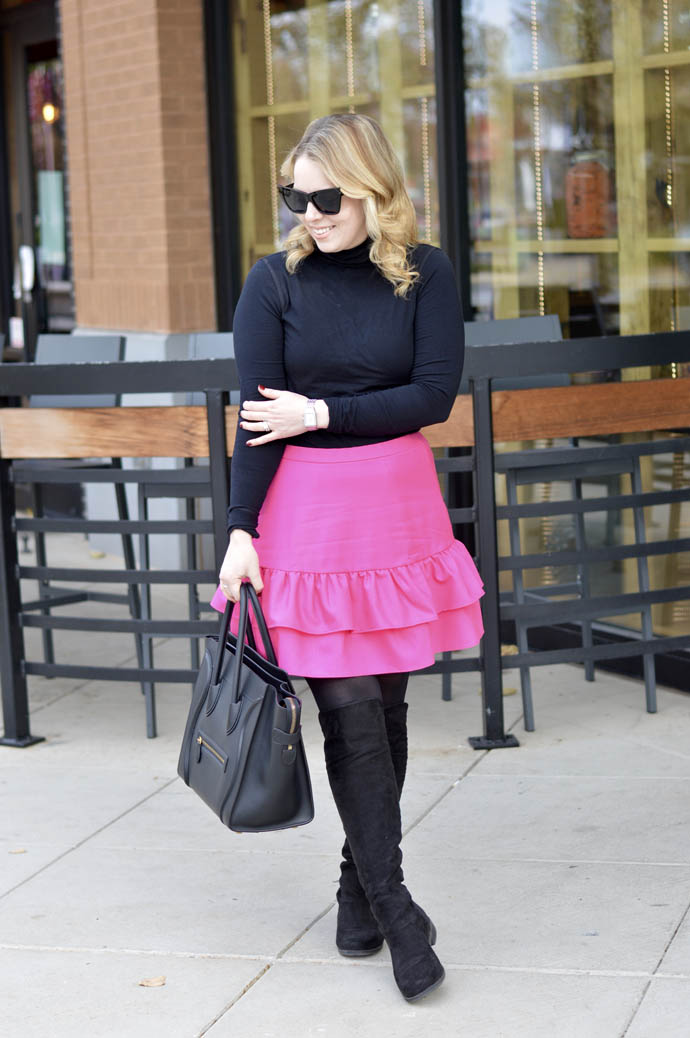 A pink ruffle skirt. Could there be a more perfect piece for the lover of all things pink? I had shared this skirt in a Wednesday Wishes back in September and knew it had to be mine. Although it is available in a few colors, I couldn't miss out on the chance to wear a bright pink ruffle skirt.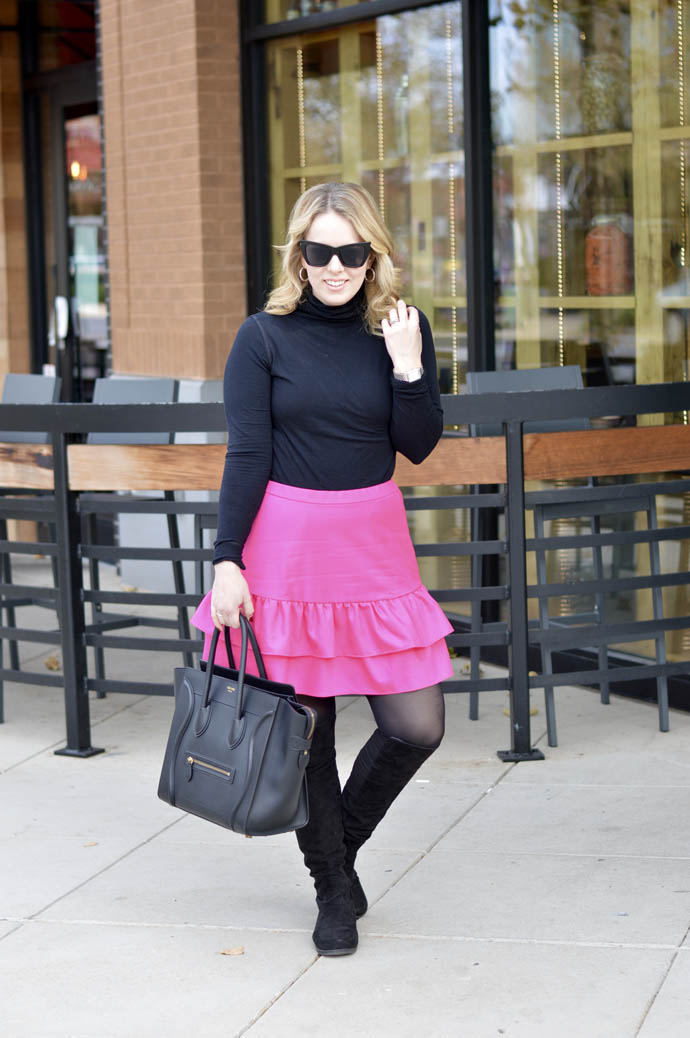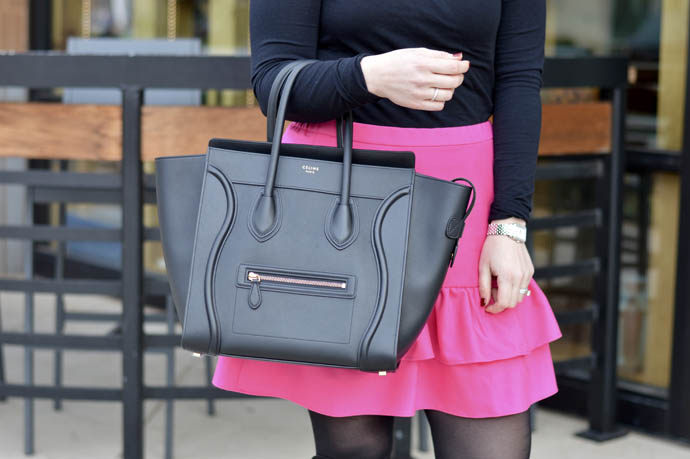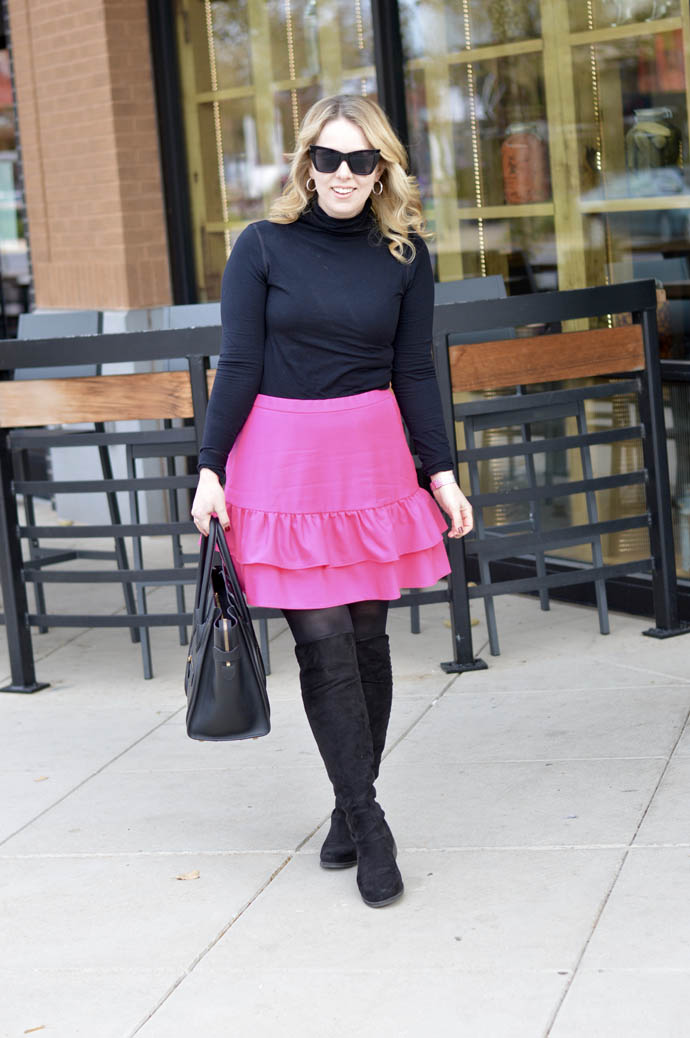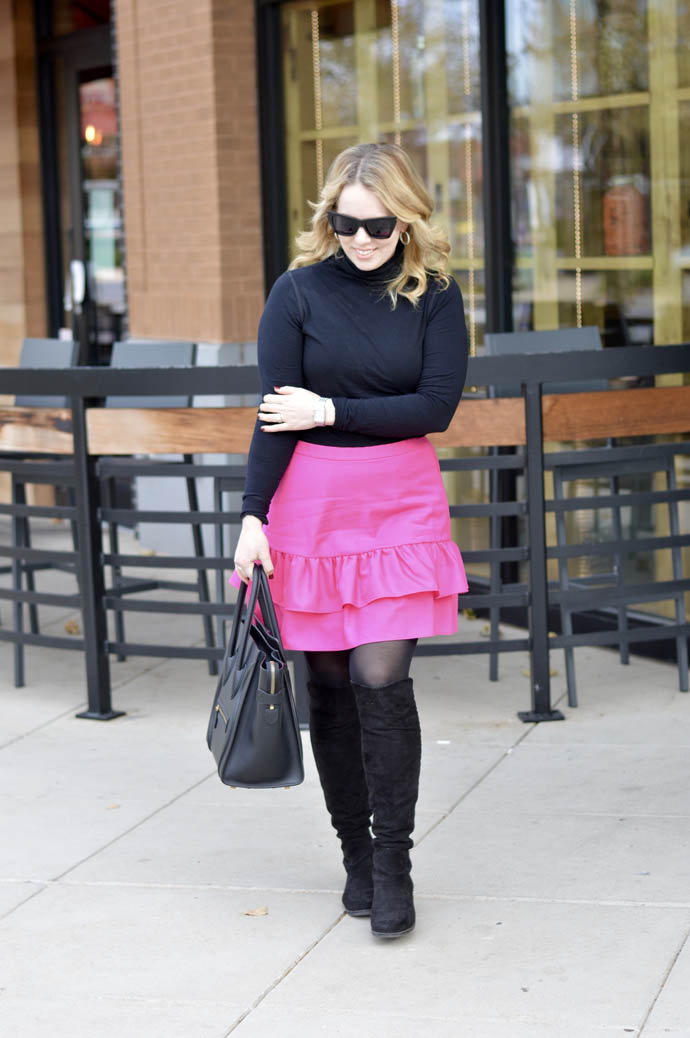 Pink Ruffle Skirt: J.Crew | Turtleneck: old, similar style here | Bag: Céline, buy it pre-owned here | Sunglasses: Le Specs | Earrings: similar here | Ring: David Yurman | OTK boots: old, same brand & similar style here | Lipstick: #10 & #200
Pink Ruffle Skirt
As I mentioned, you may remember this pink ruffle skirt from this Wednesday Wishes post. I loved it online but after seeing the bright color of the skirt in the store, I was convinced I needed it. I decided to pair it with a black turtleneck, tights and over the knee boots. This is one of my favorite outfits come winter. It even works well for work! As for sizing, I sized down one size. It does have elastic in the back so I found it to run a little large. I probably could have gone down two sizes but I had planned to tuck my shirt into the skirt and was concerned about the length of a smaller size. Overall, the skirt is a definite winner. I love the color, the cute ruffle and it's nothing like anything else in my closet.
I also decided to accessorize with my newest handbag! Last week, I celebrated my 30th birthday and my husband surprised me with this Céline bag. I have loved this bag for years and pointed it out to him at the Céline store in New York City while we were visiting for Fashion Week almost two years ago. I never expected him to remember since I mentioned it in passing. Well he did remember and I was completely shocked. It is a gorgeous bag and holds so much! And I love a tote with a zipper. Richard did well!
The Shop
I mentioned in Monday's post that a new section of A Blonde's Moment was opened called "The Shop". After some technical difficulties, I am happy to report it is up and running! Click on the drop down menu entitled "The Shop" for my latest holiday picks, gifts under $100, beauty favorites and more. I will be updating the items weekly so be sure to check back!
I hope you all have a great rest of the week and weekend! The only item on our agenda for this weekend is a race that I am running in Annapolis on Saturday. Fingers crossed that the rain stays away. There is nothing worse than running in the rain. Well, maybe running in the snow. Thanks so much for reading, friends!
….
Shop the Post