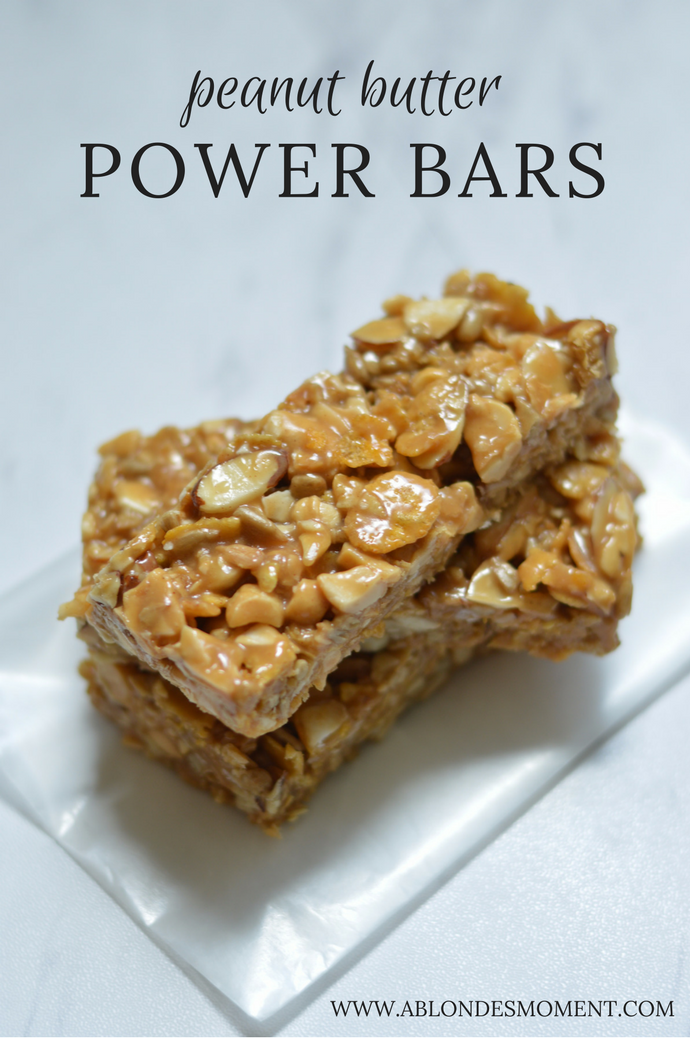 It's no secret that my love for peanut butter runs pretty deep. I eat it at least once a day and I am always look for excuses to eat more. Peanut butter power bars were always my go-to snack while playing college tennis. Now, they are my favorite pre- and post-workout snack. Last weekend, my mom and I decided to remake the power bar recipe from college and switch up the ingredients. Since we lost the original recipe, it was a good excuse to create our own. As much as I loved the power bars in college, I am completely addicted to this new peanut butter power bar version.
Peanut Butter Power Bars
As I mentioned, my peanut butter obsession is real (i.e. did you catch my peanut butter granola recipe?) While the peanut butter granola is a great yogurt topper, these peanut butter power bars make for an amazing pre- or post-workout snack. The mixture of nuts and peanut butter offer a protein punch that will keep you going throughout the day (or throughout your workout). To make up the base of the bars, we decided to go with the Honey Bunches of Oats cereal. The cereal and nuts come together to complete the base and the peanut butter and honey stick to the base like glue. Although we lost the original recipe, we did remember that the original recipe called for sugar. I knew that when we recreated these power bars that was one thing we wanted to avoid. The honey was the perfect (and healthier) sweet addition to these bars.
Pre- and Post-Workout Snack
Depending on when you fit your workout into your day, these peanut butter power bars would make for a great snack. If you are more of a morning person when it comes to exercise, have one of these post-workout on your way to work. They would make for a yummy breakfast on the go! Or if you typically exercise after work, these bars would make for a great mid-day snack at work. The recipe makes 8 bars (depending on how large you slice them) and they keep well in the refrigerator for at least a week. These grab and go snacks can be made during the weekend and enjoyed all work week long. Check out the easy, no-bake recipe below!
Thanks for stopping by and have a great Tuesday! See you back here tomorrow for an all new Wednesday Wishes!
….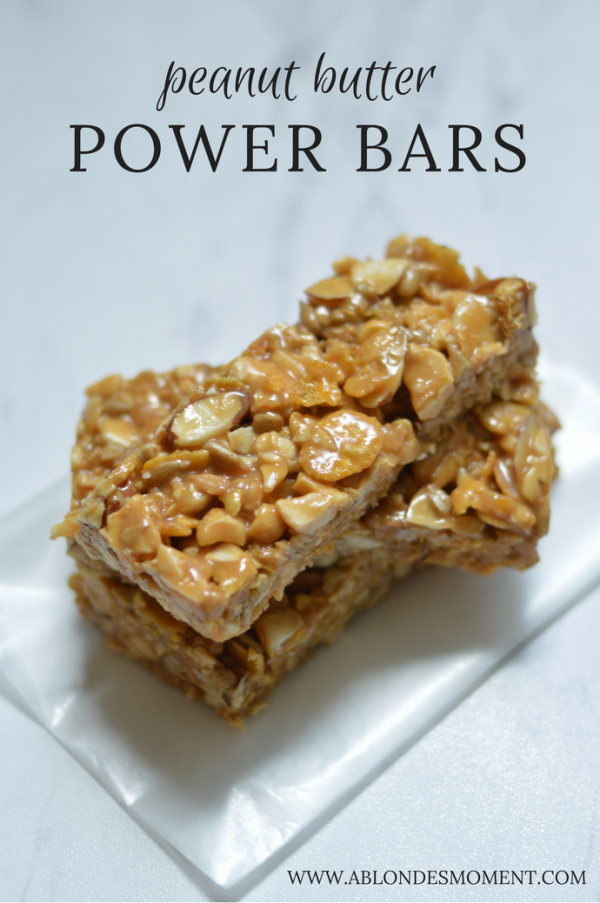 | | |
| --- | --- |
| | |
Mix the cereal, peanuts, cashews, sunflower seeds, almonds and toasted coconut flakes together in a large bowl. Meanwhile, melt the honey and peanut butter in a saucepan over low heat. Once melted, pour the peanut butter and honey mixture over the dry ingredients. Stir to combine completely. Transfer the mixture into a sprayed 9x9 baking dish. Chill in the refrigerator until they are set and you are ready to serve. Keep refrigerated and enjoy!