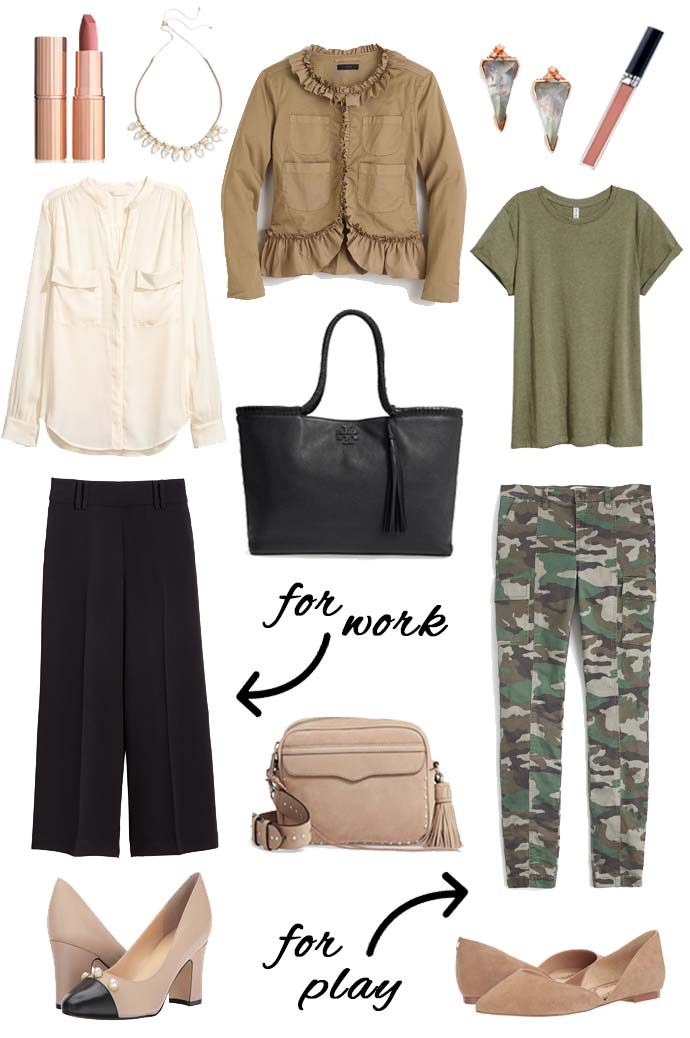 For Work: ruffle chino jacket | pocket blouse | wide leg pants | color block pumps | lipstick | necklace | tote
For Play: ruffle chino jacket | green tee | camo pants | beige flats | crossbody tassel bag | earrings | lipgloss
With the start of September only two days away, I am totally in a fall state of mind. Bring on the layers, jackets and autumn colors! Whether it's dressing casually or dressed up for work, there are certain versatile pieces in my closet that I love wearing for both, especially in the fall. Today's post is dedicated to styling one jacket, two ways.
The Perfect Now & Later Layer
Layers during this awkward weather time of the year can be difficult. But, this chino jacket is the perfect weight to wear now and into fall. I was instantly drawn to the ruffle detailing on this jacket and loved the cropped style and big pockets. There are so many things to love about the jacket (the ruffles are pretty high on the list!) but it is also machine washable and under $100! The older I get, the more "machine washable" is important to me!
Ruffle Chino Jacket for Work
When I first saw this jacket, I knew it would be the perfect "wear to work" layer for fall. Add this pocket blouse and wide leg pants for an office chic vibe. As for accessories, these color block pumps with pearl embellishments are perfect for the 9-5. I have been loving all kinds of embellishments, but pearls are probably near the top. And since this is a wear to work look, I added this versatile black tote that is large enough to fit a laptop, papers and more. I finished the with a neutral lipstick and necklace that pairs perfectly with the v-neck blouse.
Ruffle Chino Jacket for Play
I always love finding versatile work and play pieces, especially jackets. And although when I first saw this jacket, I instantly thought of the 9-5 outfit, I new it would also pair well with one of fall's trends: camo. And although camo is typically considered a more casual print, I think this ruffle chino jacket and suede flats dress it up to a casual, everyday outfit perfectly. But, the camo pants could also be dressed down with a tee and sneakers. Super versatile pants and under $100. Lastly, I stayed pretty basic with accessories. This crossbody bag is not only cute, but functional, too. A neutral lipgloss and fun earrings were the perfect pieces to finish the look. These earrings are a part of Kendra Scott's fall collection. Have you had a chance to check it out? Very different from the usual Kendra Scott jewelry, but the stones and colors are so gorgeous and rich. Truly perfect for fall!
What is your favorite versatile jacket for fall? Let me know in the comments section below! Have a wonderful Wednesday, friends!
….
Shop the Post