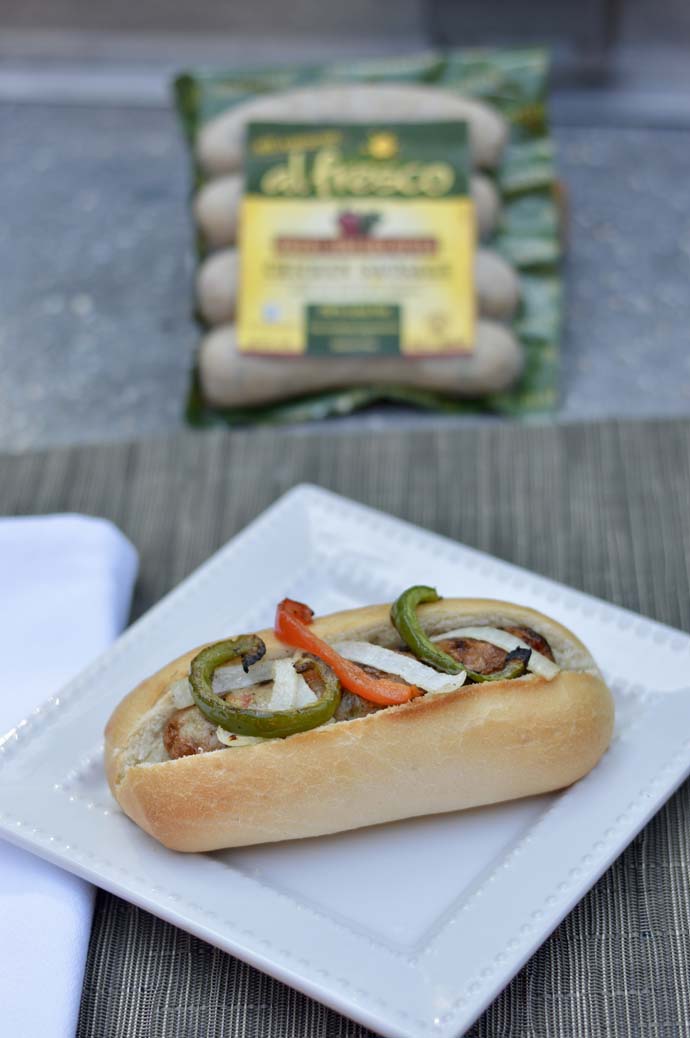 As summer is quickly coming to an end, one of the things I will miss most about the warmer temperatures is quick weeknight dinners on the grill. The grill has become our go-to the past few months. You can't beat how much of a time saver it is! Once a week, we reach for one of our favorite summer meals on the grill, al fresco chicken sausage. I always love coming up with new ways to serve this "better for you" sausage, but this sweet Italian style has become our favorite. Today, I am sharing the perfect quick weeknight summer dinner with al fresco.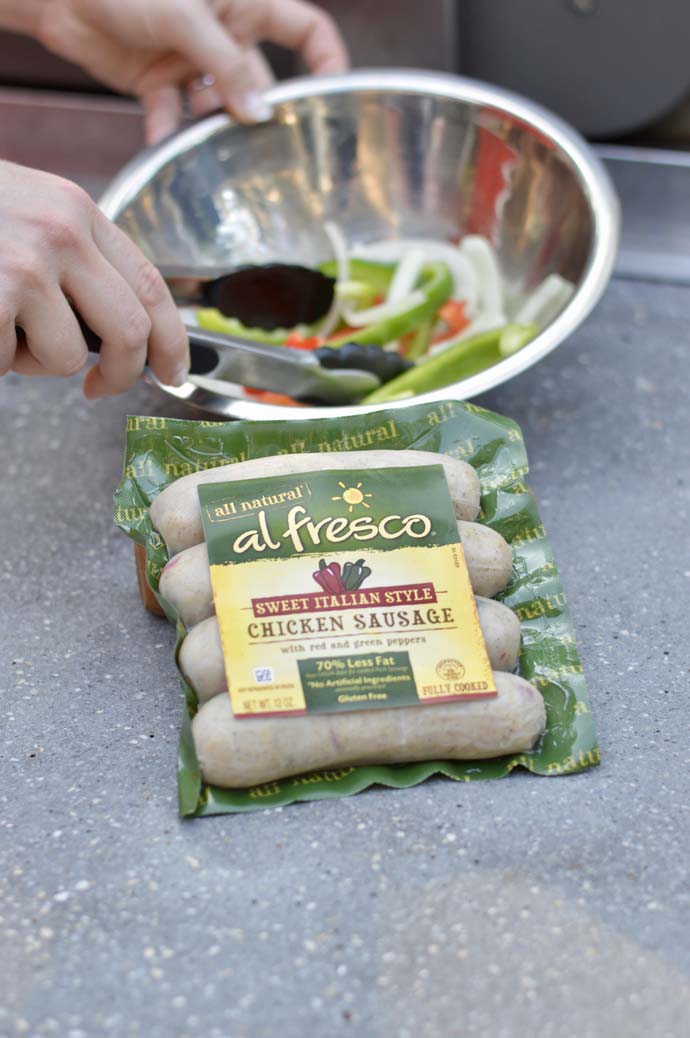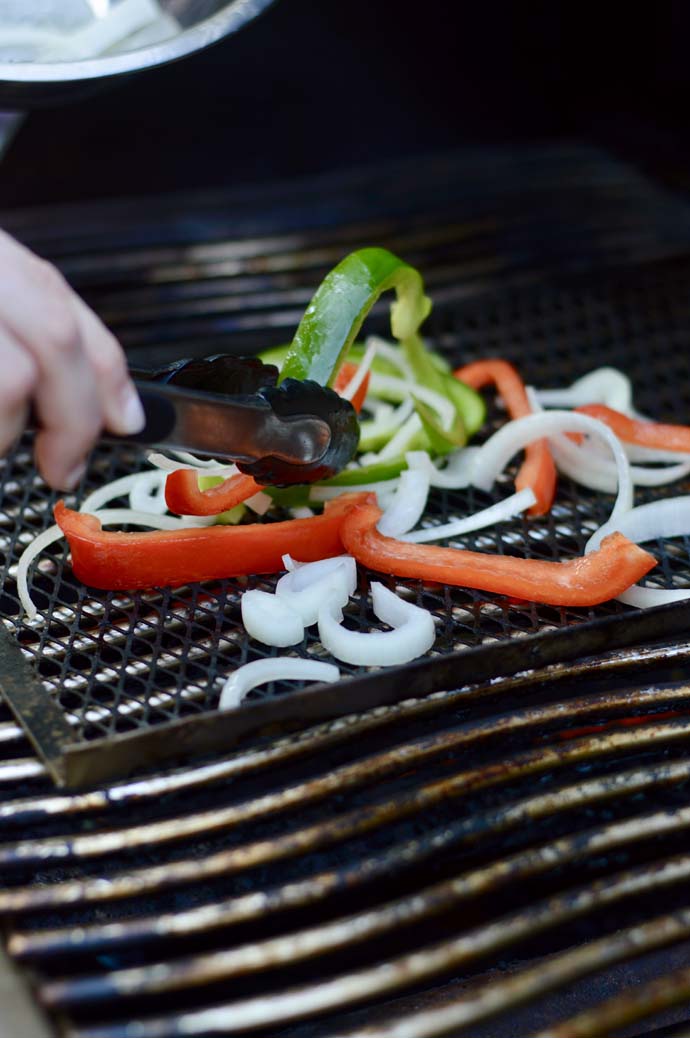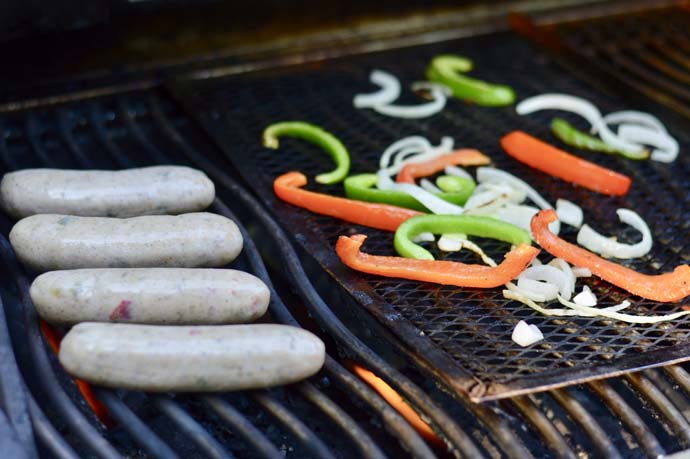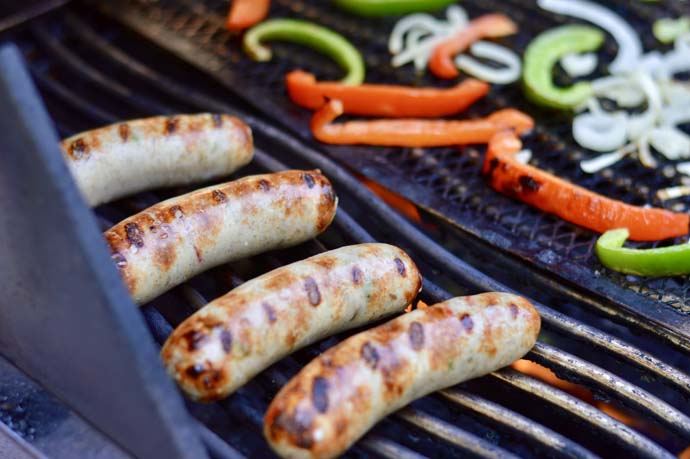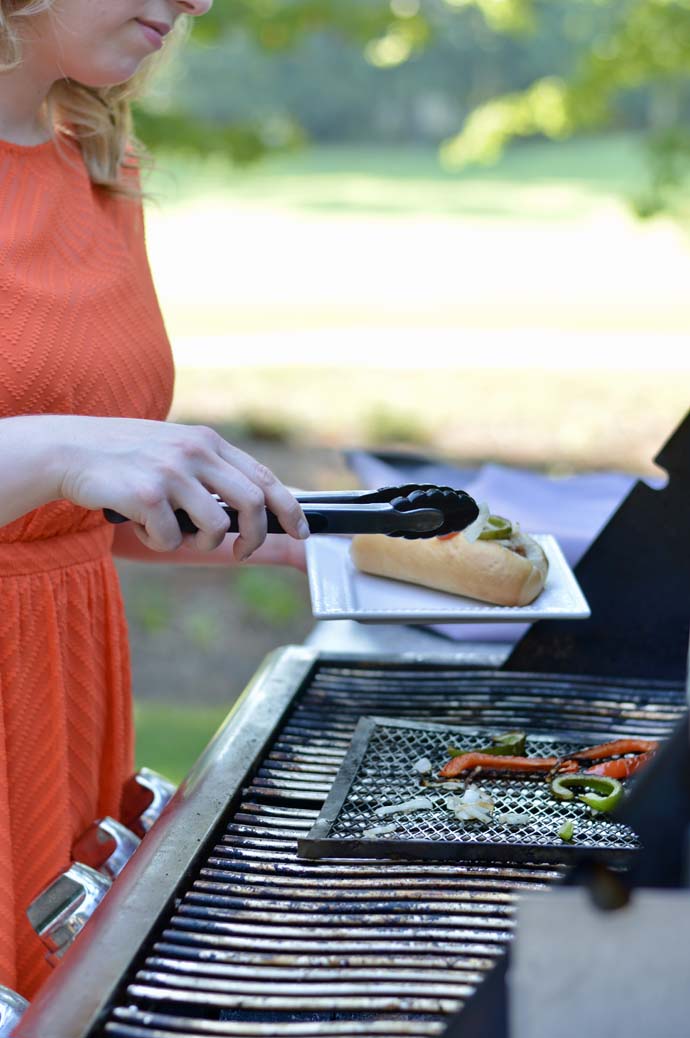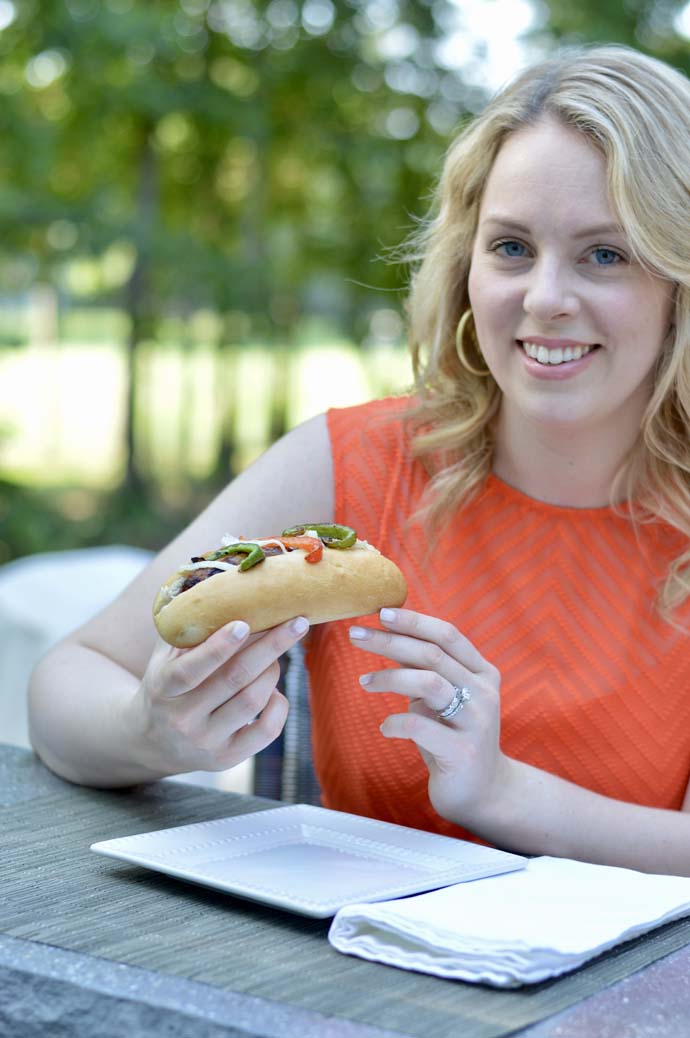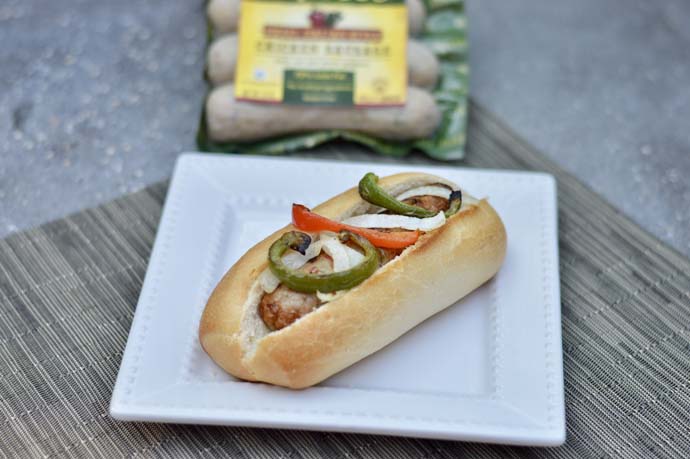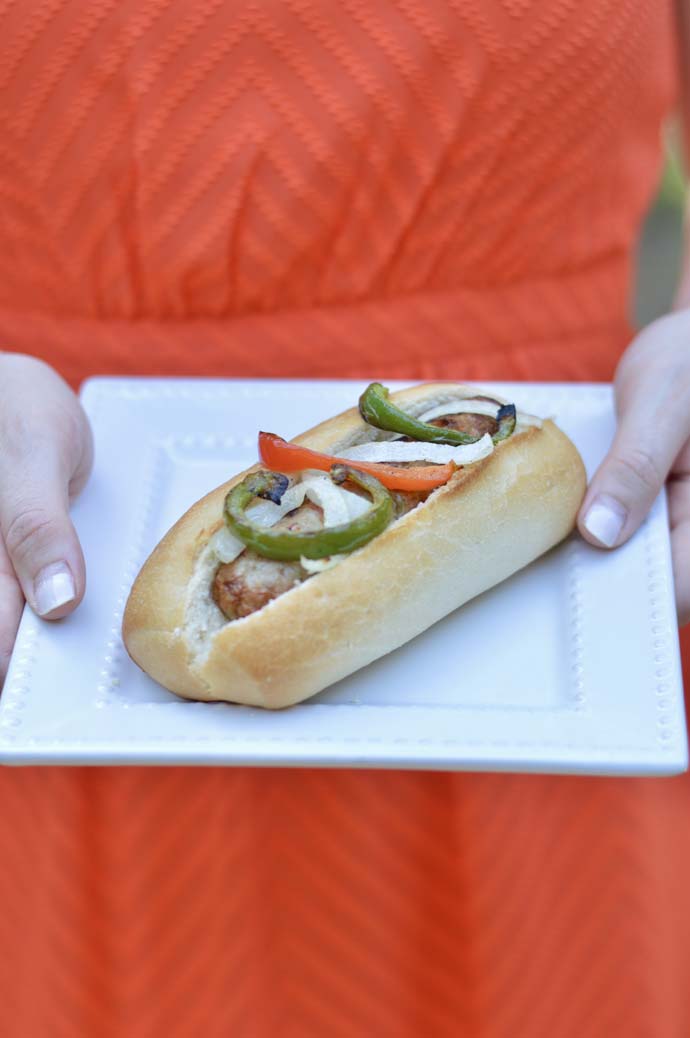 At the end of each summer, the town in which I grew up has a huge county fair. I was never much of a fairgoer growing up, but the one thing that I did look forward to was the sausage sandwiches from one of the food trailers. Soaked in marinara sauce, this traditional Italian sausage sandwich, which was even topped with cheese, has always been one of my favorites, even though it isn't the healthiest option. After discovering al fresco chicken sausage a few years ago, I was happy to find a healthier way to enjoy this favorite sandwich with my own spin.
Weeknight Summer Dinner with al fresco
As I mentioned, al fresco chicken sausage is on rotation each week in our house. Coming up with quick and healthy dinners during the work week can be challenging and since I always love sharing these time-saving recipes, I couldn't wait to share this simple one with you! I always look forward to nights when dinner can be cooked on the grill. Grill cooking means less time and minimal dishes. That's a win-win!
Italian Chicken Sausage with Peppers & Onions
We have tried several of the flavors (there are 10 in all!) but when it comes to a summer grilled recipe, our go-to flavor is the Sweet Italian Style. Since this recipe idea originated as a play on the sausage sandwiches at the fair, and in the spirit of staying healthy, I skipped the marinara sauce and decided to grill the peppers and onions. Grilling vegetables is one of my favorite ways to prepare them. It takes a little longer to cook, but the crispiness and flavor are unbeatable! Toss the chicken sausage on the grill after the vegetables have been cooking and in just a few minutes, you will have a delicious and healthy summer meal on the grill. To be honest, you probably don't even need the peppers and onions, the chicken sausage is that flavorful! But, the vegetables do add some color to this dish. A few other things to love about this chicken sausage is that it is 70% less fat and 30% less sodium than pork sausage, it's gluten free and you buy them fully cooked! It truly is one of our favorite weeknight dinners!
Have you tried al fresco chicken sausage? What's your favorite flavor? I'm anxious to try the buffalo style and blue cheese. Buffalo sauce and blue cheese is definitely one of my guilty pleasures. But, it will have to wait until my husband is out of town. He can't even stand blue cheese in our fridge! Thanks for reading and have a great Tuesday, friends!
Thank you to al fresco for sponsoring this post. As always, all opinions are my own.
Preheat grill to medium heat. In a small bowl, toss the peppers, onions, olive oil and salt and pepper. Transfer the peppers and onions to a grill screen or pan to cook the vegetables. Stir the vegetables occasionally and cook until they begin to brown, about 10 minutes. Place the chicken sausage on the grill and cook until each side is brown, about 3-4 minutes/side. Top each sausage sandwich with peppers and onions. Serve and enjoy!