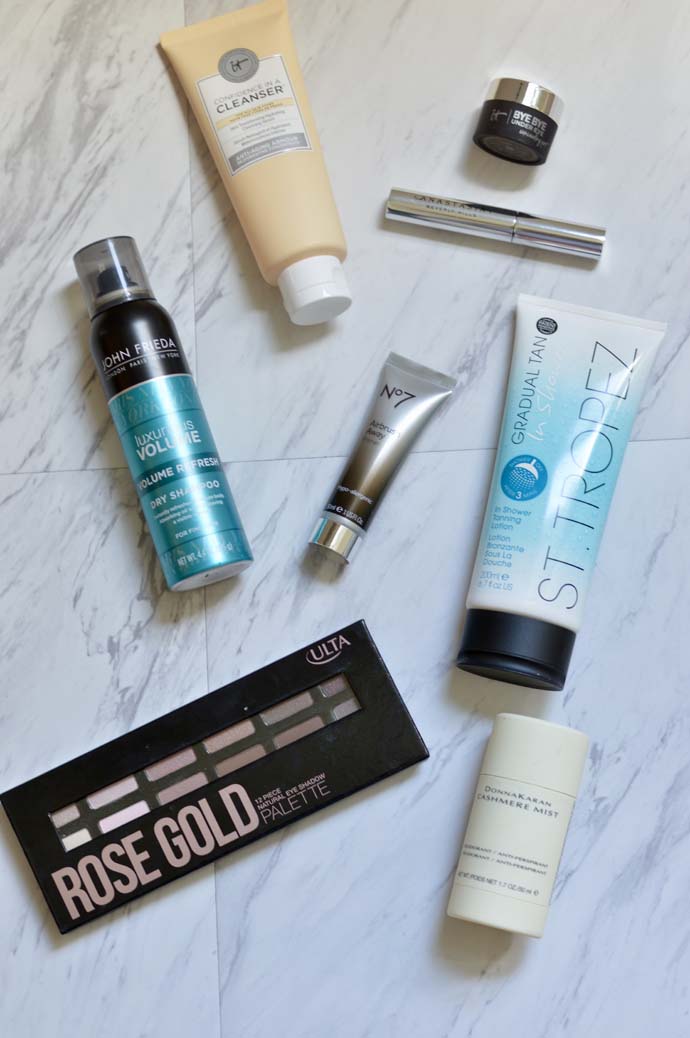 With summer nearing it's end, I wanted to round-up and review some of the beauty products I have been trying out for the past few months. There are a few things that I have been absolutely loving recently and some products that have been just alright. From makeup to skincare to hair products, here is a summer beauty round-up and review!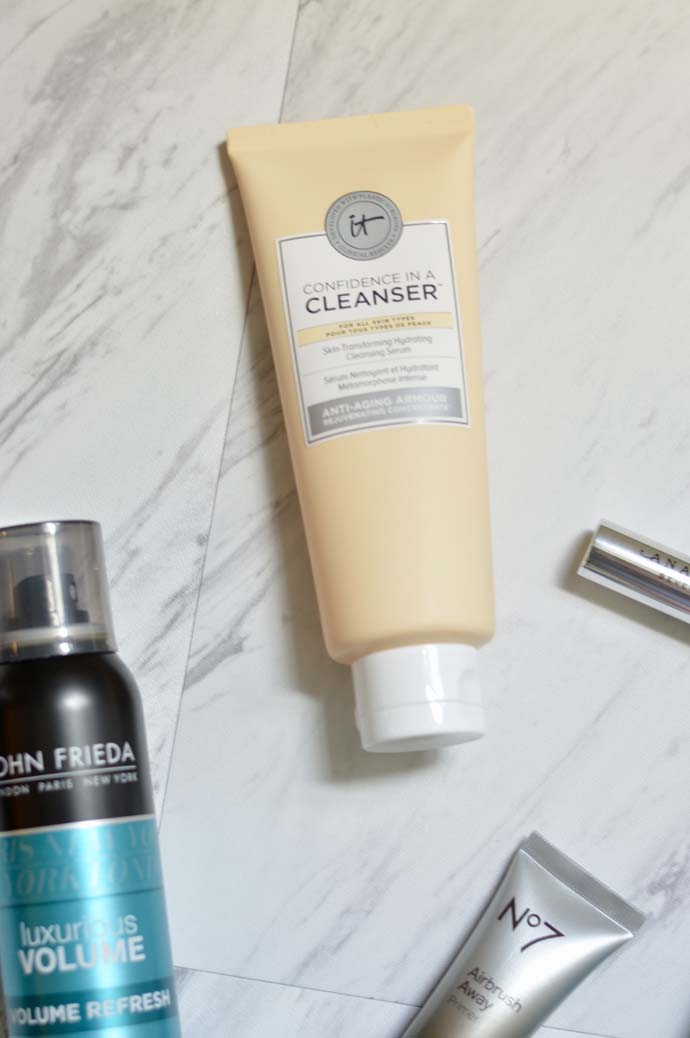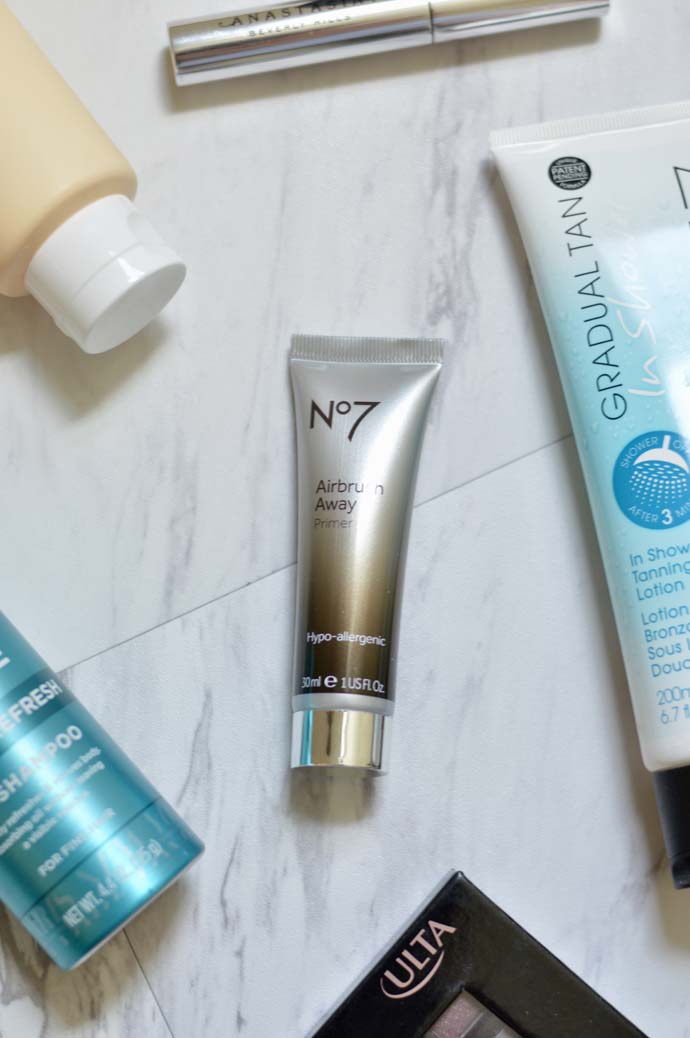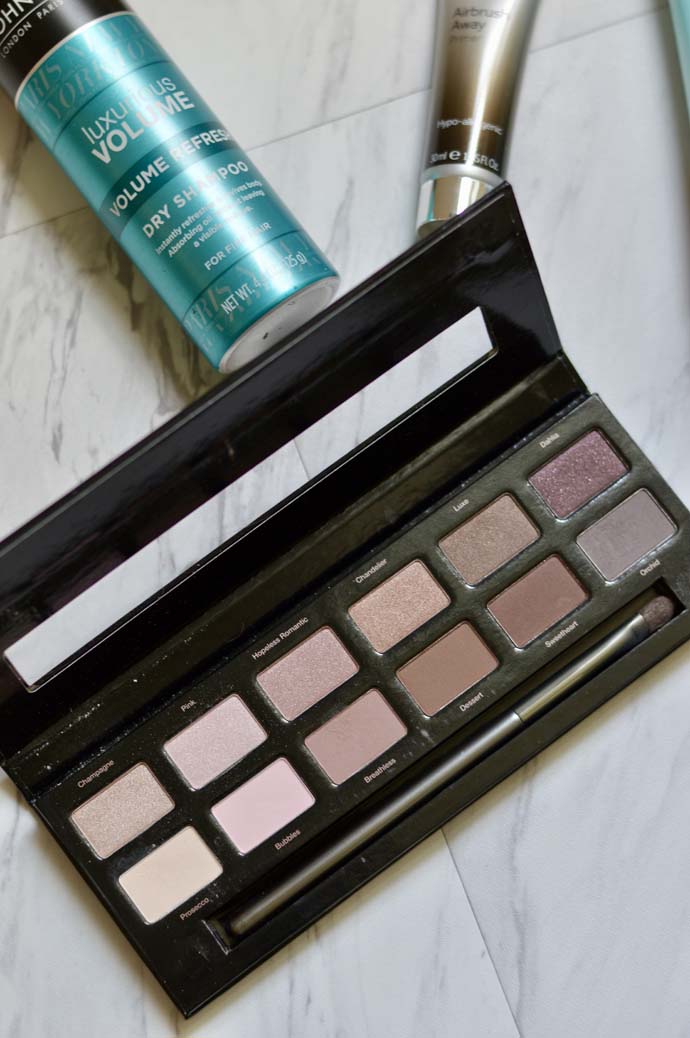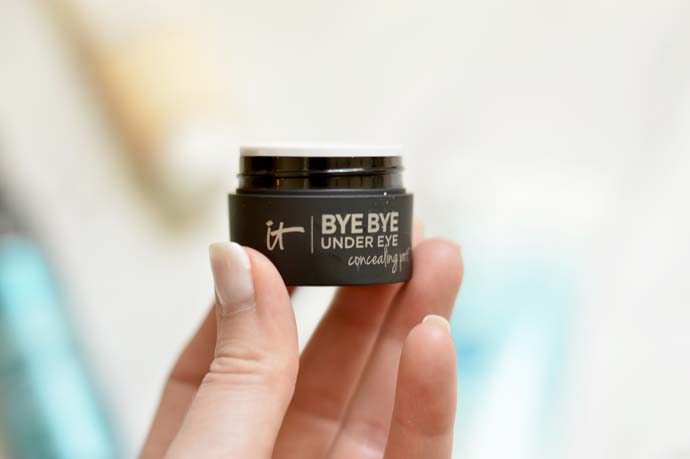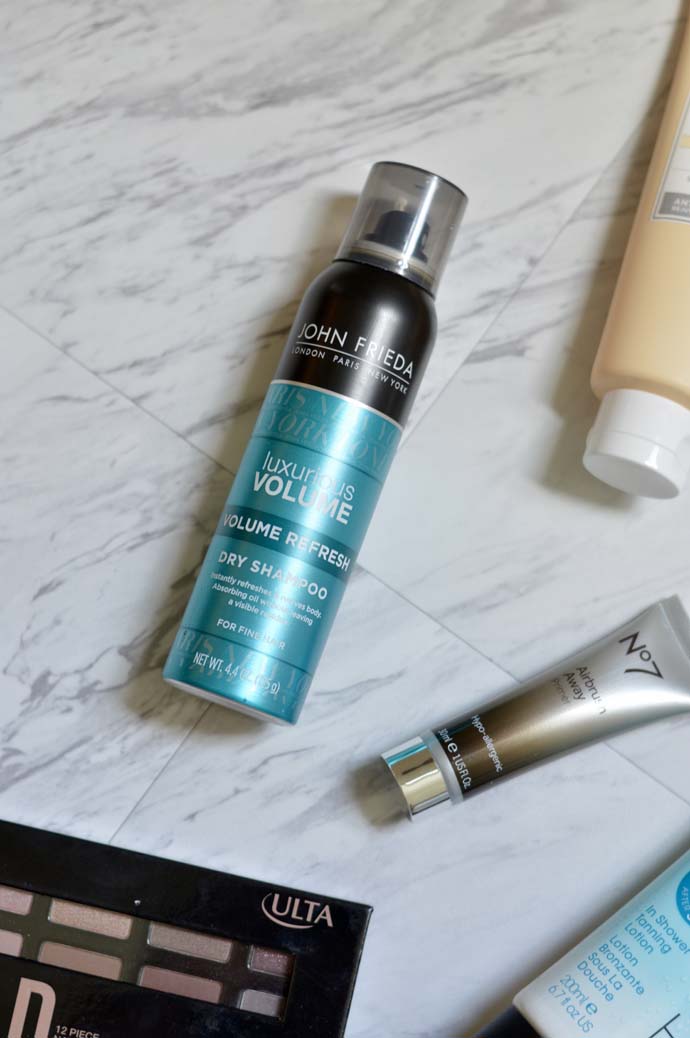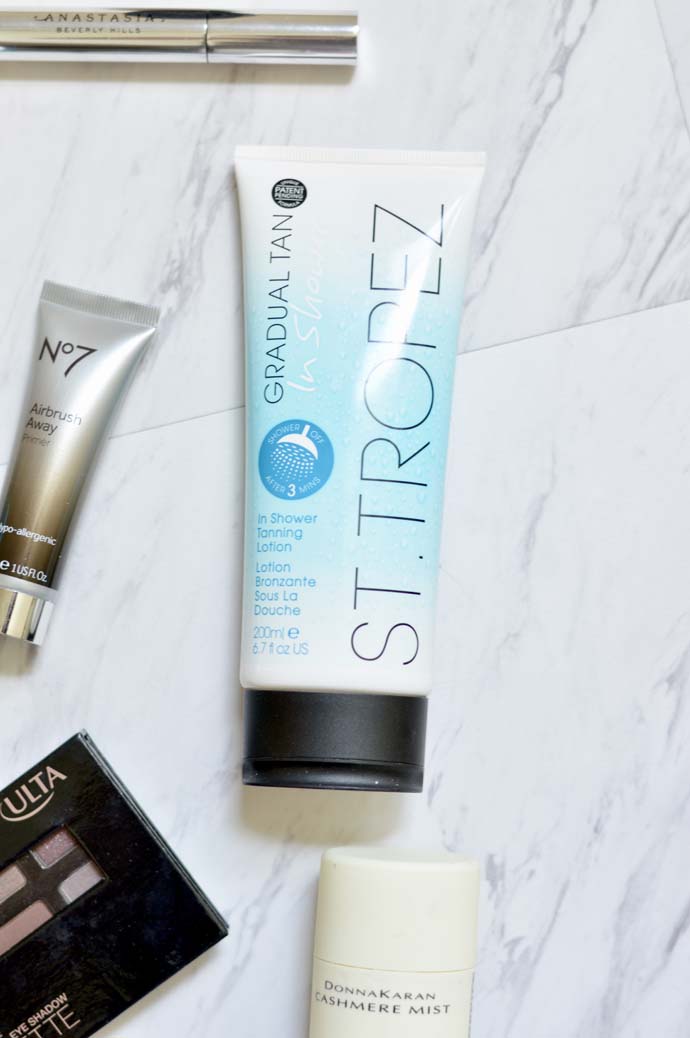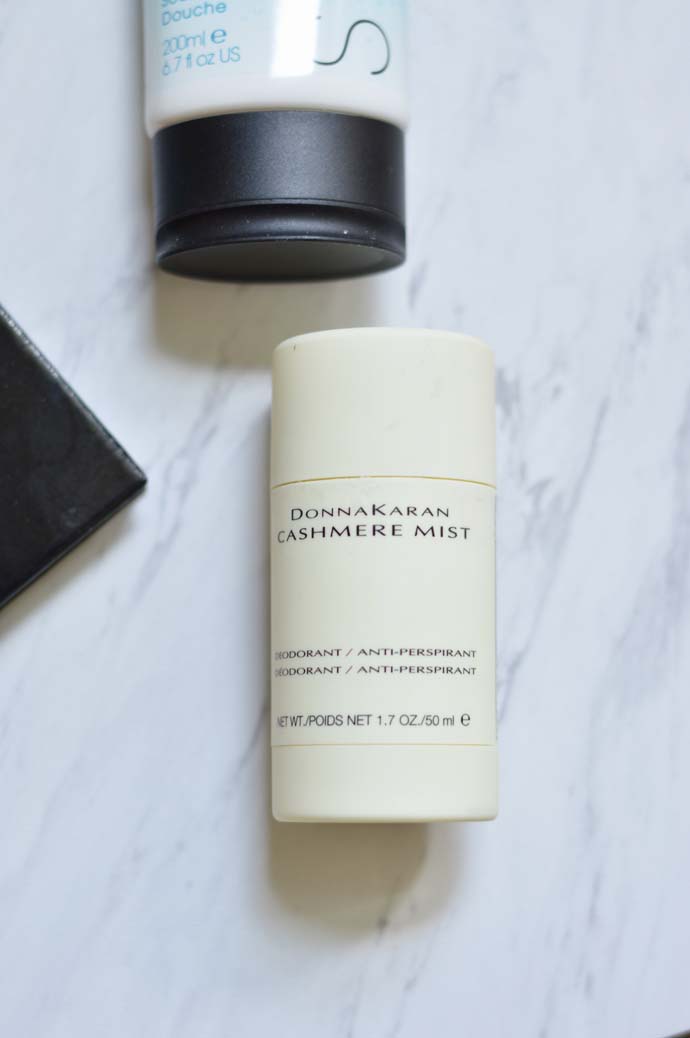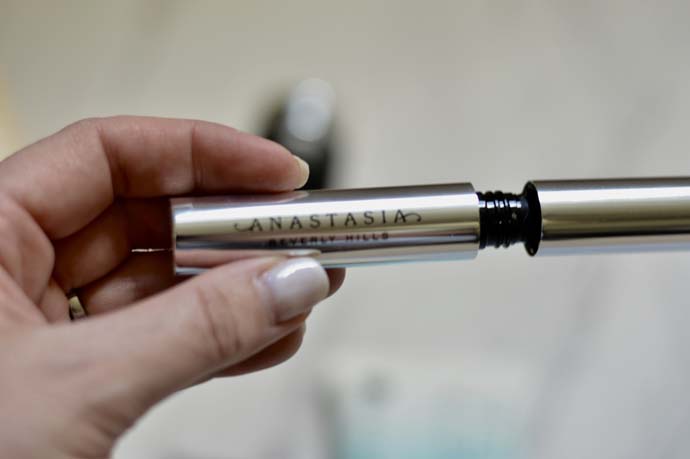 I always enjoy hearing about new products that people have tried and have loved so I'm hoping you enjoy this as well! Without further ado, here is my newest beauty round-up and review!
If you have been following along for awhile, you probably know that I am a huge fan of IT Cosmetics. I have had pretty good luck with their products for my dry, sensitive skin. When I first spotted this cleanser in a PR package from IT, I will confess, I was skeptical. I have tried the Confidence in an Eye Cream and Confidence in a Cream and both irritated my skin after extended use. It's unfortunate because it was a really hydrating formula and I loved the smell! Nevertheless, I gave the cleanser a try and I'm so thrilled I did. I have been using it twice a day for a month and cannot get enough of it! My face not only felt hydrated but also super clean after using this cleanser. Prior to trying out Confidence in a Cleanser, I used this foaming cleanser for years. It has always been my favorite, but I think I will be sticking with the IT cleanser for now. Priced at $28 per bottle, I can justify the price difference because not only am I impressed with the results, but a little goes a long way with this cleanser.
I will be the first to admit that I haven't had much luck with primers. Each time I find one that I think I like, it either irritates my skin or causes a bad reaction. First, let me say that I have recently converted many of my beauty products to No7. I have had great experiences with this face oil, night cream, under eye cream and most recently the foundation (this stuff is really good!). Since I have had such great experiences with No7, I was really hoping I would love the primer. This primer promises to give you that "airbrush" effect and I will say it definitely does when you first apply the primer and foundation. But, I found that by the end of the day, my skin started to appear oily (which is completely odd since my skin is ridiculously dry!). Unfortunately, this is a pass for me, but I do love No7's other products. The quest for a primer continues.
I had been looking for a pink eyeshadow palette in the spring when we had a black tie event to attend. I don't have a ton of eyeshadow palettes, I mainly stick to my basic, everyday colors, so this was outside the box for me. Priced at only $20, I figured I would try it out. I was so impressed! With 12 shades in matte, shimmering and glitter textures, there really is a combination for everyone. My favorite combination? I've been using "Prosecco" (light cream matte) to highlight my eyebrow and blending "Orchid" (deep violet) into the crease. Overall, it's a great palette at a great price!
Another IT product that I was looking forward to trying because my eyes need some serious waking up these days! Using the "light" color, I applied under my eyes in place of my usual concealer. The formula is pretty creamy and buildable, but it really didn't seem to cover much. I found that if I put on the Bye Bye Under Eye before my regular concealer (this is the current concealer I use) it gives you a first layer of coverage before applying the liquid concealer. Applying the Bye Bye Under Eye on my eyelid also acted as an eyeshadow primer and I loved it for that. Overall, I think it's a good product, but if you are looking for something to cover dark circles, you will have to use a lot to cover.
I often like to joke that by the end of the week, my hair is made up of 90% dry shampoo. It was a New Year's resolution back in January to wash and straighten my hair less, hence the curly hair most of the time. I have to say it really has made a difference and I'm actually enjoying the fuller, curlier hair. I've tried a ton of dry shampoos in the past few months because I go through a lot of it. One of my biggest pet peeves with dry shampoo is the white residue. Even with blonde hair, it's something that I can't stand! I'm happy to report that there was no white residue with this dry shampoo and it left your hair smelling amazing! Priced under $7, this is definitely a great find!
It's no secret that my skin is pretty fair. And because of this, you won't find me out sunbathing anytime soon. My cousin got married last month and I thought I needed a little color for my dress (you may remember the dress I wore from this post). I had heard great things about St. Tropez sunless tanner but didn't know how well it would work on someone with such fair skin like me. After doing a little research, I really liked the sound of this gradual tan in the shower. Once you are done showering, apply the sunless tanner, wait a few minutes and rinse the tanner off. This sounded great because I cannot stand the smell of sunless tanner! As the name suggests, you develop a gradual tan throughout the day. After only one use, I started to notice a little color! This was perfect for me because I wasn't looking for a deep tan. Another benefit: it left my skin feeling super hydrated! This would be a great formula for hydration and self tanner in the winter.
My mom has been using this deodorant and fragrance for as long as I can remember. I had always loved the fresh and clean smell of both products. Funny story how I ended up with Cashmere Mist: My husband got me on this kick about using aluminum-free deodorant so I ordered this one after reading a ton of reviews. Well it was a total disaster. I had a bad reaction to it and honestly didn't feel like it was doing much. Keep in mind I was a Dove for life kind of girl prior to this aluminum-free switch. While we were in Las Vegas last month, I ran into Sephora to pick up some concealer (the one I mentioned above!) and noticed a bottle in the checkout area. I decided why not? I knew I loved the scent and anything had to better than this aluminum-free deodorant. Well, I fell in love with Cashmere Mist. Not only is it the smell amazing (think jasmine, amber and vanilla notes just to name a few) but it lasts all day too. However, it is not aluminum-free. I will say though that not only did the irritation stop, but it also cleared it up! Although it is a little pricier, a little goes a long way and I feel as though I will be on this first bottle for awhile.
As many blondes know, defining your eyebrows can be challenging when your hair color is lighter. When it comes to filling in my brows I use a combination of this powder and this pencil. But, I had been looking for a clear gel to not only define my brows but help the powder and pencil last all day. Originally, I was planning to use this on special occasion, but it has quickly become part of my everyday routine. Your brows won't be going anywhere with this long lasting formula! While a tinted brow gel (see that here) is also available, I am so use to using the powder and pencil combination that I stuck with the clear gel.
….
Well that's a wrap! I hope this beauty round-up was helpful for the next time you are looking to try new products. Thanks for reading and I hope you all have a wonderful weekend!
I was sent products denoted with "c/o" for my honest review. As always, all opinions are my own.
Shop the Post