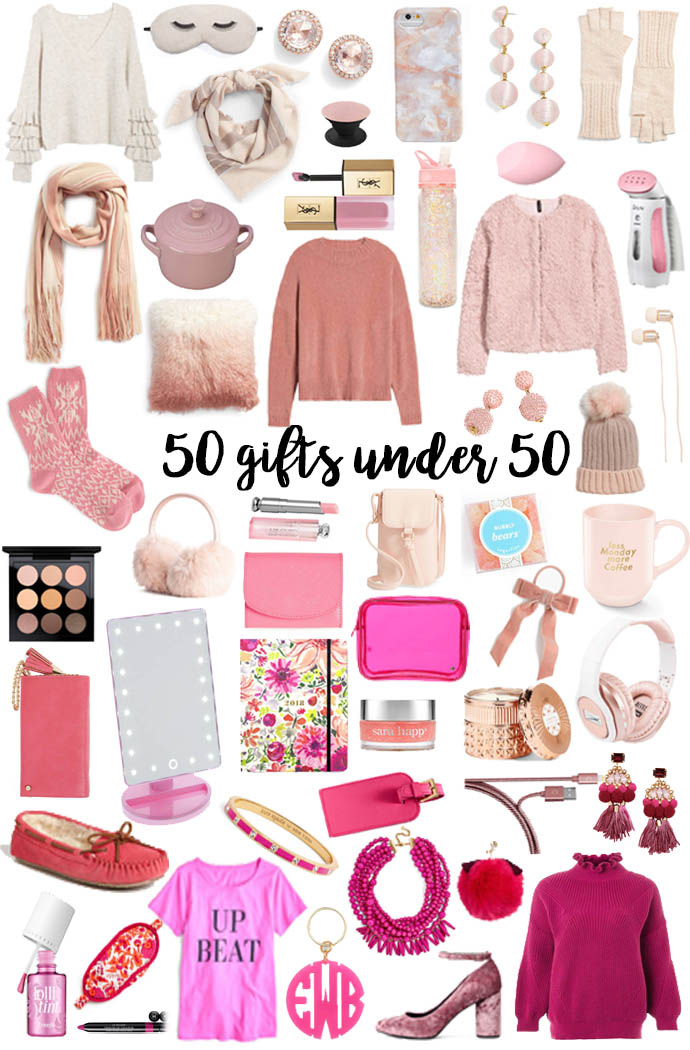 beige // ruffle sleeve v-neck sweater | eye mask | pave halo stud earrings | shimmer stripe triangle scarf | marble iPhone case | shoulder duster earrings | fingerless gloves
blush // cell phone grip & stand | stripe fringe scarf | mini round cocotte | rose pink lip stain | glitter water bottle | makeup sponge | travel handheld steamer | sequin & bead ball-drop earrings | fuzzy jacket | faux fur beanie | rosebud earbuds | earmuffs | reviving lip balm | tassel phone crossbody bag | champagne bears | coffee mug | velvet bow hair tie | rose gold candle | earphones
pink // fair isle socks | ombre faux fur pillow | chenille funnel neck sweater | eyeshadow palette | pink leather card holder | tassel clutch | LED vanity mirror | sara happ lip scrub | slippers
hot pink & magenta // hot pink zip cosmetic case | 2018 agenda |  crystal & enamel hinge bangle | luggage tag | stainless steel charging cable | tassel earrings | benefit cheek & lip stain | eye mask | magenta lip crayon | "up beat" tee | monogrammed key chain | beaded statement necklace | velvet pumps | faux fur pom pom | ruffle neck turtleneck
This post contains affiliate links, meaning I may receive commission if you click/purchase something I have recommended.
Happy Wednesday, friends! Since last year's 50 gifts under $50 post (you can see that here) was super popular, I couldn't let the holiday season pass without sharing one for this year. I've rounded up the best 50 gifts that are all under that $50 price tag. And of course I stuck with a color theme! From blush pink to magenta and everything in between, these gifts are perfect stocking stuffers or gifts for your sister or friends. Since there are so many products, I tried to break down the items by shade so it is easier to view. You can also scroll down to the bottom of the post and click directly on the product picture! Without further ado, here is this year's 50 gifts under $50!
50 Under 50
This is one of my favorite collages of the holiday season, but it's also the most time consuming! It's probably because I am so particular about a color theme and limiting myself to only items under $50, but I always love a good challenge. There are so many great gift ideas on this list, you could have every girl on your list covered. For the cook on your list, this mini round cocotte would make for a great gift. When we completed our wedding registry almost seven years ago, I registered for the purple version of the Le Creuset pots. If only I knew pink would be available!
For the beauty lover, this LED vanity mirror is a must! This has been on my wish list since the Nordstrom Anniversary Sale in July — it would make doing your makeup so easy! I have also included a variety of lip products, like this lip scrub that's perfect for the colder temperatures. I also love the color of this magenta lip crayon.
It seems like there are so many gifts out there this year for the tech guru, for both his and her. This phone grip and stand (otherwise known as a "PopSocket") is all the rage. I have seen them on the back of people's phones for almost a year now and I had no idea what they were called (or what purpose they served) until a few weeks ago. I feel old. A phone case always makes a great gift and this blush pink marble one is gorgeous!
I hope all your shopping is coming along. It's hard to believe we are just 12 days away from Christmas! Happy shopping and see you back here tomorrow. Have a wonderful Wednesday!
….
Shop the Post
beige

blush

pink

hot pink & magenta