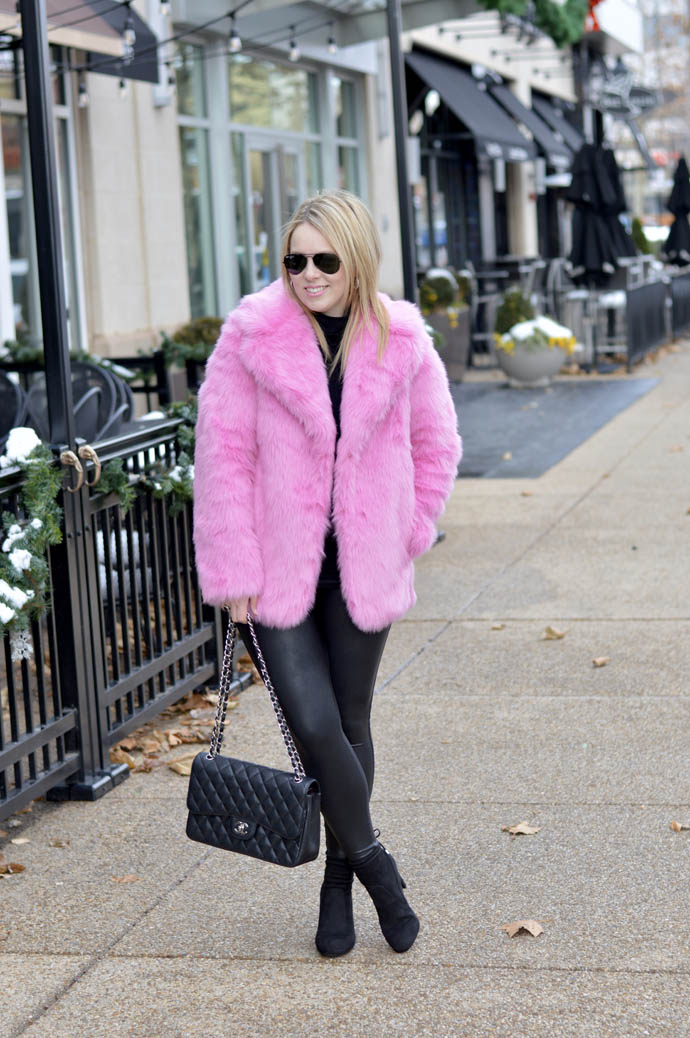 If you haven't heard, pink is my favorite color. And although I have always loved pink, I have upped my pink game in the last few weeks. From this ruffle skirt (which is on sale for under $60) in this post to the hot pink sweater with faux fur pockets in last week's post, my closet seems to be getting more pink by the day. Needless to say when I saw this pink faux fur jacket, I knew it had to be added to my ever growing collection.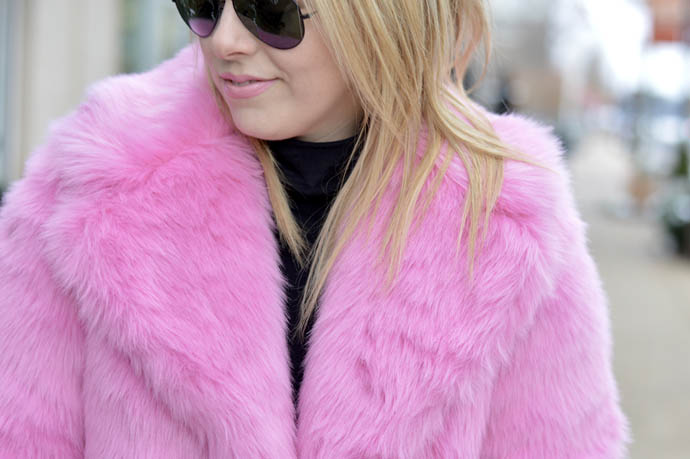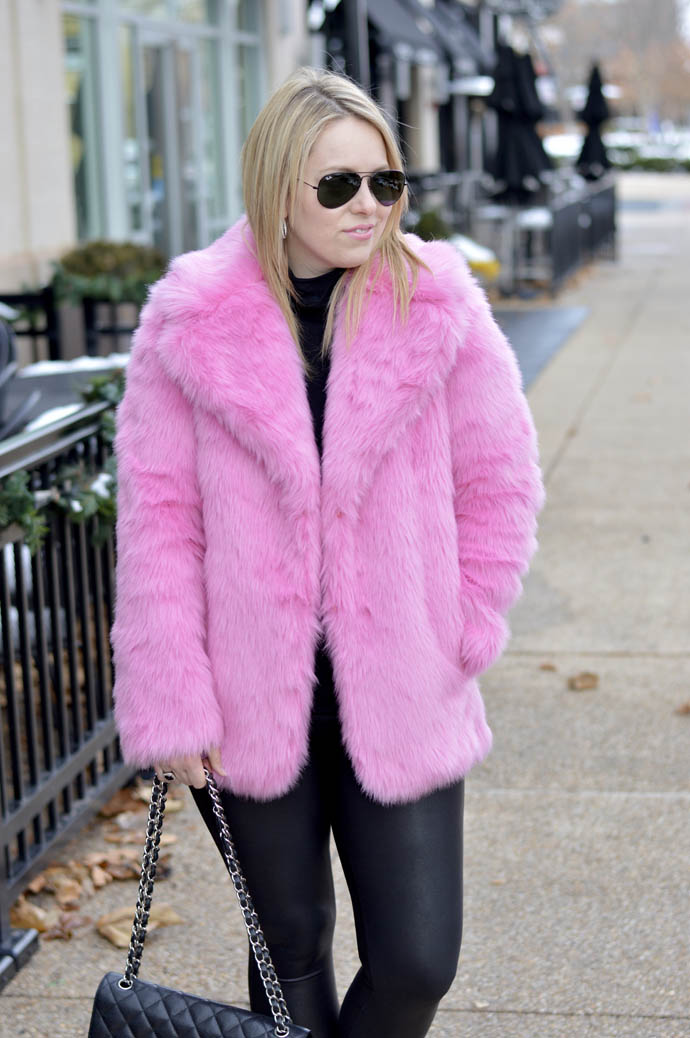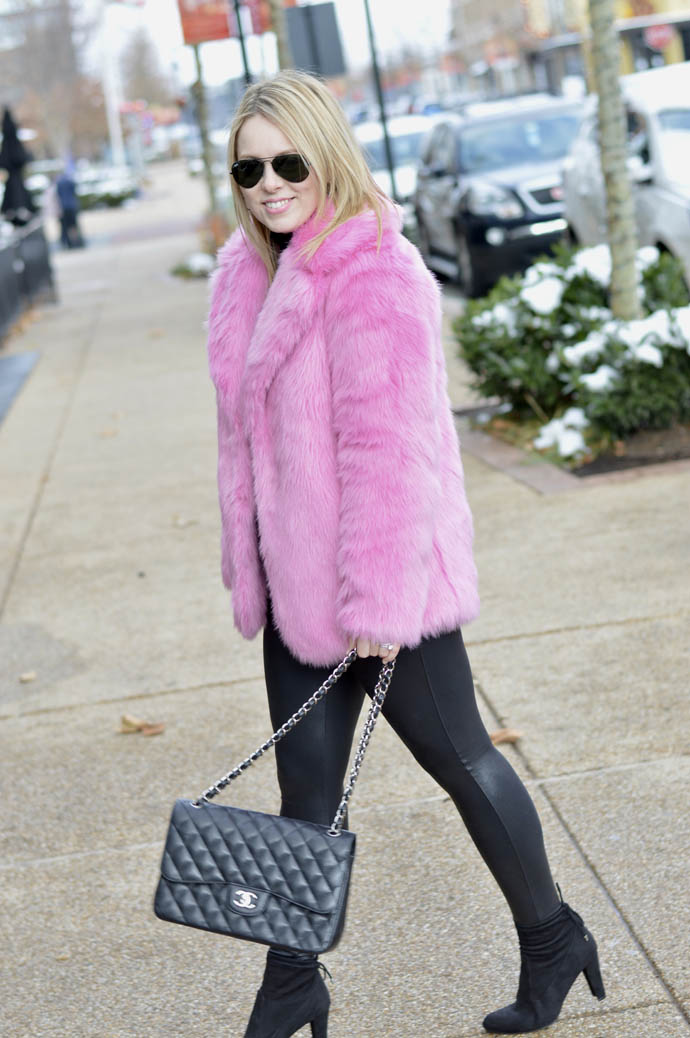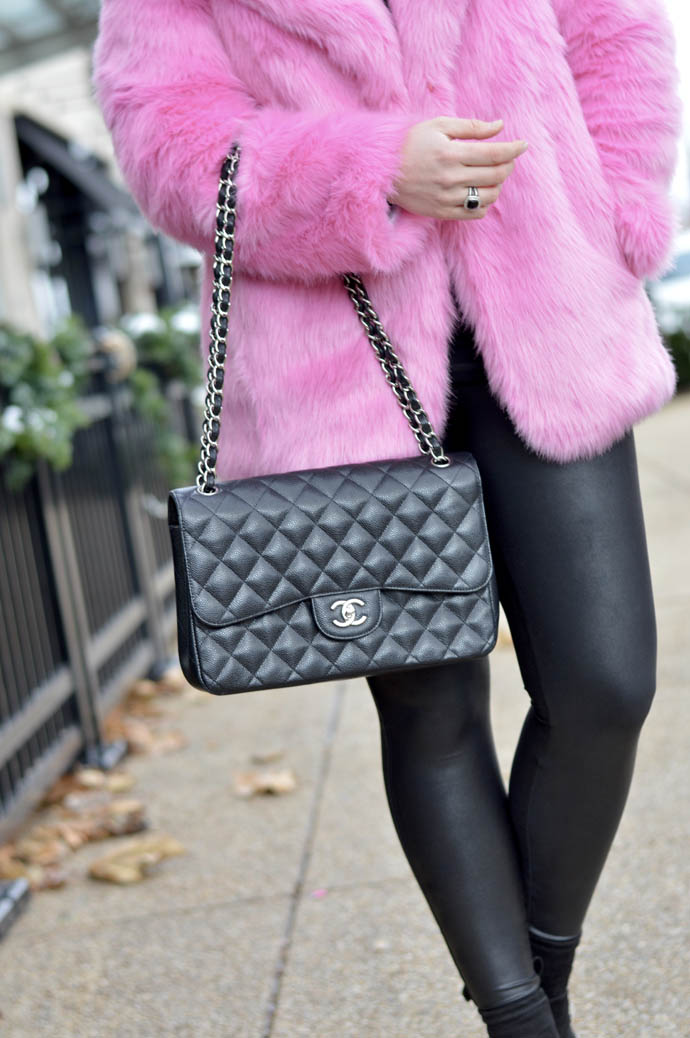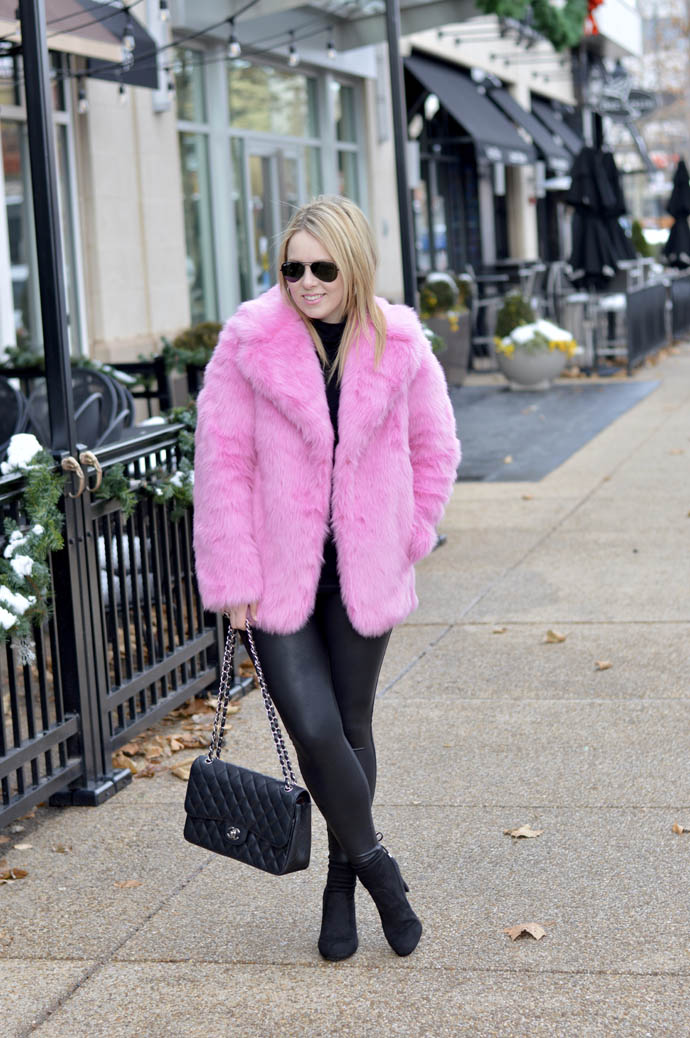 Faux Fur Jacket: J.Crew Factory (similar style here) | Turtleneck: Nordstrom | Faux Leather Leggings: Spanx | Ankle Booties: sold out, almost identical here | Sunglasses: Ray-Ban | Bag: Chanel, buy it pre-owned here | Ring: David Yurman | Earrings: similar here | Lipstick: snob & turkish delight
This post contains affiliate links, meaning I may receive commission if you click/purchase something I have recommended.
Pink Faux Fur Jacket
I spotted this faux fur jacket a few months ago online and knew I couldn't waste anytime on it. Although the temperatures were still in the 60s, I knew that if I delayed, the jacket would be gone. Sure enough, the next day, it was completely sold out. It is quite the statement piece so I can see why it sold out so quickly. Although this exact jacket is sold out, it seems that other retailers have jumped on the pink faux fur jacket train. You can see a similar pink faux fur jacket here.
This pink faux fur jacket is not an everyday jacket, but fun to wear around the holidays and New Year's Eve. Wouldn't this be a fun jacket to wear out on the town to ring in 2018? I must confess that when the jacket arrived in the mail, I was a little surprised at not only the bright color but also the thickness and length of the jacket. When I purchased the jacket, I really thought it was going to be more cropped and not very warm. But, much to my surprise, the jacket is quite long and was super warm. I wore this on Sunday after we got several inches of snow and it was still terribly cold. I couldn't believe how warm I was in this faux fur!
Go-to Accessories
As for accessories, I went with all black to allow the jacket to stand out. These faux leather leggings have been my go-to recently (last seen here). They are super comfortable and I love the faux leather details. And although my ankle booties are sold out, I did find an almost identical pair here. I bought these last winter at DSW and loved them because they reminded me so much of the Stuart Weitzman booties, but they were a fraction of the price! I was excited to find these almost identical ones that are even cheaper than the DSW pair.
Any fun plans for this weekend? Do tell! I'm hoping to get caught up on blog work and house work so that I can take a few days off around Christmas. That's the goal, let's see if we can make it happen! I hope you all have a great last full weekend before Christmas! How crazy is that? See you back here on Monday, friends!
….
Shop the Post