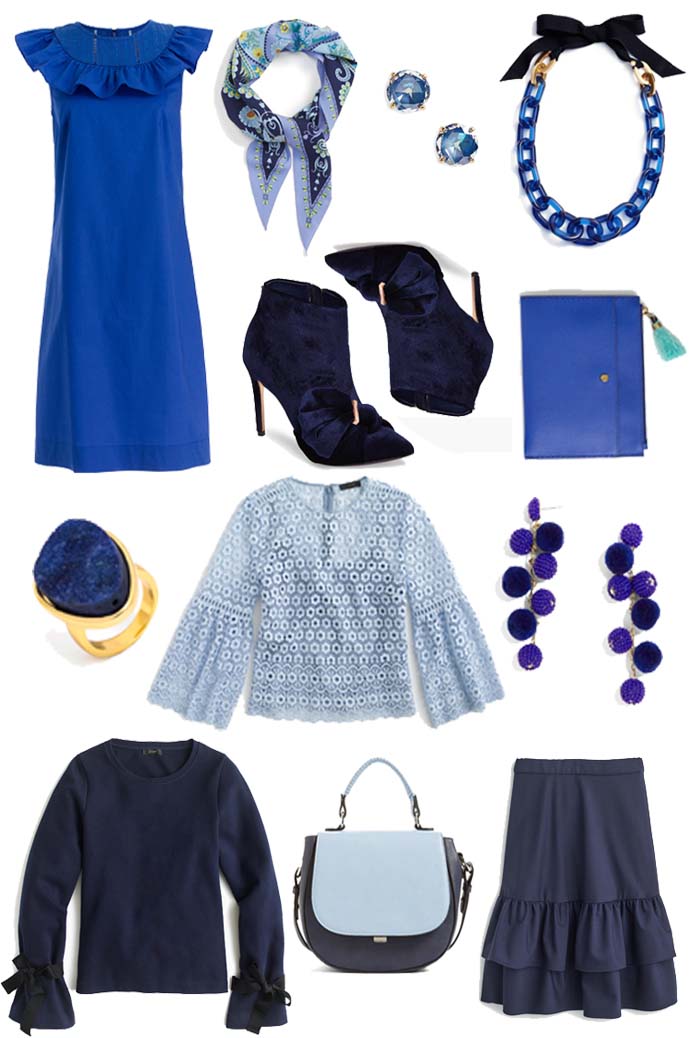 ruffle dress | neck scarf | stud earrings | link necklace | velvet booties | tassel pouch | stone cocktail ring | eyelet top | drop earrings | tie sleeve sweatshirt | saddle bag | ruffle skirt
One of my favorite things about welcoming a new season is adding new colors to my wardrobe. And although these shades of blue aren't typically associated with fall, I have been falling for blues of all shades in anticipation of the new season.
Fall's Unexpected Color
A few weeks ago, I devoted a post to fall's color crush, rust. You can see that post here. Rust may be a fall color crush, but this is the second year I have been falling for shades of blue in the fall. That's not to say it's going to become a traditional fall shade like burgundy or olive green, but it is a hue I'm looking forward to incorporating into my wardrobe. These shades of blue are definitely an unexpected shade for the season, especially powder blue. This powdered blue eyelet top instantly caught my eye because of the detailing, but also because of the color. I think pairing the top with navy or black pants or darker jeans is a new and different way to add blue into the season.
Navy & Royal Blues
Of all the shades of blue, navy and royal blues traditionally seem more appropriate for fall. Sleeve details have been trending since at last spring and I'm happy to see that it's continuing into fall with this cute tie sleeve sweatshirt. And speaking of trending, ruffles of all kinds are back with this tiered skirt and this dress. I especially love that this dress can be worn now as we transition into fall. I actually just bought the dress in black! As far as accessories, these velvet bow booties would be a gorgeous statement piece for the fall and winter. I love this deep and rich shade of blue, which also can be found in this stone cocktail ring.
There are so many great shades of blue, it's hard to go wrong when choosing a favorite. Although I do like the (even more) unexpected shade of powder blue, I always gravitate towards richer shades like navy. What is your favorite shade of blue for fall? Have you experimented with adding this hue to your fall wardrobe yet?
Thanks for reading, friends! Have a wonderful Wednesday and see you back here tomorrow for an all new post featuring more about I fun event I participated in back in May. The photos and video are ready so I will be talking all about that tomorrow!
….
Shop the Post