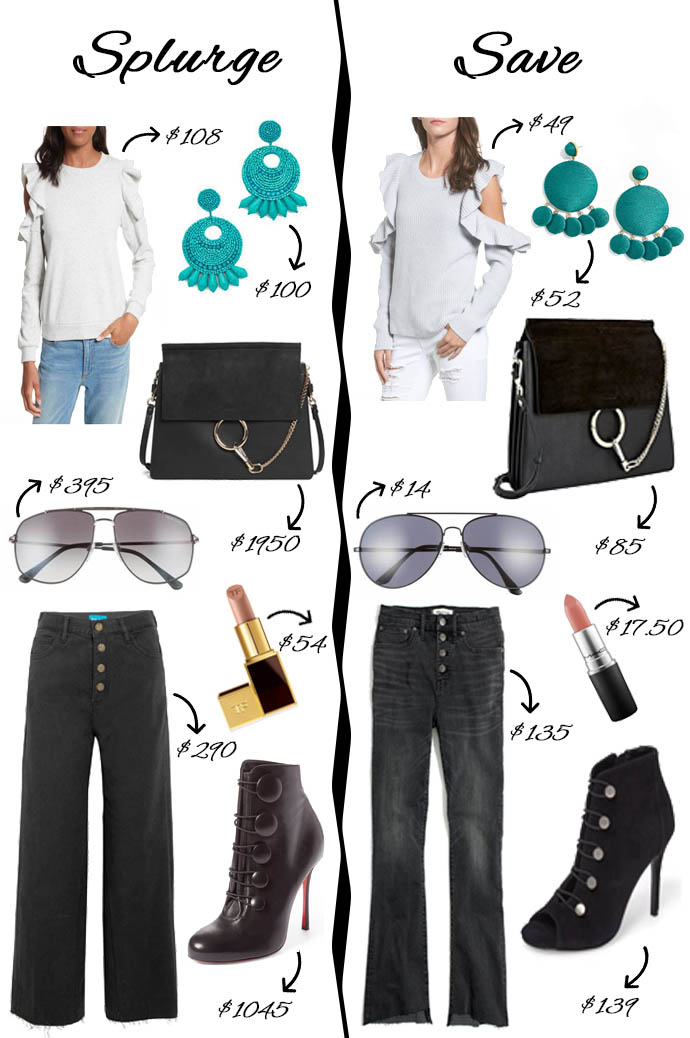 Splurge: cold shoulder top | statement earrings | bag | aviator sunglasses | lipstick | jeans | ankle booties
Save: cold shoulder top | statement earrings | bag | aviator sunglasses | lipstick | jeans | ankle booties
Happy Wednesday, friends! One of my favorite types of Wednesday Wishes to share on this little space of mine are splurge vs. save outfits. Although the most challenging, I love finding designer lookalikes for less. The inspiration behind today's theme is this crazy warm weather. Dressing for work is becoming more and more difficult — I now understand why people in warmer climates wear summer clothes in fall colors! In that spirit, I wanted to share a date night look that is perfect for this transitioning to cooler temperatures weather. A little wear now outfit inspiration: no fall layers here! Without further ado, here is a fall date night outfit: splurge vs. save edition.
Cold Shoulder Top
The cold shoulder top was pretty popular this past spring and summer (especially in my closet) and I love that there is a version to take us into fall and winter, too. The ruffles on both the splurge and save add a fun detail that dresses up the top while the cold shoulder style is practical for warmer fall temperatures. I love the idea of tucking a top like this into high-waisted jeans.
Dark Wash Jeans
I have always been of the opinion that a darker wash of denim is an easy way to dress up a look, making these jeans perfect for date night. I love the high-waisted style and the distressed hem on both the splurge and save versions. The wider leg is super trendy and a change up from the typical skinny jean. Pairing these jeans with open toe or ankle booties dresses up the jeans, and your entire look, even more!
Ankle Booties
Speaking of ankle booties, I instantly fell in love with the hook-and-eye, lace-up details on these Victorian-inspired booties. And although the save version has an open toe, they were too similar not to include them in this date night outfit inspiration post! Either bootie would work for this outfit and so many other dresses and pants in your fall wardrobe.
Accessories
Of all the items in today's post, I think the save handbag and earrings are my favorite finds. Starting with the handbag, the splurge version has been on my wish list for a long time. I could never justify spending nearly $2,000 on what seems like a trendier bag, so when I spotted this save version, I was thrilled! An almost carbon copy of the designer version, it is also available in other colors here. You can't beat that under $100 price tag, either! Lastly, I have also had my eye on these splurge earrings for a while. Again, $100 is a lot to spend on colorful, trendy earrings. But, with the save option that is nearly half the price, it is definitely more practical.
What are your favorite splurge vs. save finds? Thanks for reading and have a wonderful Wednesday!
….
Shop the Post